Plan Your College Bound Trip to Chapel Hill and Orange County, NC 
Welcome to the Chapel Hill and Orange County section of the Triangle Campus Guide .  Planning a trip to the University of North Carolina - Chapel Hill and Durham Technical Community College, Orange County Campus? We can help you get a sense of what our communities are all about!
When planning your trip to scope out colleges in the Triangle, we hope you will take a few days to get to know the area. Raleigh, Durham, and Chapel Hill are just minutes apart and easily accessible via I-40, Durham Fwy (NC 147) and Hwy 15-501.
For all things Orange County, the Chapel Hill/Orange County Visitors Bureau is your go to source. Located in downtown Chapel Hill on Franklin Street just a few blocks from UNC-Chapel Hill campus, Our Visitor Center Staff can help you create an itinerary to meet your time-frame plus give you an idea of what it's like for students living in Chapel Hill. The Visitors Center is located at 308 West Franklin Street, Chapel Hill, NC 27516
If possible, allow at least one day for each major University you visit. Here are suggestions for dining, lodging, and Must Sees in Orange County.
If time is undeniably a factor and you prefer to have your plans in place before you arrive, below are some resources to assist you in your planning. Of course, you can always give us a call at 1-888-968-2060 Monday – Friday 8:30am – 5:00pm and Saturdays 10:00 am – 3:00 pm; email us at info@visitchapelhill.org or request a map and visitor guide here.
The Office of Undergraduate Admissions at UNC-Chapel Hill offers admissions information sessions that conclude with a campus tour. You can register for a tour here. Tours are usually in the morning, so that leaves plenty of time to explore.
There are quite a few apartment complexes on the Chapel Hill Transit Bus Routes. Grad Students can find a listing of apartments in Chapel Hill here. You may want to search in the town of Carrboro as well, it lies just a few miles west of the campus and Chapel Hill Transit provides daily transportation to Carrboro free of charge.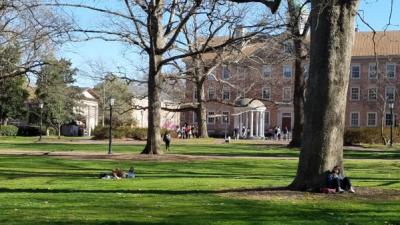 Visiting from out- of -state? The Raleigh - Durham International Airport (RDU) is just 30 minutes from downtown Chapel Hill. You can find a listing of all transportation options here.
For historic tours of the Campus and general university visitor information, the staff at UNC Visitors Center is happy to assist.
Interested in UNC's sports programs? Check out Carolina Athletics and GoHeels. Are you a Carolina Basketball fan – then you cannot miss seeing the Carolina Basketball Museum while visiting. Here is a parking map to help guide you around campus.
Just for fun, check out these Fun Facts about UNC-Chapel Hill.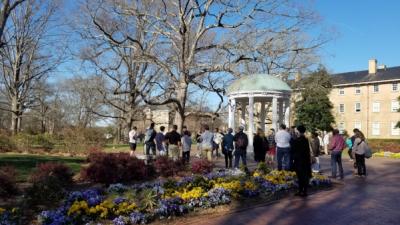 Other important resources:
Hope to see you soon!