LGBT
Orange County, NC which includes; Chapel Hill, Carrboro and Hillsborough warmly welcomes same-sex couples. With the passing of the historic Marriage Equality Act, Orange County has become an even more popular destination for same-sex couples wanting to celebrate their relationship and get married! Say "I do" in Orange County, a place that supports and welcomes the LGBT community and marriage equality for all.
"Our experience there was efficient, professional and welcoming, as we understand it has been in most counties in North Carolina," notes Carrboro Mayor Lydia Lavelle (far right in below photo), who secured a marriage license for herself and partner Alicia Stemper (to left of Lavelle).  Their marriage took place on October 25, 2014 at the Carrboro Town Commons.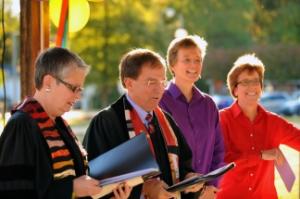 " Make your plans early!" asserts Hillsborough resident Steven Petro, Washing Post columnist and author of five books, including The New Gay Wedding: A Primer for Brides and Grooms, Their Friends and Families . "Orange County is for lovers. Period."
For more information check out FAQ .