June is Pride Month in Orange County, NC . Check out these upcoming events...
Your community is a part of ours.
If you're looking for an escape from the everyday routine, bring your partner or spouse and head to the Chapel Hill/Carrboro/Hillsborough communities of the Raleigh Triangle. Nestled in the rolling hills of the Carolina piedmont, these progressive communities are one of the most welcoming sections of the state..
Writes Steven Petrow, Hillsborough resident and Washington Post columnist and author. "This area is home to James Beard Award-winning restaurants; the University of North Carolina Chapel Hill--the oldest public university in the United States and a place where gays and lesbians are right at home with everyone else. That's true equality."
In fact, Orange County is currently home to half of the state's gay and lesbian elected officials, a trend that started in 1987, when Chapel Hill Town Council Member Joe Herzenberg became North Carolina's first openly gay elected official.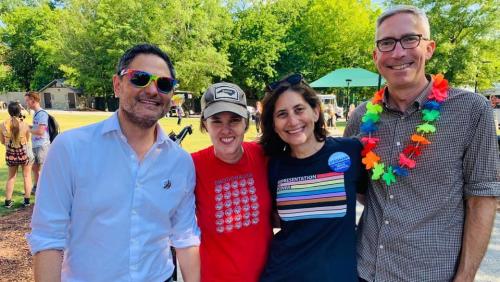 Further proof of the community's values: "Carrboro has the oldest domestic partner registry in North Carolina and recently declared October 10 Marriage Equality Day in celebration of the October 10, 2014 court decisions that brought marriage equality to North Carolina," explains Damon Seils, Carrboro Mayor. Chapel Hill also has a registry."Our community has a long-standing reputation as the most welcoming place in the state for the LGBT community," says Seils. (Picture above L to R: Former Chapel Hill Mayor, Mark Kleinschmidt with Superior Court Judge Alyson Grine and her wife Chapel Hill Mayor Pro Tem Karen Stegman and Damon Seils, Mayor of Carrboro.)
Here's a sampling of some of the things
you can see and do in Orange County,
---
Visit the New South
Whether you're ambling along our scenic downtown streets or rambling through the wooded hills, you'll find yourself in a unique Southern community. "It epitomizes 'The New South'," says Jen Jones, who is a former director of communications for EqualityNC. "It's a place of the future that welcomes diversity, embraces inclusivity, and is a gateway for native Tar Heels, wayward travelers and new transplants alike. Chapel Hill-Carrboro remains one of the most LGBTQ-friendly areas in North Carolina and across the South."
Petrow agrees. "I travel all over the country and gays and lesbians are 'tolerated' more and more just about everywhere, which is great. But here we're accepted," he says. "I've looked for a place like this to call home my entire life and now I don't plan to leave until my toes point up at the stars."
---
Celebrate LGBTQIA+ Pride 2023
Join the towns of Chapel Hill and Carrboro this June for a month-long celebration of LGBTQ+ Pride.
Lesbian, Gay, Bisexual, Transgender, Queer/Questioning, Intersex, Asexual (LGBTQIA+) Pride Month is celebrated nationally and locally each year in June. Through our communities' Pride month events, we affirm community values ensuring that all residents, regardless of sexual orientation or gender identity, are treated with respect and dignity.
Small Town Pride  2023 is a way of involving the entire Chapel Hill/Carrboro community in promoting equality and celebrating diversity and acceptance. Everyone is welcome!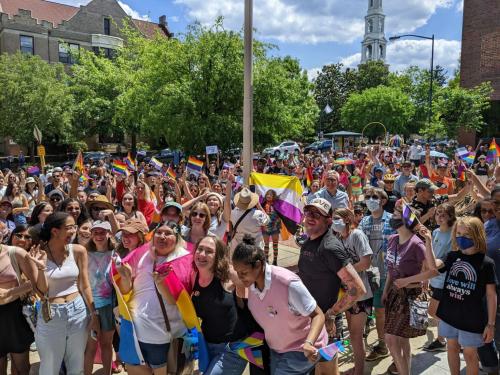 Walk With Pride
SATURDAY JUNE 3 | 2-4 PM
MEET AT PEACE & JUSTICE PLAZA Downtown Chapel Hill
Come decorated in color and join us for the Pride Promenade to kick-off Chapel Hill-Carrboro Small Town Pride. Gather at Peace and Justice Plaza and march alongside performers and other revelers in celebration of the LGBTQ+ community. The march will end at 140 West Franklin Plaza for a social gathering with music and activities.
Poets Open Mic Night
(via zoom) -- 7 to 9 p.m. Tuesday, June 6
Celebrate Pride through your poetry with other local poets. For information, call 919-918-7364. This event is to encourage the writing, reading, and listening of poetry. Hosted by Carrboro Recreation, Parks and Cultural Resources Department. Join the zoom event via zoom (link to be posted soon)! 
ORGULLO LATINX PRIDE
-- 5 to 9 p.m. Saturday, June 10, at Carrboro Town Commons, 301 W. Main St.
Celebrate Latinx Pride! Come out for local food trucks, drag shows, music, and crafts for the kids. This is a space to celebrate and share the diverse cultures, identities, and experiences of the local Latinx LGBTQ community. Organizers from El Centro Hispano aim to create an event that fosters unity, inclusivity, and empowerment by showcasing our community's talents while providing social, healthcare, and advocacy resources, and family fun. 
https://elcentronc.org/orgullo-latinx/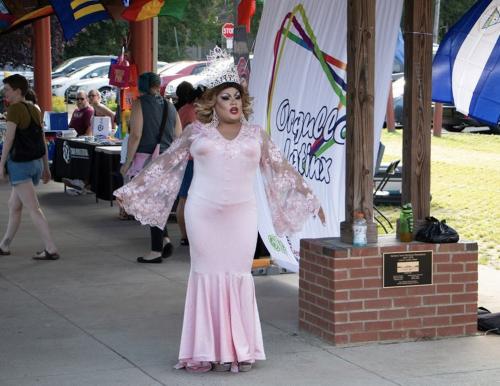 Drag Story Times 
-- 3 to 4 p.m. Saturdays, June 10, 17, and 24 (locations vary)
Drag Story Times celebrates glamour, imagination, play, and gender fluidity while providing positive queer role models. Bring your kids to enjoy a fabulous hour of story time by some of the most prominent Drag royalty in the Triangle! Details coming soon! 
Pride Piper Walk
-- 4:30 p.m. Friday, June 30 (Carrboro Century Center, 100 N. Greensboro St.)
Join local officials and the Bulltown Strutters, a New Orleans-Style Parade and Stage Band, to help roll the "Rainbow Ram" down Weaver Street from the Century Center to Town Commons for the Pride Food Truck Rodeo & Dance Party.
Pride Food Truck Rodeo & Dance Party
-- 5 to 8 p.m. Friday, June 30, at Carrboro Town Commons, 301 W. Main St.
There will be food, dance and frolicking on the lawn! Grab your friends and come on out! If you interested in participating as a vendor or by setting up a table, fill out the application form at
Over in Hillsborough on June 30th, The Last Fridays theme is "Art is for Everyone" which recognizes pride month and celebrates diversity equity and inclusion in the arts. Natalia Torres de Valle (local artist who also hosts a teen LGBTQ+ art therapy group) will host Art making at the June 30 Makers Market on the Old Orange County Courthouse Lawn in downtown Hillsborough.  There will also be a group show at the Hillsborough Arts Council Gallery & Gift Shop under this same name that will open with the June 30 Art Walk.  https://www.nataliatorresdelvalle.com/teen-arts-collective-lgbtqia or https://artsorange.org/