Annual Events 2020
Due to COVID-19, it is expected that many events listed below will cancel in the foreseeable future and we recommend contacting the event sponsor directly before making plans.
---
Plan your trip around these events worth a weekend stay! The communities of Orange County show their unique personalities through historical events, music, art & film, cultural heritage plus a little bit of sports and holiday cheer. Click here for lodging options. For a pdf list of the entire year's major annual events, scroll to the bottom of the page.
August
CANCELLED August 7 -September 7. 21st Annual Forest Theater Giant Puppet Pageant. But you can see the video of 2019 show We Are Here on the Paperhand website. Each summer, the creative team of Paperhand Puppet Intervention brings a newly themed show with spectacular life sized puppets to the beautiful outdoor Forest Theatre on UNC Campus. Paperhand Puppet Intervention's annual puppet pageant includes giant puppets, rod puppets, mask and dance, shadow puppetry and stilt walking and paper-mache'characters. Paperhand's yearly spectacle tells stories of the human heart, illuminates and incorporates myths from around the world, and inspires young and old alike.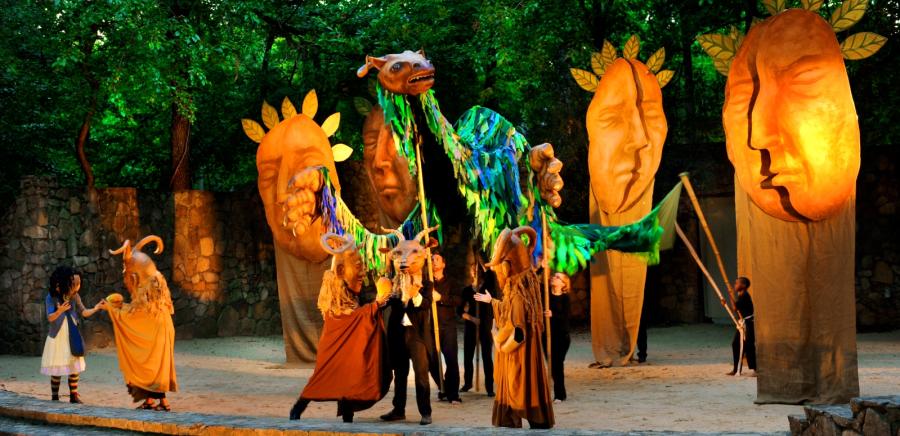 September
September 13 - December 6 Sculpture in the Garden at North Carolina Botanical Garden. This is an annual exhibit of 60 one-of-a-kind sculptures placed amid the native wildflowers and shrubs to delight garden visitors. The NCBG is located at 100 Old Mason Farm Road in Chapel Hill. Call 919-962-0522 or visit Sculpture in the Garden for details and updates.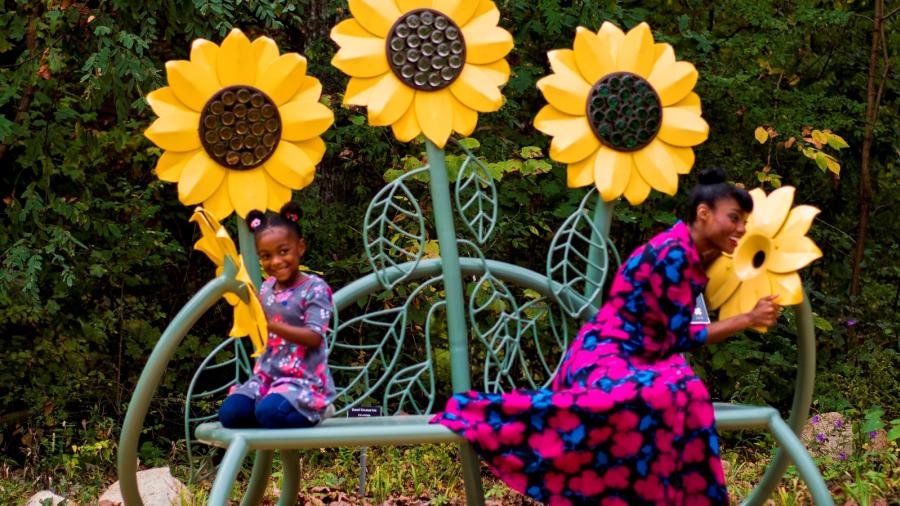 CANCELLED September 18-19. Hog Day. Friday 6 pm – 10 pm and Saturday 10 am – 6 pm.  River Park, 114 E. Margaret Lane, Downtown Hillsborough.  Live music, local handmade crafts and gifts; local food vendors, dessert contest, classic car show, children's area, 5K Run, Pigs on Parade Art Project and BBQ cookoff contest with lots of BBQ to enjoy. www.hogday.org.  
September 26. Battle of the Blues Polo Match. Our Battle of the Blues Polo match is an annual competition between alumni of Duke and UNC Chapel Hill. Admission is general admission (where you bring your lounge chair) to VIP reserved tents for your family of business.  The day includes a Classical Riding Exhibition from the Wright Tempo School of Equestrian Arts as well as a silent auction and our premiere Polo Match.  Be sure to dress for the occasion from sear sucker suits to Derbyshire hats (we'll have a contest for the best dressed adults and kids). This years event is hosted for the first time at the historic Barn at Lloyd's Dairy 226 North Lloyds Dairy Rd., Efland.
Weekends September 26 – November 1.  Fall Corn Mazes at McKee Farms in Rougemont.   $12 corn maze admission. Age 2 and Under Free.  Fridays 3-8pm, Saturday 10-8pm, Sunday 1-7pm.  2 mazes – 12 acre cornfield maze and 2 acre fun, interactive adventurous maze for children.  Also hayrides, pumpkins, corn hole, farm animals, barrel train and more.  McKee Cedar Creek Farm, 5011 Kiger Rd, Rougemont, (919) 732-8065. https://mckeecornfieldmaze.com/
October
CANCELLED October 2-3.  27th Annual Efland Ruritan Rodeo.   Gates opens 6 pm, rodeo starts at 8 pm both nights. Featuring all the classic events of rodeo such as Ranch Style Bronc Riding, Team Roping, Cowgirls Break-Away Roping, Calf Roping, Cowgirl Barrel Racing and of course Bull Riding, clowns, special entertainment, good food and more.  Efland Ruritan Club, Efland (919) 971-1129. Hwy 70,  I-40/85 Exit 160.  Adults  $12, children 5-12  $7, age 4 and under free.  Military members in uniform are admitted for $7 and those showing a military ID (active, reserve or retired receive a $1 discount). Parking is free. No pets, coolers or smoking allowed inside the gate. 
October 4  23rd Carrboro Music Festival.   Kickoff events are being planned leading up to the event. This year marks the 23rd Anniversary of the Festival. More information on specific dates, times, and performances will be released as they become available. The festival will look different in 2020. The event is a product of a coordinated effort by the Carrboro Recreation, Parks, & Cultural Resources Department and the Carrboro Music Festival Planning Committee. It's supported by the Town of Carrboro and the Carrboro Tourism Development Authority. (919) 918-7367.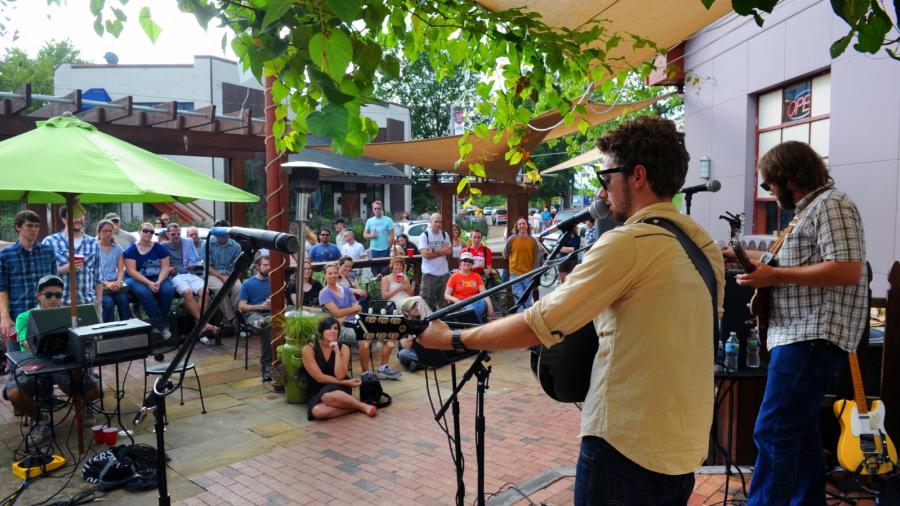 October 14-18. Film Fest 919. The Chapel Hill, NC based festival returns with an early look at some of the most anticipated films of awards season and the chance to meet the artists behind them. 2020's film lineup to be announced in the fall. Silverspot in University Place.
October TBA.  Festifall Arts Festival. Annual celebration that brings the community together around a diverse array of arts experiences.  The Arts & Craft Market will have more than 50 local artists, artisans, and crafters offering everything from jewelry and pottery to musical instruments and fabrics. The Open Air Studio will have area artists working out in the open, showing off their techniques and artistry. The Kids Zone will have local arts organizations offering interactive crafts and activities for young artists and art lovers. Throughout the festival, attendees of all ages will have opportunities to create art alongside artists. West Franklin Street, Chapel Hill; Chapel Hill Parks & Recreation Department (919) 968-2784.  Time TBA.  Free
October TBA. River Park Concert.  Free Concert at River Park in downtown Hillsborough, 144 E. Margaret Lane from Noon – 8:00 pm. This year's amazing lineup TBA. Day ends with All-Star Jam.  Bring your chairs and blankets. Food, beer and more.  Visit https://www.hillsboroughartscouncil.org/riverparkconcert
October 17-18. Tarheel Antiques Festival & Christmas Craft Show. Admission $5. The festival features antique vendors, auctions and appraisals. Located at the historic Barn at Lloyd's Dairy centrally located between the Triangle and Triad regions of North Carolina at the merge of Interstate 40 & 85.  Friday the 16th is- Setup/ Preview Day for Vendors: 10 am - 6:00 pm;  Saturday -Main Day: 9:00 am - 5:00 pm - Festival opens to the public featuring antique and craft vendors, auctions, appraisal and Christmas themed activities and entertainment. Sunday. Grande Finale Day: 10:00 am - 4:00 pm. Final day for wonderful deals and to take advantage of the collection of the finest antiques, vintage vendors and crafters in America. 226 N. Lloyds Dairy Rd, Efland (919) 732-7322. https://www.tarheelantiquesfestival.com/
October 23-24 "Spirits of Hillsborough" Hillsborough, the oldest town in the Triangle, is haunted! Join the Alliance for Historic Hillsborough and The Orange Community Players for the annual Haunted Tour through the historic district to encounter these ghostly residents! This fun and dramatic tour will bring you face-to-face with Hillsborough's past. Tours last approximately one hour. The ghost performances are family-friendly, but please be aware that this is a walking tour over several blocks, and may include hills and uneven ground.  Tickets are timed and groups depart from the Hillsborough Visitors Center (150 E. King St.). Friday tours every 20 min: 7:40 pm – 9 pm and Saturday every 20 minutes, 5 pm – 9 pm. Tickets: Adult – $15, Senior/Student – $12. Children 5-12 – $5. Call (919) 732-7741 or www.visithillsboroughnc.com.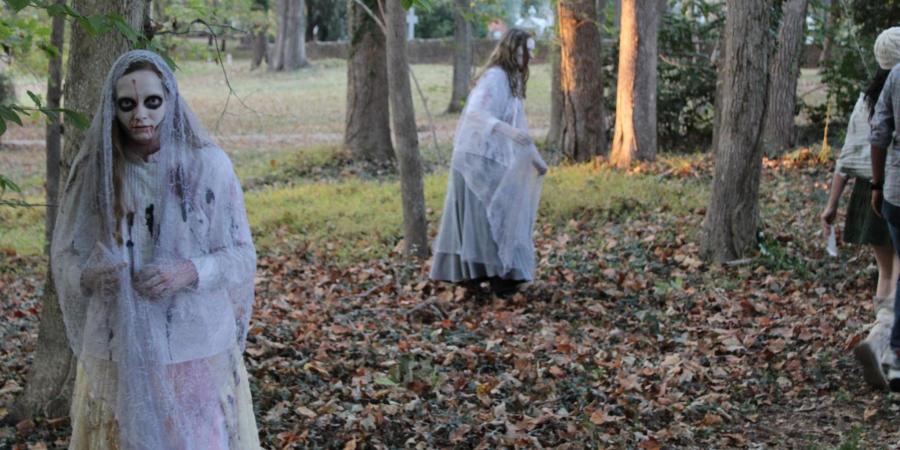 November
November 7-8 & 14-15. 26th Annual Orange County Open Studio Tour.   Orange County; Over 70 artists invite you into their studios to see where and how they work.  Sponsor: Orange County Artists Guild (919) 933-7880.  First two weekends in November.
November TBA. 14th Annual Carrboro Film Festival.  Three-day festival which this year focuses on the South, films shot in the South, about the South or with Southern characters.  Festival is at The ArtsCenter.  Times and ticket costs TBA.   
November TBA. Salt & Smoke Festival.  Acme presents the eighth annual Salt & Smoke Festival at Rock Quarry Farm. Whole heritage hog BBQ and a heaping plate of southern sides, perfect raw oysters, the best local booze, live music all day long, and much more. Back-to-back live music shows and a DJ dance party! 1:30 pm – 6:30 pm. Tickets are $85. 1700 NC HWY 54 W, Chapel Hill 
December
December 1-January 3.  23nd Annual Twelve Days of Christmas. The Carolina Inn will be festively adorned for the holidays with elaborate decorations based on the traditional song, The Twelve Days of Christmas.  There will be self-guided tours and a number of holiday activities, including festive meals, breakfast with Santa, cookie decorating, holiday teas, holiday markets and much more.  Some events free.  Please call (919) 918-2715 for reservations to special events.
December 5. Winter in the Garden Holiday Festival. Enjoy the peaceful holiday splendor of the North Carolina Botanical Garden from 5-9 p.m. Enjoy holiday splendor in the Garden as we celebrate the end of the year with lights, kids crafts, holiday music, food trucks and a craft market.  And remember, the Garden Shop is the perfect place to find those special gifts on your shopping list! Photos with Santa Rameses Jr. will be available from 5-8 p.m. Ticket Prices: In advance: $12 for adults, $6 for children 12 and under. At the door: $15 for adults, $10 for children 12 and under. Timed entry tickets for 5 pm, 6 pm, 7 pm or 8 pm. Select your preferred time. 100 Old Mason Farm Road. More information and tickets can be found at North Carolina Botanical Garden.
December TBA. 34th Annual Hillsborough Candlelight Home Tour Downtown Hillsborough.  Tour homes decorated for the holidays. Historic buildings and churches will also be open and decorated. Readings from local authors. Music at various sites and refreshments at some. Features a miniature train ride, horse and carriage rides through Historic Hillsborough district. Pictures with Santa will also be available at the Hillsborough Visitors Center. 1 pm – 7 pm. Homes open 3 pm - 7 pm. Ticket information to come.  Hillsborough/Orange County Chamber of Commerce (919) 732-8156.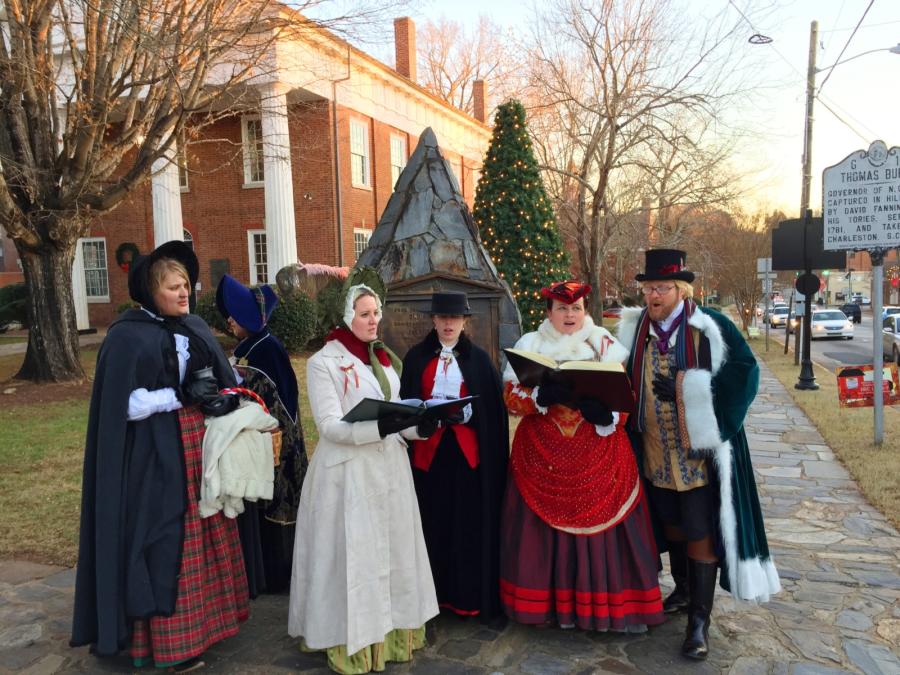 December 21. Solstice Celebration Lantern Walk. Walk along the Riverwalk with handmade lanterns which light up the night sky. The color theme for the lanterns again this year is all white. Please do not incorporate other colors into your lantern. This event is free and open to the public but all participants must register in advance and bring a handmade, white lantern with a LED light. No flames allowed. All participants must enter the Riverwalk from the Farmer's Market Pavilion only, 144 E. Margaret Lane, Hillsborough. The 30-minute walk will begin at 5:45 pm. If you want to be a spectator, view from the Eno Parking Deck where free parking is available (behind Weaver Street Market). Only individuals with lanterns will be allowed to enter the Riverwalk.  Hillsborough Arts Council, www.hillsboroughartscouncil.org
Click here for a complete listing of 2020 Major Annual Events which is being revised as we go through the year.
---