Annual Events 2018
Plan your trip around these events worth a weekend stay! The communities of Orange County show their unique personalities through historical events, music, art & film, cultural heritage plus a little bit of sports and holiday cheer. Click here for lodging options.
February
February 17. Revolutionary War Living History Day.Experience the local history of the American Revolutionary War with live actors, dancers, historic tours, interactive activities and collaborative events throughout town. This is a fun family friendly day.Held at the historic Alexander Dickson House in downtown Hillsborough.8:00 am - 4:00 pm. Sponsored by the Alliance for Historic Hillsborough. (919) 732-7741.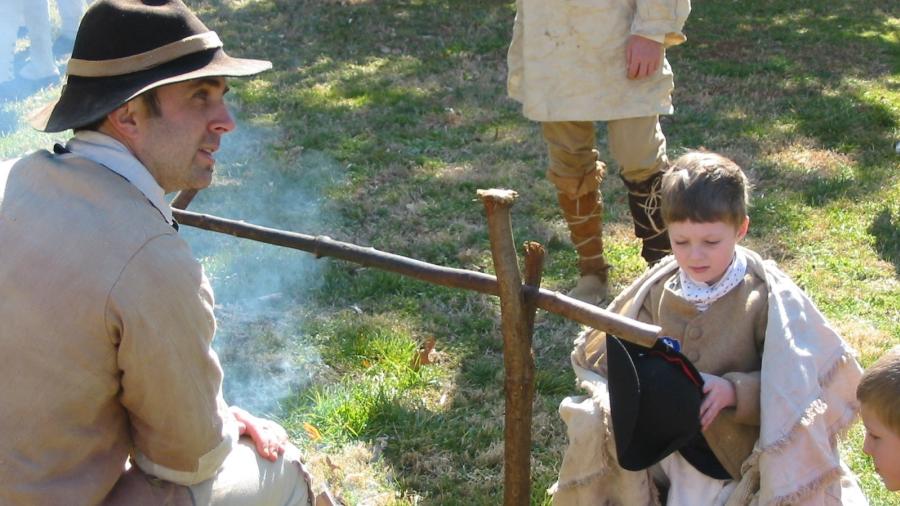 February 18 Light Up Festival The Festival features lantern decorating with local artists, highly interactive art and craft creations, a dragon dance workshop, drumming and dragon dance performances, Peking Opera, games and prizes, exhibitions and workshop, silent auction, Asian food stands and trucks.  When twilight sets in, join your family, neighbors and friends in a thousand-lantern parade to usher in the New Year of Dog. Free Admission, however donations accepted.The Friday Center, 100 Friday Center Drive, Chapel Hill,11 am – 6 pm.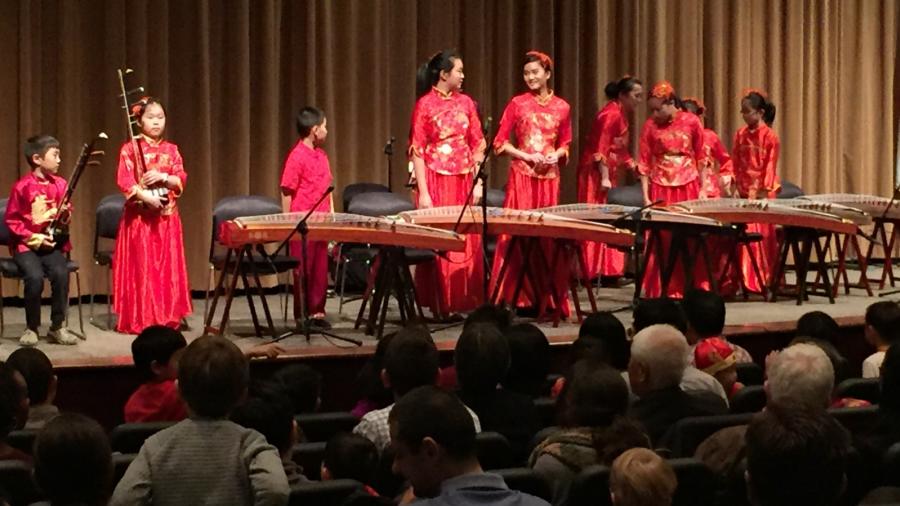 April
April is NC Beer Month.  Stay tuned for details and upcoming events.
April 8. Near & Far: A Local Celebration of Global Cultures! Celebrate the global culture within Chapel Hill at this fun and funky street party! Homegrown cultural groups will offer activities for all ages. Plus, celebrate our vibrant community with heritage music, dance troupes, and spontaneous art performances that will make this afternoon unforgettable. Taste international food offerings from our Tasting Tent. 2:00 - 5:00 pm on the plaza at 140 West Franklin Street.
April 21.  The 11th Annual Tar Heel 10 Miler and Fleet Feet 4 Mile Run. Run takes you on a beautiful tour of Chapel Hill.  Event starts at 7:15 AM on the UNC campus The Tar Heel 10 Miler benefits the UNC Lineberger Comprehensive Cancer Center and the Chapel Hill-Carrboro YMCA's We Build People Campaign.
April 22. Rodeo on Rosemary. 15 of the areas best food trucks coming to Rosemary Street on. Lots of family fun with games, music, mini golf and the Raleigh Rockers! Don't miss your chance for a fun family Sunday from 12 pm – 4 pm. Contact Chapel Hill Downtown Partnership for details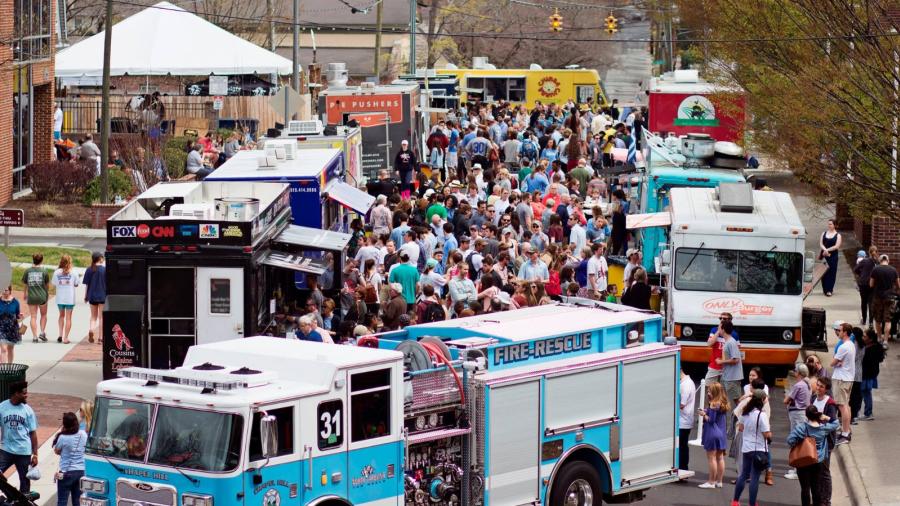 April 22. Arts on the Market. 2 pm – 5 pm. Arts on Market is a bi-annual celebration and shopping event featuring local and regional artists, artisans, bakers, and makers. Come to the Southern Village Green and enjoy an afternoon of art, entertainment, and shopping. Our vendors create Jewelry, Pottery, Paintings, Textiles, Accessories, Food, Home Accessories. Market Street, Chapel Hill.
April 22. Farm Fare 2018: Food & Farm Expo, 4-7 p.m., Come celebrate and experience our local farms, farm to fork restaurants, food artisans and farm related businesses at The Barn at Lloyd's Dairy, 226 North Lloyd's Dairy Road, Efland. $35 per person until 4 p.m., April 16th, then price will be $45 per person.  Children 12 and under $10.  Farm Fare Details
April 28-29.  Piedmont Farm Tour.  Orange, Chatham, Person and Alamance counties; Tour various farms throughout the area from 2 pm – 6 pm, both days.  Carolina Farm Stewardship Association (919) 542-2402. Cost: $30 per car for ALL FARMS if purchased in advance, $35 per car for ALL FARMS if purchased during the tour, and $10 per car per farm the day of the tour. (All proceeds benefit CFSA)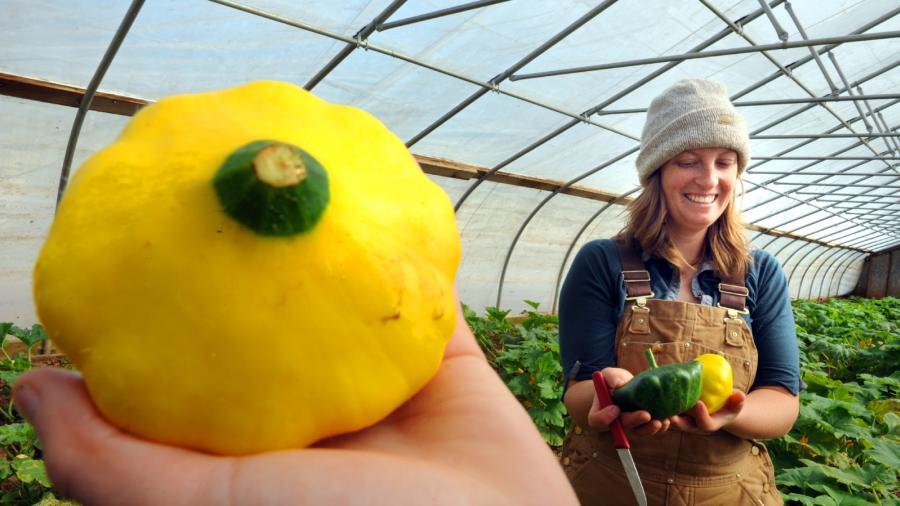 April 28-29. Chapel Hill Spring Garden Tour. Theme is Town & Gown Gardens ~ Synergy in Bloom. Saturday 10 am – 4 pm, Sunday, 11 am – 4 pm. Tour nine gardens – rain or shine. Tickets are on sale through April 29.  Tickets can be purchased in person from April 1, 2018 to noon on April 27, 2018 (cash/check) at these locations : NC Botanical Garden, (919) 962-0522; Southern Season,  (919) 929-7133 and Southern States Carrboro, (919) 942-3857. Advance tickets: $25 per ticket; On tour days: $35 per ticket. Youth 16 and under: FREE with ticketed adult. Presented by: The Chapel Hill Garden Club
May
May 5.  Annual Pops in the Park Concert, Cameron Park, downtown Hillsborough.  Sponsor:  Durham Symphony. William Henry Curry, Conductor  leads the popular Spring 'Pops in the Park' concert series celebrating the enduring tradition of bringing classical, Broadway, and Hollywood themed music to our communities. They share their love of music with this entertaining program of selections that represent "a bit of Americana".  (919) 491-6576. Free. 3 pm. Free.
May 5,6 & 12 The 24th Annual Art in the Garden Sculpture Exhibition is a unique once yearly event and one of the finest outdoor sculpture exhibitions in the triangle region of North Carolina. The event is held at the private residence of artists Tinka Jordy and Mark Donley just six miles away from downtown Hillsborough.  Opening reception is May 5. Saturday hours 10 am – 6 pm; Sunday 12 pm – 5 pm.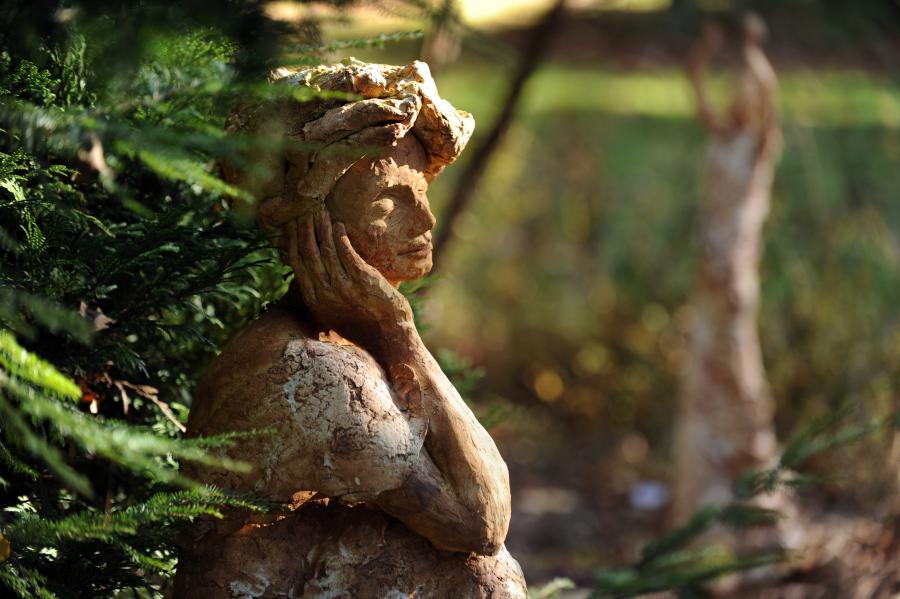 May 3 & 5-7. VIETRI's Spring Warehouse Sale is Thursday May 3, from 3 pm - 6 pm and  Saturday, May 5 through Monday, May 7 from 8 am - 4 pm daily.  Closeout prices on a vast selection of discontinued, slightly flawed, and unique sample products handcrafted in Italy are up to 80% off retail. There is new product daily and daily specials.  Early bird tickets are available.  Located at 343 Elizabeth Brady Road in Hillsborough, NC, the VIETRI Outlet Store can be reached by telephone at (919) 245-4181. Warehouse Sale Details
July
July 4 - Celebration and Fireworks. Travel & Leisure Magazine ranked Chapel Hill as one of America's "Top Best Towns for July Fourth Celebration"! Food Trucks, Watermelon eating contest, spin art, stiltwalkers, face paining, live music and a huge fireworks display. Held in Kenan Stadium on UNC-Chapel HIll campus. Donations welcomed. Details Town of Chapel Hill
August
August 3-September 3. 19th Annual Forest Theater Giant Puppet Pageant. Each summer, the creative team of Paperhand Puppet Intervention brings a newly themed show with spectacular life sized puppets to the beautiful outdoor Forest Theatre on UNC Campus. Shows Fri-Sun and Labor Day (919) 923-1857.
September
September 14 - Tar Heel Downtown. Friday 6 pm – 9 pm on the Friday night before the first home football game. A family-friendly event, centered around 140 West Plaza on West Franklin Street, highlighting the University and downtown business district. Tar Heel Town will still take place in Polk Place on UNC Campus on gameday. Food, face painting, UNC band and cheerleaders, other live music.  Tar Heel Downtown
September 29. Orange County LocalFest 10 am - 6 pm. Daylong county festival celebrating Orange County's local food, beer, cider, art, music, farming and entrepreneurs. There will be kid's activities and demonstrations, cooking exhibits and more. 
September 29-30.  21st Carrboro Music Festival.   On Saturday, music begins at 2 pm at the Carrboro Town Commons with evening performance at Cat's Cradle from 7 pm – 10 pm.  On Sunday, September 23 there is free music beginning at 1:00 PM until midnight. All types of music!  Event features two dozen venues throughout downtown Carrboro with over 180 musical acts as well as food, craft and non-profit vendors. Free shuttle bus from Carrboro Plaza Park & Ride from noon -9:00 PM. Sponsor, Carrboro Arts Commission; (919) 918-7367.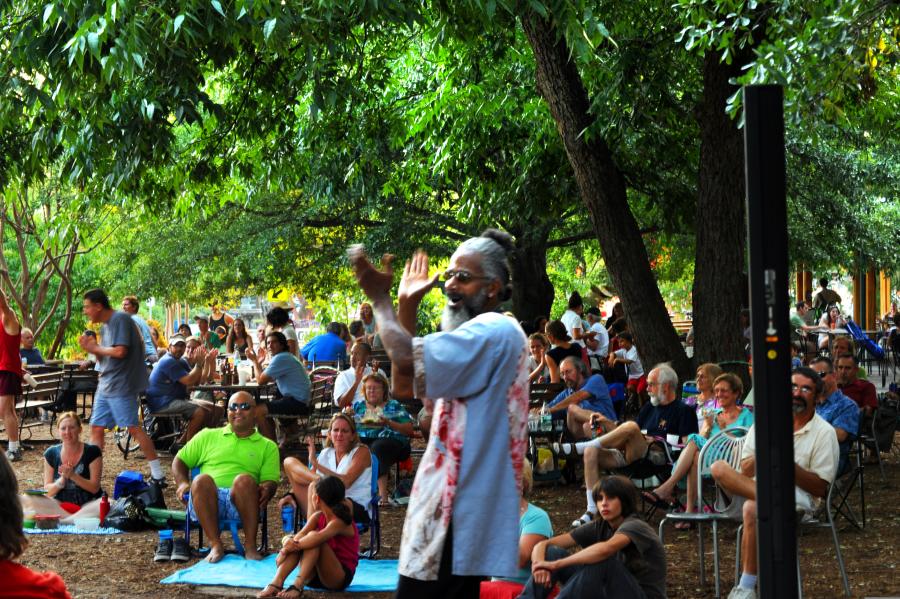 October
October 5-6.  24th Annual Efland Ruritan Rodeo.   Gates opens 6 pm, rodeo starts at 8 pm both nights. Featuring all the classic events of rodeo such as Ranch Style Bronc Riding, Team Roping, Cowgirls Break-Away Roping, Calf Roping, Cowgirl Barrel Racing and of course Bull Riding, clowns, special entertainment, good food and more.  Efland Ruritan Club, Efland (919) 971-1129. Hwy 70,  I-40/85 Exit 160.  Adults  $12, children 5-12  $7, age 4 and under free.  Military members in uniform are admitted for $7 and those showing a military ID (active, reserve or retired receive a $1 discount). Parking is free. No pets, coolers or smoking allowed inside the gate. 
October 7.  Festifall Arts Festival. Street fair with music, arts and crafts, children's area and food. Held on West Franklin Street, downtown Chapel Hill. For details contact the Chapel Hill Parks & Recreation Department (919) 968-2784.  Noon-6 pm. Free.
October 14, 2018 Hillsborough Handmade Parade (bi-annually). Mardi Gras style street parade is completely created by the community and includes wild costumes, giant puppets, stilt walkers, marching bands, and much more. Begins at 2:30 pm at the Town Hall in Hillsborough. Workshops in leadership costumes and giant puppet making are provided beforehand for all ages (registration for workshops is required).
October 17-20.  9th Annual TerraVITA Food & Drink Festival Chapel Hill.  4-day festival (Wed – Sat) dedicated to excellence and sustainability in the South, showcasing the very best in food and beverage.   Multiple events and tastings and dinners leading up to the finale, The Grand Tasting on the Green on the lawn at Southern Village on Saturday from 1 pm – 4:30 pm.  The Grand Tasting offers edibles from more than 40 exceptional chefs & artisans from across the state and features more than 80 sustainably-produced beverages from around the globe, including microbrews and spirits, craft sodas, organic coffees, and biodynamic, organically-grown and natural wines.This event should not be missed by any serious foodie! Visit website for event calendar and ticket information.
October 26-27 "Spirits of Hillsborough" Hillsborough, the oldest town in the Triangle, is haunted! Join the Alliance for Historic Hillsborough and The Orange Community Players for the annual Haunted Tour through the historic district to encounter these ghostly residents! This fun and dramatic tour will bring you face-to-face with Hillsborough's past. This year will feature a new route and new characters including Captain and Mrs. Ashe, Jane Hayes and William Hooper! Tours last approximately one hour. The ghost performances are family-friendly, but please be aware that this is a walking tour over several blocks, and may include hills and uneven ground.  Tickets are timed and groups depart from the Hillsborough Visitors Center (150 E. King St.). Friday tours every 20 min: 7:40 pm – 9 pm and Saturday every 20 minutes, 5 pm – 9 pm. Tickets: Adult – $15, Senior/Student – $12. Children 5-12 – $5. Call (919) 732-7741 or www.visithillsboroughnc.com.
October 28 Curds & Crafts Festival. 1 pm – 6 pm. An artisanal cheese and beer festival with a focus on southern cheese-makers and NC breweries, featuring 16 cheese-makers, over 12 breweries, and other artisan food producers. Ticket includes a souvenir tasting glass, unlimited samples of cheese and beer, insulated bag to store cheese purchases, live music, and tasty treats from local artisans including charcuterie, handmade bread, crackers, and small-batch jellies and pickles. Advance tickets only. Event is at The Cloth Mill at Eno River. For more info & Tickets visit Curds & Craft.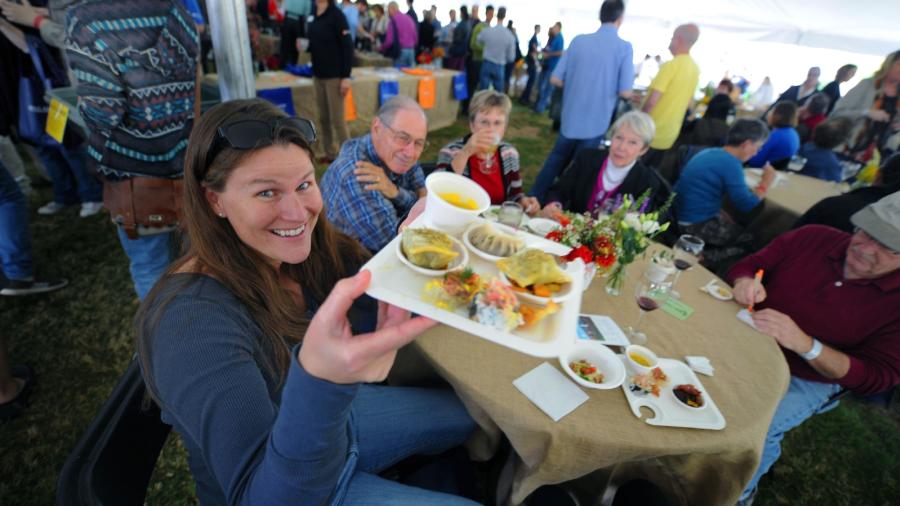 November
November 3-4 & 10-11. 24th Annual Orange County Open Studio Tour.   Orange County; Over 70 artists invite you into their studios to see where and how they work.  Sponsor: Orange County Artists Guild (919) 933-7880.  First two weekends in November.
November 17-18. 13th Annual Carrboro Film Festival.  Two-day festival with workshop, films and free after party. Anticipate about 45 films.  Festival at The ArtsCenter.  Saturday, Nov. 17 – 11 am – 10 pm & Sunday, Nov. 18 – 12:30 pm – 7 pm.  Tickets are $15.00 for a 1-Day, All-Day Festival Pass (either All-Day Saturday OR All-Day Sunday), and $20.00 for a 2-Day, All-Weekend Festival Pass. Kids 12 and under are FREE all weekend long, and do not require a ticket for entry.   
December
December 1-January 1.  21st Annual Twelve Days of Christmas. The Carolina Inn will be festively adorned for the holidays with elaborate decorations based on the traditional song, The Twelve Days of Christmas.  There will be self-guided tours and a number of holiday activities, including festive meals, breakfast with Santa, cookie decorating, holiday teas, holiday markets and much more.  Some events free.  Please call (919) 918-2715 for reservations to special events.
December 7 & 8: Winter in the Garden Holiday Festival. Enjoy the peaceful holiday splendor of the North Carolina Botanical Garden from 5-9 p.m. Decorated with luminaries, lights and native plant greenery, the Garden will be filled with holiday music, food for purchase and good cheer. Children will have an opportunity to make a holiday ornament, and Rameses Jr. will stop by for a visit. The Garden will collect non-perishable food donations to support the Carolina Cupboard, a food pantry for UNC students. And remember, the Garden Shop is the perfect place to find those special gifts on your shopping list! Tickets cost $10 per person, $5 for children age 12 and under. More information and tickets can be found at North Carolina Botanical Garden 2018 Annual Events.
December 9. 32nd Annual Hillsborough Candlelight Home Tour Downtown Hillsborough.  Tour homes decorated for the holidays. Historic buildings and churches will also be open and decorated.  Music at various sites and refreshments at some. Features a miniature train ride through Historic Hillsborough's neighborhoods, stops along the way. Also Horse Drawn carriage ride through the historic district. Pictures with Santa will also be available at the Hillsborough Visitors Center.  3 pm – 7 pm. Ticket $15 in advance one week out, $20 week prior and day of.   Hillsborough/Orange County Chamber of Commerce (919) 732-8156.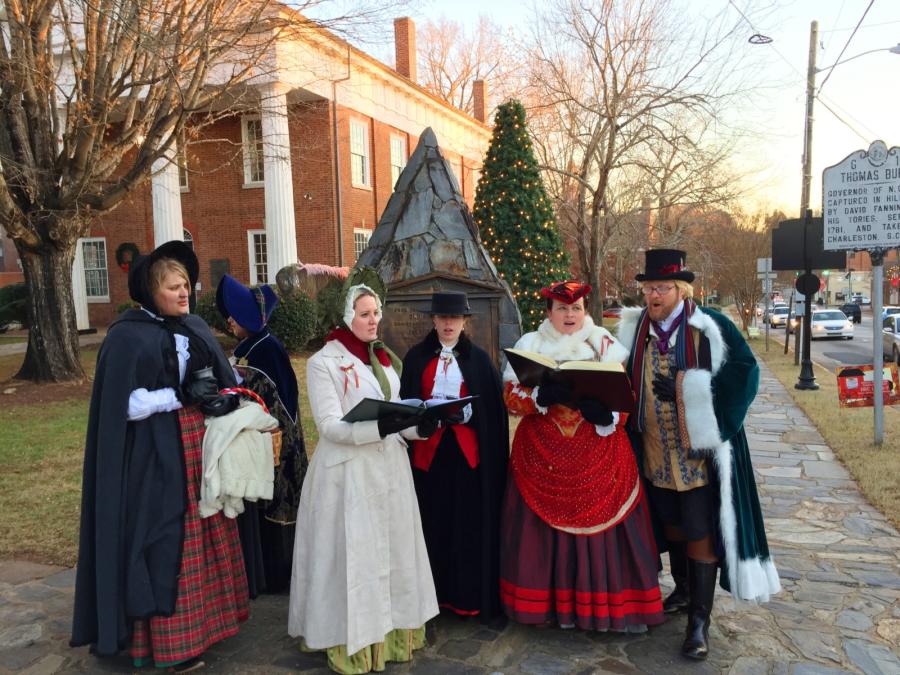 Click here for a complete listing of 2018 Major Annual Events
---