Made in Orange County, NC
Made in Orange County, NC features local products that are affectionately and passionately made right here in Orange County.
Read the story behind Chapel Hill Toffee: 
Not only is Chapel Hill Toffee "American Made" but the company is family owned and managed – right here in Chapel Hill!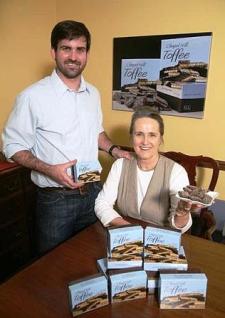 In 2006, after years of perfecting her secret family recipe, Chapel Hill resident Karen Graves decided to turn her hobby into her own home based business, Chapel Hill Toffee.
Chapel Hill Toffee begins with a layer of traditional English toffee spread thin and cut by hand into bite sized squares. Pecans are incorporated throughout the toffee to give it a crispy texture and memorable nutty flavor. Each piece is coated on both sides with a top-secret blend of dark chocolates. The smooth layers are finished off with the sprinkling of pecans that gives Chapel Hill Toffee it's iconic look and distinctive southern twist!
Several years later Karen's son Mark, and daughter-in-law Christy, came on board making it a family business. Chapel Hill Toffee ha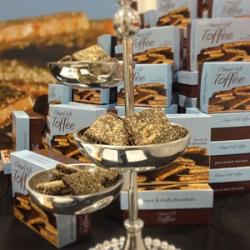 s expanded to over 400 retail locations all over North Carolina and in 30 different states, plus you can order it online from their website Chapel Hill Toffee. 
Buying a box of Chapel Hill Toffee is almost as much of a delight as getting one as a gift, they make the best presents! 
Read about Chapel Hill Toffee on Martha Stewart's website  Martha Stewart Chapel Hill Toffee. 
(Photo credits: above Mackenzie Brough, Chapel Hill Magazine, right Chapel Hill Toffee)