While Orange County farmers typically work year round and can be found selling their products during the winter markets - the fruits and 'flowers' of their labor really show through come April and early May.
The markets get more colorful with fruits, flowers and veggies; and busier too with more vendors and visitors. Roadside and on-farm stands open up. And the best part, we think, is the opportunity to get out to a farm to pick (or cut) your own!
And with our temperate climate here in the Piedmont of North Carolina, the pick your own season extends well into the fall. Below is just a sampling, in order by product and season, of our fabulous pick- your- own farms.
Know before you go: Be sure to respect each locations COVID-19 guidelines. Hours and availability may vary, so be sure to check online and make reservations in advance.
Flowers
Many of the cut your own flower farms offer varieties that bloom June through September. Early varieties such as tulips, daffodils and hellebores can be found as early as March and are a favorite for the spring holidays. As the season progresses, beauties like snapdragons, dianthus, dahlias and zinnias put on a colorful show through the summer months into early fall. And finally a fall favorite, chrysanthemums, make their appearance with their showy petals. Check individual farms for supplies provided or ones you need to bring along on your visit.
Fernrock Farm 4500 Orange Grove Rd, Hillsborough, NC | 919-644-0654
Firefly Farm   4911 Hunt Road, Hillsborough, NC | email
Persimmon Hill Farm 105 Persimmon Hill Ln., Cedar Grove, NC (located at Cedar Grove Blueberry Farm | email
Strawberries
The first of the fruits of the season for picking. Depending on the weather, the red juicy berry is ripe for picking in late April through early June. Strawberries love full sun; hats and sunscreen are always fashionable in the strawberry fields.
Double R 701 Ollie Lane, Hillsborough, NC | 919-949-8157
Eno River Farm 2127 St. Mary's Road, Hillsborough, NC | 919-245-8775
McAdams Farm 1100 Efland Cedar Grove Rd., Efland, NC | 919-732-7701
Blueberries
These nutrient rich, tasty berries are in-season June and July and come in several varieties. Picking blueberries makes for a great family outing; lots of open space and ease of picking even for younger children. To get the cream of the crop, only pick the fully ripe berries that are plump and round!
Cedar Grove Blueberry Farm 105 Persimmon Hill Ln, Cedar Grove, NC | email
Hawk Hill Berry Farm 3009 Hawk Hill Farm Rd., Mebane, NC | 919-923-3275
Minka Farm 120 Minka Farm Lane, Efland, NC | email
Whitted Bowers Farm 8707 Art Road, Cedar Grove, NC | 919-732-5132
Muscadine Grapes
Prevalent in North Carolina, really throughout the Southern United States, Muscadines or Scuppernongs (named after the Scuppernong River in North Carolina) like it hot and humid which makes them easy to grow here in the Piedmont. These grapes are bigger and rounder than the seedless green and red grapes most are accustomed to. Beware though, the skin is thick and seeds are large. But, once you master the art of spitting of seeds and skin, it's worth the juicy and sweet flesh! Muscadine jam and jelly along with homemade wine are the most popular way to enjoy this southern favorite.  Plan your Muscadine picking adventure for late summer to early fall.
Minka Farm 120 Minka Farm Lane, Efland, NC | email
Parker Farm & Vineyard 2211 Laws Store Rd., Hurdle Mills, NC |919-245-1008
Asian Persimmons
Large, orange fruits that can be eaten like an apple (non-astringent). Take note, astringent persimmons should only be eaten after ripening or suffer from pucker mouth! Fun tidbit: in Korean folklore the dried persimmon has a reputation for scaring away tigers. No worries, you most likely will not cross paths with any tigers here. Picking season is September through October
Minka Farm 120 Minka Farm Lane, Efland, NC | email
Sweet Retreat Orchard 2925 Frank Perry Rd., Hillsborough, NC | 919-973-5536
Footnote
Minka Farm also grows apples, pears, pawpaws and jujubes available to the public for picking.
---
Stay Connected to your favorite farms by downloading the Visit NC Farms Mobile app available for Android and Apple - more info at Visit NC Farms Today Learn more about Agritourism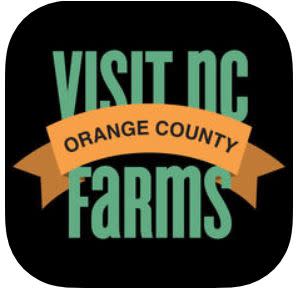 (Top photo courtesy of Evan Moore Photography)