We could easily list 3,000 reasons why we love life here, but we'll start with 32 …
1. Fridays on the Front Porch at The Carolina Inn combines our penchants for tapping our toes, mingling with friends, appreciating a fine Southern front porch, enjoying Chapel Hill's beautiful weather, and sipping on a favorite cocktail to commemorate the weekend's arrival.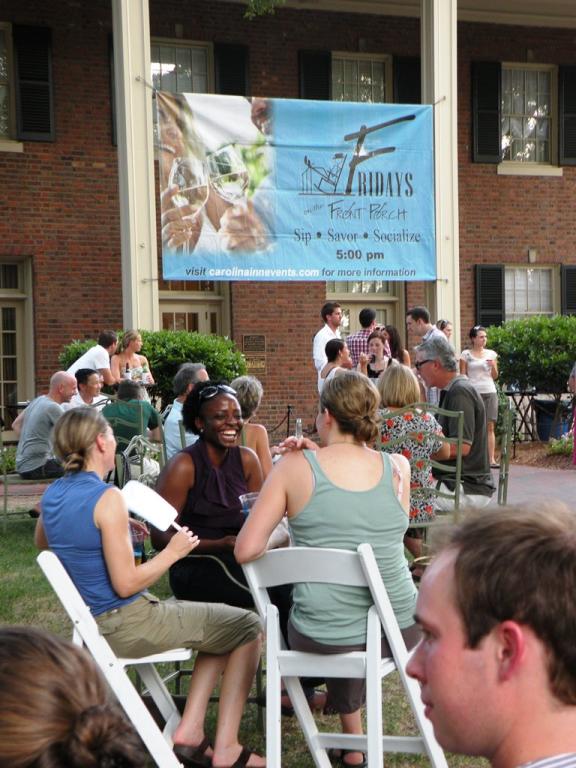 2. We have nationally acclaimed restaurants representing all kinds of international cuisines at every price point – from Lantern, by James Beard award winner Andrea Reusing, to Al's Burger Shack, named TripAdvisor's best burger in the U.S. in 2018.
3. An immersive arts experience is an unforgettable arts experience, and that's exactly what CURRENT ArtSpace + Studio –  a 7,000-square-foot state-of-the-art space on Franklin Street featuring an adaptable black box-style theater and a multi-purpose studio – offers.
4. A Tar Heel tradition for nearly a century, Sutton's Drug Store summons visitors to order a hand-crafted shake and an aptly named sandwich like Roy's Reuben or the Dean Dome Deluxe. Look for photos of legends like Michael Jordan, Lennie Rosenbluth and Tyler Hansbrough among the wall-to-wall collages of Sutton's customers while you wait.
5. All of the best college towns have an iconic main street. We're biased, but our charming and gorgeous Franklin Street – home to coffee shops, restaurants, bars, museums, music stores, boutiques, performing arts spaces and more – is tops.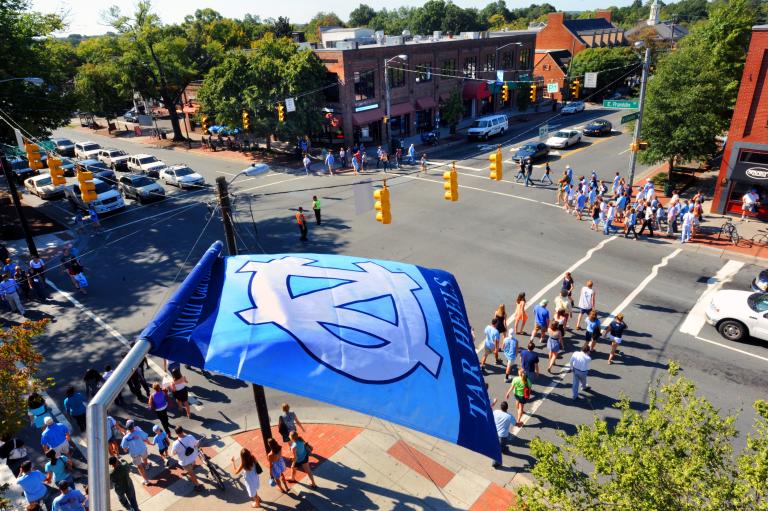 6. What's better than a movie night with your sweetheart? One that takes place under the stars. Thanks to Southern Village, that's a regular reality in Chapel Hill.
7. Orange County is lucky to be home to multi-generational farmers like the Nutter family, who provide us with delicious milk and ice cream – and a place to enjoy them plus a sweet view at their idyllic Maple View Country Store.
8. You can spend time outdoors practically all year long in Orange County, and our myriad walking paths and greenways invite you to do just that.
9. The North Carolina Botanical Garden – one of the largest natural botanical gardens in the Southeast – features nature trails, carnivorous plant collections, perennial borders, aquatics, and herb gardens. Check their calendar to find a free guided tour.
10. Since 1958, the Ackland Art Museum has been one of our state's most important cultural touchstones. Its permanent collection consists of more than 18,000 works of art – plus, the staff curates more than a dozen special exhibitions each year.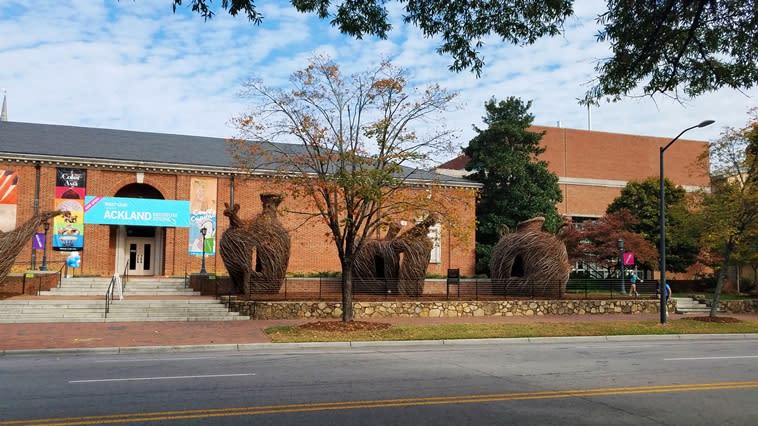 11. If you love people watching, be sure to sit a spell on the lawn of Carrboro's Weaver Street Market, a bustling and beloved natural foods co-op. Sunday mornings draw hundreds of people to hear live jazz and eat a bite under the majestic oaks. But every day brings an assortment of remote office workers, parents allowing their children some space to roam and friends catching up over coffee.
12. If you're curious about what the future of music holds, look at who Cat's Cradle in Carrboro is booking. Founded in 1969, the Cradle is credited with helping to launch the careers of Superchunk, Ben Folds Five, Whiskeytown, Polvo and Archers of Loaf.
13. Just steps away from Cat's Cradle, The ArtsCenter presents jazz, folk-traditional and world music – plus theater and children's programs, visual arts classes, and two galleries with exhibits that rotate often.
14. Chapel Hillians care deeply about the foods they put into their bodies and the products they put on their skins - that's why our Whole Foods is one of the busiest in the state.
15. Jordan. Perkins. Worthy. Ford. Take a trip down memory lane with all of them – not to mention Dean Smith, Roy Williams and more – at the Carolina Basketball Museum, located steps away from the Dean Dome. Admission is free.
16. Top of the Hill is many things – a quality restaurant, a destination known for its views of Franklin Street, an iconic place to watch a Tar Heel basketball game, a brewery and a Chapel Hill tradition since 1996.
17. UNC provides so much its sports fans – a history of championships, inspirational stories and figures, second-to-none facilities and unforgettable memories.
18. Good food starts with the finest ingredients – and Orange County's multitude of award-winning farmers markets keep our home kitchens and our restaurants in bountiful supply.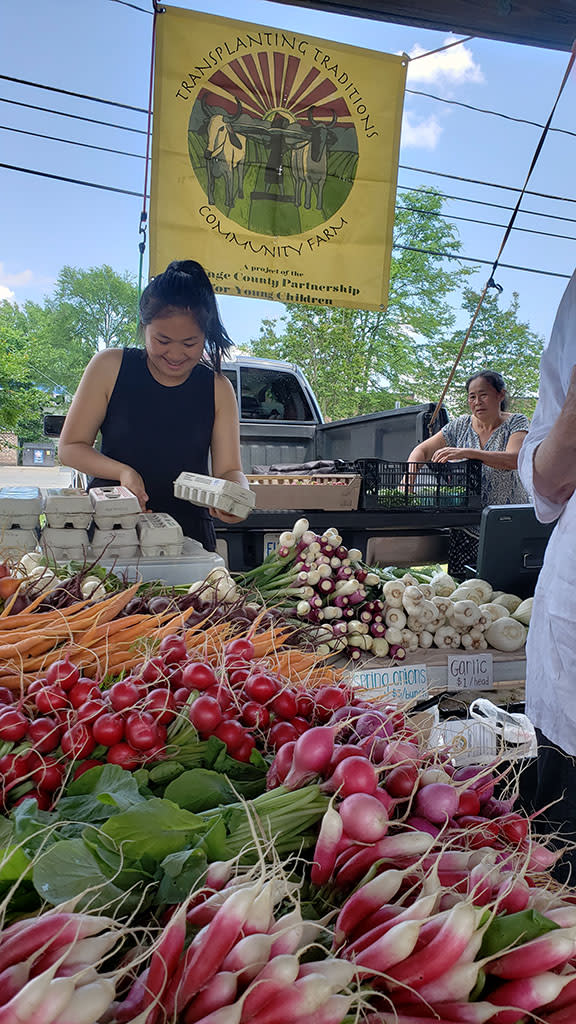 19. UNC has a rich history – and a feeling of dynamism that's immediately evident upon arriving on campus. Whether you're a potential student or a curious visitor, the UNC Visitors Center can recommend a guided tour or self-directed stroll to help you to fully discover Carolina.
20. Looking for a sweet treat while you stroll down Franklin Street? There's no shortage of options, including Yogurt Pump (a town institution since 1982), Shaka Shave Ice and Blue Spoon Microcreamery.
21. A college town needs to provide its share of pizza options, and Chapel Hill and Carrboro deliver with Pizzeria Mercato, Italian Pizzeria III, The Pizza Press, Napoli and more.
22. Shrimp and grits and Chapel Hill have an indelible connection, thanks to the late Bill Neal of Crook's Corner, who elevated this breakfast dish and gave it a home on his dinner menu. His recipe is still being used at Crook's nearly three decades after his passing.
23. Downtown Hillsborough, situated on the banks of the Eno River, is as charming and eclectic as ever. There are many reasons to spend time there, but don't miss Last Fridays, with free concerts on the Historic Orange County Courthouse lawn, plus art galleries and venues hosting opening night receptions.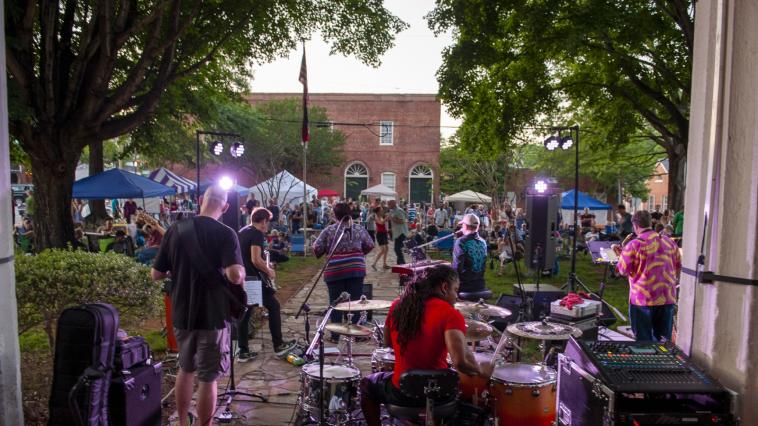 24. Speaking of Hillsborough and the Eno, the Riverwalk is a paved, accessible, urban greenway that stretches about 1.8 miles along the Eno River between Gold Park in western Hillsborough and trails east of town. Part of the N.C. Mountains-to-Sea Trail, it is popular for walking, jogging and bicycling.
25. History buffs can get lost for days among Orange County's historical  sites, such as the Horace Williams House and the Burwell School Historic Site.
26. We have a flair for the dramatic, from PlayMakers Repertory Company's productions of Tony and Pulitzer Prize winning plays to Paperhand Puppet Intervention's outdoor family shows in the Forest Theatre. And you don't want to miss the Historic Playmakers Theatre completed in 1851. Originally intended to serve as library and ballroom, it has served in many capacities since and is now a National Historic Landmark.
27. If you have an appreciation for antiques, you'll want to spend some time getting lost inside Whitehall Antiques, the top trusted source for antiques in the Triangle since 1930. And Leland Little Auctions is known for their rare wines, estate jewelry, art, furnishings, carpets and more.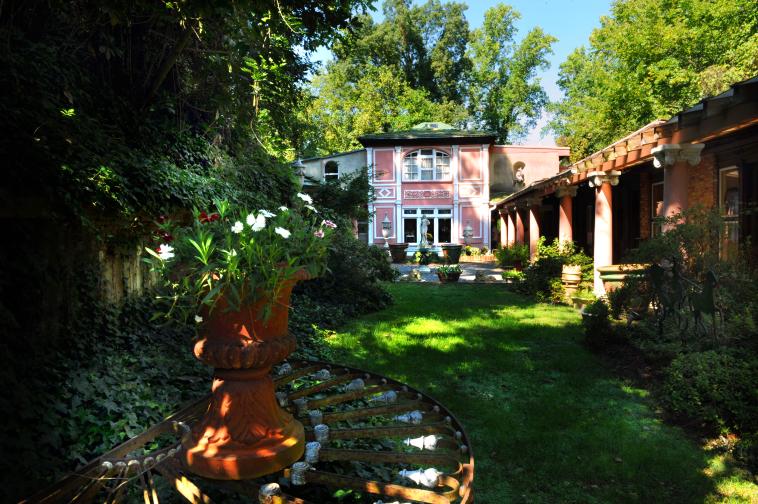 28. The creative class is right at home here, and you're invited inside their world during Orange County Artists Guild's Open Studio Tour, taking place every autumn.
29. Our county may be Orange, but we're a sea of Carolina blue. Find it in our shops and on our fire trucks! Long before Carolina Blue evoked thoughts of UNC's Kenan Memorial Stadium and the Smith Center, this school color originated with a campus debate society putting light blue ribbons on its diplomas.
30. Call it playtime with a purpose: Kidzu Children's Museum is multi-sensory and ever-changing with exhibits like "The Hive & The Front Yard – Outdoor Learning Garden" and "The Book Nook."
31. Nearly every U.S. astronaut until 1975 – yes, even Neil Armstrong – trained at Morehead Planetarium. Today, you can gain insights from Morehead Planetarium & Science Center, with exhibits like Firsts in Flight: A Hidden History and shows like Carolina Skies. (Note: Currently closed for renovations, Morehead will re-open on June 18.)
32. Looking to hit the links? You'll be impressed by UNC's Finley Golf Course, which has hosted numerous collegiate tournaments including the annual Men's and Women's Tar Heel Invitational, as well as the NCAA Men's Regional Championships in 2015.