Longer days and warmer temperatures mean it's time to get outdoors!
Occoneechee Mountain State Natural Area
Reach new heights! Located more than 350 feet above the Eno River, the Occoneechee Mountain summit is the highest point in Orange County. Explore three miles of trails that twist and turn through thick forests, quiet ponds, and elevated bluffs that provide picture-perfect views of Hillsborough. Choose the Brown Elfin Knob or Overlook Trails, depending on desired difficulty. This is a great place to spend an entire day by fishing in the Eno River, packing a picnic, or educating yourself through a ranger-led program.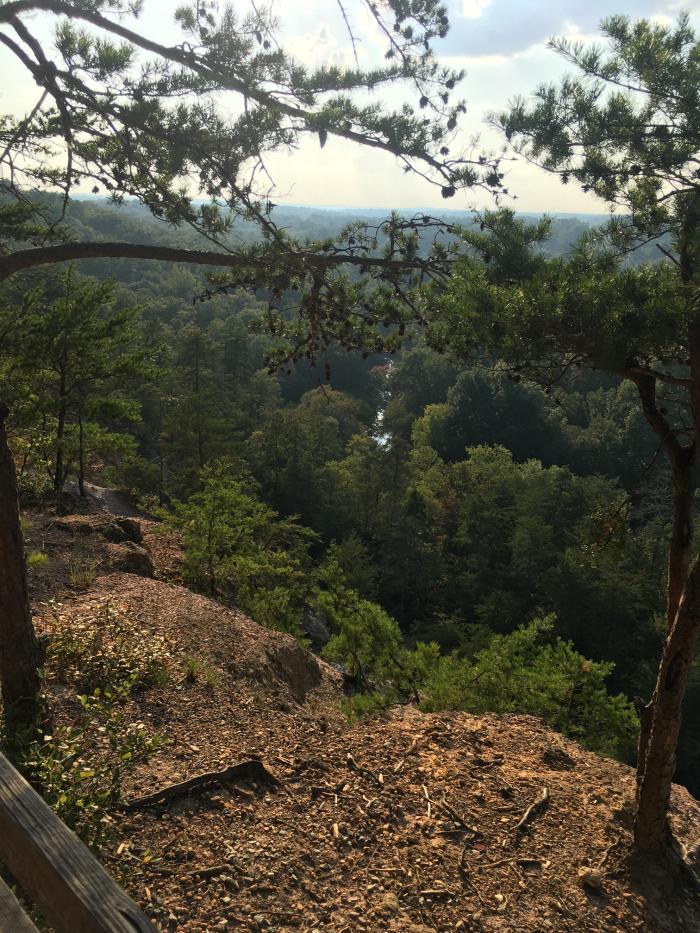 Johnston Mill Nature Preserve
Just minutes from downtown Chapel Hill, the 300-acre Johnston Mill Nature Preserve contains three-and-a-half miles of great walking and hiking paths. What sets this area apart is that you can see traces of the past through various landmarks, including the Johnston family farm and remnants of two old gristmills. The preserve features trees that date back 150 years. Compared to some of the larger natural attractions in the area, this preserve is smaller in size, so it draws more modest crowds. But don't underestimate the park – it's every bit as beautiful and worthy of exploration as any in the state.
Carolina North Forest
If you're a UNC student who can't stray far from campus, taking a hike through Carolina North Forest – accessible off of Martin Luther King Jr. Boulevard – is a great option. The well-maintained trails are nestled within 750 acres of woodlands between Chapel Hill and Carrboro, providing a quick escape from the collegiate atmosphere. Favorite trails include the 2.4-mile Pumpkin Loop, the 5-mile Wormhole trail, and the 4-mile Crow Branch Overlook.
In-Town Trails
Morgan Creek Trail, a 10-foot-wide paved trail that runs nearly a mile, crosses through both Chapel Hill and Carrboro and connects directly to the town-owned Merritt's Pasture open space area.
Bolin Creek Trail also boasts natural beauty you won't believe – even better, it connects the Community Center Park to Battle Branch Trail, which brings you right to UNC's campus. Hit up these destinations in one trip!
Eno River State Park
The Eno River is a swift, shallow stream flowing from northwest Orange County into Durham County for 33 miles. There, it joins the Flat River to become the Neuse. Its waters roll through wilderness, historic mill sites, river bluffs covered with flowering shrubs, and fords used by early settlers. The Eno River State Park has almost 28 miles of mostly wooded trails. Five access points – Cabe Lands, Cole Mill, Few's Ford, Pleasant Green, and Pump Station – provide entry into this largely unspoiled river environment.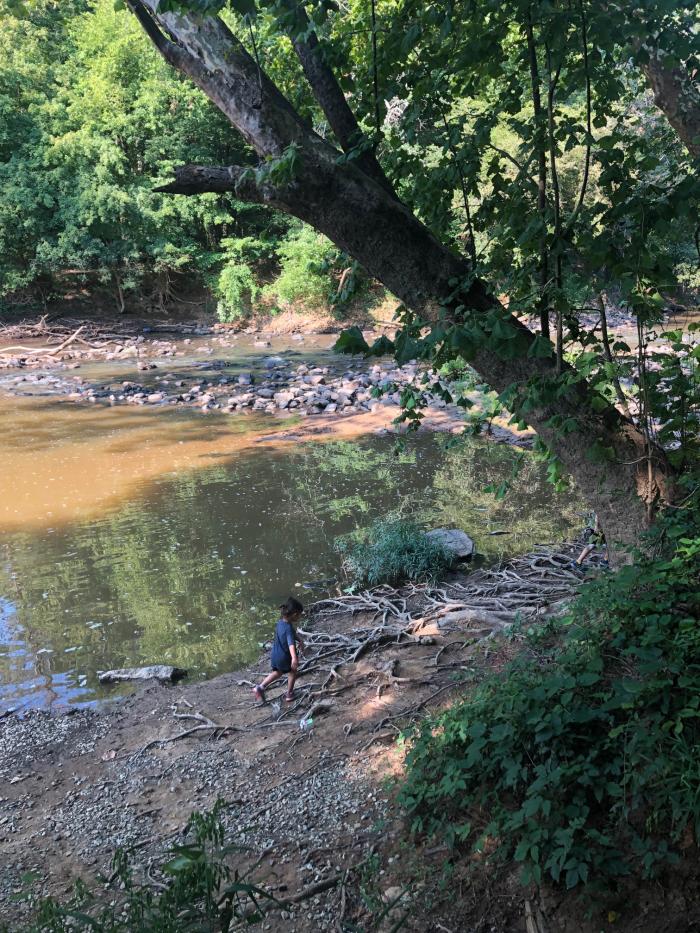 Little River Regional Park and Natural Area
A cooperative project between Durham and Orange counties, Little River Regional Park and Natural Area features more than seven miles of hiking trails and eight miles of single-track mountain biking trails. The 15-acre park entrance area is located on former tobacco fields. Visitors are welcome to make use of reading materials and environmental education tools in the park office. Picnic tables and grills are located at two large shelters for visitors' comfort. Individual picnic areas can be found around the handicapped accessible, interpretive loop trail. The open play meadow – visually enhanced by bluebird houses – is an ideal place to relax or kick a soccer ball, while the playground offers an active play environment for little ones.
Brumley Nature Preserve
The George and Julia Brumley Family Nature Preserve consists of more than 600 acres and is located about two miles southeast of Hillsborough, between Old N.C. 10 and New Hope Church Road. It features more than four miles of streams and 20 acres of wetlands. The land, which has a northern and a southern access point, houses old barns and the ruins of several homesites. Biological surveys have documented at least 260 different species of flora and fauna, including beavers, bobcats, wild turkeys, frogs, and turtles. Opened in 2017, Brumley has a 15-mile trail system that includes hiking-only trails as well as multi-use trails that are popular among bikers.
Piedmont Nature Trails
Behind the display gardens at the North Carolina Botanical Garden is an 88-acre forest bustling with life. Three miles of trails follow creeks and wind around hills. A Bike-Pedestrian Path extends from Old Mason Farm Road to Laurel Hill Road to provide easy access to the trail system, or can be accessed from the front and back entraces of the display gardens. The Piedmont Nature Trails consist of: The Streamside Trail (1/2 mile loop) crosses Meeting-of- the-Waters Creek twice as it meanders through the riparian section of the site, The Oak-Hickory Trail (3/4 mile loop) traverses hillier portions of the site where you will encounter a diversity of hardwood and evergreen trees, shrubs, and woodland wildflowers, The Elephant Rock Trail (1 mile) is a one-way extension of the Oak Hickory Trail. Hikers can return to the garden the way they came or follow the trail along Morgan Creek and exit at the trail's intersection with Ashe Place. Trails are open dawn to dusk, 365 days a year.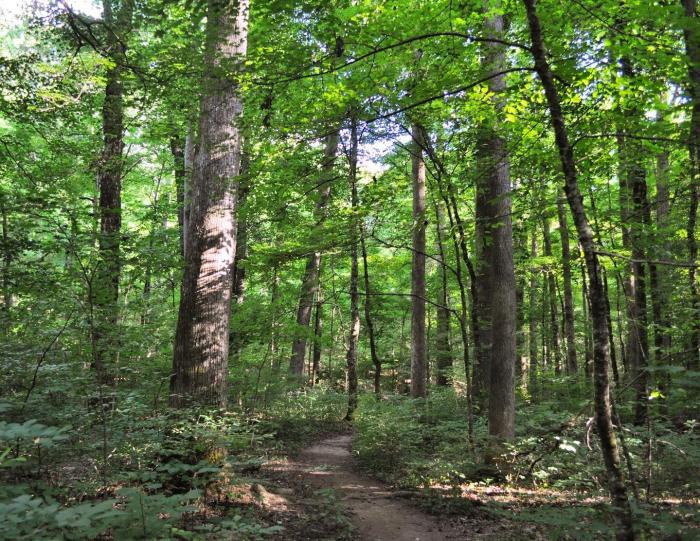 Historic Occoneechee Speedway Trail
Located next to the Eno River in Hillsborough, the Historic Occoneechee Speedway Trail is under the care of Classical American Homes Preservation Trust. HOST is a walking trail through natural and cultural history. The original track was a half-mile horse track built by Julian S. Carr for Occoneechee Farms. Later expanded and used by NASCAR, this 44-acre site was placed on the National Register of Historic Places in May 2002. Don't miss the opportunity to walk around the only surviving dirt speedway from NASCAR's inaugural 1949 season. The one-mile oval Occoneechee/Orange Speedway was active from 1948 until 1968, attracting the best stock car drivers and thousands of spectators. Richard Petty won the final race here on Sept. 15, 1968. The next year, NASCAR moved on to Talladega.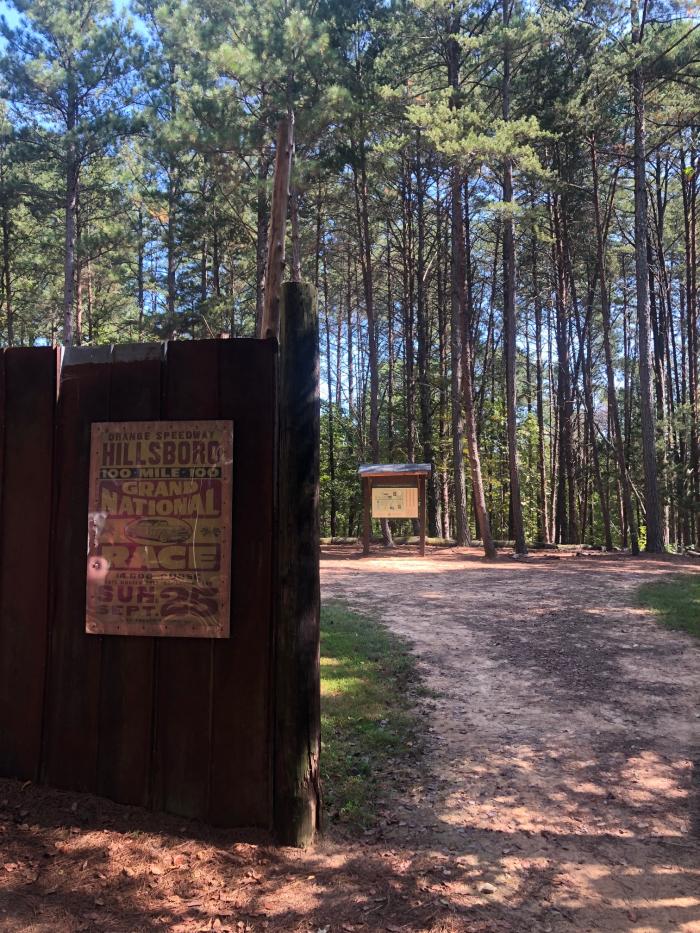 Poet's Walk
Located on the property of Ayr Mount, a Federal-era plantation house built in 1815 in Hillsborough by William Kirkland, Poet's Walk is a one-mile walking trail that meanders through woodlands and pastures alongside the banks of the Eno River. A walk, run, or stroll on the trail is perfect for history buffs, dog walkers, and nature enthusiasts who want to take in views of the Kirkland family cemetery, the old tavern foundation, and Hillsborough's Old Indian Trading Path.
Duke Forest Korstian Division
Duke Forest is comprised of 7,060 acres in Durham, Orange and Alamance counties. While the main use of the land is teaching and research by Duke University, the forest is also beloved by hikers. The Korstian Division, which is in Orange County between Mount Sinai Road to the north and Whitfield Road to the south, is among the largest Duke Forest divisions, with trails ranging from gravel roads to footpaths.
We recommend purchasing a map online (the money goes toward the preservation of Duke Forest) so that you can get a sense of the access points, picnicking spots, and fishing opportunities.
(Photo credits: Header- Poets Walk at Ayr Mount, Occoneechee Mountain Natural State Area, Occoneechee Speedway Trail, Piedmont Nature Trails - North Carolina Botanical Garden, Eno River State Park - Andrea Griffith Cash; Morgan Creek Trail - CHOCVB)