Featured Attraction
Ayr Mount Historic Site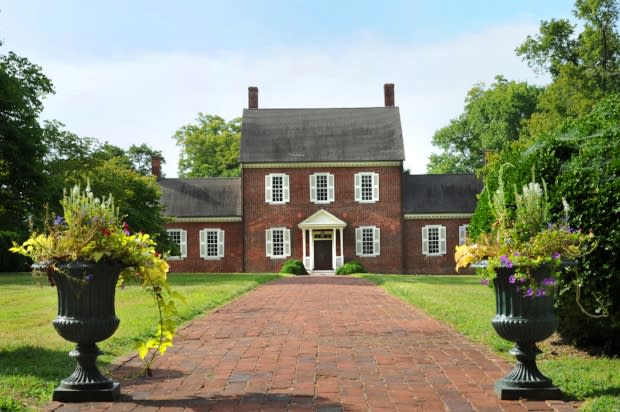 Ayr Mount is a Federal-era plantation house built in 1815 in Hillsborough, North Carolina by William Kirkland. Kirkland, named the house in honor of his birthplace, Ayr, Scotland. Unlike the other houses in the Classical American Homes Preservation Trust collection, Ayr Mount looks deceptively simple, even austere on the outside. There are no soaring columns proclaiming its classicism. On the other hand, Ayr Mount is far grander – especially in the interior – than one might expect from a first look at the exterior. The ceiling height of 14 feet is unusual for this period as is the elaborate Federal period woodwork and plasterwork found throughout the house. Ayr Mount also was the first major residence built of brick in this area of predominantly colonial era wood frame houses. At the time of its construction at the end of the War of 1812, Ayr Mount was considered one of the finest residential structure in Piedmont North Carolina. Read more on the history of Ayr Mount.
Spend the day exploring the extensive scenic trails and grounds that are a part of the Ayr Mount Historic Site. Most recently, a footbridge was installed as part of the Mountains to Sea Trail:  Ayr Mount's adjacent Historic Occoneechee Speedway Trail (HOST) and the James M. Johnston Nature Preserve are now linked to the Mountains-to-Sea Trail, which effectively connects hikers with the wonders of North Carolina from "mountains to shining sea." This newly completed section of the Trail extends from the HOST/JMJ Nature Preserve parking area to the US 70 bridge. The Trail's passage through Ayr Mount is still in completion phases. The Eno River's course through the property has called for the construction of two bridges on the site.
Come visit the happening town of Hillsborough and stop at Ayr Mount to tour the house and grounds.
If you go
  376 St. Mary's Road Hillsborough, NC 27278 919-732-6886 Site gates open at 9:00 am   Guided House tours are available through December 15th | Admission $12
Wednesday at 11:00 am
Thursday - Saturday at 11:00 am and 2:00 pm
Sunday at 2:00 pm