Whether you're visiting Orange County, NC as a first-timer, coming home or just passing through, we're excited to have you this Thanksgiving!  The holiday weekend doesn't mean there's a shortage of things to do, they may just look a little different this year. We've compiled some of the best places to dine, stretch your legs and shop 'til you drop this turkey day weekend.
Who's Cookin'
If you're looking to have someone do the thanksgiving meal for you this year, there are plenty of options
Big Belly Que
Big Belly Que wants to do all the work for you using fresh local vegetables and turkey breasts and all the fixin's! Order by November 18 for pickup on Wednesday November 25th from 3-6 pm with all the instructions you'll need for reheating everything. How about this for dessert - Almond Whiskey Caramel Pear Cake with Chocolate Ganache, Advanced order only. Big Belly Que is located at Blue Dogwood Public Market in Chapel Hill, 306 W. Franklin Street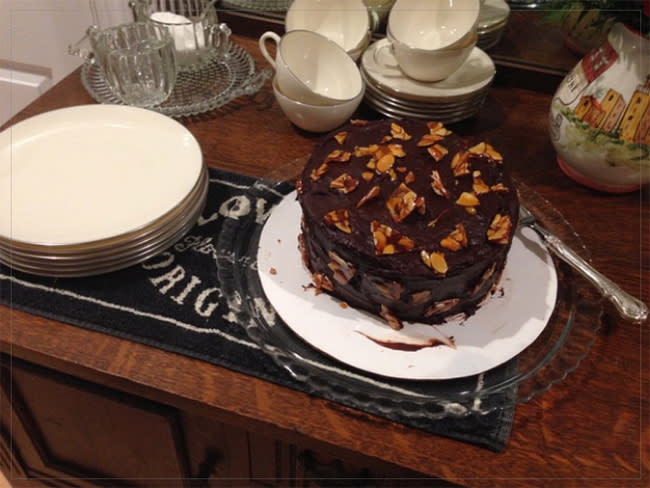 Hillsborough BBQ Company
Whole smoked turkey breasts for Thanksgiving are back! Their pit-smoked turkey breasts average 3-4 pounds each. They smoke them over live oak and hickory coals, chill them and package them with a little sauce (and instructions) for you to heat in your oven at home on Thanksgiving Day. Please email your order to catering@hillsboroughbbq.com or place it over the phone at 919-732-4647 no later than Tuesday, November 17th at 9:00 p.m. Orders will be ready for pick up after 3 p.m. on Tuesday, November 24th and during business hours on Wednesday, November 25th. Hillsborough BBQ is located at 236 Nash St. in Hillsborough.
Oakleaf 
Dinner for four includes Roasted Turkey Breast, Turducken Gravy, Savory Butternut Squash Bread Pudding, Brown Butter Whipped Sweet Potatoes and much more! Pick up on Wednesday, November 25 and just pop in the oven to heat on Thanksgiving day! Order here. Oakleaf is located in Carrboro in the 300 Main plaza next to Cat's Cradle and Vecino Brewing Co., 310 E. Main Street. (984) 234-0054
Who has Local Ingredients
For the chef of the house, plan your Thanksgiving meal with fresh local ingredients from these markets:
Steve's Garden Market and Butchery, 610 N Churton St in Hillsborough | 919-732-4712 
Carrboro Farmers' Market, 301 W. Main St, Carrboro | Pre-Thanksgiving Market is Tuesday, November 24th, 3-6 pm
Chapel Hill Farmers' Market, 201 S Estes Drive, University Place, Chapel Hill | Pre-Thanksgiving Market is also Tuesday, November 24th, 3-5 pm
More businesses serving up Thanksgiving can be found here
Events and Entertainment
26th Annual Open/Virtual Studio Tour 
The 2020 VIRTUAL Studio Tour takes place through November 30th. Browse the online gallery or schedule a virtual or in-person studio visit at ocagnc.org. Free and open to the public. With everything going on this year the Orange County Artists Guild usual Open Studio Tour experience is not possible. There are however 3 ways to participate this year: Online Gallery, Virtual Studio Visits via Zoom & Facetime by Appointment Only, and In-Person Studio Visits by Appointment Only.
Save the Music Series
The Chapel Hill Downtown Partnership is bringing live music to downtown. Now is the time to support local business and local musicians who don't have venues to perform in. Saturday nights in November from 6-8pm, see and hear live music by a variety of talented performers along Franklin Street (& the cross streets) throughout downtown.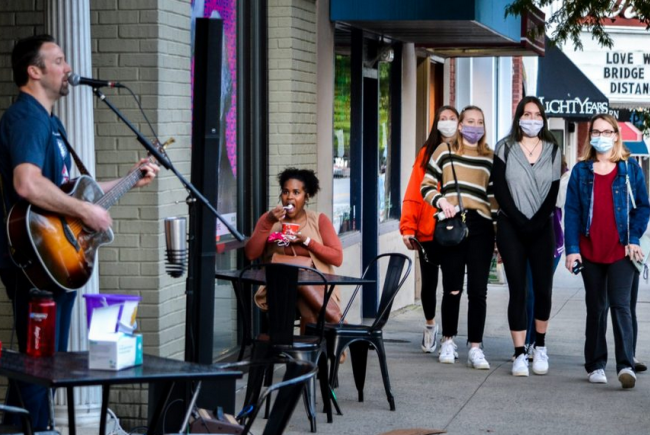 Arts on Market - Virtual
Arts on Market is a bi-annual community event in Southern Village North Carolina. Virtual fall arts on market 2020 opens Sunday November 29. Shop for hand-crafted art and gifts made by regional artists, artisans, bakers, and makers. Speak directly with artists during "Live Booth Hours!" via video conferencing. Visit Virtual Fall Arts on Market Sunday November 29-December 2, 2020.
20th Annual Post Turkey Day Jam
Live stream from Cat's Cradle, Saturday November 28th at 8 pm. A Benefit for Inter-Faith Council for Social Service and Cat's Cradle with Jon Shain and FJ Ventre, Rissi Palmer, Joe Newberry, and Special Remote Guest Greg Humphreys. This is a free show, streaming live on Cat's Cradle's Facebook page and on their website. Also announced by Cat's Cradle, Sound of Lies Show Live Stream, Sunday Nov 29th - Tickets 
Stretch Your Legs
Take a break from the couch to trot off your turkey at some of these scenic natural areas tucked away in Chapel Hill and Orange County.
Riverwalk Greenway
This Hillsborough treasure is the perfect place to stretch your legs and take a tranquil walk through nature. Let the sounds of the Eno River guide you along this paved path that stretches through 1.8 miles of Hillsborough.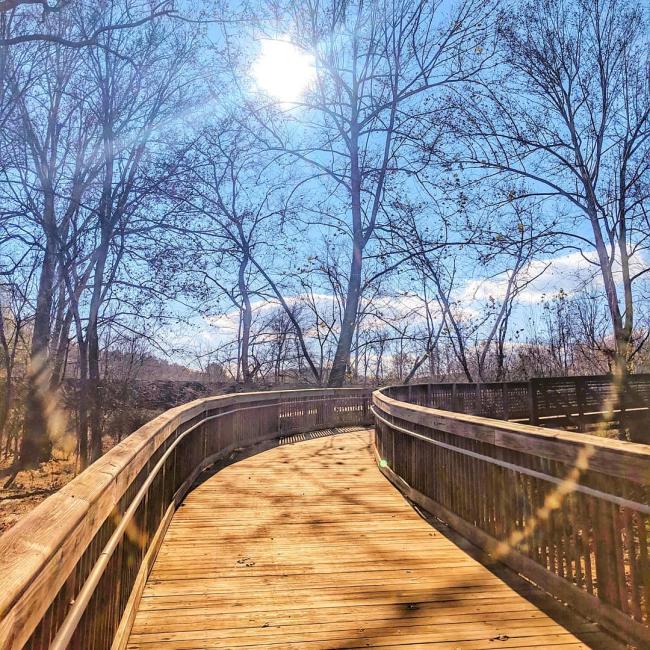 North Carolina Botanical Garden
Take some time to stop and smell the flowers – literally! As one of the largest botanical gardens in the southeast, the North Carolina Botanical Garden is home to different trails, herb gardens, carnivorous plants and more. It's time to explore! Don't forget the Sculpture in the Garden which runs through December 6th.
Franklin Street
This is easily the busiest street in Orange County! It sits right along UNC's campus and has a wide variety of restaurants, bars, shops, museums and more. Franklin Street is one of the best places to stretch your legs after a long car ride and take in an iconic part of Chapel Hill history.
Spring Haven Farm
Winter Wonderland with Goats opens November 18th and runs Wednesdays - Sundays through December 11th. Upon your arrival you'll be transported to a magical Winter Wonderland. There's no better way to spread cheer than feeding Peppa Pig or Annie the Donkey a holiday snack! As you sip on Hot Cocoa you'll be able to interact with all of ther farm animals like Huck the Horse, and snuggle Holly, the baby goat! Head over to the Snowflake Barn to enjoy sweets and treats from our concession stand that will fill you with sugar, spice and everything nice. You'll even be able to write a letter to send off to Santa while you snack!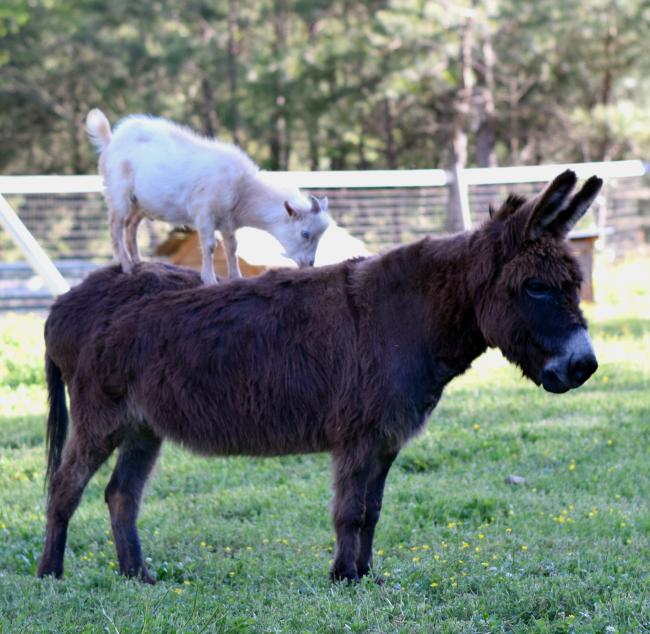 Poet's Walk at Ayr Mount
Explore 60-acres of gardens, woodlands and pastures or hop on the first trail, known as Poet's Walk, for a one-mile loop around the historic Ayr Mount house. The house itself is closed to visitors due to COVID, however the gate is open to Poet's Walk 9 am - 5pm November and December. Call before visiting to confirm hours during Thanksgiving weekend. (919) 732-6886.
Shop 'Til You Drop
Have some time to kill? Do double duty and shop local! Spend your time enjoying the local shops that Orange County has to offer and be sure to pick up something that reminds friends and family of this special place. 
University Place
Located in Chapel Hill, this premier shopping mall has something for the whole family! There are retailers, a cinema and excellent dining options that could fill up your whole day. 
Carr Mill Mall
The historic Carr Mill Mall is one of the most unique places to shop in Orange County. Located in an old cotton mill in Carrboro and listed on the National Register of Historic Places, it has everything from yoga classes to cute boutiques and delectable food.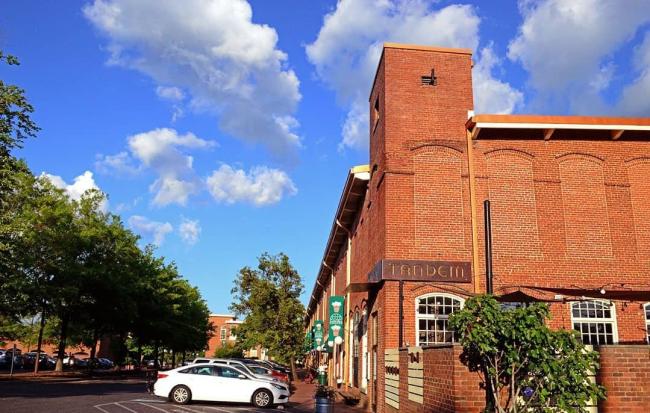 What else are you looking forward to in Chapel Hill & Orange County this Thanksgiving? Share with us in the comments below and be sure to book your hotel ahead of time: https://www.visitchapelhill.org/hotels/
Review Orange County Health Department Offers Guidance on Safer Holiday Breaks
(photo credits:  Top Image, Front Porch of Ayr Mount Historic Home; Cake, Big Belly Que; Musician on Franklin St, Chapel Hill Downtown Partnership, Riverwalk, Visit Hillsborough, Annie the Donkey, Spring Haven Farm; Carr Mill Mall, )