A year from now, The Carolina Inn Hotel, one of the most iconic and, it should be said, most comfortable homes-away-from-home in Chapel Hill, will mark its 100th birthday. This is a cause for celebration, and The Carolina Inn team, luminaries in hospitality, and the broader community have collaborated to produce a range of festivities in 2023 and 2024.
100 years is a long time. That's 36,000 days and nights. Multiply that by 185 rooms and that is a lot of overnight stays. If these walls could talk! President Obama stayed here, and James Taylor and Andy Griffith, Bradford Marsalis and Yo-Yo Ma, and so many more of the famous and no doubt infamous. Throughout the halls on each floor hang an impressive collection of photos of notable UNC alumni, faculty, and North Carolina milestones. But it's the stories of the rest of us, the ordinary lodgers, that may be the most compelling, and for whom the hotel has for a century stood.
The Inn was designed by Arthur C. Nash and built by UNC alumnus John Sprunt Hill in 1924. It's a Southern hotel, recalling antebellum architecture with a hint of George Washington's Mount Vernon home. It's since become a AAA Four-Diamond Award property and listed on the National Register of Historic Places.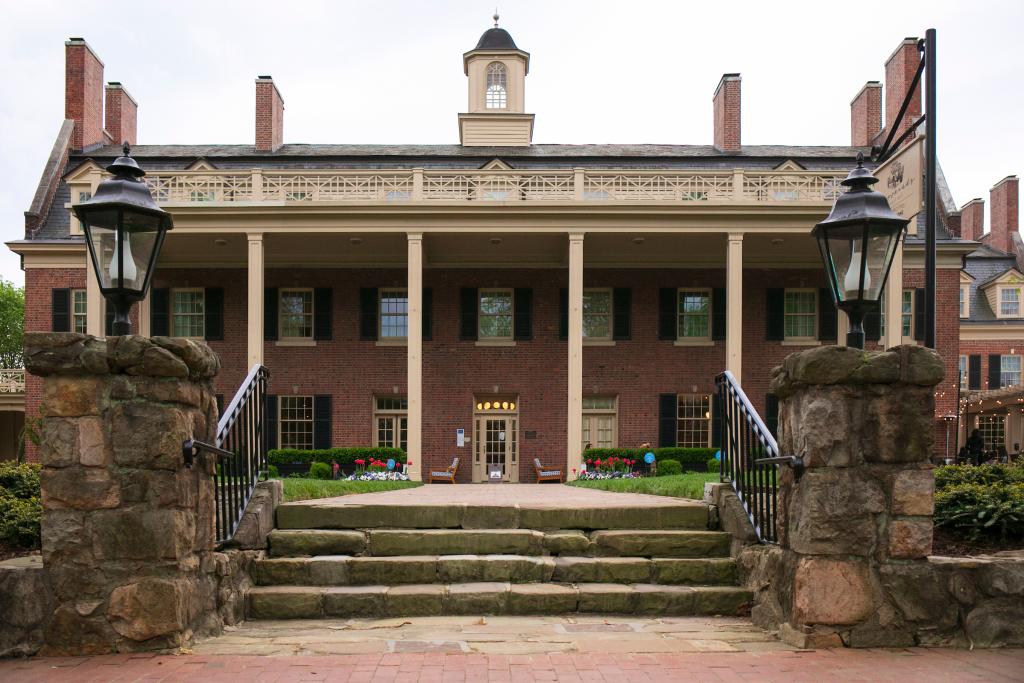 When Hill gave the hotel to UNC in 1935, he asked that all proceeds go to the school's library. His wish remains honored to this day. Not only does the hotel continue to support the Wilson Library's North Carolina Collection, its walls are a veritable library of their own.
A revered inn closing in on a century of hosting untold number of lives must also have its own ghosts. Among the Inn's reported ghosts — for who knows how many visit unseen — longtime resident of Suite 252, William Jacocks, is said to haunt the Inn as a fun-loving presence, moving objects around the room, occasionally locking out guests, and pulling closed curtains wide open. Jacocks lived there from 1948 until his death in 1965. Some lodgers even report feeling their bodies become strangely cold for no apparent reason.
The inn's interior architecture and design is constantly evolving as they continue to reflect the identity of their guests from every generation.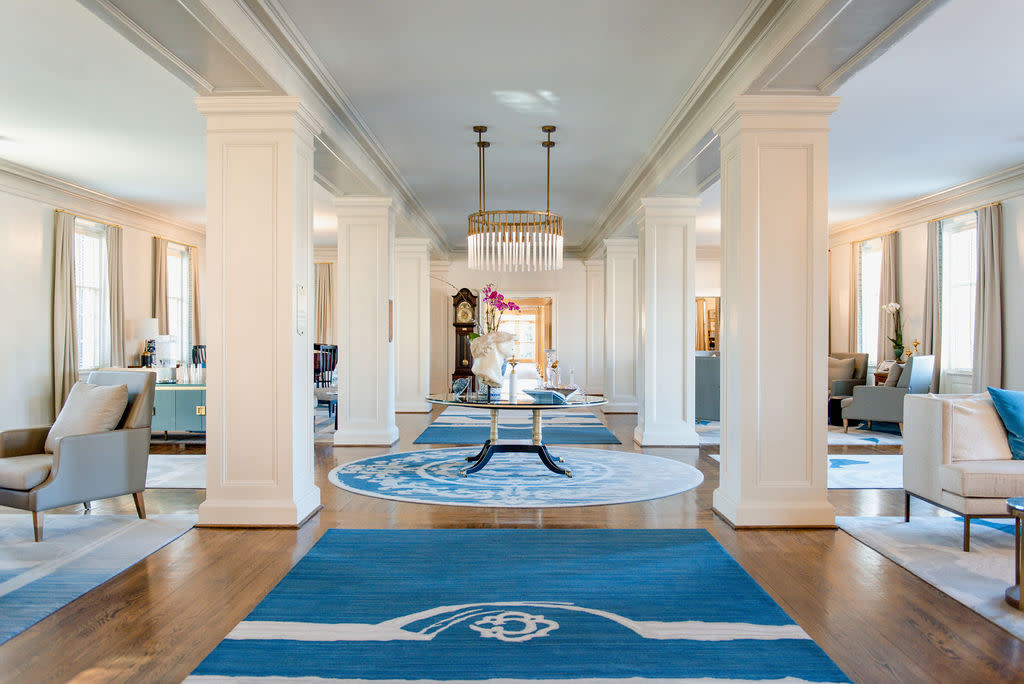 Several events to commemorate this centenary are planned, beginning with a series of 1920's style dinners in the original Old Well Ballroom. The events will take guests back in time with period style cocktails and a menu inspired by some of the Inn's original dining options. There will also be live music, and a décor reminiscent of the Inn's inception. Other events include a Roaring Twenties Afternoon Tea, Historic Tours complete with canapés, desserts, and champagne. A signature anniversary beer is set to launch on May 19, 2023 as well as a crystal Christmas tree ornament to be released in October 2023. All events are open to the public and tickets will be available for purchase on the website. Additional events will happen throughout the year.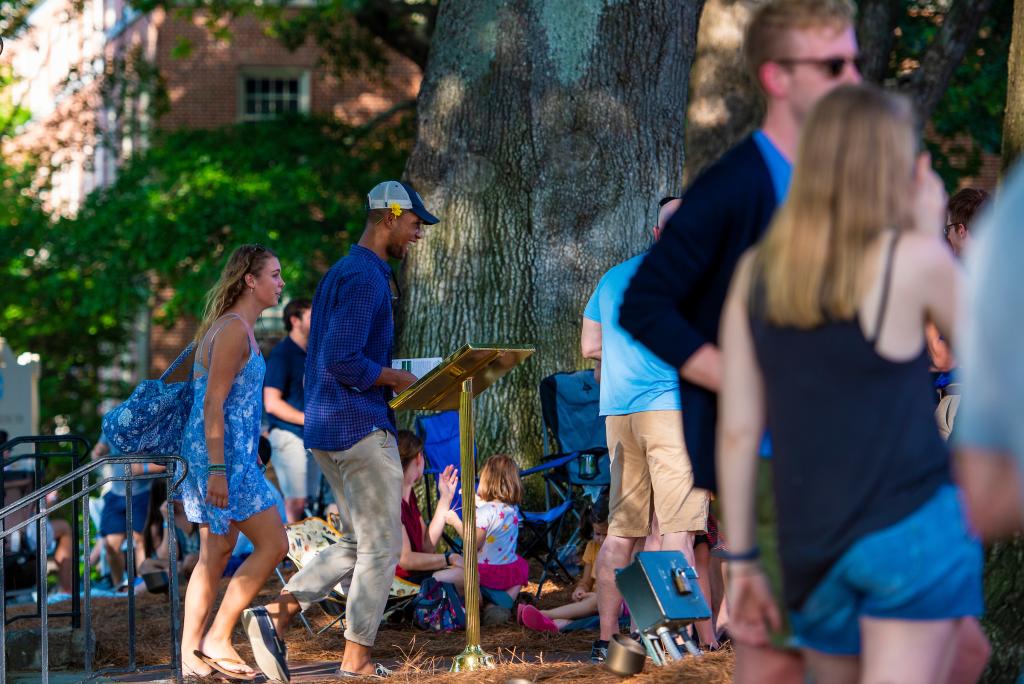 Fridays on the Front Porch has become a Chapel Hill institution. Every Friday beginning April 7 through October 27, 2023 from 5:00 pm - 8:00 pm, you can get your weekend off to an awesome start sipping on craft cocktails and North Carolina beers while enjoying live music and nibbling on cuisine from the weekly food truck lineup. It's fun for all ages! Check out Friday's on the Front Porch 2023 Schedule
Since its inception, The Carolina Inn has served as a warm and welcoming place for guests, alumni, students, and the greater community to come together. It has secured its place as the epicenter for weddings, engagements, business lunches, gatherings before the big games, and seasonal entertainment. The Inn features 185 charming guestrooms and nearly 30,000 sq. ft. of indoor/outdoor meeting space and has recently finished a complete refresh of its event space and main lobby. A guestroom remodel is scheduled for summer 2023.    
Becky Provost Kurtz, an out-of-towner from Palm Springs, California, sums up the Inn's charm: "I've seen many elegant resorts and unique lodging accommodations," she writes, "And The Carolina Inn is special. I have a strong desire to return. I felt as if I were in a classic Southern, elegant hotel because of its impeccable service and that fantastic porch for people watching. It was great fun to lace-up my shoes and walk the historic campus. The Carolina Inn is as elegant as it is welcoming,"
In short, the Inn is like Chapel Hill itself, delivering a charming historic setting with old world elegance and modern amenities. Happy (early) birthday wishes to The Carolina Inn!