The Weekend of May 13-14 will be a time for celebration in Chapel Hill. Congratulations to the Class of 2023 for your hard work and determination! This year's graduation commencement speaker is Bryan Stevenson, renowned public interest lawyer and executive director of the Alabama-based Equal Justice Initiative. Gates to Kenan Stadium open at 8 am on May 14th. Gates 1,2,3,5, and 6 will open for guests. 

Here are ten ways that visiting families, friends and graduates can explore the Chapel Hill area together before or after the tassels are turned.  
1. Stroll the UNC Campus you've called home. 
Spring is a beautiful time in Chapel Hill. See the flowers and landmarks. Snap a few pictures to remember the day.
2. Shop for a local keepsake. 
Take home a Tar Heel T-shirt or the work of a local artist. Visit Johnny T-Shirt, Alumni Hall, Shrunken Head or Chapel Hill Sportswear. Find local art, crafts or gifts at Frank Gallery's new Carrboro location, North Carolina Crafts Gallery, Womancraft Gifts or Carr Mill Mall. Click shopping for ideas.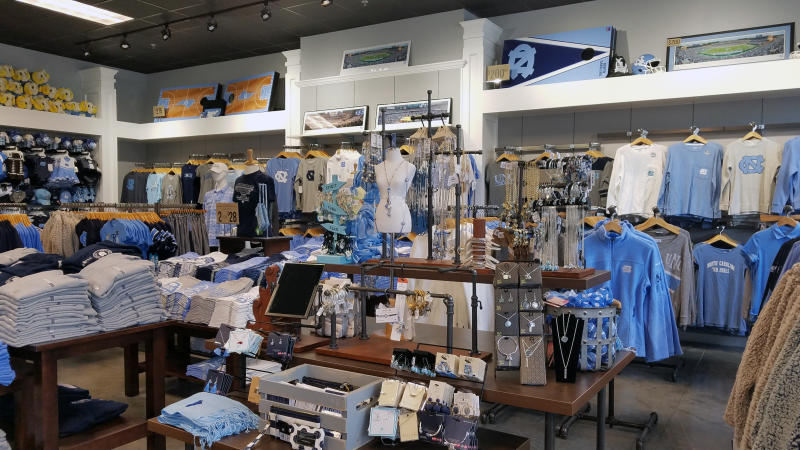 Alumni Hall
3. Dine at a new restaurant.  
There are several new restaurants which opened recently or in the last couple of years. Try Bombolo, Bluebird French Bistro, NoDa Brewing Company Tapas, Hawthorne & Wood, Market & Moss, Blues on Franklin, Momo's Master, Dame's Chicken & Waffles, or Coco Bistro & Bar.  In Carrboro, try Thai Station or Iza Whiskey & Eats.  Reservations highly recommended! Also remember, it's Mother's Day weekend. 
4. Grab a bite at an old favorite.
In downtown try La Residence, Carolina Coffee Shop, Mama Dips, 411 West. Celebrate at Crossroads Chapel Hill, Il Palio or Bin 54. Want a quick burger, pizza or BLT, hit Sutton's, Al's Burger, IP3 or Merritt's Grill. Check out the Kipos in Eastgate or Breadman's on Elliott Road. In Carrboro see the new patio at Acme or try Tandem or Oakleaf. There are many opportunities for outdoor dining. For information on the above dining venues or others, click restaurants.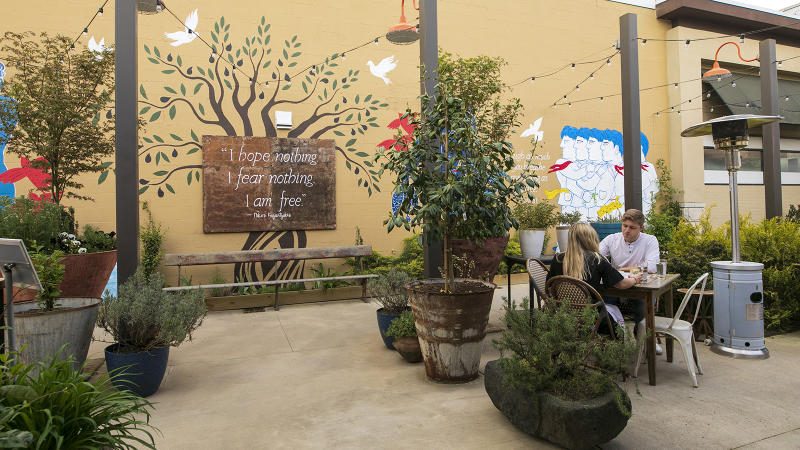 Kipos at Eastgate Crossing
5. Toast the graduate.
Says cheers at The Crunkleton, He's Not Here, Linda's Bar & Grill, the Trophy Room at the Graduate Hotel or the BellTree Cocktail Club. Try a local brew at Carolina Brewery, Top of the Hill Restaurant & Brewery, Vecino Brewing Company, Dingo Dog, Craftboro or Steel String.  And if in town longer and want a little road trip, venture out to Pluck Farm on Hwy 54 West or up to Cedar Grove and Botanist and Barrel. Bars & Taprooms.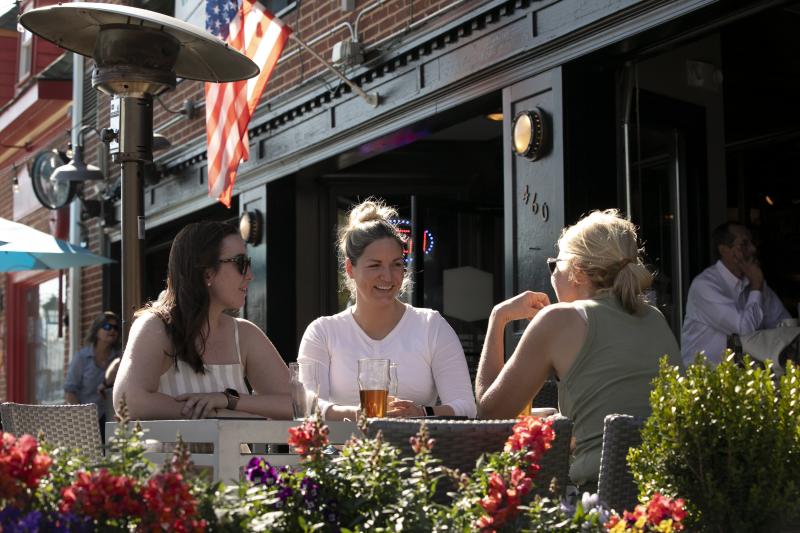 Carolina Brewery
6. Try a cool treat.
If spirits and brews aren't your thing, try a yummy ice cream, yogurt, gelato or sorbet at Franklin Street's Yogurt Pump, Ben & Jerry's or Cold Stone Creamery or head to Southern Villages' La Vita Dolce. Visit the Orange County countryside for a sweet ice cream treat at Maple View Farm Country Store, Broken Spoke Farm or Eno River Farm. Try Whit's Custard in West Hillsborough.
7.  See dozens of colorful murals, including several new ones highlighting the public art landscape in Chapel Hill and Carrboro.
Get a photo in front of the Greetings to Chapel Hill post card on Rosemary Street, Parade of Humanity Parade on Porthole alley or the African American Trailblazers mural on 111 S. Merritt Mill. The newest mural, Rising Lotus - An Ode to Women, is on the side of Lantern Restaurant at 423 W. Franklin Street.  Take a Mural Tour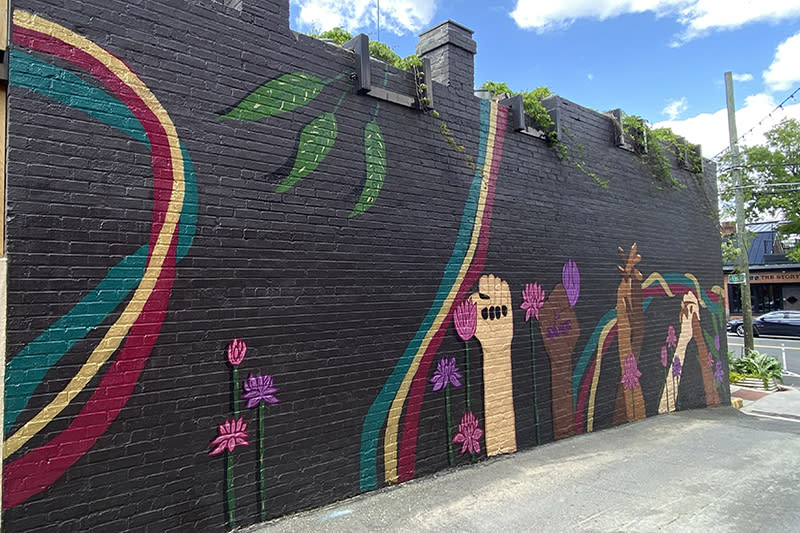 Rising Lotus - An Ode to Women
8. Attractions to explore.
Drop by Ackand Art Museum at 101 S. Columbia Street. Hours are Wed – Sat from 10 am – 5 pm and Sun 1- 5pm. Check out their new exhibit, Unsettled Things: Art from an African American South or see the pARC by The Urban Conga on the museum's front terrace.  A portion of the Museum's permanent collection of over 19,000 works of art is always on view. You may not know about the awesome renovation of the Morehead Planetarium & Science Center and the new Mars: The Ultimate Voyage show. Visitors are welcome from Fri 2:30 pm - 6 pm; Sat 10 am – 6 pm and Sun 1 pm - 6 pm. Check out one of the many ticketed Planetarium shows and exhibits. Wander through the display gardens or nature trails at the North Carolina Botanical Garden open all weekend. Head to the Carolina Basketball Museum for a look at the glorious history of the UNC Men's Basketball program in the Ernie Williamson Athletic Center. This free museum is open Mon - Fri 10 am - 4 pm and Sat 9 am - 1 pm. Finally, click for what events are taking place around town that weekend.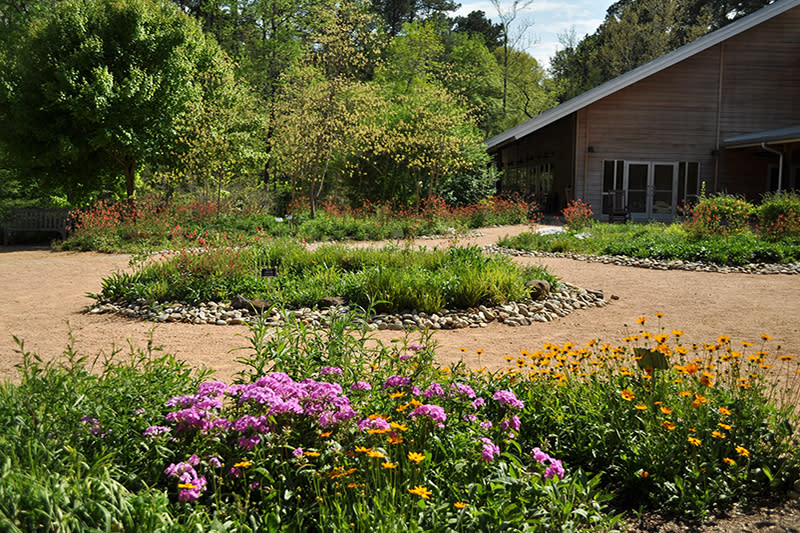 North Carolina Botanical Garden
9. See the springtime bounty at area Farmers' Markets open Saturday mornings.
Start your day early and visit Carrboro Farmers' Market at Carrboro's Town Commons or the Chapel Hill Farmers' Market in the University Place parking lot.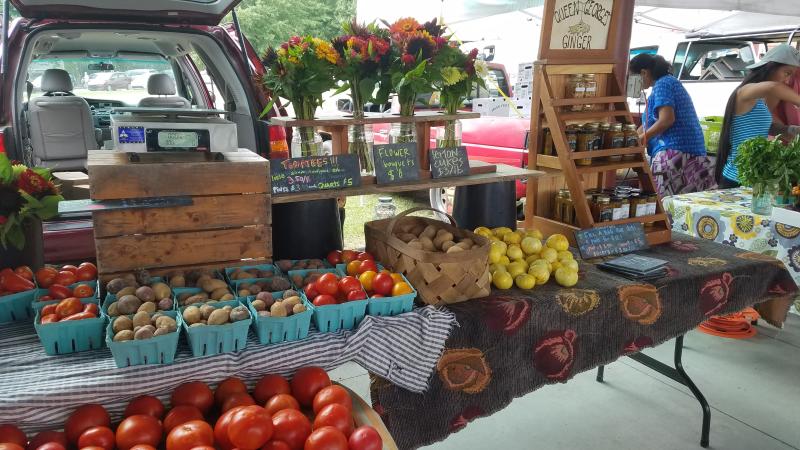 Carrboro Farmers' Market
10. Take a side trip to Hillsborough.
Whether you venture up to Hillsborough during the weekend or stop on your way in or out of town, come take a self-guided walking tour, walk the Riverwalk or head downtown and drop in at Carlise & Linny Vintage Jewelry, Hillsborough Arts Gallery or Matthew's Chocolates. Yonder in Hillsborough is another great location to say cheers and congrats. Try dinner and or drinks at Nomad, Antonia's or Wooden Nickel. Experience Hillsborough BBQ or try Sunday Brunch at The Colonial Inn. Drop by the Hillsborough Visitors Center. 


(Photo credits - UNC Graduates at the Old Well - University of North Carolina/Jon Gardiner; Kipos and Carolina Brewery, SP Murray for the Chapel Hill/Orange County Visitors Bureau; North Carolina Botanical Garden credit to NCBG, all others CHOCVB)