Known for its appreciation and cultivation of the arts, Orange County is famous for the dozens of murals that brighten the walls of our local establishments, alleys, and parking lots. Here, we offer the backstory on 17 of them.
Honey Bee Mural
Matthew Willey painted the "Honey Bee Mural" in 2016 on the side of Fire Station #1 (301 West Main Street) in Carrboro. It's part of The Good of the Hive Initiative, his vow to paint 50,000 honey bees across America in order to bring attention to the struggles of the honey bee. In October 2014, Carrboro was declared a Bee City USA.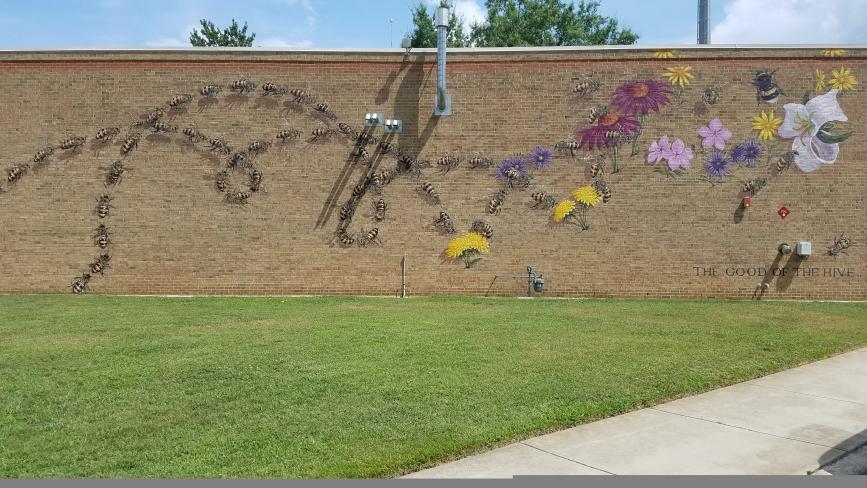 Laying the Cornerstone of Old East & Auctioning of the Lots
Located inside the Courthouse/Post Office on 179 East Franklin Street, "Laying the Cornerstone of Old East" was the first mural painted in Chapel Hill by Dean Cornwall, a famous illustrator for magazines like Collier's Weekly and Harper's Bazaar, in 1941. In 1994, Michael Brown was commissioned to paint an accompanying mural in the same style called "Auctioning of the Lots." Michael's brother posed for all of the figures except the auctioneer – Kemp Battle Nye posed for that role.
Greetings from Chapel Hill
One of the most photographed pieces in Chapel Hill, the "Greetings from Chapel Hill" mural is located on the back side of He's Not Here (112 - 1/2 W. Franklin Street), along Rosemary Street. Depicting a 1941 postcard by German illustrator Curt Teich, this mural was created by Scott Nurkin, who graduated from UNC with a Bachelor of Fine Arts in painting and was once Michael Brown's intern.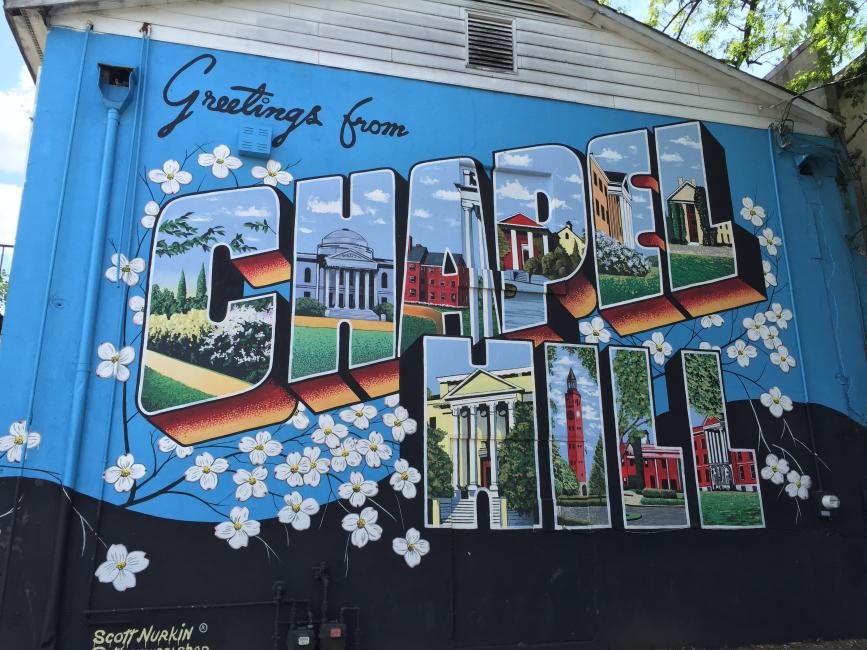 Dogwoods
Be sure to stop and admire this work of art before or after your visit to the Visitors Bureau at 501 West Franklin Street – it's located in our back parking lot, after all. This is one of Michael Brown's more recent murals, finished in 2011.
Elizabeth Cotten
One of the most recent of Scott Nurkin's murals located on the Carrboro- Chapel Hill line (111 N. Merritt Mill Rd.), is part of a project that pays tribute to North Carolina Musicians and features large-scale murals in the hometowns of famous North Carolina musicians. Elizabeth Cotten, born in Carrboro, NC is a legendary folk-blues musician best known for her song "Freight Train" and playing her guitar upside down to accommodate her left-handedness.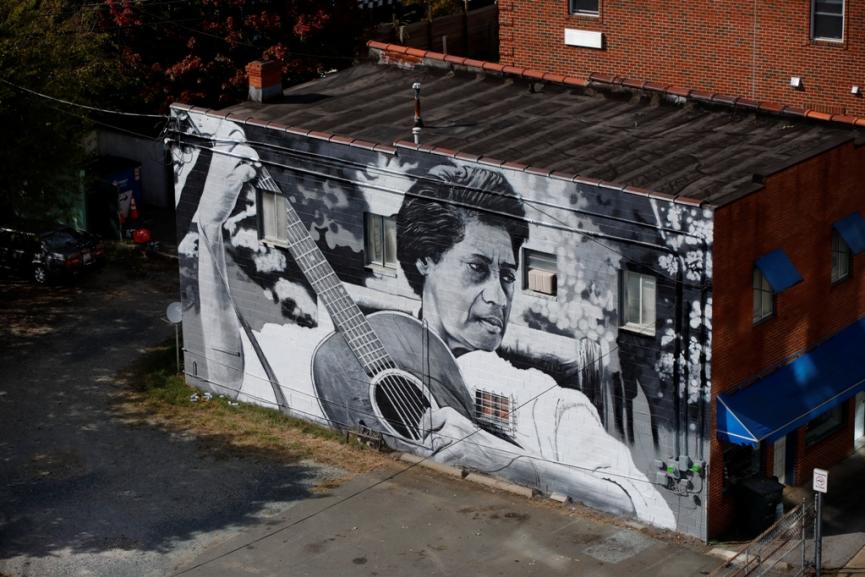 The Blue Mural
This was Michael Brown's first painted mural, completed in 1989 and the first one restored by the Painted Walls Project in 2009. Michael had so many volunteers to help paint this mural that he gave everyone paintbrushes of the same size, and "The Blue Mural" was painted in the pointillist style (dots) so that the mural would have a uniform look. Find it at 109 East Franklin Street, visible from the parking lot on the corner of Columbia Street and Rosemary Street.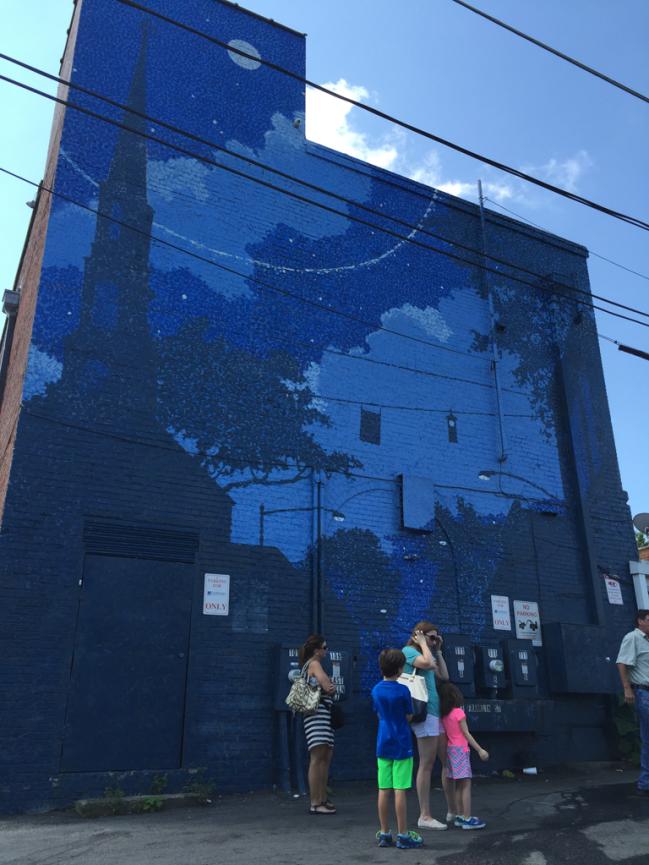 Hands
The second mural Michael Brown painted was "Hands," done with the help of about 50 elementary school children, their parents, and people who just happened to be passing by. The mural was actual hand prints pressed on the wall. This mural – at 422 West Franklin Street – has since been restored.
Coffee Bean Fields 
Michael Brown's first official Carrboro Mural, commissioned by Carrboro Coffee Roasters at Open Eye Cafe (101 South Greensboro Street), to capture the various beautiful landscapes found in coffee growing countries and designed to beautify the Roberson street corridor and view that area neighbors see when looking out the door of their mill houses. Michael based the mural on photos provided by Owner Scott Conary from his many travels around the world to develop direct relationships with coffee growers. (Be sure to also check out the most recent Shannon O'Connor mural on the garage door of the Open Eye Cafe patio).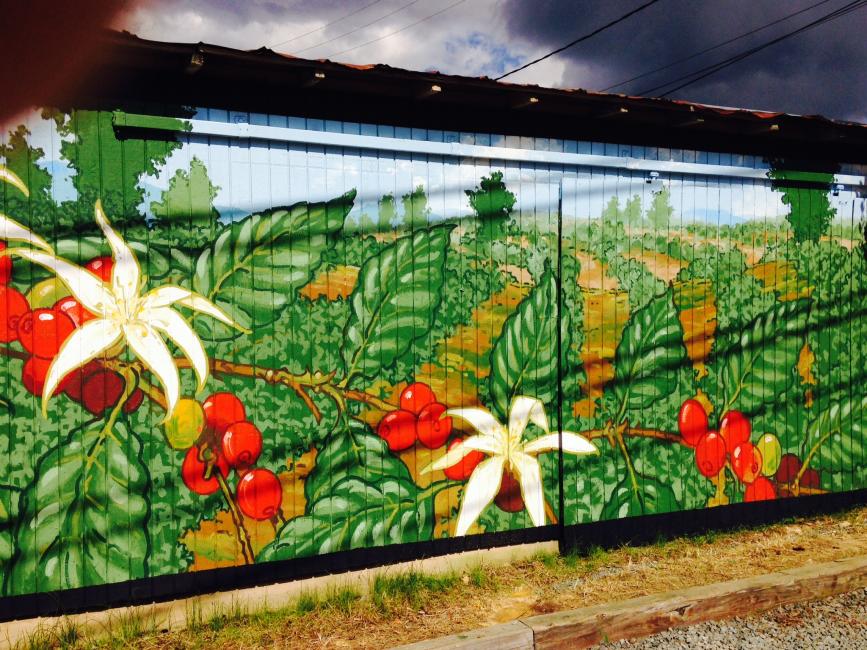 African American Trailblazers
The African American Trailblazers mural, installed during 2021, celebrates twelve black trailblazers for their significant contributions to the Chapel Hill and Carrboro Community. The artist, Kiara Sanders, said of her time while painting the mural "The locals I met while working made this so project worth it. They shared their history, and their memories with me, creating a tapestry of human experience that I felt part of, even if I hadn't met the people I painted."  The mural is located at 111 S. Merritt Mill Road on the side of Walt's Grill on the Chapel Hill - Carrboro line. . Find more info on this mural by artist Kiara Sanders. (Below photo credit: Miriam McSpadden)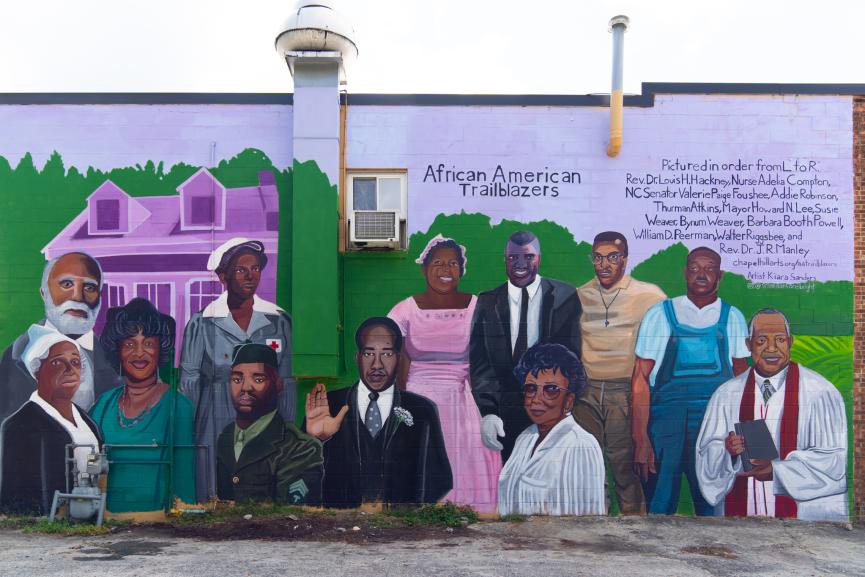 Pets
Saddie Rapp, then 14 years old, came up with the idea of a mural of pets in her effort to raise money toward restoring the "Sea Turtles" mural. For her mural, she painted dogs and cats that the public could "adopt" and raised $1,700 toward the restoration of the "Sea Turtles" mural. As a thank you to Saddie, Michael Brown painted a small turtle into the mural, which is located at 304 West Weaver Street. 
Black Lives Matter Murals
The Town of Carrboro completed this Black Lives Matter mural on Dec. 18, 2020, at CommunityWorx, 125 W. Main St. The mural faces West Main Street at the intersection of Jones Ferry Road. The mural was created by Tyrone Small and team of young artists. "The BLM mural done by myself and the students was a testament to what we can all do as a people if we can just put our differences aside and come together to create something beautiful and lasting forever," Mr. Small said. Another Black Lives Matter mural can be found at the Carrboro Century Center at 100 N. Greensboro Street. It was completed by Erbriyon Barrett on January 15, 2021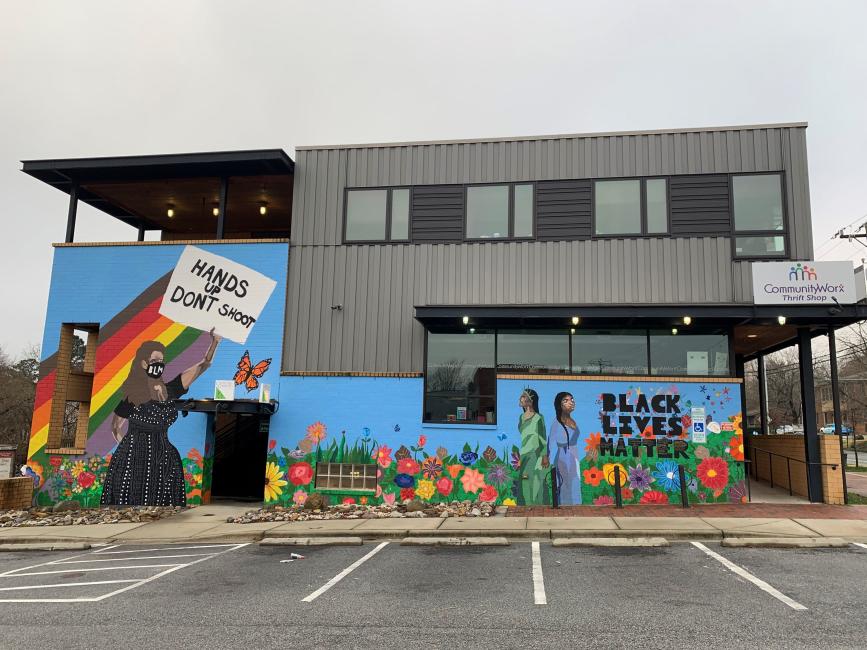 Dean Smith
Carolina Basketball fans won't mind driving away from downtown to the intersection of Smith Level Road and U.S. 15-501 ( on the back side of a gas station) to see this tribute to our beloved former coach. Scott Nurkin started his work on this mural within hours of Dean Smith's passing in 2015. "The concept is to try and honor a man whom I viewed as an exemplary leader and humanitarian, who also happened to be the greatest coach in college basketball," Scott told the News & Observer.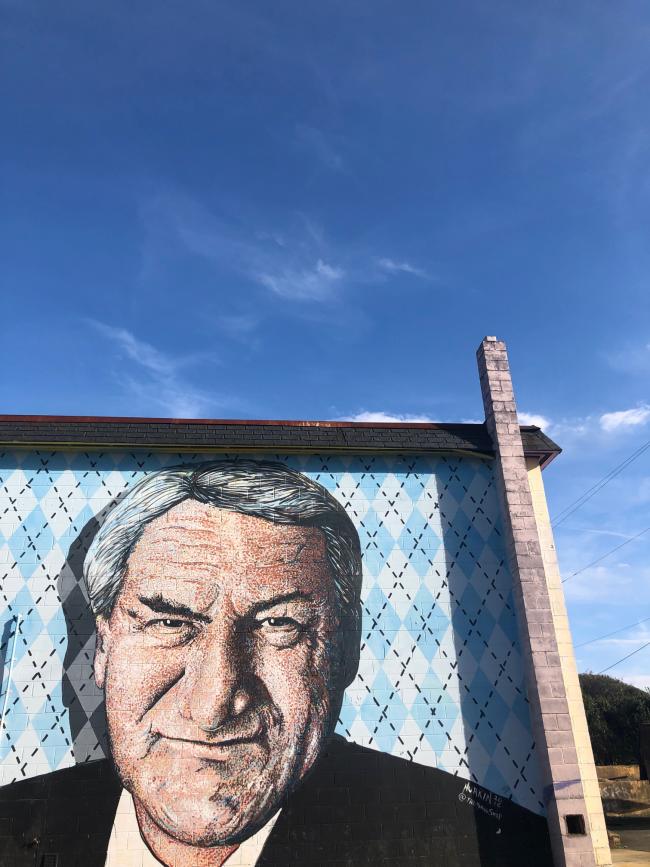 Gates of Beauty
This mural can be easily overlooked because of its smaller size, but it has a very quaint backstory. "Gates of Beauty" is located at a small body shop at 405 East Main Street owned by Brother Peacemaker. In a trade for fixing dings on Michael Brown's car, Michael painted the side of the building, depicting Mr. Peacemaker working in his shop. This mural was restored several years later, with Michael adding a few more gray hairs to Mr. Peacemaker.
Paint By Numbers
Located on the side of Pantana Bob's on Rosemary Street, this was the last mural Michael Brown painted during the 18 years of the Mural Project. He painted figures that represent the many student volunteers that Michael had worked with over the years. He designed the mural, which looks like a work in progress, to show the "paint-by-numbers" process he used for many of his pieces.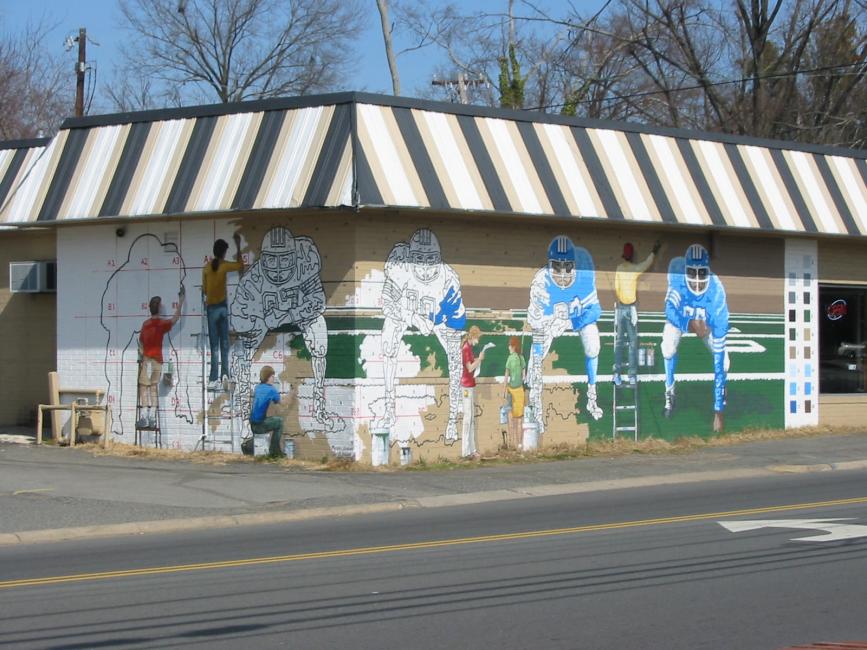 Walking Up the Wall
Painted in 1996, "Walking Up the Wall" is a wonderful optical illusion. The number of people painted into the mural at 100 East Rosemary Street relates to every donation that was received to bring this piece of art to completion.
Parade of Humanity
Though perhaps not as colorful as "Sea Turtles," this mural along Porthole Alley (138 East Franklin Street) is probably just as popular. The mural was inspired by the carved circus animals currently in The Carolina Club at UNC, but instead of using animals, Michael used local inside jokes, Chapel Hill symbols, friends, and ideas from people passing by. The mural was painted in 1997 and restored in 2008. The mural was hit with graffiti in 2014 when someone painted "Black Lives Matter" across the whole mural. Michael made repairs to the mural but decided to include the sentiment on the gown of the graduating man to honor those who lost their lives. Also added was the expression "Je suis Charlie" to honor those who worked for the satirical Charlie Hebdo magazine in Paris and lost their lives in a mass shooting.
Take the 'A' Train
Last year, downtown Hillsborough saw the completion of its first mural. "Take the 'A' Train" honors composer and jazz performer Billy Strayhorn. He spent time in Hillsborough as a child visiting his grandmother, who lived around the corner from the mural's location. The mural – painted by Hillsborough fine artist Max Dowdle – can be found at 226 South Churton Street, home to Volume, a record store and bar. Strayhorn's grandmother taught him to play the piano, and he burst onto the jazz scene in the late 1930s when he joined Duke Ellington's band.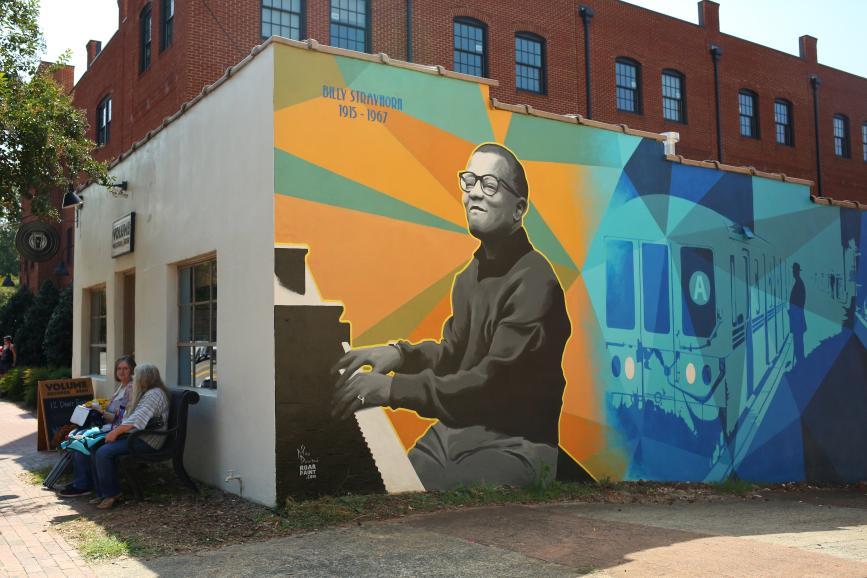 (Credits: Content courtesy of Nancy Largent, Chapel Hill Recorder; Bee Mural, Natalia Weedy; Black Lives Matter, Town of Carrboro; Dean Smith Mural, Andrea Griffith Cash; Billy Strayhorn Mural & Elizabeth Cotten, S.P. Murray)