North Carolina will host Notre Dame before a sold-out Kenan Stadium on Saturday, Sept. 24 for a 3:30 p.m. kickoff on either ABC or ESPN.
The Tar Heels will enter the game unbeaten with a 3-0 record after a 35-28 road win at Georgia State last weekend in Atlanta.
"There will be a tremendous positive economic impact for all local businesses when UNC plays against Notre Dame," says Mark Sherburne, General Manager of the Carolina Inn.   "The weekend is a high demand weekend that quickly sold out the Carolina Inn. It will be an exciting time for fans to join in the many community events and activities for pre and post-game or to watch the game at one of their favorite downtown bars and restaurants as they cheer on their team for a win."
Every college town comes alive for Saturdays. Everyone wakes up, puts their colors on, and heads to the stadium. It is truly a sight watching the masses of people make their way to the stadium.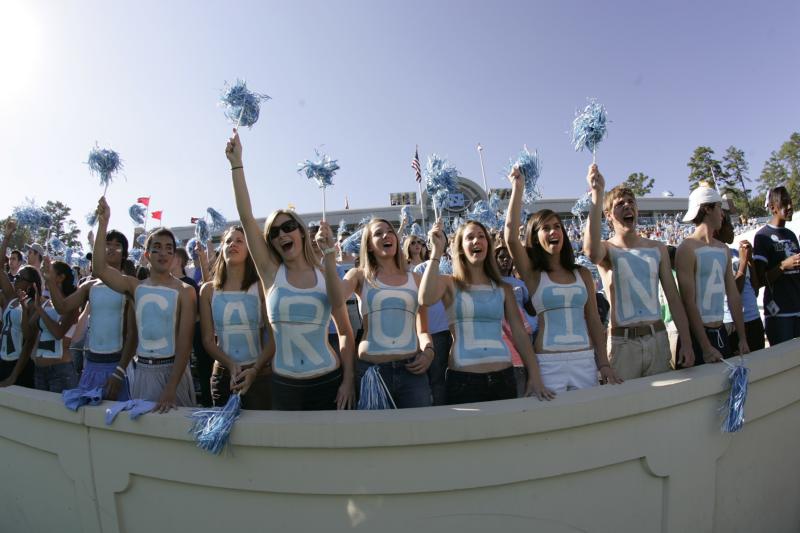 People from all different walks of life partake in the event that is College Football Saturday. Young people and old people alike can go to the game and enjoy themselves. There aren't very many other events that people from ages five to 75 can go to and share the same enthusiasm.
Here are some fun facts about Notre Dame:
Located in Indiana, University of Notre Dame is the home of the fighting Irish. Notre Dame College was founded by the Sisters of Notre Dame in 1922. Their charism still serves as the foundation of their College today, as they strive to provide a career-focused, values-based, private Catholic education to a diverse student body.

Marshmallow Mayhem: Before the final Notre Game home game of every season, the seniors sneak multiple bags of marshmallows into Notre Dame Stadium. Throughout the game, they throw them at one another in the student section. Thousands and thousands of marshmallows fly through the air. The origin of this tradition is unknown. 

The architecture of the Notre Dame South Dining Hall is reminiscent of a medieval Guild Hall. It reminds many people of Harry Potter, which prompted food services to host the first Harry Potter-themed dinner in 2009. This is now an annual tradition!

Two movies were filmed at Notre Dame: "Knute Rockne, All American" and "Rudy," both of which are football-related.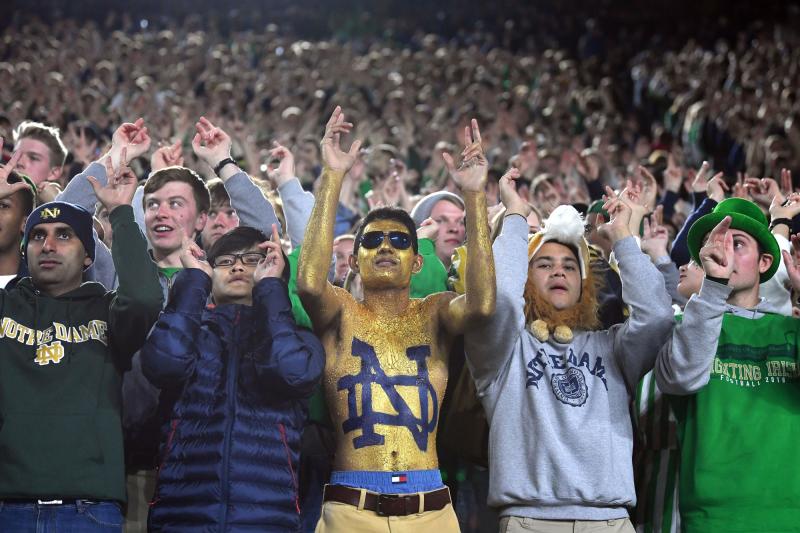 Chapel Hill is proud to host thousands of visitors and locals for Notre Dame. At the Welcome Center, 308 West Franklin Street, all visitors are welcome.  The Welcome Center flies both team flags and is on hand to welcome the Fighting Irish and Tar Heel fans.
Make plans with friends and family to head down to Chapel Hill to Henderson Street which will be blocked off to foot traffic only for a tailgate party! The FREE event which includes live music games and more begins at 12:30 p.m. and wraps up before kickoff at 3:30 p.m. Plus you have the option to purchase a VIP wristband for $30 for food from Linda's Bar & Grill and other perks!.  Just so the Chapel Hill Downtown Partnership has an idea of how many people to expect, be sure to click that your 'Going' on the Downtown Chapel Hill Partnerships Facebook Event page .  Note: Paid parking is available along Franklin Street, side streets, and parking decks. Find options on the Park on the Hill website.
The Rams Club and the UNC General Alumni Association will be on-site with Carolina goodies to add the best blue to your day.
Enjoy your game day experience into the evening with live music all along Franklin Street. 

Watch the Game Here!
You'll find lots of restaurants and bars all along Franklin Street and Main Street in Carrboro that will be showing the game. Here's a list of options:
Hickory Tavern
Photo Credits - Kenan Football Stadium and UNC Students Cheering on the Tar Heels by Jeffrey Camarati, UNC Athletic Communications