With a $15 million renovation complete, the hotel – now owned by the ATMA Hotel Group – is practically unrecognizable
If you haven't been to the Sheraton Chapel Hill lately, located off Fordham Boulevard and just minutes from Franklin Street, you may not recognize it.
Built in the early 1980s, the Sheraton was bought by Chapel Hill's ATMA Hotel Group in 2019. Following an extensive $15 million renovation that took more than a year, the reimagined hotel is now sleek, modern, and fully embracing of the ever-popular open-concept floor plan. The lobby is one massive room with plenty of natural light pouring in that serves as a central hub, complete with a check-in desk, conference rooms, a coffee bar and market called &More that features Starbucks products, Blue Corners Bistro & Bar (featuring tapas-style plates perfect for sharing), plus lots of nooks and crannies to sit, work, relax, and socialize. Think tables with outlets, sofas, comfy chairs, banquette seating, and even soundproof booths where you can take important calls in a private setting.
My husband and I recently got away for a relaxing night and immediately noticed the team's attention to detail – although various forms of lighting are used, all are extremely flattering, resulting in a space that is endlessly Instagrammable. Outlets are incorporated into many pieces of furniture, making it easy to recharge.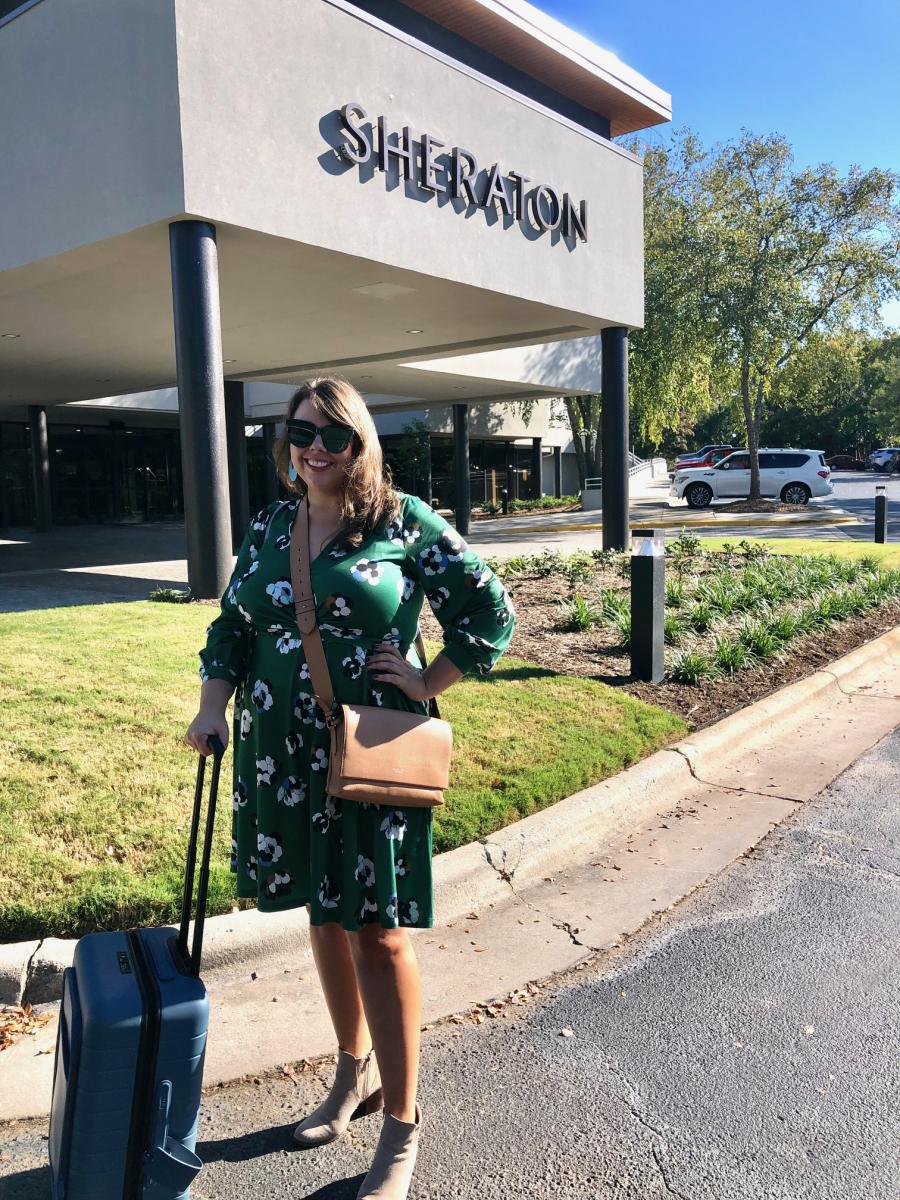 Ready for a night away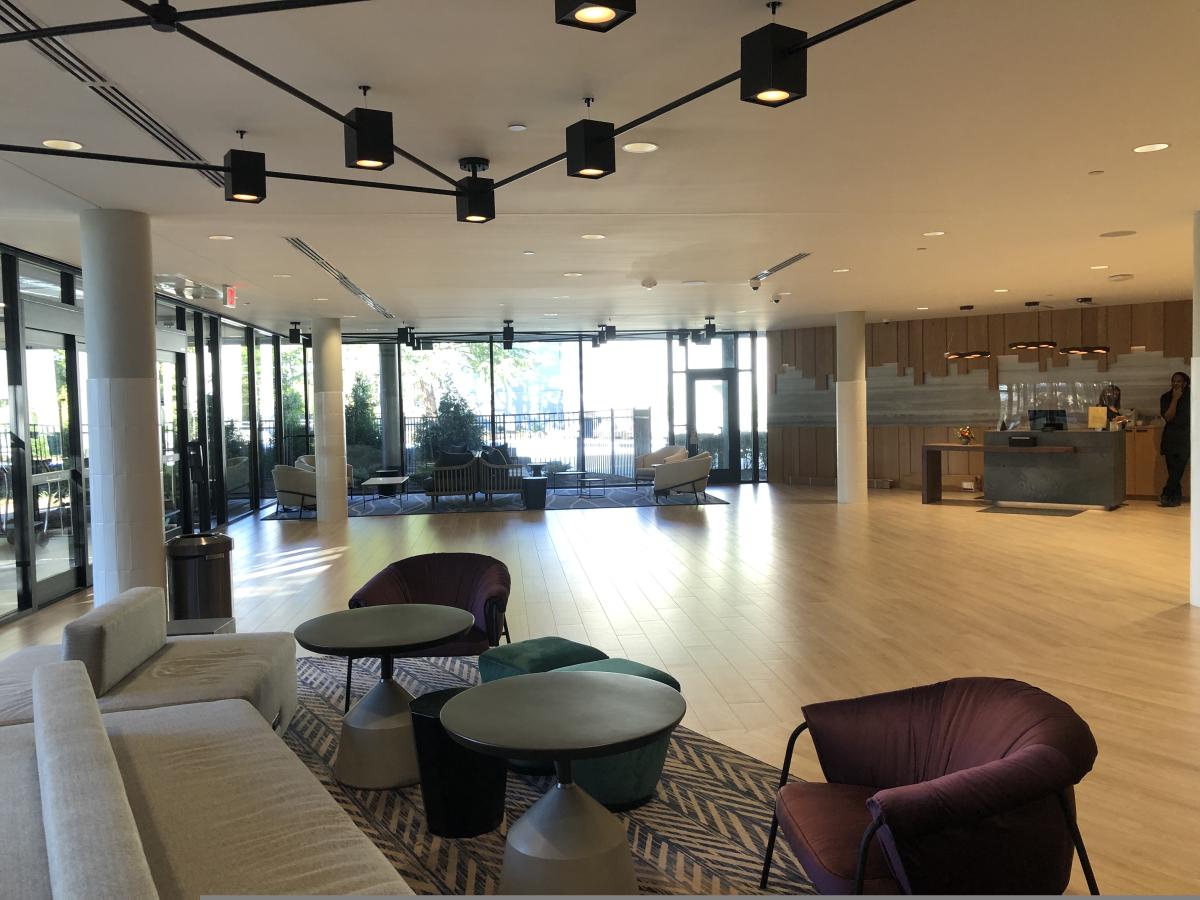 In the massive lobby, different textiles, textures, colors and silhouettes create distinct and unique areas within one uninterrupted space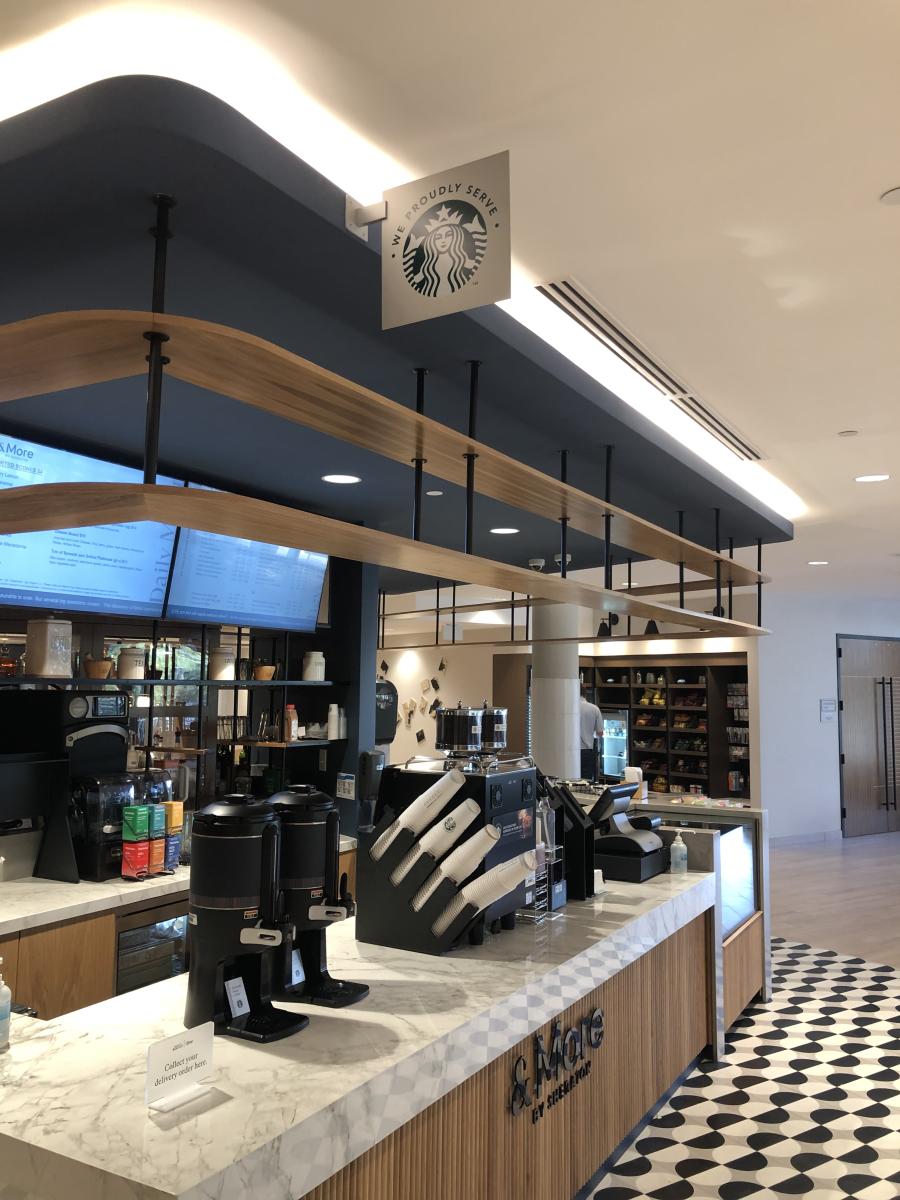 I enjoyed an iced coffee as an afternoon pick-me-up after checking in, but this market in the center of the lobby is also a convenient place to grab a snack anytime of the day.
The design team understood the assignment, using different textiles, textures, colors, and silhouettes to create distinct and unique areas within one massive uninterrupted space – a public square, if you will, that's full of visual interest. The hotel is one of 60 in the world to showcase this new Sheraton style, intended to enhance community involvement and connectivity.
Chapel Hill is, of course, a true Carolina blue town, and that fandom is woven into the Sheraton's design in subtle but consistent ways – look for framed photos of the iconic campus in the guest rooms and old UNC blueprints spotlighted in common areas.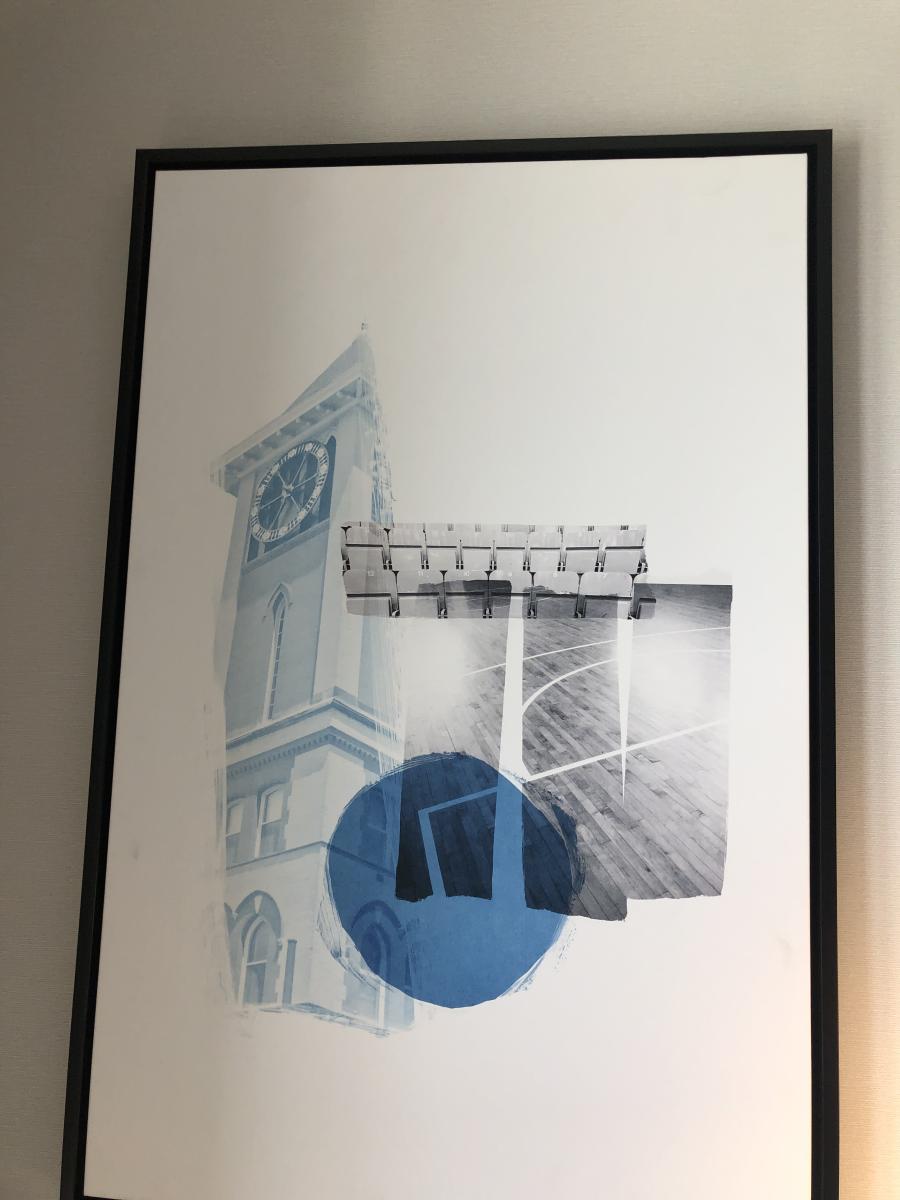 A piece of art in our room that paid homage to the UNC Bell Tower
There are 172 newly designed guest rooms – ours was modern, warm, and highly functional. A powered height-adjustable work table with a charging port worked great for laptop usage but would have also been the perfect nook for enjoying a room service tray. A built-in bench opposite of the foot of the bed functioned as a convenient luggage rack but also served as cushioned seating on the work-table end. The huge flat-screen TV made logging into our various streaming platforms easy. We loved the light wood finishes combined with black metal accents. With blackout curtains and a luxuriously soft mattress on a king platform bed, we got some of the best sleep we'd enjoyed in weeks. The balcony showing off Chapel Hill's wooded views and giving us a glimpse of the 7,000-square-foot deck for outdoor events was a real bonus feature.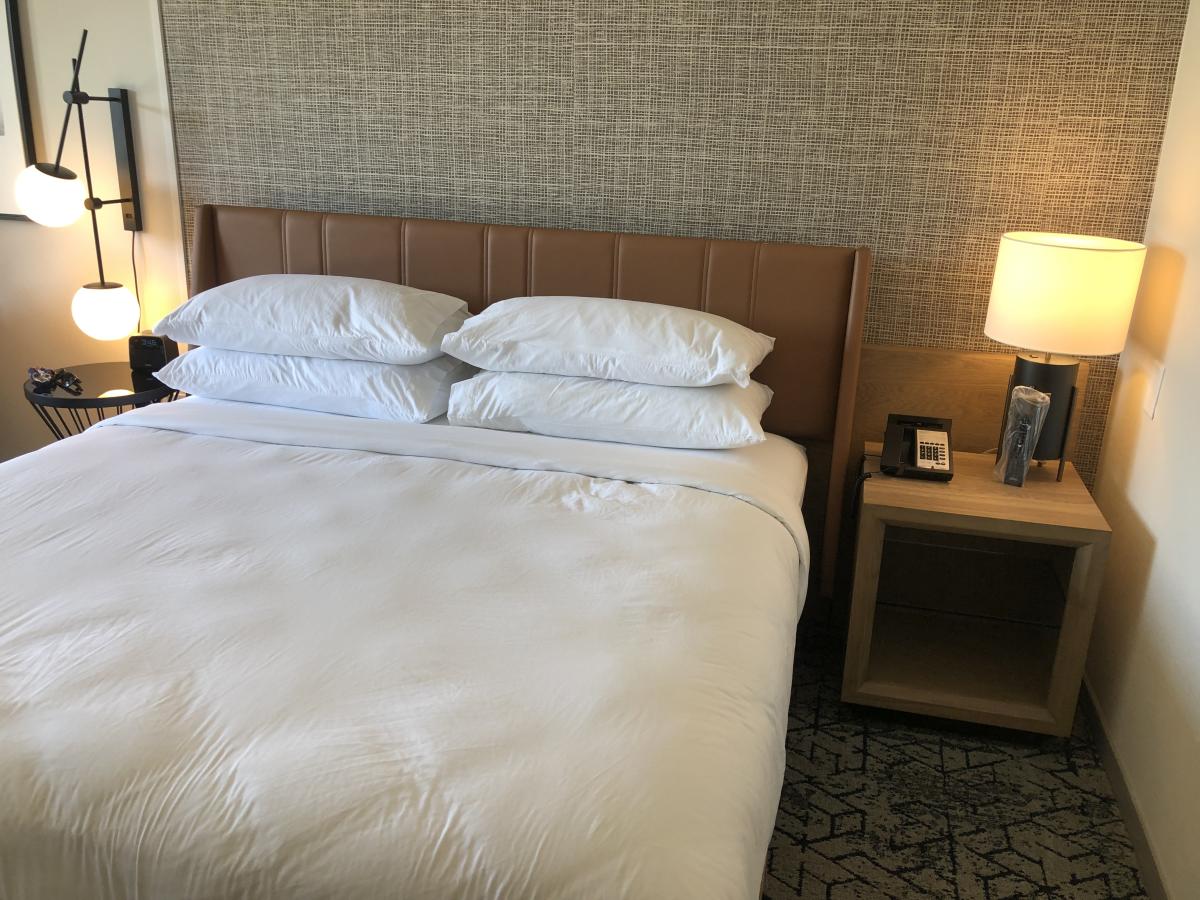 We loved the mixing of materials. Matching lamps and nightstands are out!

The lovely view from the balcony of our room
I cannot say enough about the lighted mirror in the bathroom – easily adjustable and extremely flattering, it proves that it's "the little things" that leave the most lasting impression when you're staying away from home. We also loved the bath amenities by Gilchrist & Soames.
For dinner, we ventured back down to the lobby to check out Blue Corners Bistro & Bar. With TVs over the bar and guests passing through the open space, this is not a dark, corner-booth type of experience. Rather, it's much more communal, in keeping with the "public square" theme. Excellent for people watching. We decided to share a number of plates – ahi tuna poke, free-range chicken wings, grilled shrimp tacos, and sweet potato and pumpkin gnocchi. I had a glass of red wine, while my husband enjoyed a craft beer from Asheville's Highland Brewing. The gnocchi were a real highlight – innovative, perfectly balanced, and gorgeous to boot. It was the first dish we had enjoyed this year that felt like a real taste of fall.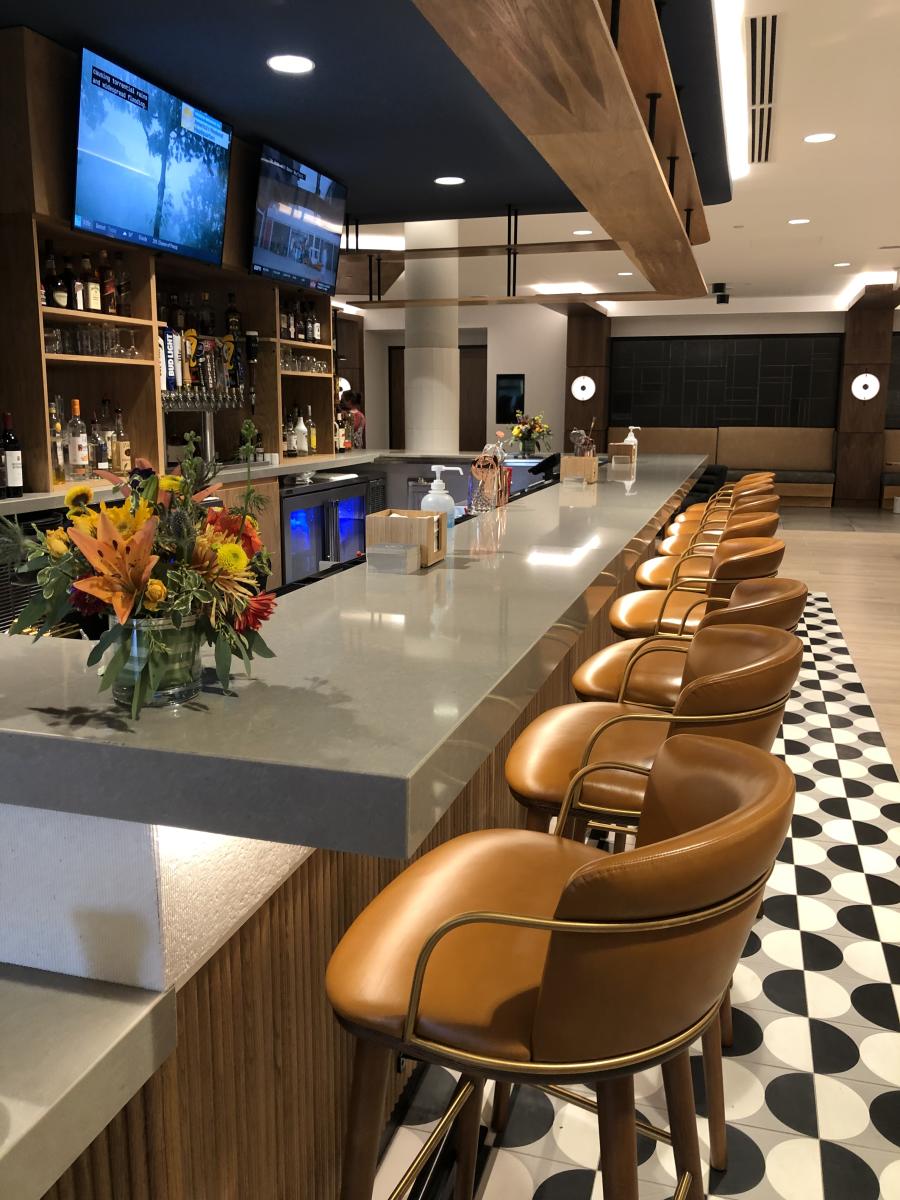 The inviting bar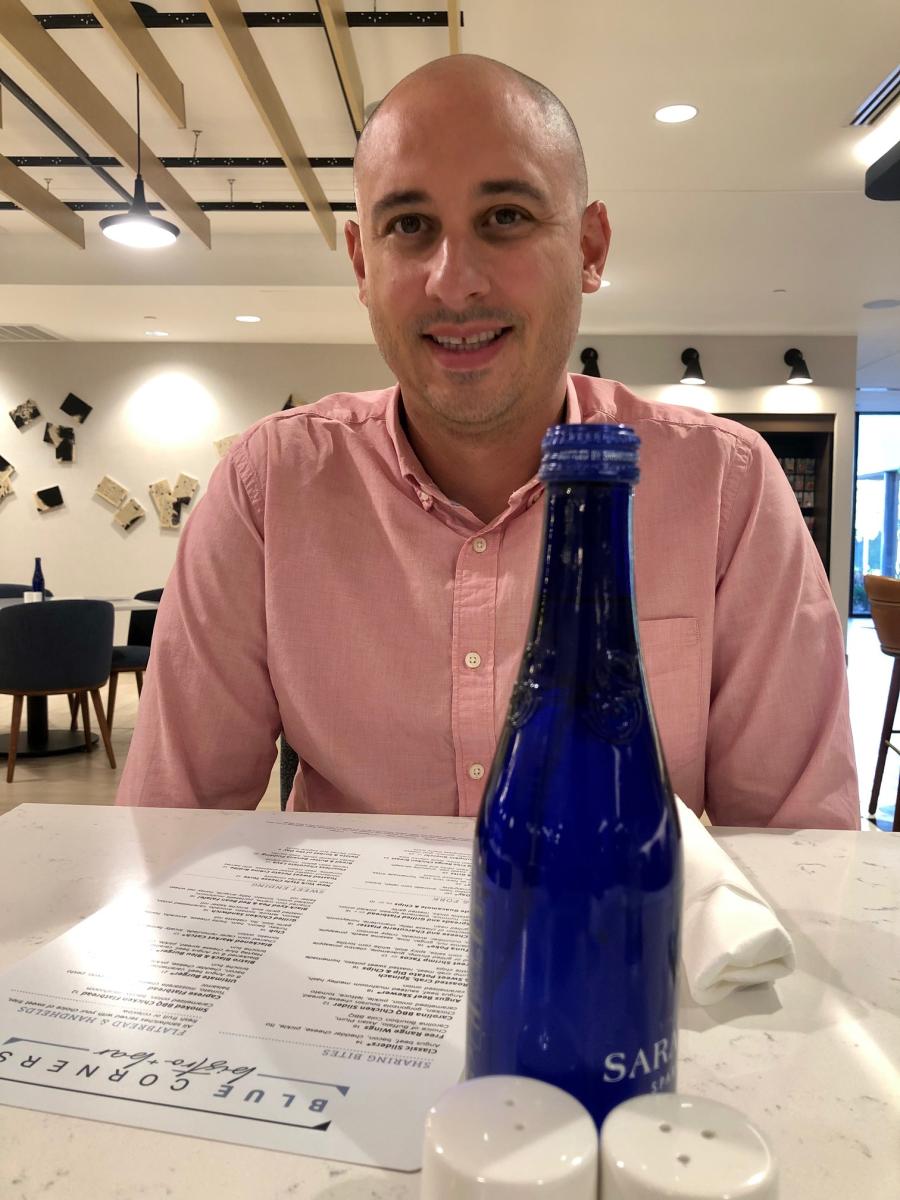 My husband Patrick at dinner at Blue Corners Bistro & Bar.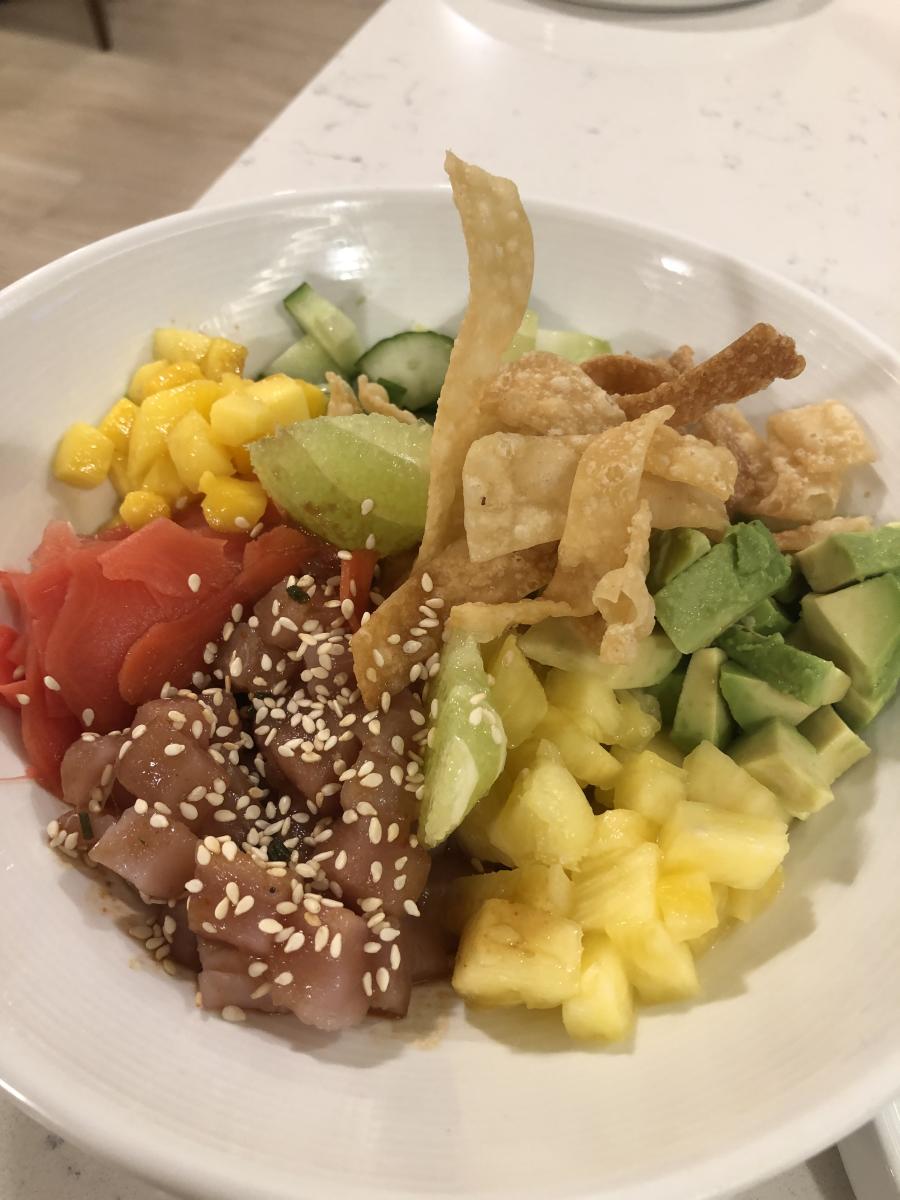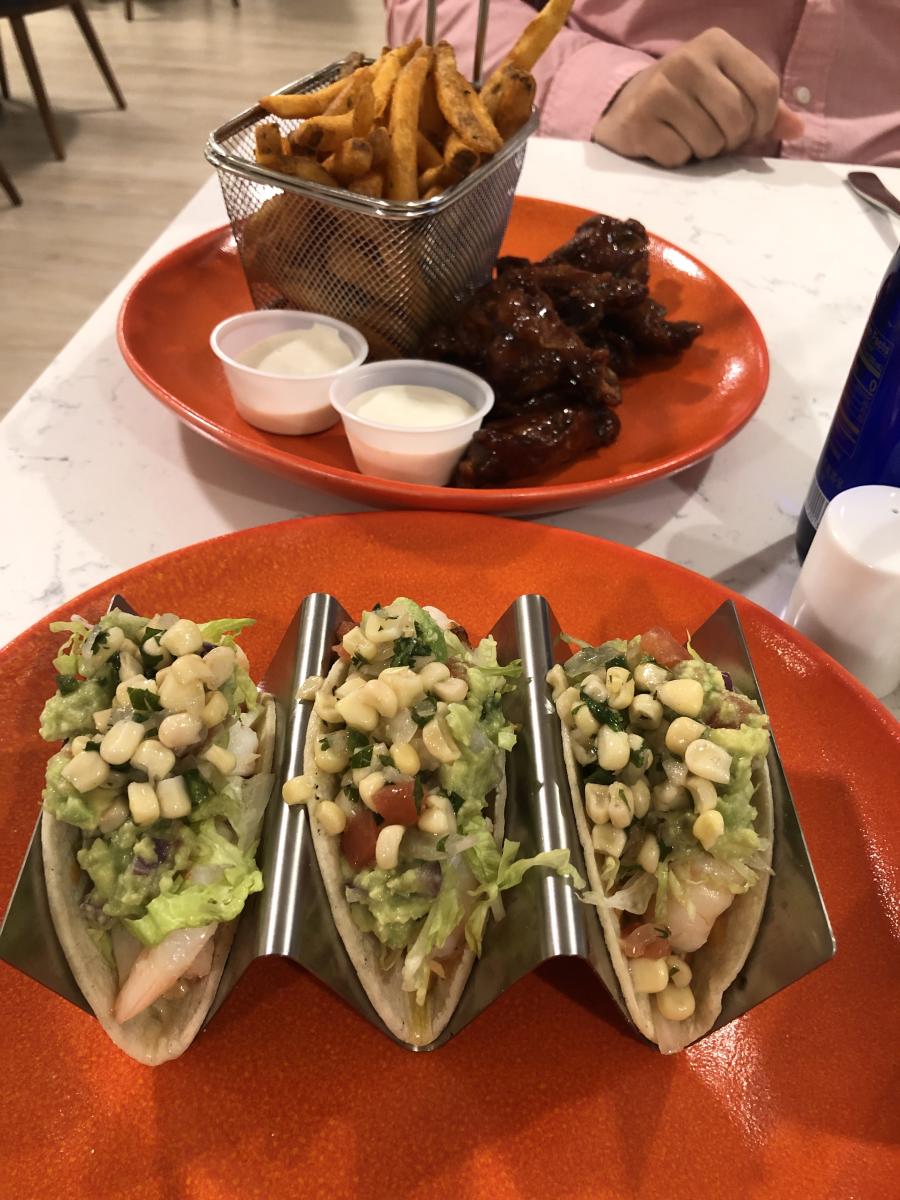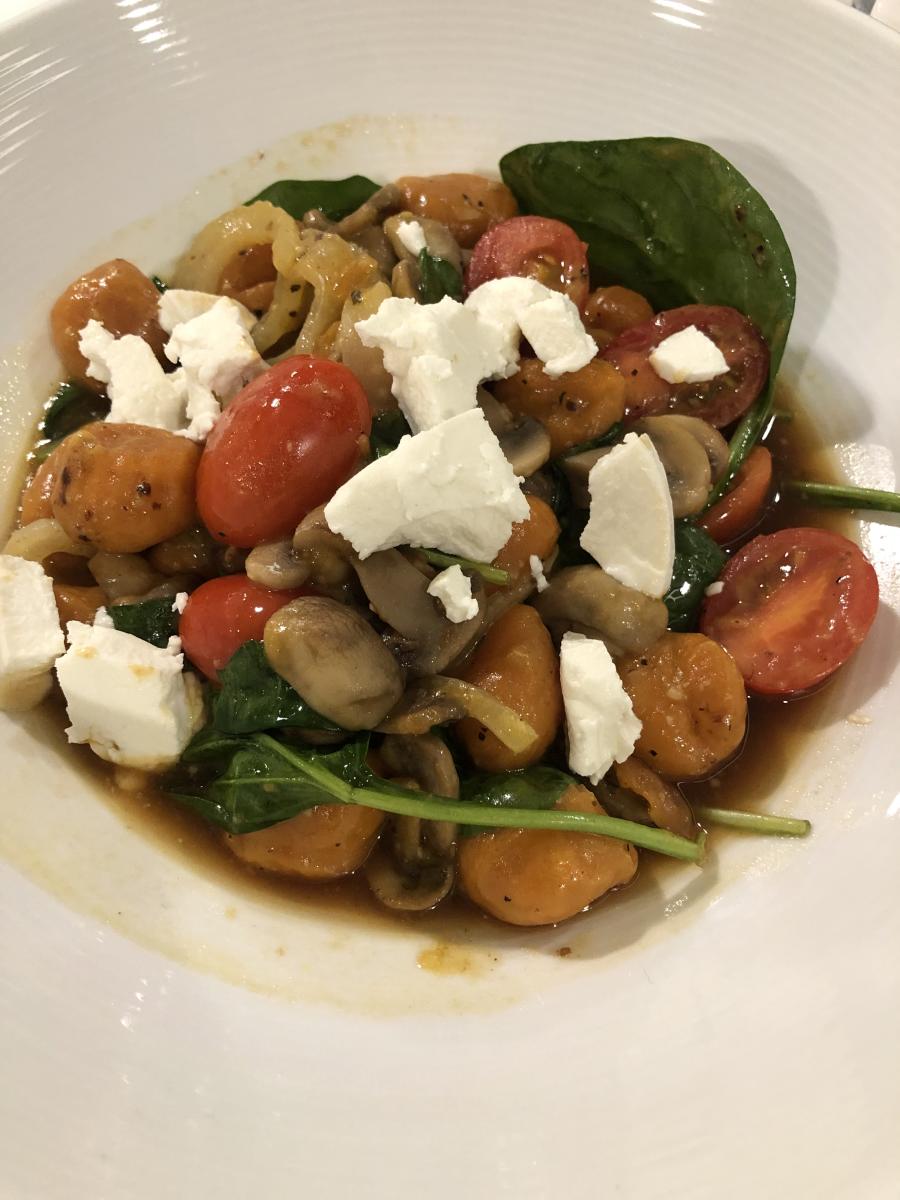 We shared four dishes at dinner- ahi tuna poke, free-range chicken wings and fries, grilled shrimp tacos, and sweet potato and pumpkin gnocchi.
In the morning, service was fast and easy at the &More market, where we grabbed mochas and a pastry before checking out and heading home. The menu offered something for everyone – acai bowls, steel-cut oatmeal, croissants, power smoothies, an egg-white veggie frittata. Or guests can simply grab an apple with their Starbucks.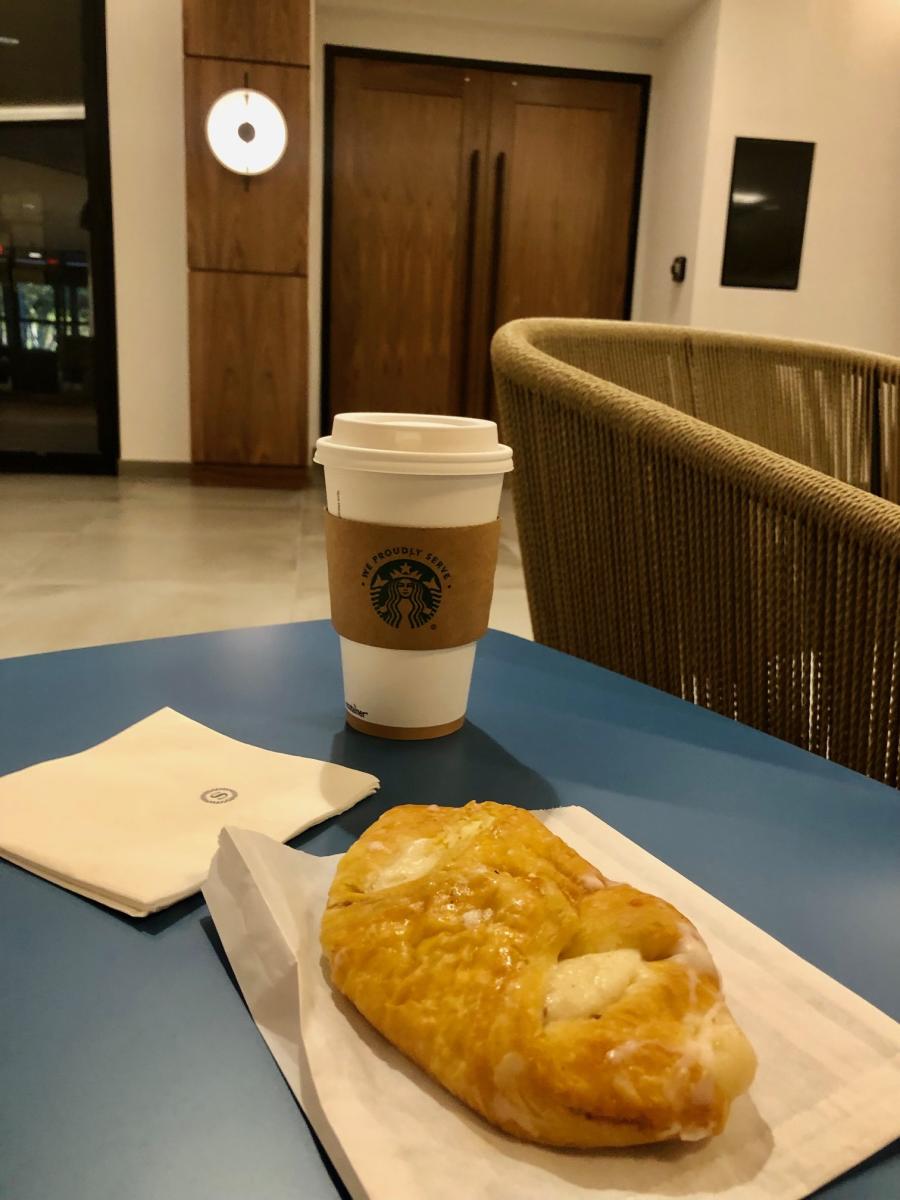 Before departing in the morning, we stopped at &More for a cafe` mocha and a delicious pastry.
The nearly 1,300-square-foot fitness center off of the lobby is available to guests 24 hours a day and features two Peloton bikes, numerous treadmills and elliptical machines, medicine balls, kettle bells, yoga mats, weight machines, and free weights. With light pouring into the windows, it's clear that this space was not an afterthought – certainly not your typical workout room tucked away in the hotel basement. 
Though not part of our experience, the hotel boasts 20,000 square feet of event space, with some ballrooms holding up to 600 people. I imagine these venues will book up quickly, given the busy wedding scene in Chapel Hill and the various events that spill into town, thanks in part to the university's constant activity.
The private outdoor pool was closed during our stay, but I was impressed by the upholstered loungers I saw poolside. It seems you could spend the whole day reading by the pool without getting uncomfortable.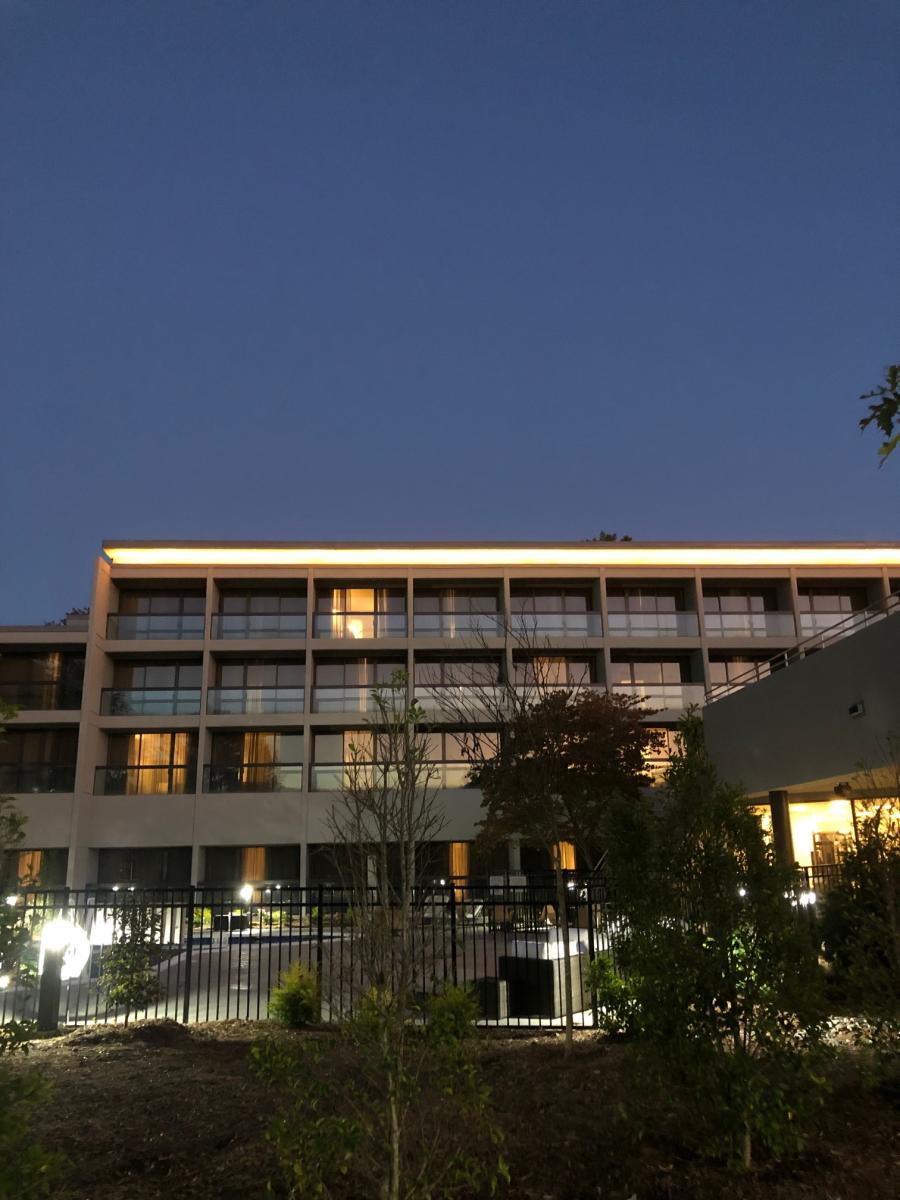 A view of the hotel at night
Given that the hotel's comprehensive renovation took place during the pandemic – a very trying time for the construction industry, faced with unprecedented setbacks and delays – I'm sure that the Sheraton's leadership team is breathing a huge sigh of relief and pride in finally see their vision realized. The result is another reminder – good things come to those who wait.
For booking information, go to https://www.marriott.com/hotels/travel/rdusc-sheraton-chapel-hill-hotel/