Looking to elevate your summer weeknight meals? Need a dish to take to a socially-distant backyard gathering? Chef Brandon Sharp of Chapel Hill's Hawthorne & Wood – which has reopened for dine-in service but is still offering takeout options – has you covered. Make the most of vegetables at the peak of summer ripeness!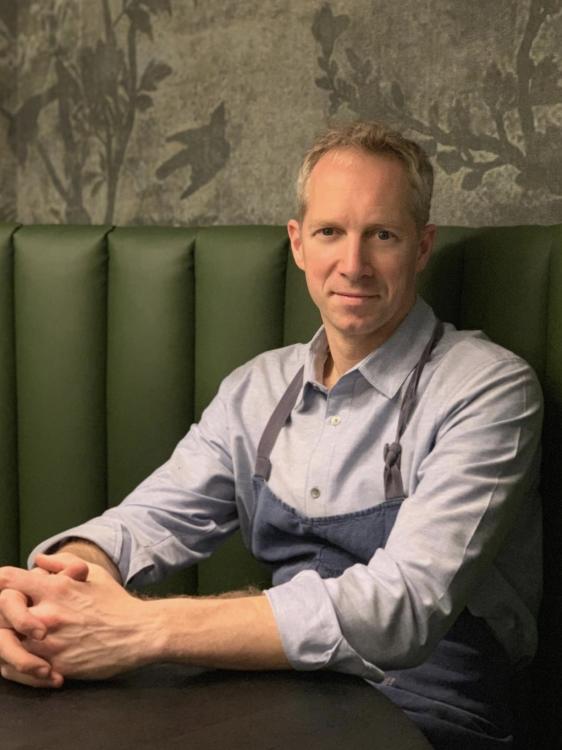 His watermelon salad utilizes nam pla, a Thai fish sauce that has an unexpected affinity for ripe watermelon. This "table sauce" is incredibly versatile, much like vinaigrette in Western cuisine. It's as quenching and alluring as a good vinaigrette, but for completely different reasons.
Brandon's zucchini, lemon, and mint salad presents a flavor combination that showcases the restraint and specificity of Italian cuisine. A few common but contrasting ingredients join forces to elevate zucchini above the everyday.
Watermelon and Nam Pla Salad
Ingredients
4 cups ½-inch dice red seedless watermelon, rind removed
1 cup peeled ¼-inch diced cucumber
1 cup peeled ¼-inch diced kohlrabi or jicama
1 ripe avocado, ¼-inch dice
1 lime, cut into wedges for squeezing
8 leaves Thai basil
8 leaves mint
For the table sauce:
1 cup lime juice
1 cup fish sauce
1 cup water
4 cloves garlic, peeled and minced very finely
4 Tbsp. sugar
1 Tbsp. rice wine vinegar or cider vinegar
1 tsp. crushed chile flake
Directions
In a large chilled mixing bowl, gently mix the watermelon, kohlrabi or jicama, and cucumber with a pinch of kosher salt, several squeezes of lime, and more than enough table sauce to coat them. Let that mixture sit while you season the avocado with salt and lime in a separate bowl and divide it among four chilled plates. Using a slotted spoon, divide the melon mixture among the four plates as well. With a pair of scissors, snip the mint and Thai basil into large pieces over the salads. Garnish with wasabi peas, or crushed fried wontons, or crumbled rice cakes ­­– you want something crispy for textural contrast. (At Hawthorne & Wood, we use a puffed rice chip that takes several days to make). Serves 4.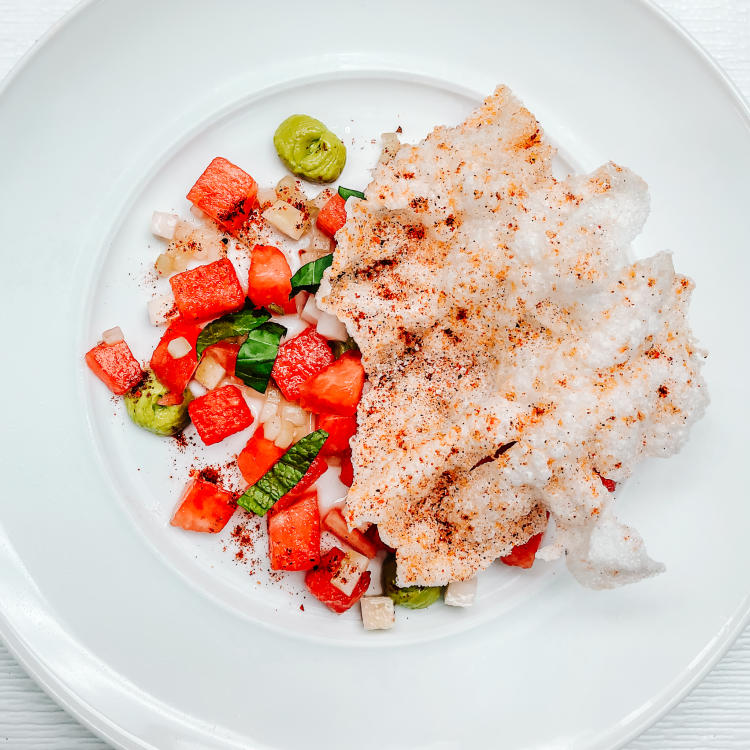 Zucchini, Lemon, and Mint Salad
Ingredients
3-4 fresh (preferably heirloom) zucchini or other summer squash
2 oz. (by weight) chunk of 24-month-old parmigiano-reggiano
1 cup roasted salted almonds, crushed
12 mint leaves
3 lemons, cut into wedges for squeezing, seeds removed
kosher salt
Directions
Remove the ends of the squash and grate them on the large holes of a box grater, or cut them by hand into a thin julienne. In a large bowl squeeze the lemon juice over the zucchini and dose it with a four-fingered pinch of salt. Toss well to combine and taste. Adjust with more lemon or salt as needed. Scatter the zucchini over four plates. Snip the mint leaves into big pieces over the zucchini, then scatter on the almonds. Using a microplane or a fine grater, go nuts with cheese! Shower it over the salads. Eat immediately. Serves 4.