If you haven't ventured to Hillsborough in a number of months, it's time to return. With plenty to check out and more on the way – from the completely new to the familiar but transformed – there's something for everyone.
Nomad
This new King Street restaurant – opening in a matter of weeks – plans to bring a whole new meaning to the word "nomad," delivering a diverse range of cuisine influenced by the owners' travels around the world and the types of foods they've experienced in the process. Expect traditional ethnic dishes with a unique spin, served in a small-plate format.
Co-owners Sejal and BJ Patel are behind Nomad, along with managing partner Nick Singh and executive chef RJ St. John. The restaurant is something of an ode to the childhoods of its leaders. As Sejal and BJ's parents traveled from place to place, they introduced the cousins to various cultures and food, creating a shared passion for the world.
The Patel brothers already own and operate Viceroy in Durham, a restaurant known for its British/Indian dishes.
Almost a century ago, the Nomad building housed the Osbunn Theatre, and the team has designed a space that preserves as much of the movie theater as possible – with lots of exposed brick and exposed beams and ductwork.
Learn more at thenomadnc.com.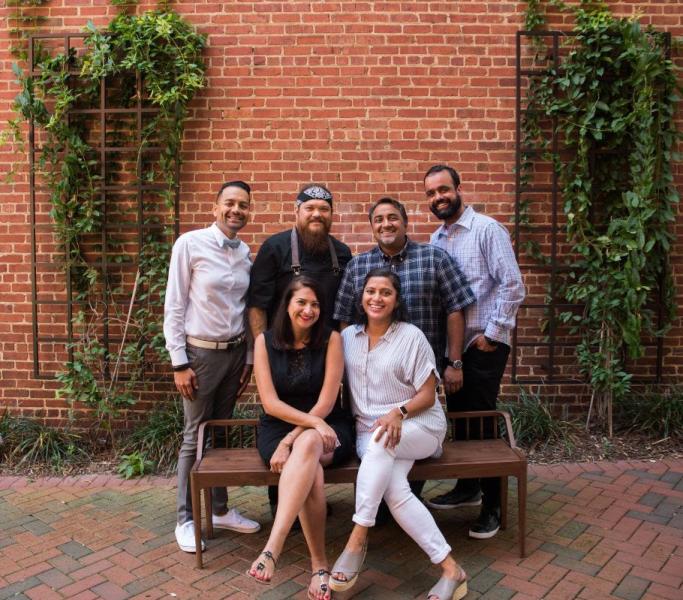 ---
Bakova Gallery
With new owners, Eno Gallery on South Churton Street is now Bakova Gallery, which had its grand opening in December 2019. It's committed to presenting a diverse collection of imaginative and culturally relevant exhibitions, from contemporary and pop art to traditional fine art. Look for the region's most important emerging talent alongside nationally and internationally recognized artists. Exhibitions open on the last Friday of each month during historic Hillsborough's Last Friday's celebrations.
Through March 1, check out the "Contextualization" exhibit, featuring Josh Dorman, Veta Bakhtina, and James Greer.
Find out more at bakovagallery.com.
---
Yonder
King Street Bar is now Yonder, Hillsborough's unofficial living room and arts space where folks gather to celebrate craft cocktails, beer, and local artists. Musicians – including regular Katharine Whalen of Squirrel Nut Zippers fame (playing jazz at this venue!) – perform multiple nights per week. Plus, monthly art installations make this place a comfortable, safe place for friends to convene and relax.
Don't miss open mic night on Tuesday, board game night on Sunday, and a monthly comedy show.
See the full schedule at yonderbarnc.com.
---
Eno River Mill Arts Project
A new art space will occupy a prominent Hillsborough location. Last fall, the Orange County Board of Commissioners authorized the Eno River Mill Arts Project. The Orange County Arts Commission will rent space from Hedgehog Holdings, which manages the mill, to create 13 move-in artist studio spaces in a 2,970-square-foot space. 
Artists can rent the space from the county and use it as a creative, storage, and display area. The partnership offers artists affordable square footage while transforming the mill into an arts destination.
Once the studio space is filled, the Orange County Arts Commission plans to enact two additional phases: creating a large exhibit area and a performance arts space within the mill while aligning with Hedgehog Holdings' construction of apartments at the mill that could offer reduced rent for artists using the studio.
For updates, go to artsorange.org.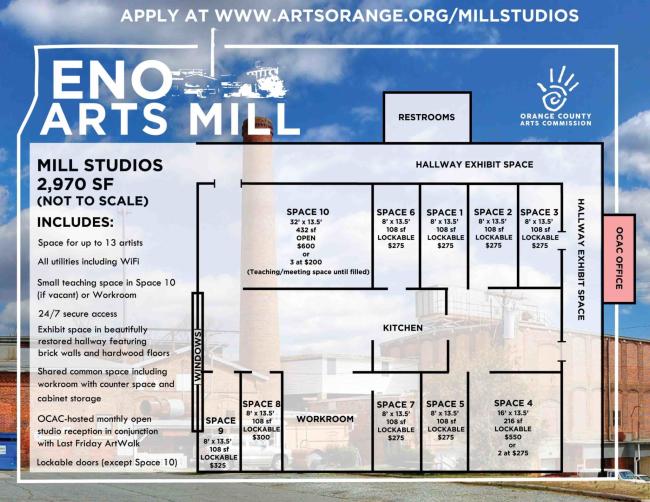 ---
James Pharmacy
Formerly LaPlace Louisiana Cookery, James Pharmacy opened in the spring of 2019, with a name that honors the town pharmacy that once occupied its building. It dubs itself a "yacht party – but on land!" The team works with fish purveyors along the North Carolina coast. Look for raw oysters, ceviches, mussels, fried fish platters, sandwiches, tacos, Old Bay fries, gumbo, and tropical-inspired cocktails. Owner Matt Fox also owns the popular Wooden Nickel pub next door. The kitchen is headed by Ben Braxton, a Hillsborough native who has worked with renowned Southern chef John Currance.
Learn more at jphillsborough.com.
---
Bull City Music School
In August, downtown Hillsborough welcomed a new music school, specializing in voice, piano, strings, and other music lessons.
Bull City Music School founder Jeanetta Hopkins selected Hillsborough as the site of her expansion from Durham because the arts thrive here, but the town still has a quaint and charming spirit. The school's Hillsborough space – featuring four spacious classrooms – is downtown, on the back side of the Mercantile Center.
Learn more at bullcitymusicschool.com.
---
Carolina Hemp Hut
From online sales to a kiosk at the Streets at Southpoint – to Hillsborough's Mayo Street! Carolina Hemp Hut is a purveyor of CBD products in Hillsborough, which opened in the spring of 2019 and is owned by Mary Lopez Carter and David Carter. CBD, short for cannabidiol, is a chemical compound from the cannabis plant that does not produce a high.
Their products – many of them certified USDA organic – include CBD (cannabidiol) and hemp oil extract drops and tinctures, CBD and hemp oil supplements, CBD-infused edibles such as gummy candies, topical salves, creams, beauty and skincare items, and incense, vaporizers, and e-juice.
The married couple began researching CBD products when David was suffering from a brain tumor about 10 years ago. They sell their favorite national brands, but also works to include local hemp growers in Hurdle Mills and Cedar Grove. Plus, Lopez Carter also has her own license as a grower.
Find out more at carolinahemphut.com.
(Photo credits: Header photo - courtesy of James Pharmacy,  The Nomad Team - The Nomad)