Culinary Bites
CULINARY BITES highlights Orange County's award winning restaurants and chefs and the delightful culinary experience they bring to this place. Did you know that Bon Appetit magazine dubbed Chapel Hill "America's Foodiest Small Town"? Check back often for recipes, samplers, chef bios, restaurant history & reviews.
Panciuto Italian - English – panciuto. 
Definition: adj. potbellied, paunchy, rounded, big-bellied 
Food enthusiasts trek from all over the Triangle to taste Chef Aaron Vandemark's exquisite creations using ingredients almost exclusively grown on Orange County farms. Trained by Il Palio's legendary Chef Genaro Villella, Vandemark's small menu of Northern Italian-style specialties may include such temptations as cider-glazed pork shank with cabbage risotto, braised duck ragout, or butternut squash ravioli with wilted greens. Desserts show the chef's characteristic restrained elegance. Warm hazelnut cake with chocolate ganache and banana ice cream are a symphony of complimentary flavors and compatible temperatures. Rare bottles from small family-owned Italian vineyards, carefully selected to complement Vandemark's dishes, make up the wine list. Panciuto's brick-walled dining room reflects the chef's understated aesthetic, the perfect backdrop for his unforgettable cooking.
~ Moreton Neal (2013) 
Chef, restaurateur, restaurant reviewer, food author
While the menu may have changed since 2013 and actually it "…changes a little bit every day, noticeably week to week and completely month to month", Panciuto still remains devoted to 'local'  and Vandemark continues to find ways to excite the palette. With a quick view of their current menu we found Steamed-toasted buns stuffed with n'duja, lissome cheese, basil, balsamic syrup; a pasta dish for a main course, Goat cheese cappalletti in cream, basil, arugula, squash and zucchini, fried green tomatoes, rose syrup; and for dessert Blackberry almond cake, whipped sweet ricotta, chai honey, amaretto. Just mouthwatering to think about! 

About Chef Proprietor Aaron Vandemark
On the serious side: Vandemark's background includes Il Palio in Chapel Hill, the Fearington House Restaurant in Pittsboro and the former Magnolia Grill in Durham, all AAA 4 and 5 diamond restaurants. He has been named a James Beard Foundation Semifinalist for Best Chef, Southeast 2011-2016, and Food and Wine's The Peoples Best New Chef Southeast 2012. 

On the humorous side:  Well this picture pretty well sums it up…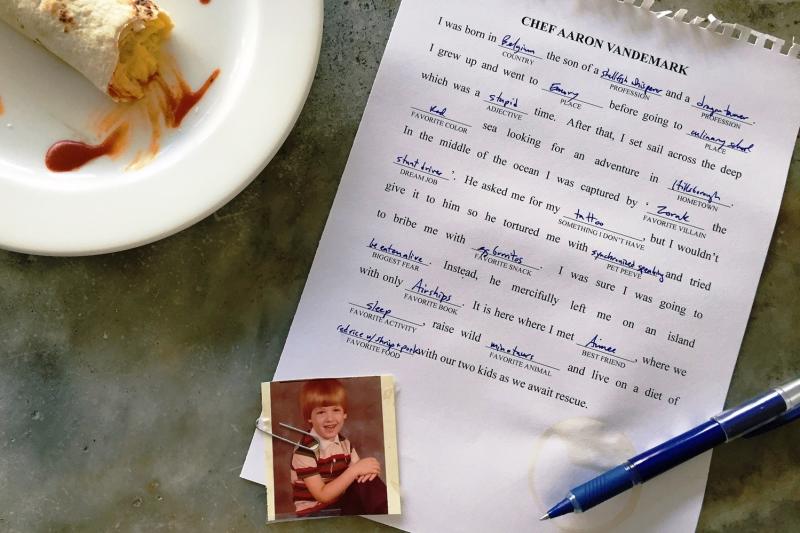 Photo(s) courtesy Panciuto
If you go:
HOURS
Open for supper four days a week:
Wednesday through Saturday 5:30 PM to close 
LOCATION
110 S. Churton Street
Hillsborough, NC 27278
919.732.6261
ENJOY!