Farms & Barns for Special Events, Meetings & Weddings - Part Two
---
Explore more of our unique event spaces...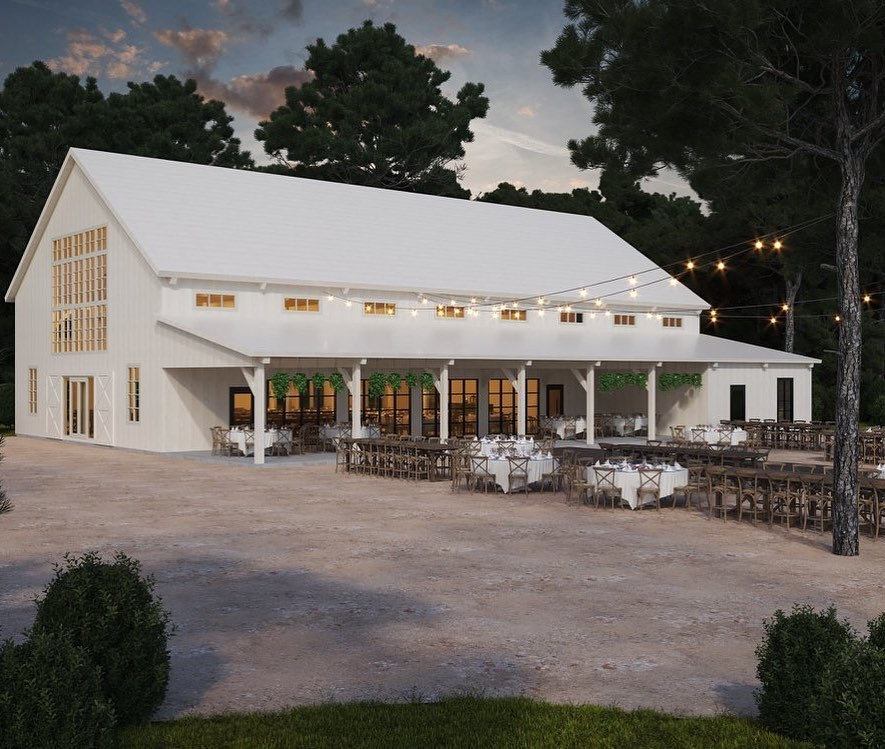 Carolina Grove, set on 65 acres, offers relaxed luxury in the rolling hills and wide open pastures of Northern Orange County. Located just 15 minutes from downtown Hillsborough and 30 minutes from downtown Chapel Hill, owner Melissa O'Hara's new venue is a spectacular modern and classic barn with an airy feel. It was designed to take advantage of its secluded, natural surroundings by letting in tons of natural light. Through the many indoor and outdoor spaces the guests will experience the ambience of nature that is woven throughout the property.
There are several distinct spaces at Carolina Grove. For outdoor wedding ceremonies, the space offers a romantic wooded backdrop and flagstone aisle. Other outdoor gathering spaces are set among mature hardwood trees and al fresco courtyards with string lights that glow  under the stars. There is also an oversized covered 1,440 square foot veranda perfect for cocktails, ceremonies and outdoor receptions.
Inside the barn the 4,600 square foot event space offers soaring ceilings and expansive glass that flood the space with natural light. Rolling glass and steel doors create a seamless flow between the main reception space and the outdoors. There is also a Mezzanine level loft that can be used as additional seating, lounge, or bar area.
The barn can formally seat 240 with an additional 30 seats on the mezzanine level. An additional 60 can be seated on the outdoor covered porch connected to the main space. Outside spaces can hold up to 300 seated. For mix-n-mingle cocktail receptions the space can accommodate up to 300. Carolina Grove provides ceremony and reception chairs, cocktail tables, mix of round and farmhouse reception tables, two rolling bars and lounge furniture.
Bridal parties will love the dressing suites. The Bridal room has a hair + makeup counter, oversized gilded mirror, 12-ft picture window, a full bath, flat screen tv and plenty of beautiful amenities. The Groom's suite is equipped with lounge furniture, flat screen TV, mini-fridge, plus access to the Vault lounge via a spiral staircase. The downstairs suite offers plenty of space and amenities for getting ready.  
Another super hip space is the Vault lounge. Located in the basement, the speak-easy style Vault lounge comes with a built-in bar and velvet lounge furniture.  It's the perfect place for glowy cocktail hours, rehearsal dinners or late-night drinks.
Carolina Grove provides a list of preferred vendors that are wonderful at what they do, but clients are welcome to select their own.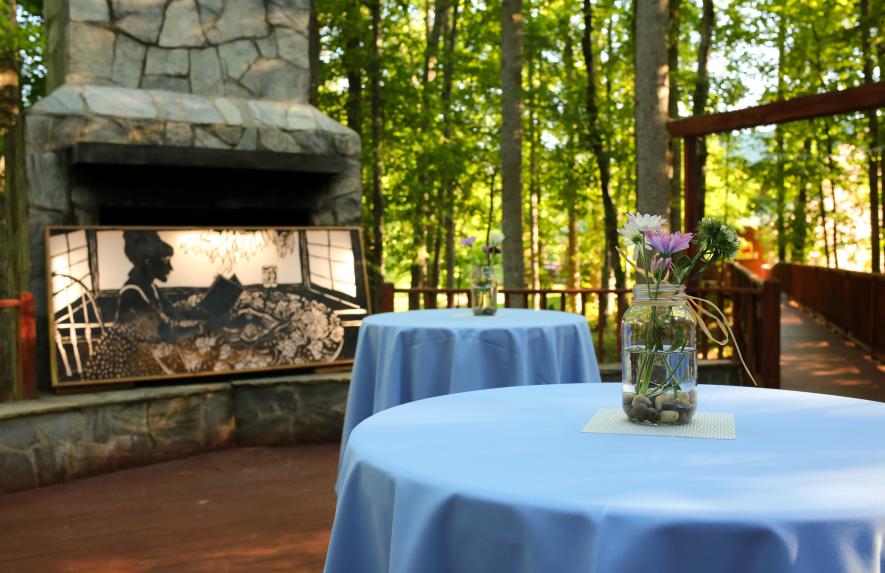 The Barn at Valhalla is nestled on 30 pristine acres of meadows, pines and a lake in Chapel Hill, NC. Although the property is tucked away and private, it remains convenient and easily accessible to Chapel Hill being only 9 miles away. The venue offers 4 distinct spaces: The Barn, The Lodge, The Gazebo and a Hearth Deck which are all connected with wood bridged walkways.
The Barn features wide wrap-around decks with views of the lawn, fire pit area and the lake. The space is enhanced with decorative market lights to create a nice ambiance. 
The interior of the Barn features polished wood floors, tall ceilings, exposed pine beams, gorgeous chandeliers, a full kitchen and offers a rustic chic atmosphere. The Barn can accommodate a seated reception of up to 125 or ceremonies of up to 149 guests. They also provide tables and seating for 150, two bars on casters that can be used inside or out. To accommodate larger events a tent can be set up just outside the large barn doors. There is also a picturesque bridal suite for getting ready and overnight accommodations.
The Lodge offers an extra space for an intimate ceremony, dancing or cocktail ceremony. It provided a picturesque view with its wall of windows and vaulted ceilings. Other features include crystal chandeliers, an indoor balcony, a baby grand piano, two fireplaces, a water wall, a sitting room, guest room, kitchen and dining room. The space has a beautiful honeymoon suite with a private hot tub.
A secret door leads downstairs is a fully equipped game room that offers plenty of activities for guests. From ping pong and pool to foosball and darts, there are plenty of activities to keep guests entertained.
The expansive Hearth Deck has a massive stone fireplace and is surrounded by hardwoods and has a water view. This space is perfect for an intimate rehearsal dinner, ceremony or cocktail hour. 
The fourth unique space is the Gazebo set over the water. It is completely enclosed with air conditioning and features an exterior wrap around deck. A beautiful, relaxing setting for cocktails, small gatherings and photos.
The Barn at Valhalla can also provide overnight accommodations for up to 26 people and rents for the entire weekend which allows for time to relax and enjoy a full event experience.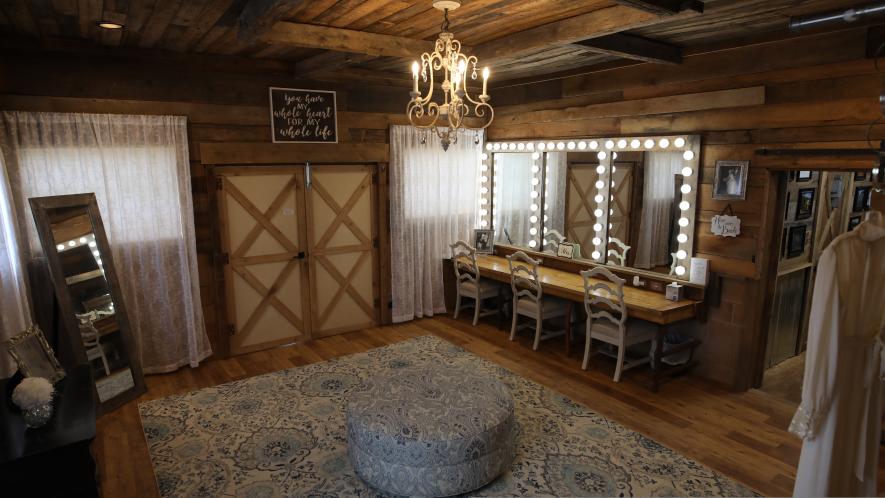 The Lloyd family including patriarch Ben and his children Andy, Craig, and Cheryl Humphrey came together to transform the space from a commercial dairy barn to a modern event venue.
The nearly 100-year-old former dairy farm is located in Efland, NC. The landscape offers views of lush green fields and airy surroundings. A bright red event barn with silos provides a great space for weddings and events.
The venue is set in the heart of a 700 acre family farm that for 84 years of its life were spent producing thousands and thousands of gallons of milk. Today, the Lloyd family continues to farm around 230 acres around the venue. 
As one of the largest spaces in Orange County, the 15,000 square foot converted barn, is an expansive and hidden gem. Weddings and events can take place under a tin roof surrounded by high ceilings, natural exposed barn beams, and a 150-feet-long dirt floor. The Lloyds have managed to keep what they call a "country chic" feel to the barn. 
 
With acres of land surrounding the barn, clients can select both indoor and outdoor options for an event. Clients will have privacy and plenty of spaces for flexible set up options. There is also ample parking on its many acres.
A nod to the past life as a former dairy farm, the decor showcases metal dairy signs and old metal milk cans from decades ago. As well as photographs of the past eras at the farm. Strings of lights drape from the ceiling and provide the ambience of a festive, warm glow.
They have made extensive renovations to the venue from new restrooms and a new cooling system to dimmable lights and exterior enhancements. The new and improved amenities are in keeping the charm and ambiance which were a top priority for them. A new bridal suite with bathrooms and a dressing area, mirrors, chandeliers and other remnants used to be the former milk parlor, which once housed milk tanks and equipment. The renovations mixes rustic touches with the modern chic.
There are more renovations planned too! They are working on completing a "barn within a barn" in an uncovered space adjacent to the finished venue, where events with up to 300 people can take place. This new space will be rain-proof and provide heat and air conditioning and will be available for rental like the current barn.
The Barn at Lloyd's Farm is conveniently located close to major interstates. And it is less than 30 minutes from downtown Chapel Hill and just 4 miles from downtown Hillsborough, NC.