Restaurateur Vimala Rajendran on the complications of feeding a community, supporting farmers, and looking out for employees while protecting the health of all involved
"Things are different these days," says Vimala Rajendran of Vimala's Curryblossom Cafe. 
When she thinks back on the past month and a half, she remembers her many interactions with health department officials, who told her she was ahead of the curve. Seven weeks ago, she decided to remove her self-service system and change the dining room so that as soon as people walked in the door, they'd be directed to wash their hands. Soon, the tables and chairs were put away – even those on the exterior.   
"The whole Courtyard looks desolate and looks like we have been hit by a crisis," she says. "And we have been."  
Next, Vimala pivoted to meals to go that customers can heat when they get home, following a contact-free pickup. Hot food has to be prepared to order, which means workers have to stand in close proximity of each other in a small kitchen. Vimala refused to put her workers in jeopardy. "One day, I decided we would come in in shifts, so that at any given time there would be no more than five people in a 3,000-square-foot kitchen."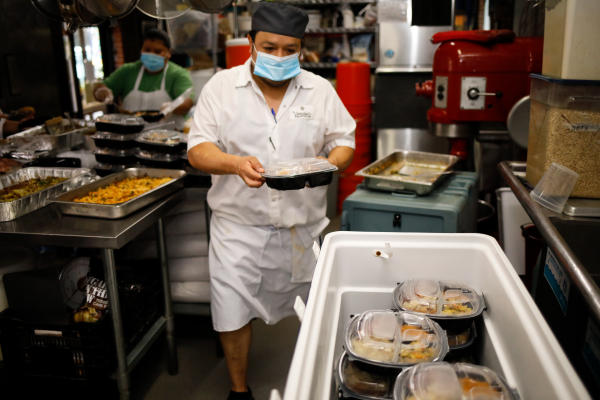 Vimala says sales have been down mainly because gathered groups that used to order food for special occasions, events, or corporate meetings no longer have that need.
She continues to feed the Northside community through a collaboration with the Marian Cheek Jackson Center. She also provides meals to refugee families and UNC's medical workers.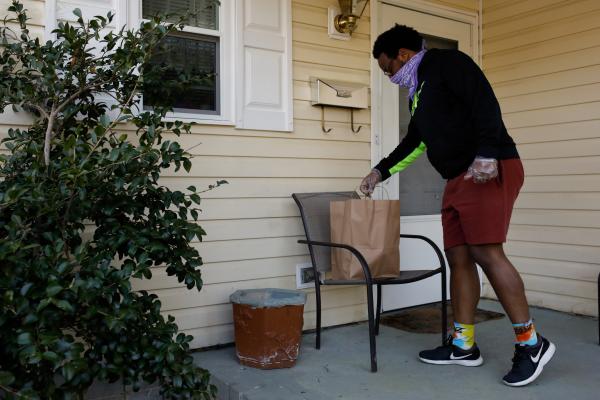 "Ready-to-eat food is a blessing for people to receive. Our food is made with locally sourced sustainable ingredients. So if we buy those ingredients, we keep those suppliers going," she says. "I live by my Christian faith to put others first. Love your neighbor as yourself. I do take care of myself."
Since the crisis began, Vimala and her team have been in constant problem-solving mode. For example, signed on to participate in Carrboro United immediately but had to quickly source the right kind of container for her meals. Now, she is submitting financial paperwork to help keep her restaurant afloat. 
Vimala says fellow business owners have displayed abundant kindness, and fellow chefs have checked in on her. While she is anxious to fully reopen, she won't do it prematurely.
"I'm watching the CDC like a hawk. I want to see new cases go down to zero," she says. "I refuse to open the restaurant next week just because some entity said to do it." 
Vimala's message for Orange County residents is to run, not walk, to the local farmers markets and buy products from local farmers. She says her neighborhood created a buying club for CSA produce and Boxcarr Handmade Cheese. 
"Our family calls this creative resiliency," she says. "When problems mount, we get creative with our problem solving. … When all is said and done, we will still be here, hopefully, and you – our community – will be who we are indebted to. We are apart but not alone."