Maylin, Chela and Tiny Baby went to the Carrboro Farmers' Market to see what they could see! Tis the season for summer salads, sparkling cocktails and a productive morning spent browsing local meats, produce and other goodies. So off we went looking for fun ideas for the Fourth of July.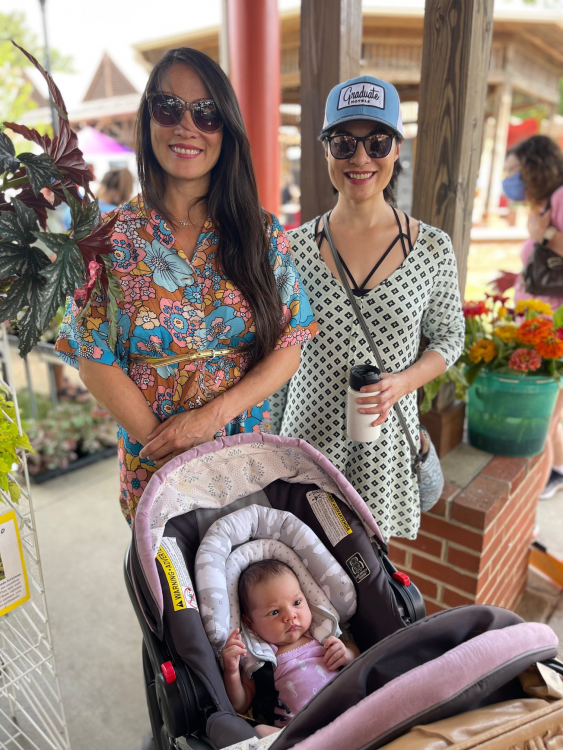 As you can see, we came away with quite a haul. We concocted a red, white, and blue salad and a refreshing summer cocktail inspired by ingredients we found at the farmers' market.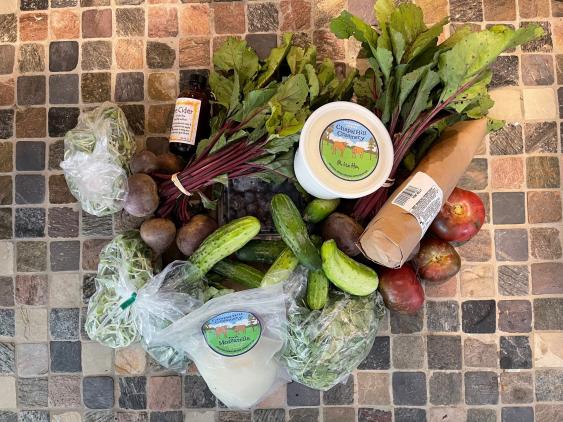 "Carrboro Can't Be Beet" Salad - Blueberry, Beet and Herbed Ricotta
Check out this fresh take on a summer salad with a patriotic twist. It's blueberry season, so of course we snagged a pint of blueberries from Lyon Farm. We roasted two bunches of beets (10 total), then peeled and chopped them into bite-sized wedges. 
*Note: You do not need to peel the beets, it just makes them more photogenic.
We mixed the beets and the blueberries, adding olive oil and seasoning with salt and pepper. For the herbed ricotta, we used about one cup of ricotta from
Chapel Hill Creamery.
*Note: Their ricotta is thicker than the store-bought kind. It crumbles easily and is more like store-bought feta in consistency.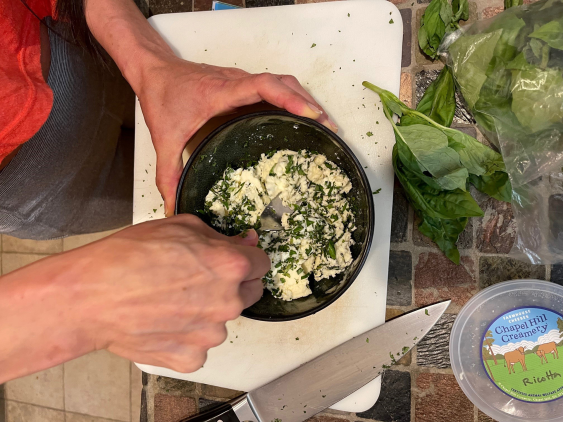 We finely chopped fresh basil (including stems because we're not afraid of flavor). Then, we mixed the basil into the ricotta, adding salt, pepper, a squeeze of honey, and a handful of fresh garden herbs to taste.
In the words of Chela and Guy Fieri, "If you wanna go to flavor town, go get you some more herbs." We added oregano, thyme, sage, and rosemary.
Finally, we topped the beets and blueberries with spoonfuls of the herbed ricotta mixture—red (beets), white (ricotta), and blue (blueberries).
Served on a bed of pea shoots, spinach, or just by itself, this sweet, summery salad will delight guests and patriots alike.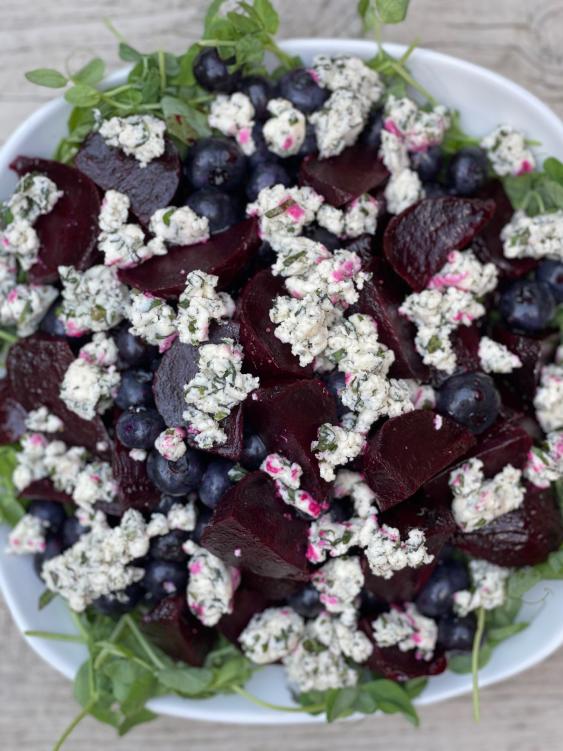 Recipe for "Carrboro Can't Be Beet" Salad
Ingredients:
1-pint blueberries
2 bunches of beets (10)
1 cup ricotta
1 bunch basil
1 lemon
Olive oil
Salt & pepper to taste
Directions:
Roast beets and let them cool completely.
Peel and cut into bite-sized wedges.
Add 1-pint blueberries.
Mix beets & blueberries.
Add juice from 1 lemon, avoiding pulp and seeds.
Drizzle olive oil.
Sprinkle with salt & pepper.
For the herbed ricotta:
Finely chop basil & other herbs.
Mix well with ricotta.
Add drizzle of olive oil.
Add salt and pepper & squeeze of honey.
Mash with fork.
Top beet & blueberry mixture with the herbed ricotta.
Sing patriotic song of your choice.
Marvel at your salad's delicate beauty.
---
"Feel Free" Summer Spritzer – Blueberry, basil, gin & seltzer
Basil and blueberries were the stars of the show here in the CheMay test kitchen. We wanted a fun summer cocktail for the grownups using local gin. We chose TOPO Piedmont Gin from
TOPO Distillery
for its smooth taste (find it at an ABC store near you).
We made a blueberry and basil simple syrup using
this recipe
for reference. We simmered blueberries, basil, lemon juice and sugar together to create a thick syrup, mashing the blueberries as they cooked and using juice from one and a half lemons and three bunches of basil.
Then we added three tablespoons of the blueberry basil simple syrup, juice from half a lemon, and three ounces of gin to a cocktail shaker with ice and shook vigorously.
Finally, we poured the mixture over ice in a mason jar, topped with seltzer and garnished with a sprig of basil.
We ended up with one and half cups of blueberry and basil simple syrup and about half a cup of blueberry basil compote. Mix the simple syrup with seltzer or club soda for a sweet treat for kids and adults alike, pour over pancakes or waffles, use as a glaze for meat—the possibilities are endless! And the compote goes swimmingly with vanilla ice cream, just saying.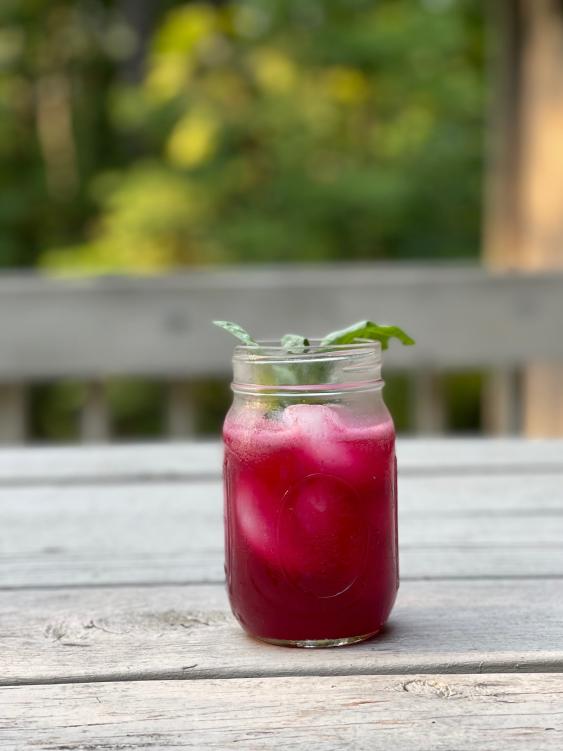 Recipe for "Feel Free" Summer Spritzer
Ingredients:
For the blueberry & basil simple syrup:
1-pint blueberries
3 bunches basil
Juice from 1.5 lemons
1 cup sugar
3 tablespoons blueberry & basil simple syrup
2 ounces gin
2 ounces seltzer or club soda
Juice from half a lemon
Directions:
For the simple syrup, we slightly adapted this recipe from
Tag & Tibby
, mashing the blueberries in the pot instead of during straining.
Shake together simple syrup, gin and lemon juice in a cocktail shaker with ice.
Pour over ice, add seltzer and garnish with a sprig of basil.