February is Black History Month, a time to honor the contributions of prevalent Black Americans to our society and their impact on the course of our history as a nation. In Chapel Hill and Orange County, it is a time to hear and learn about the past and present, as presented through lectures, art, theater and musical performances throughout the month. Mark your February calendar with these upcoming events and carve out some time for an historic tour.
ATTEND THESE EVENTS
If We Must Die... We'll Fight to the End: Resistance and Revolt Aboard the Slave Ship
The Sonya Haynes Stone Center for Black Culture and History
Febuary 2nd at 6 pm
The Stone Center will explore the phenomenon of physical resistance by African captives caught up in the grip of European slavery. Using information, images, and testimony from various sources, along with the work of historians and other scholars, they provide information that will help audiences better understand how captive Africans fought, from the very moment of subjugation, for their freedom.
---
Artspeaks Opening Reception 
Frame and Print Shop
February 3rd from 6 - 8 pm
ART COMMUNITY EXPRESSION - ART SPEAKS: Experience the artistic vibes of local artists of color. The Frame & Print Shop is honored to present an exhibition showcasing five talented local artists of color. ARTSPEAKS takes us on a journey in which we will feel the Artistic Vibes of five local artists of color. Through their art, the artists express feelings of resilience through life experiences, beauty and inclusiveness and hopefulness for the future. Frame & Print Shop, University Place 201 S. Estes Drive, Chapel Hill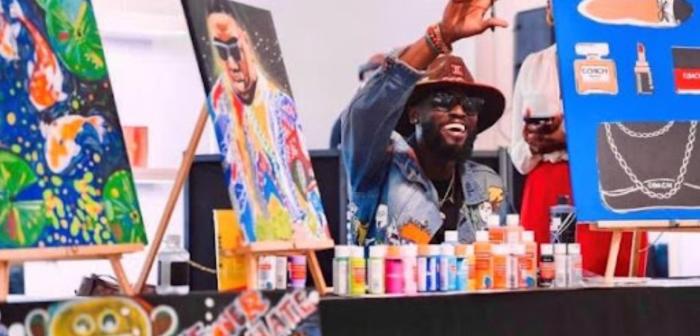 Artist Ty Smalls
---
From the Ground Up: Rooted in Place, Land, and Body
Eno Arts Mill Gallery
February 3rd from 6 – 9 pm
A group exhibit featuring Black and Indigenous visual artists currently living or with roots in Orange County. The title and theme of this show comes from the first major label release of world renown hip-hop group, The Roots. The exhibit seeks to feature work that not only looks toward origins, but also looks at what continues to feed and sustain you/us, who you /we are and who you/we are becoming. Curated by Fred Joiner. Live music with Tre.Charles. Participate in the Community Canvas. Food available from local food trucks and brewers.
---
The Spirit of Harriet Tubman
Carrboro Century Center
February 5th from 2:30 - 3:30 pm
Diane Faison in "The Spirit of Harriet Tubman" - Ms. Faison is a retired teacher, actress, artist, speaker and writer. Her rendition of Harriet Tubman will captivate you and leave you wanting more as she entertains you in this one-woman stage play. Carrboro Century Center, 100 N. Greensboro Street, Carrboro.
---
Black History Month Concert Series
Carrboro Century Center
February 5th, 19th & 26th at 3 pm
Concerts feature local Black artists and their contribution to our area's vibrant music scene. Carrboro Century Center, 100 N. Greensboro Street, Carrboro
---
Celebrating Black People in America
Carrboro Century Center
February 6th from 6 – 8 pm
This year's theme is "Black Resistance." Join us for an evening with Dr. Freddie Parker discussing this year's topic The Freedmen's Conventions.
---
Read it and Reap: Discussion on Between the World and Me by Ta-Nehisi Coates
Orange County Publi Library
February 7th from 12 - 1:30 pm
A facilitated book discussion of a powerful story of a father's past and a son's future. Orange County Public Library, 137 W. Margaret Ln., Hillsborough. Light lunch served.
---
CHBFF 2 - The Chapel Hill Black Film Festival
Varisty Theatre
February 10-11 
This year's two-day event celebrates Black culture and storytellers with genre-bending film experiences and one-of-a-kind panels with filmmakers and experts. Opening night will include a VIP dinner, a showing of Panda Bear It followed by a Q&A with the cast and crew, and a concert. The second day will feature documentary screenings, panel discussions, and more! 123 East Franklin Street, Chapel Hill.
---
Movie Night: My Name is Pauli Murray
Seymour Center
February 15th from 6 - 8 pm
The movie reintroduces the iconic trailblazer who has been overlooked in many elements of history. Come enjoy some popcorn and watch this documentary on the impact of this lawyer, activist, poet, and priest who helped to transform our world. Seating is limited. Seymour Center Theater, 551 Homestead Rd., Chapel Hill. Sponsored by the Orange County Office of Equity & Inclusion
---
University-wide Genna Rae McNeil Black History Month Lecture with Professor Vincent Brown
Sonya Haynes Stone Center
February 22nd at 6:30 pm
Dr. Vincent Brown will present the first Dr. Genna Rae McNeil Black History Month Lecture. Brown is a noted scholar, historian and filmmaker whose unique explorations into the nature of historical slavery have garnered him many awards.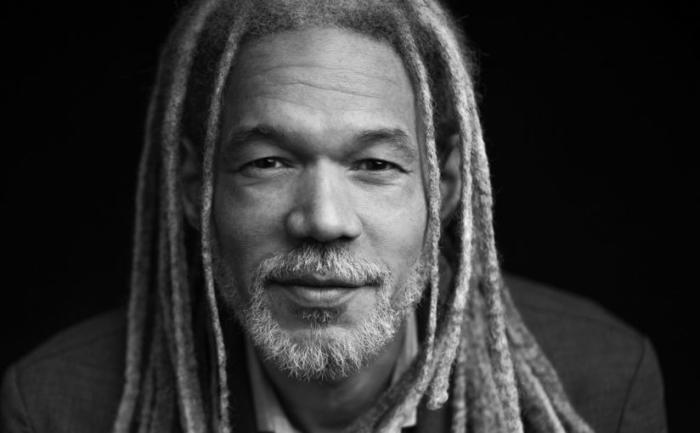 Dr. Vincent Brown
---
Finding Your Roots: A Conversation with Vera Cecelski
Mt. Bright Bapist Church
February 25th from 2 – 4 pm
In honor of Black History Month, the Burwell School Historic Site invites you to a genealogical converstion with Vera Cecelski. The Burwell School Historic Site is pleased to present Vera Cecelski, site coordinator of the Stagville State Historic Site (Durham), as she provides insight into her work with local black families researching their roots, including those whose ancestors were enslaved. Special guest, the Honorable Judge Beverly Scarlett, will also be on hand to discuss her research into her own family history in Orange County, NC. This program is graciously hosted by the historic Mt. Bright Baptist Church of Hillsborough, NC at 211 West Union Street.  Registration is FREE.
---
TAKE A TOUR
Hillsborough's African American History Tour
Get a small glimpse into the vibrant and profound African American community that has flourished in Hillsborough through the Hillsborough's African American History: A Walking Tour. This self-guided tour explores 13 different venues in and around downtown Hillsborough. If you can't make the trip, the link provides an interesting read.
Histories of Home: A Walk with Northside Neighbors
Histories of Home is an invitation to listen to everyday history-makers. Featuring the voices of over a dozen community members and narrated by Northside longtime residents, this audio tour is an introduction to some of the stories, struggles, and aspirations of our community. This feature-length documentary, produced by Alexander Stephens, is designed to be listened to while walking through the Northside neighborhood. You can stream the audio tour directly from a smart phone or download it to any MP3-compatible device. Or, come to the Jackson Center to check out a CD and portable player. They will also provide you with a map of the neighborhood.
---
VISIT THESE HISTORIC SITES
 Historic Russel School, 2001 Saint Mary's Road, Hillsborough. Tours can be scheduled any time of the year by appointment. During the months of April - September, they offer regular tours on the second Saturday from 11:00 AM to 12:00 PM. Tours are free and open to the public. Donations are accepted.
Historic Marker Commemorating the Chapel Hill Nine
On Feb. 28, 1960, nine African-American teenage boys from Lincoln High School held a sit-in at the Colonial Drug Store seeking the same service as white customers. William Cureton, John Farrington, Harold Foster, Earl Geer, David Mason Jr., Clarence Merritt Jr., James Merritt, Clyde Douglas Perry, and Albert Williams were denied service and later arrested by police. Members of the Chapel Hill community, along with remaining members of the Chapel Hill 9, Mason,  Merritt, Perry and Williams gathered on February 28, 2020 for the unveiling of the historical marker, commemorating the event 60 years before. You can visit the historical marker located where the drug store once stood, 450 West Franklin Street, now the West End Wine Bar.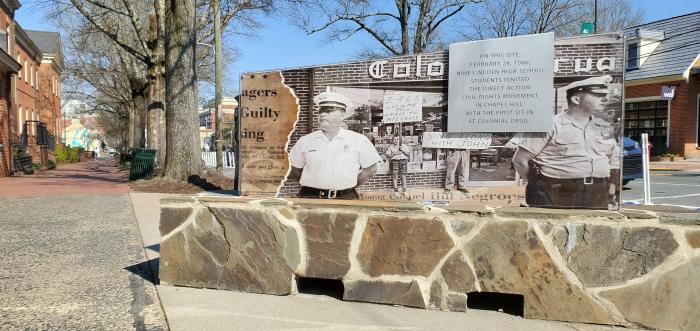 ---
MURALS HONORING LEGENDS AND RACIAL EQUALITY
A mural honoring jazz great Billy Strayhorn is located in downtown Hillsborough, North Carolina. Max Dowdle, the artist behind the mural, worked with Volume Records (226 S. Churton Street) co-owner Tony Lopez on the design for the mural, which they named "Take the A Train", one of Strayhorn's most well-known compositions.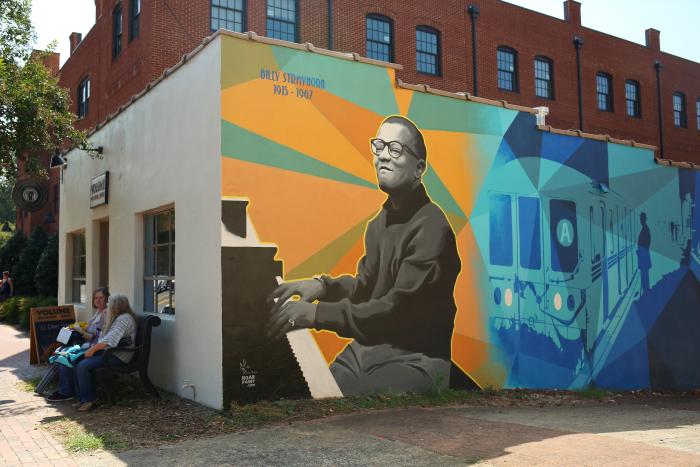 Local artists Scott Nurkin painted a mural of legendary blues musician Elizabeth Cotten as part of the North Carolina Musicians Mural Project. Cotten was born in 1895 near Chapel Hill, in the area now known as Carrboro. She began to write and play music at a young age — having written one of her most well-known songs, "Freight Train," at age 12. The mural is located on the building at 111. N. Merritt Mill Road, on the Chapel Hill/Carrboro line.
The Black Lives Matter mural, located on the side of the CommunityWorx building at the intersection of West Main St. & Jones Ferry Road in Carrboro was recently completed in December 2020 by artist Tyrone Small and his group of student artists.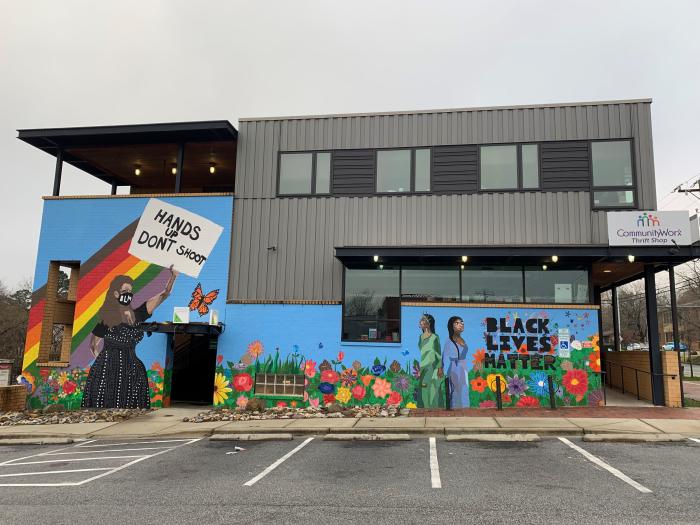 Also included in the series - a new piece painted on the Century Center facing East Main Street and reading "Black Lives Matter" was completed on Friday January 22, 2021. It's the second mural commissioned by the Carrboro Town Council in response to the racial justice movement seen during the summer of 2020. Find out more here.
African American Trailblazers (pictured at very top: photo by Miriam McSpadden) is the work of artist Kiara Sanders and was installed during 2021. The mural is located on the side of Walt's Grill at 111 S. Merritt Mill Road. Learn about the honorees and the artists experience painting the mural here.
---
SUPPORT BLACK OWNED BUSINESSES
Supporting small businesses strengthens local economies and job creation. In honor of Black History Month, please consider supporting these black owned businesses