February is Black History Month, a time to honor the contributions of prevalent Black Americans to our society and their impact on the course of our history as a nation. In Chapel Hill and Orange County, it is a time to hear and learn about the past and present, as presented through lectures, poems, presentations, theater and musical performances throughout the month. 
Keep reading for events and places that you won't want to miss.
Dialectics of Liberation: The African Liberation Support Movement
Virtual Webinar
Febuary 3rd at 3:30 pm
The Sonja Haynes Stone Center for Black Culture and History will host a book talk with veteran scholar and activist, Abdul Alkalimat on his latest book: The Dialectics of Black Liberation: The African Liberation Support Committee. Free. Registration required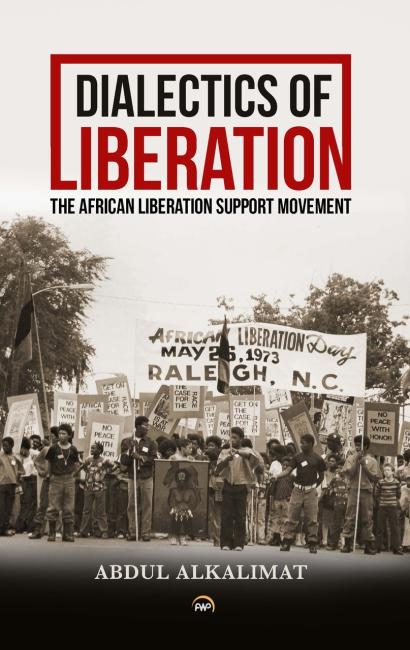 ---
Celebrating Black History Month – A Three Part Series (For seniors age 55+)
Seymour Senior Center
February 4th from 2 – 4 pm
Documentary - To kick off Black History Month join the Town of Chapel Hill for a screening of the Freedom Riders Documentary. The film is based in part on the book Freedom Riders: 1961 and the Struggle for Racial Justice by historian Raymond Arsenault.
February 11th from 2 – 3 pm
Storytelling – Join the talented, world-renowned storyteller, Tyris Jones on a journey through African Tales, Folktales, Tall Tales, and Just His Tales (original stories written by the teller).
February 18th from 2 – 3 pm
Drumming – Get ready for energy-packed rhythms during this traditional Congolese drum performance led by Pline Mounzeo, a professional musician from Brazzaville who has toured in Africa, Europe. and the U.S. He'll be accompanied by Orange County musician Ken Wilson.
Free. Registration required for all events
 
---
The African American History Month Lecture with Dr. Marcia Chatelain
Virtual Webinar
February 9 at 6:30 pm
Also, hosted by The Sonja Haynes Stone Center for Black Culture and History, Dr. Marcia Chatelain will deliver the 2022 African American History Month Lecture at the University of North Carolina at Chapel Hill via Zoom Webinar. Free. Registration required
---
Celebrating Black America: Lessons of the Hour
Carrboro Century Center
February 10th  from 6 – 8 pm
The town will host local history scholars and community leaders to view Fred Morsell's 1994 re-enactment of one of the last great speeches by Frederick Douglass entitled "The Lessons of the Hour." Following the video re-enactment, a panel discussion will be conducted by community leaders. Learn more details here.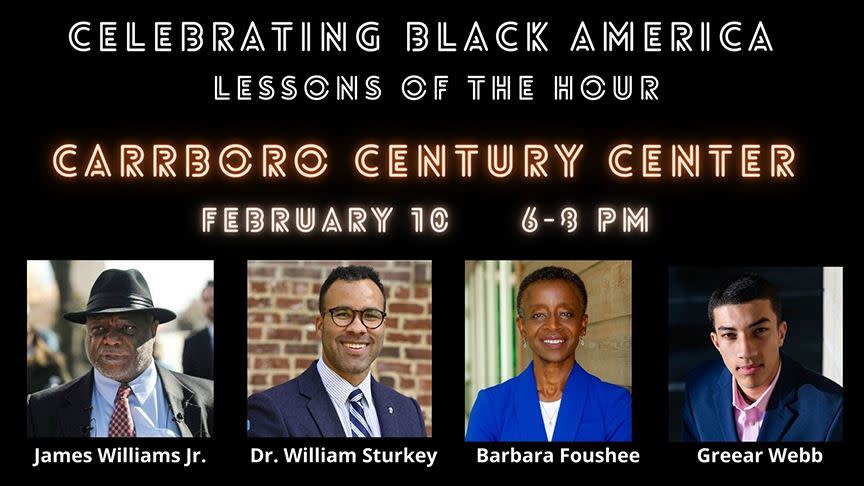 ---
Builders of the Burwell Site
The Burwell School Historic Site
February 19th at 3 pm
Builders of Burwell, Hillsborough, and Orange County with a special emphasis on African American craftsmen and artisans. Free. Registration required.
---
Heroes & Sheroes of the Eno River Valley
Vecino Brewing Co
February 20th from 2 – 4 pm
Local artist Sandee Washington of Durham has teamed up with Beverly Scarlett, writer, historian and storyteller, to bring us this phenomenal show: The Heroes & Sheroes of the Eno River Valley. Free. Registration Required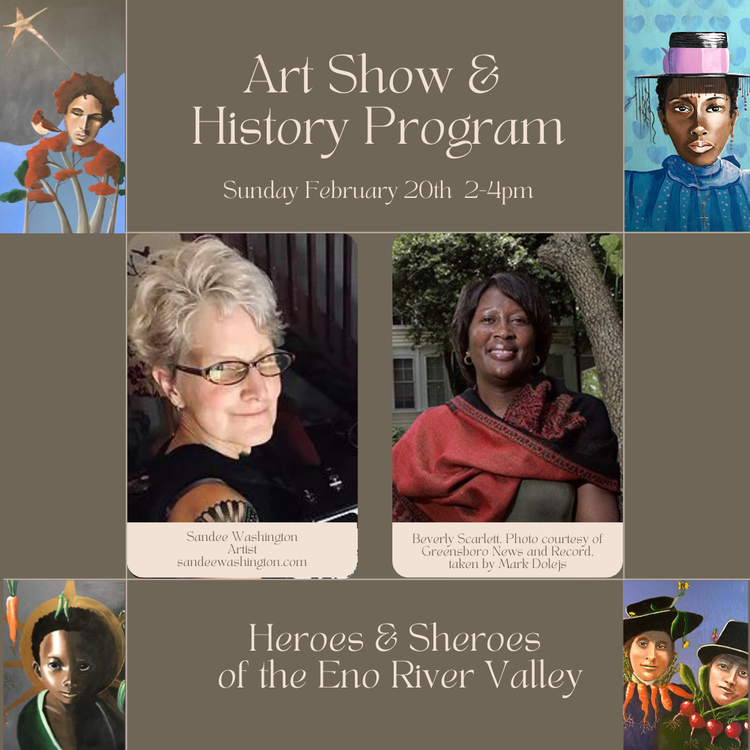 ---
Flutronixs' Discourse
Current Artspace & Studio
February 25th - 26th at 8 pm
This performance is written by and for the Chapel Hill community that features present day narratives and history. It's a community-centered social change initiative with new musical work by the artists premiering at Carolina Performing Arts. Tickets: General $20. UNC Students $10. Purchase tickets online.
---
TAKE A TOUR
Get a small glimpse into the vibrant and profound African American community that has flourished in Hillsborough through the Hillsborough's African American History: A Walking Tour. This self-guided tour explores 13 different venues in and around downtown Hillsborough. If you can't make the trip, the link provides an interesting read.
---
VISIT THESE HISTORIC SITES
 Historic Russel School, 2001 Saint Mary's Road, Hillsborough. Tours can be scheduled any time of the year by appointment. During the months of April - September, they offer regular tours on the second Saturday from 11:00 AM to 1:00 PM. Tours are free and open to the public. Donations are accepted.
Historic Marker Commemorating the Chapel Hill Nine
On Feb. 28, 1960, nine African-American teenage boys from Lincoln High School held a sit-in at the Colonial Drug Store seeking the same service as white customers. William Cureton, John Farrington, Harold Foster, Earl Geer, David Mason Jr., Clarence Merritt Jr., James Merritt, Clyde Douglas Perry, and Albert Williams were denied service and later arrested by police. Members of the Chapel Hill community, along with remaining members of the Chapel Hill 9, Mason,  Merritt, Perry and Williams gathered on February 28, 2020 for the unveiling of the historical marker, commemorating the event 60 years before. You can visit the historical marker located where the drug store once stood, 450 West Franklin Street, now the West End Wine Bar.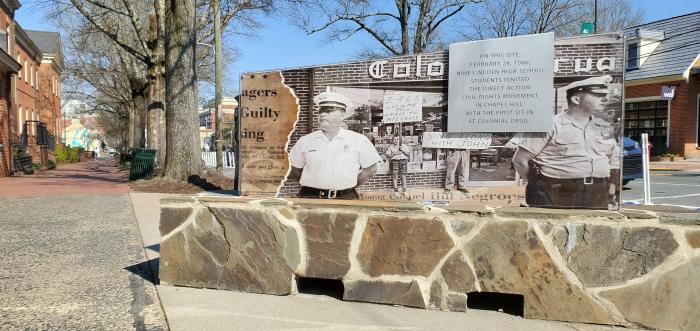 Murals Honoring Legends and Racial Equality
A mural honoring jazz great Billy Strayhorn is located in downtown Hillsborough, North Carolina. Max Dowdle, the artist behind the mural, worked with Volume Records (226 S. Churton Street) co-owner Tony Lopez on the design for the mural, which they named "Take the A Train", one of Strayhorn's most well-known compositions.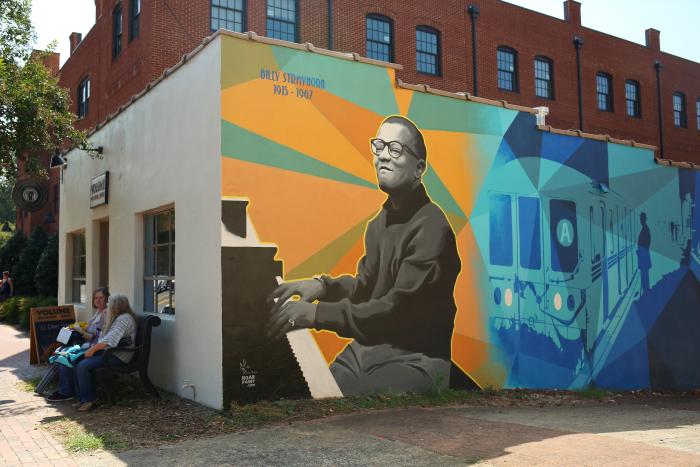 Local artists Scott Nurkin painted a mural of legendary blues musician Elizabeth Cotten as part of the North Carolina Musicians Mural Project. Cotten was born in 1895 near Chapel Hill, in the area now known as Carrboro. She began to write and play music at a young age — having written one of her most well-known songs, "Freight Train," at age 12. The mural is located on the building at 111. N. Merritt Mill Road, on the Chapel Hill/Carrboro line.
The Black Lives Matter mural, located on the side of the CommunityWorx building at the intersection of West Main St. & Jones Ferry Road in Carrboro was recently completed in December 2020 by artist Tyrone Small and his group of student artists.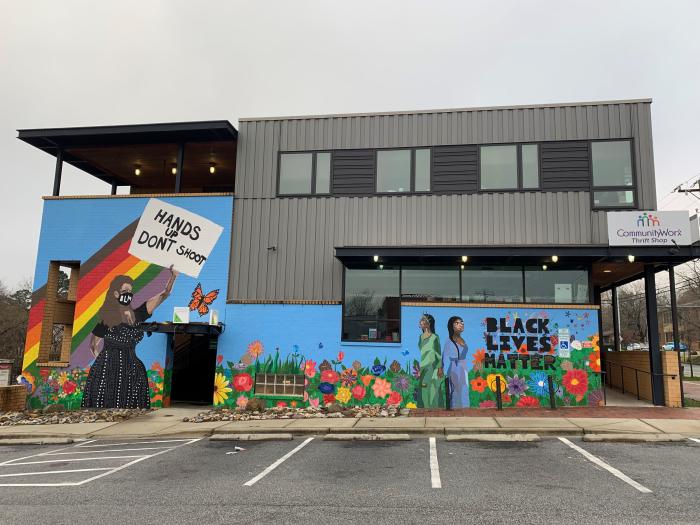 Also included in the series - a new piece painted on the Century Center facing East Main Street and reading "Black Lives Matter" was completed on Friday January 22, 2021. It's the second mural commissioned by the Carrboro Town Council in response to the racial justice movement seen during the summer of 2020. Find out more here.
African American Trailblazers (pictured at very top: photo by Miriam McSpadden) is the work of artist Kiara Sanders and was installed during 2021. The mural is located on the side of Walt's Grill at 111 S. Merritt Mill Road. Learn about the honorees and the artists experience painting the mural here.
---
SUPPORT BLACK OWNED BUSINESSES
Supporting small businesses strengthens local economies and job creation. In honor of Black History Month, please consider supporting these black owned businesses
Check back for more events as they unfold including the 32nd Pauli Murray Awards