February is Black History Month, also known as African-American Heritage Month, a time to honor the contributions of prevalent Black Americans to our society and their impact on the course of our history as a nation. In Chapel Hill and Orange County, it is a time to hear and learn about the past and present, as presented through lectures, poems, presentations and theater throughout the month. 
Keep reading for events that you won't want to miss.
1. Blood Done Sign My Name - January 25th - February 7th
Written and performed by Mike Wiley and presented by PlayMakers Reporatory Company. Mike Wiley brings to life the recollections of author Tim Tyson surrounding the 1970 murder of Henry "Dickie" Marrow in Oxford, NC and the events that followed. This special, on-stage performance was recorded in front of a live Zoom audience. For details and to buy tickets online, click on link above.
2. Commemoration of George Henry White - February 1st, 6 - 8p.m.
The Town of Carrboro will be hosting a virtual program to commemorate the 120th anniversary of George Henry White's historic farewell address to Congress. The event, which is part of the Town of Carrboro's annual Black History Month celebration, will be presented by the noted George Henry White biographer, Benjamin R. Justesen. Free and open to the first 100 people to register. Also can be viewed on YouTube
3. 2021 Diaspora Lecture - February 4th, 3-5 pm via Zoom
The author of Workers on Arrival: Black Labor and the Making of America, Joe William Trotter, Jr., will deliver the Sonja Haynes Stone Center for Black Culture and History 2021 Diaspora Lecture and discuss this latest publication. Trotter charts the black working class' vast contributions to the making of America. Register on-line through the link above.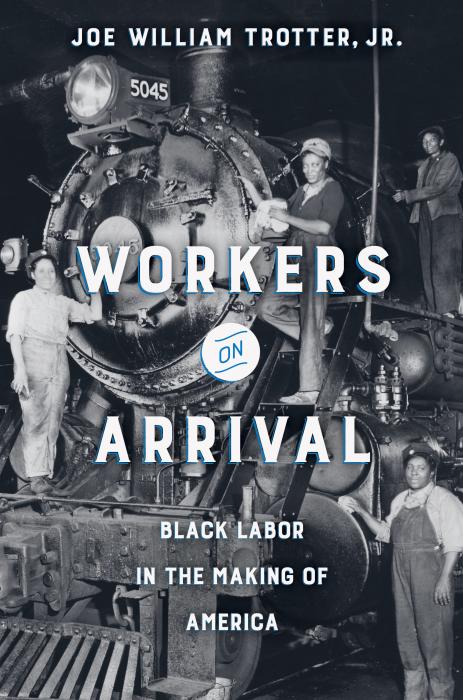 University of California Press
4. Frey Lecture: Henry Louis Gates Jr.: "The Legacy of Reconstruction and the Rise of Jim Crow" - February 9th, 5:30 - 6:30 p.m.
This free webinar will feature Emmy Award winning filmaker, literary scholar and journalist, Henry Louis Gates Jr. in conversation with Karla Slocum, Director of University of North Carolina's Institute of African American Research. This is a virtual event. Register on-line through the link above.
5. "All the Songs We Sing" - February 9th, 7 - 8 p.m.
Members of Carolina African Writers' Collective read excerpts from their works in "All the Songs We Sing," the new anthology that marks the group's 25th anniversary. Q& A will follow. Register here for this virtual free event presented by UNC University Libraries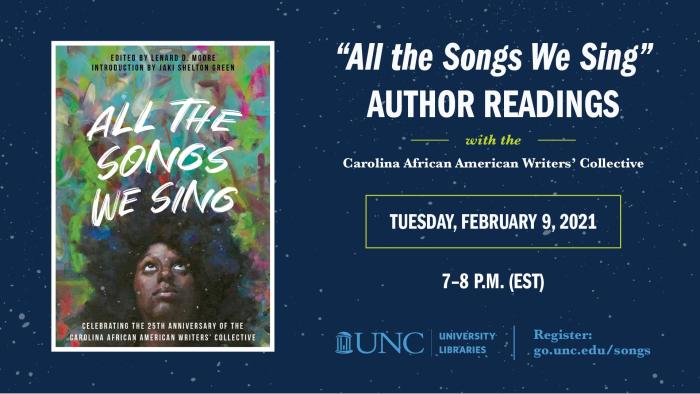 6. The Harris Family of Orange County, North Carolina February 13th, 10 - 11 a.m.
Journey through 318 years of Black-American Indian Culture with author Beverly A Scarlett. In celebration of Black History Month, this book read is sponsored by Friends of Russell Rosenwald School, Hillsborough NC and facilitated by Phyllis Mack. The Historic Russell School was built in 1926 during the Jim Crow Era for Black children to have a formalized education. Register here for the free event.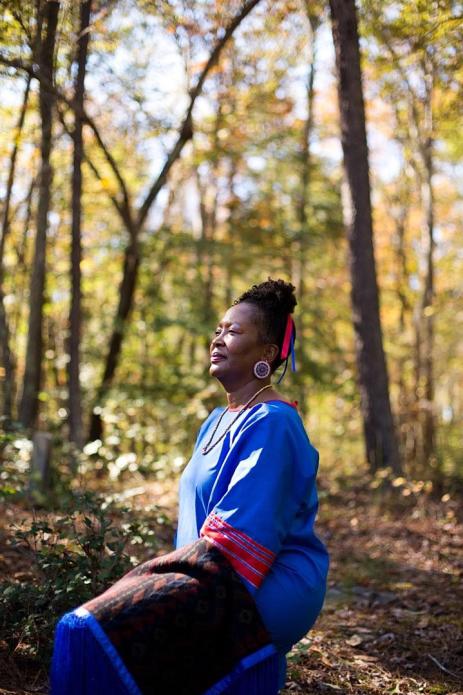 Author Beverly A Scarlett, credit Jessica Gladdek
7. 31st Annual Pauli Murray Awards - February 28th, 3 p.m.
The Pauli Murray Award commemorates the life of the late Dr. Pauli Murray, a distinguished and remarkable person who confronted discrimination, racism and sexism in her life and is presented annually to an Orange County adult, youth, and business that have served the community with distinction in the pursuit of equality, justice, and human rights for all residents. The community is invited to acknowledge and celebrate the honorees for their displays of courage in upholding the ideals of social justice and equal opportunities. Register in advance for this virtual event at orangecountync.gov/PauliMurray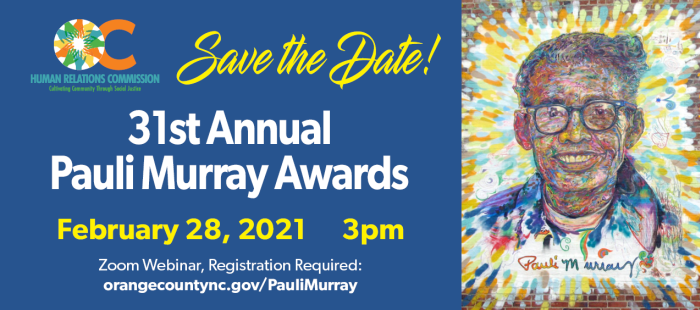 Visit the Historic Marker Commemorating the Chapel Hill Nine
On Feb. 28, 1960, nine African-American teenage boys from Lincoln High School held a sit-in at the Colonial Drug Store seeking the same service as white customers. William Cureton, John Farrington, Harold Foster, Earl Geer, David Mason Jr., Clarence Merritt Jr., James Merritt, Clyde Douglas Perry, and Albert Williams were denied service and later arrested by police. Members of the Chapel Hill community, along with remaining members of the Chapel Hill 9, Mason,  Merritt, Perry and Williams gathered on February 28, 2020 for the unveiling of the historical marker, commemorating the event 60 years before. You can visit the historical marker located where the drug store once stood, 450 West Franklin Street, now the West End Wine Bar.
Visit These Murals Honoring Legends and Racial Equality
A mural honoring jazz great Billy Strayhorn is located in downtown Hillsborough, North Carolina. Max Dowdle, the artist behind the mural, worked with Volume Records (226 S. Churton Street) co-owner Tony Lopez on the design for the mural, which they named "Take the A Train", one of Strayhorn's most well-known compositions.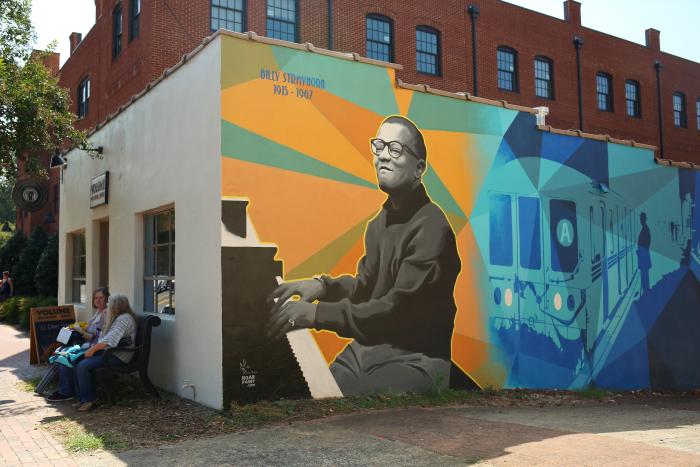 Local artists Scott Nurkin painted a mural of legendary blues musician Elizabeth Cotten as part of the North Carolina Musicians Mural Project. Cotten was born in 1895 near Chapel Hill, in the area now known as Carrboro. She began to write and play music at a young age — having written one of her most well-known songs, "Freight Train," at age 12. The mural is located on the building at 111. N. Merritt Mill Road, on the Chapel Hill/Carrboro line.
The Black Lives Matter mural, located on the side of the CommunityWorx building at the intersection of West Main St. & Jones Ferry Road in Carrboro was recently completed in December 2020 by artist Tyrone Small and his group of student artists.
And the most recent in the series - a new piece painted on the Century Center facing East Main Street and reading "Black Lives Matter" was completed on Friday January 22, 2021. It's the second mural commissioned by the Carrboro Town Council in response to the racial justice movement seen during the summer of 2020. Find out more here.
Support Black Businesses
Supporting small businesses strengthens local economies and job creation. In honor of Black History Month, please consider supporting these black owned businesses