Summertime and outdoor dining and drinking go hand in hand. Chapel Hill, Carrboro and Hillsborough, NC are home to dozens of breweries, bars and pubs to enjoy a cold one outside under a Carolina Blue Sky or an evening sky full of stars.  

Here's a roundup of a dozen places to enjoy a brew. Visit each site below and check out their menus for those offering food.
1) Since 1995, the locally-owned Carolina Brewery – located downtown Chapel Hill at 460 W. Franklin Street – has provided award-winning and hand-crafted beer and food. Signature sips include Sky Blue Kölsch, Costero Mexican Lager, Fin Chaser Pale Ale and Copperline Amber Ale, as well as seasonal releases.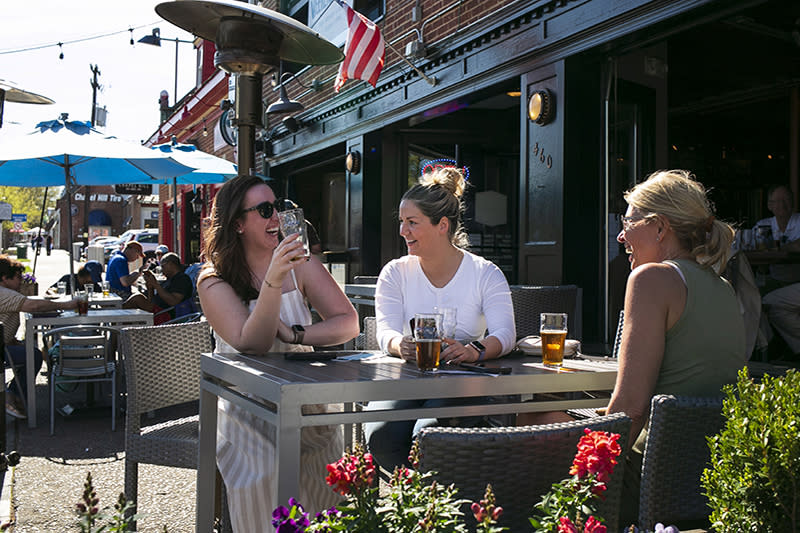 2) Top of the Hill Restaurant & Brewery offers panoramic views and beer brewed at the most iconic intersection in Chapel Hill – where Franklin Street meets Columbia Street in the heart of downtown at 100 E. Franklin Street. Try TOPO's famous Bell Tower Blueberry Wheat, Old Well White, Kenan Lager, Quite Right IPA, Alma Mater Amber Ale, Blackwood Mountain Stout and more as you sip on the outdoor patio. (header photo)
3) Located at 300 E. Main Street in Carrboro next to Cat's Cradle, Vecino Brewing Co. offers a variety of craft beers brewed on-site from light, to hoppy, malty, sour and Belgian, as well as other beverages..  Try their sharable plates and sandwiches.  Just a heads up, Haw River Farmhouse Ales will be taking over Vecino soon.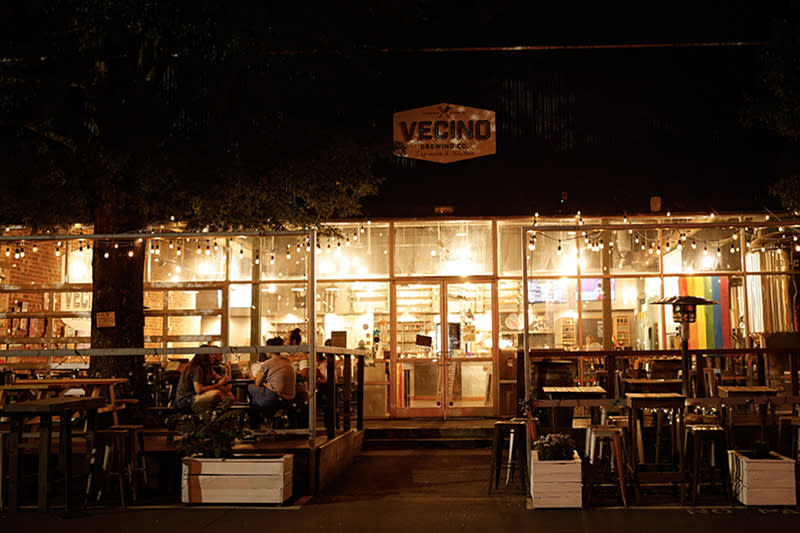 4) Head over to Steel String Brewery at 106A S. Greensboro Street in Carrboro  which draws inspiration from the town's free-spirited vibes and the agricultural bounty of the region. Sip beers like Big Mon IPA, Dad Fuel Pale Lager and Beachmania Atlantic Beach Pie Gose and No Quarter Coffee Stout.  Sit on the extensive patio. Make sure you visit Steel String's farm brewery, Pluck Farm, which crafts beers with native NC ingredients. Enjoy their beer garden on Hwy 54 West near the Alamance County line Thursday- Sunday.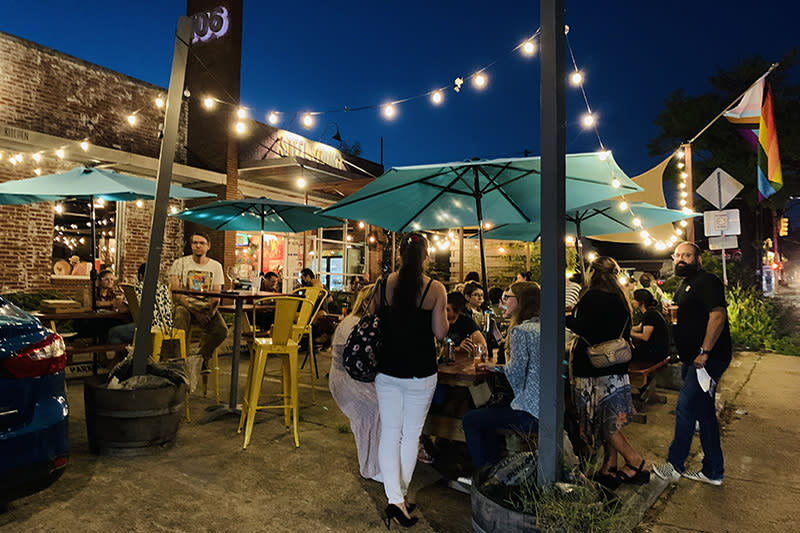 5) In Carrboro's South Green development, enjoy the patio at Craftboro Brewing Depot. Try Vitruvius India Pale Ale, Awl Point Pilsner, Mukimono Belgian Wit, Pyrograph Black Lager, Fauve Fusion Gose, among others. There are Pub runs, live music, trivia night and monthly brewery tours.  Want a bite to eat? There are Food Truck nights as well as Coronato Pizza next door all at 101 Two Hills Drive.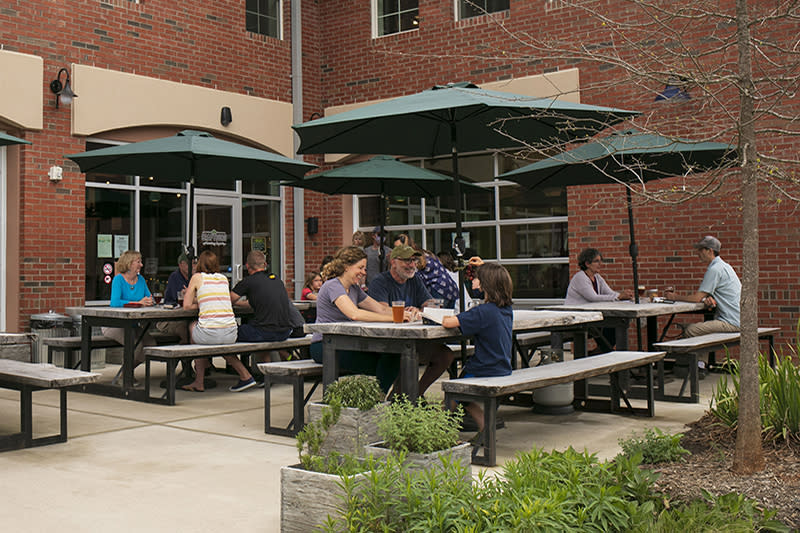 6) Dingo Dog Brewing Company is a nano brewery operating on PlowGirl Farm, outside of Carrboro. Founded as a non-profit brewing concern, Dingo Dog produces beverages using produce grown onsite in a "zero waste" production facility, using profits to fund grants to no-kill animal rescue organizations in North Carolina. Their taproom is located at 410 N. Greensboro Street, Suite 150 in Carrboro. There are a few outdoor tables out front.
Here are a few more locations to enjoy your brew or drink outside.
Chapel Hill

7) Beer Study

8) Franklin Motors Beer Garden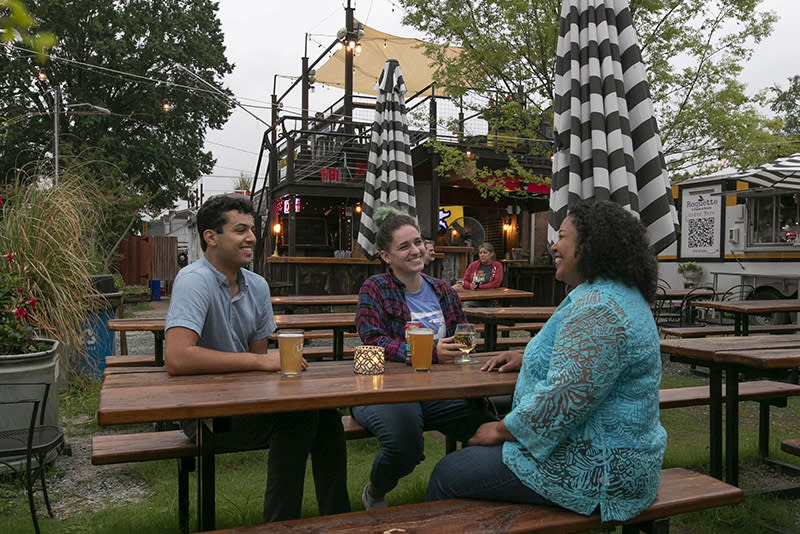 9) He's Not Here

10) The Casual Pint
Hillsborough

11)  Wooden Nickel Pub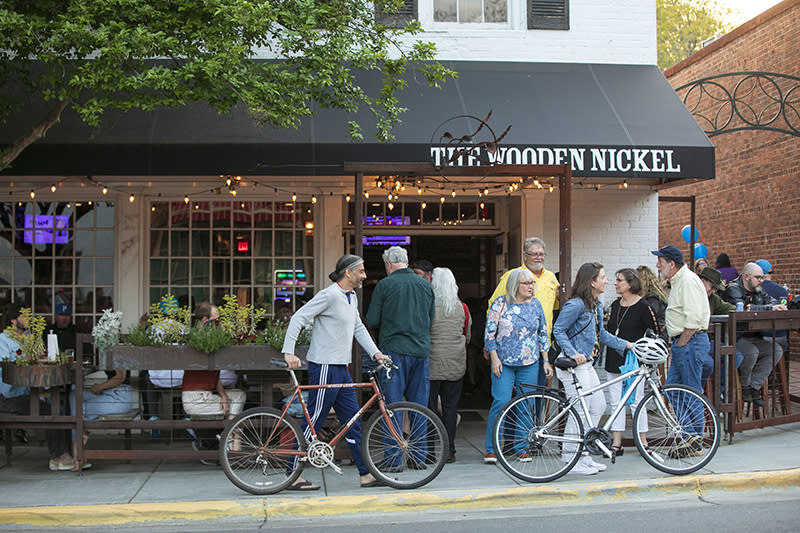 12) Yonder Southern Cocktails & Brew


Photos - All photos credited to SP Murray, except Steel String Brewery which is courtesy of Town of Carrboro and the Top of the Hill Restaurant & Brewery Header Photo to Donn Young.