What to Know When Moving Back to Campus and the Community
The University of North Carolina at Chapel Hill's new academic year begins with students moving on to campus by appointment August 16 – August 20, 2023 and the first day of classes is August 21. Great resources are the Carolina Housing Move-in Guide and Off Campus Life.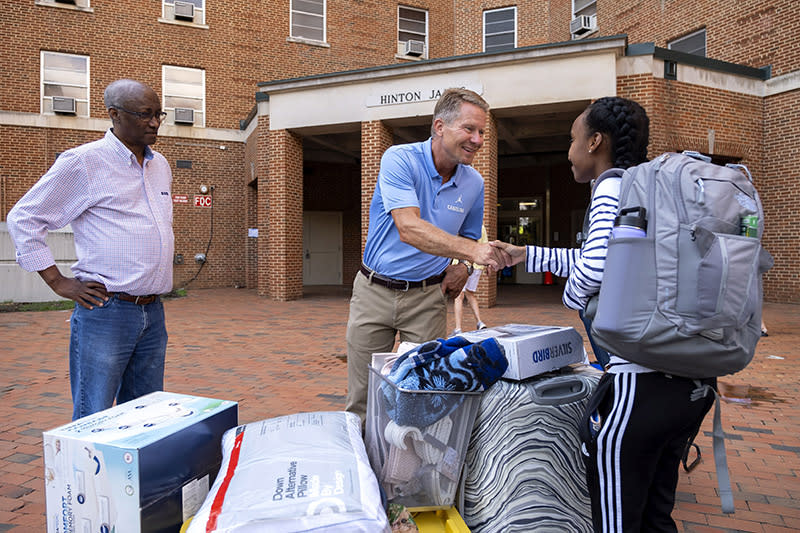 UNC Chancellor Kevin Guskiewicz greets students at Hinton James Residence Hall during move-in week by Jon Gardiner, UNC
What to Know About Parking and Transportation
For everything you need to know about campus traffic, parking and transportation, visit Move UNC.  Find information on permits, pricing and the Commuter Alternative Program (CAP) an initiative that rewards faculty, staff and students who choose to use sustainable transportation.  
For where to parking when visiting downtown Chapel Hill, see Park on the Hill. You can Download a ParkMobile App to make paying easier. 
Of course you can have your own bike on campus, however UNC recently partnered with Spin to provide a bikeshare program. A fleet of 100 Tar Heel Bikes (provided by Spin) are located at bikeshare hubs across campus. These Orange e-bikes are available for use by students, employees and visitors and may be used on campus.
Ride the fare-free, local Chapel Hill Transit system which serves Chapel Hill, Carrboro and the campus. For Real Time Bus Tracking:  Install the new CH Transit app from your mobile app store, or use the mobile-friendly website: mychtransit.org.  Finally, Park-and-Ride lots make it easy to catch the bus for work or class.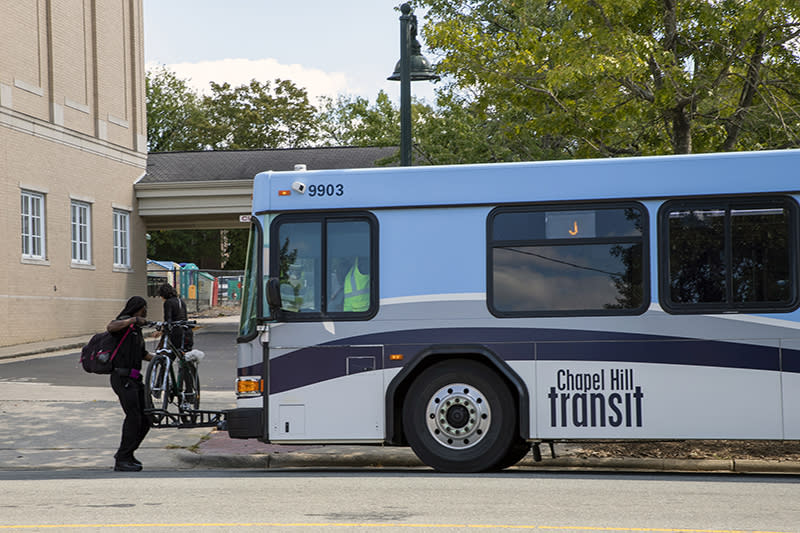 Chapel Hill Transit Bus by The Town of Chapel Hill
What to Expect During the Week of Welcome
There are tons of events during the Week of Welcome which begins mid-August. This year's Squad on the Quad is on Polk Place Friday night from 7:30 pm – 9:30. Enjoy ice cream sundaes, games, and music. It's a great place to meet fellow students.  Leading up to the first day of classes find campus tours, informational tents, plus the new student convocation in the Dean Smith Center.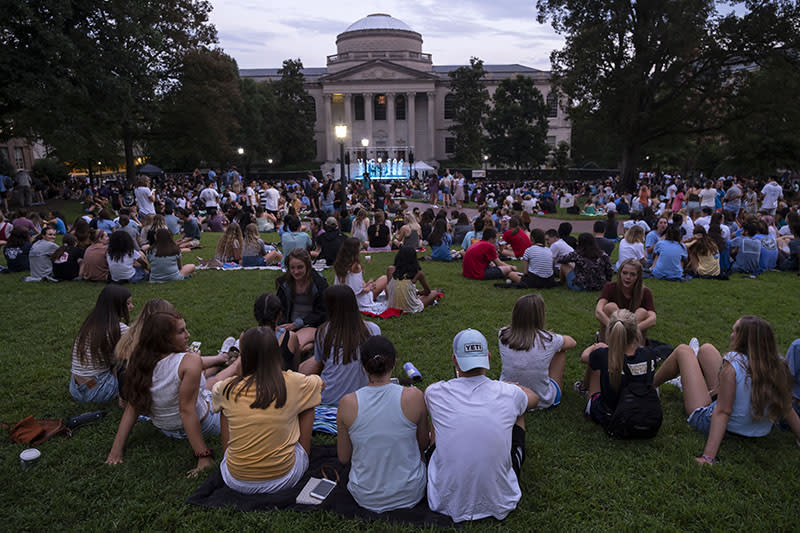 Students on Polk Place during Week of Welcome by Jon Gardiner, UNC
Where to Shop and Dine in Your New Home
Of course you have locations on campus, but as families and visitors come to Chapel Hill and Orange County, there are several great restaurants and shopping options available near campus. Grab a meal at long-time favorites Four Corners, Sutton's, Time-Out or Top of the Hill. Sip a coffee at Carolina Coffee Shop or neighbor 1922 or Perennial Coffee or cool off with an ice cream at Yogurt Pump.  Stock up on UNC gear at Shrunken Head, Chapel Hill Sportswear or Johnny T-Shirt. Clothing options downtown include Julian's, Marshall Goods, Uniquities, and Rumors. Visit book store Epilogue and get some items for your dorm room or apartment at shops in Target in Carolina Square or head to the Walmart in Hillsborough. For other resources, Experience Downtown Chapel Hill.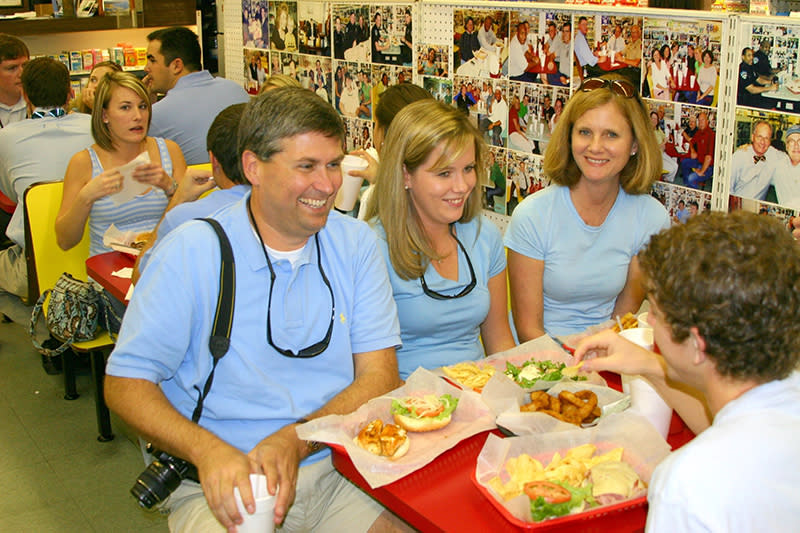 Dining at Sutton's on East Franklin Street in Downtown Chapel Hill by Donn Young
Drop by the Franklin Street Welcome Center.
To learn more about your Chapel Hill home, drop by the Chapel Hill/Orange County Welcome Center at 308 West Franklin Street. Our hours are 8:30 am – 5 pm, Monday through Friday and 10 am – 3 pm on Saturday. We can provide ideas on things to do, visitor guides, informational and mural maps, ideas for dining and much more. To better experience the community, visit our calendar page for music, film festivals, arts and culture and more. When your family and friends come back to visit, make a reservation at an area hotel or other accommodation.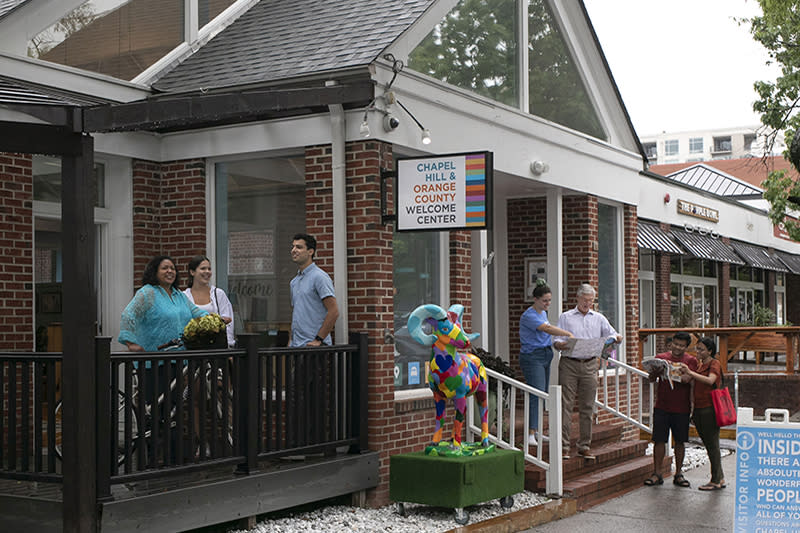 Welcome Center by SP Murray
So welcome to Chapel Hill, the UNC Class of 2027 and welcome back returning students and parents. Have a great year and Go Heels!
Header Photo: Relighting the Bell Tower on UNC Campus during the Week of Welcome by Johnny Andrews.