Part I
Graduate Chapel Hill
We check-in at the front desk and take the elevator up to the top floor. Chela pushes open the door to the presidential suite—
"Oh my gosh!!!"
"Whoa!!!"
It's huge—you could definitely fit at least ten goats or four miniature donkeys comfortably.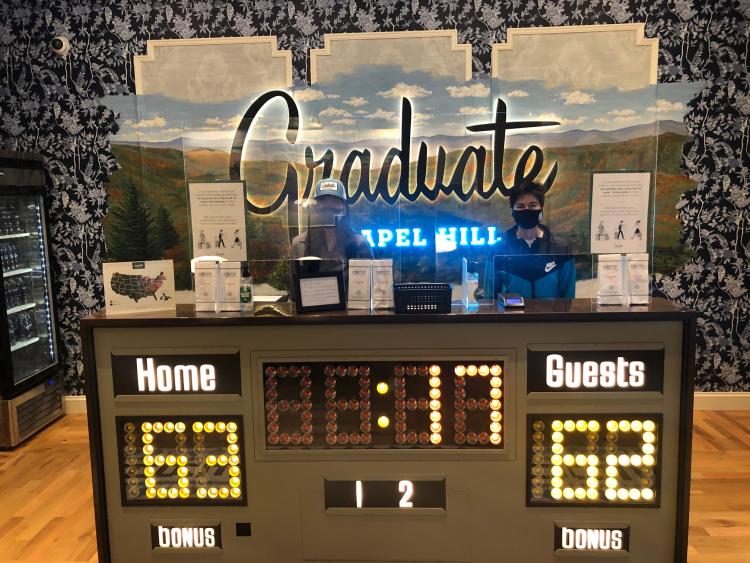 Maylin and Chela at Check in Counter at Graduate Chapel Hill
And behold, a gift basket filled with Carolina and Graduate goodies: Cheerwine, gourmet popcorn, T-shirts, face masks, a hat and more.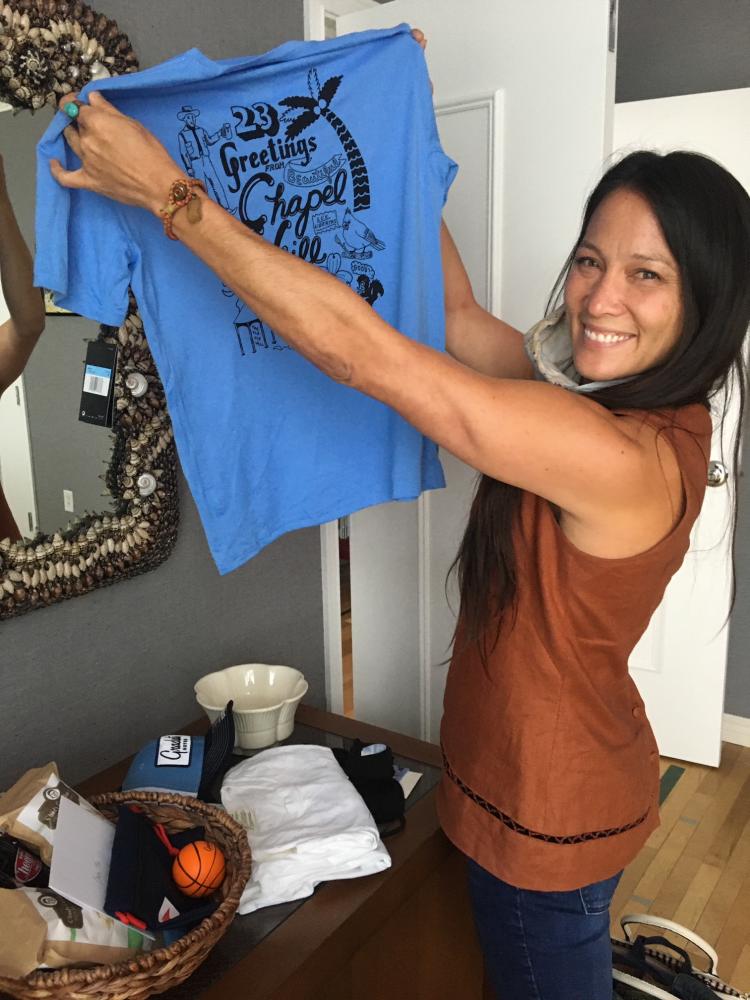 Chela with Goodies from Gift Basket
Welcome to the Graduate Chapel Hill, a boutique hotel located right on Franklin Street.
Chela digs into the popcorn as we take in the eclectic furnishings and thoughtfully chosen UNC and Carolina basketball themed details. This is a Tar Heel experience for sure, from the floor to the bed board to the Carolina blue argyle throw blanket on the king-sized bed.
It's a breeze to imagine getting ready in the presidential suite on game day, watching the pregame show and enjoying a cold beverage or two.
Chela makes her hair big and I take a shower because the shower is also massive, and I need that experience in my life. I feel like we are in a movie, "Maylin & Chela's Big OC Adventure."
We primp and perm to the tunes of Bruno Mars, Maggie Rogers and friends.
"I forgot to bring shoes."
To recap: Chela and I are fraternal twins, which means we share clothes, food, Netflix shows (looking at you, "Lucifer") and­ secrets—but not a shoe size.
Sneakers it is. Luckily, my dress is long enough that it just grazes the earth.
We have dinner reservations, but Chela can't stop munching on Chad's Carolina Corn. Do you have a moment to talk about our lord and savior, dill pickle popcorn?
"Do I look like a Vanity Fair model?" Chela jokes.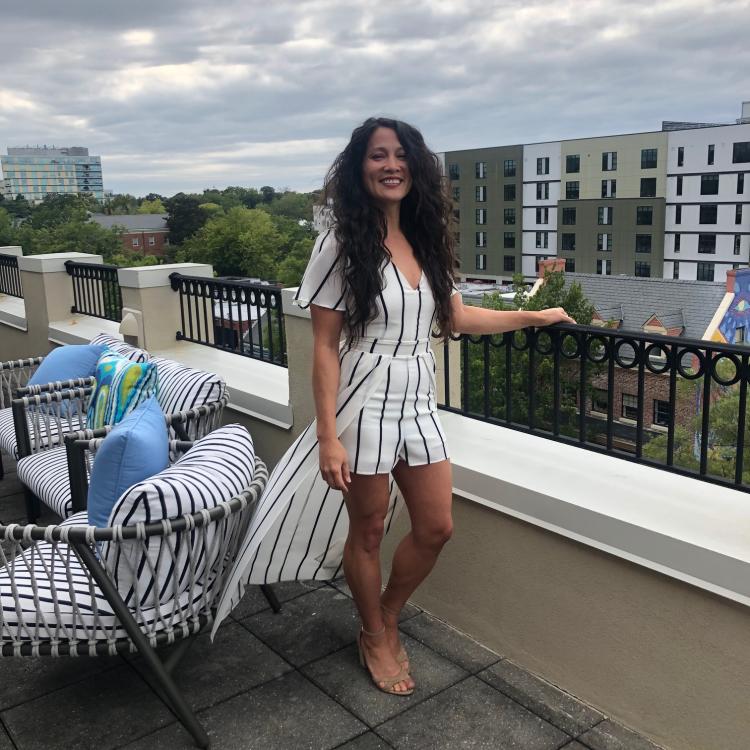 Chela Dressed to Impress on Balcony of Presidential Suite
I would comment on how much leg she is showing but this is a family show. Playing dress-up is one of our favorite things to do together and tonight is no exception. We head for the door in our matching Graduate face masks, dressed to the eights if not the nines.
Talullas
Chela, her hair, and I make our first stop: Dinner. Franklin Street is positively brimming with socially-distanced dining and we are quickly seated outside at a table for two.
Over complimentary piping hot bread ("hot, hot, hot!") and red pepper dip, Chela explains that Tallulas used to serve up tasty beats in addition to delicious Turkish food during their international dance nights. Memories of nights out with friends and drama with an ex—yes, this is a Chapel Hill staple.
We order the lamb shank special and choban salad to share. Chela drinks around the tiny spider that has taken up residence in a corner of her water glass because it wouldn't be a night out in North Carolina without wildlife. Southern hospitality for all, even spiders!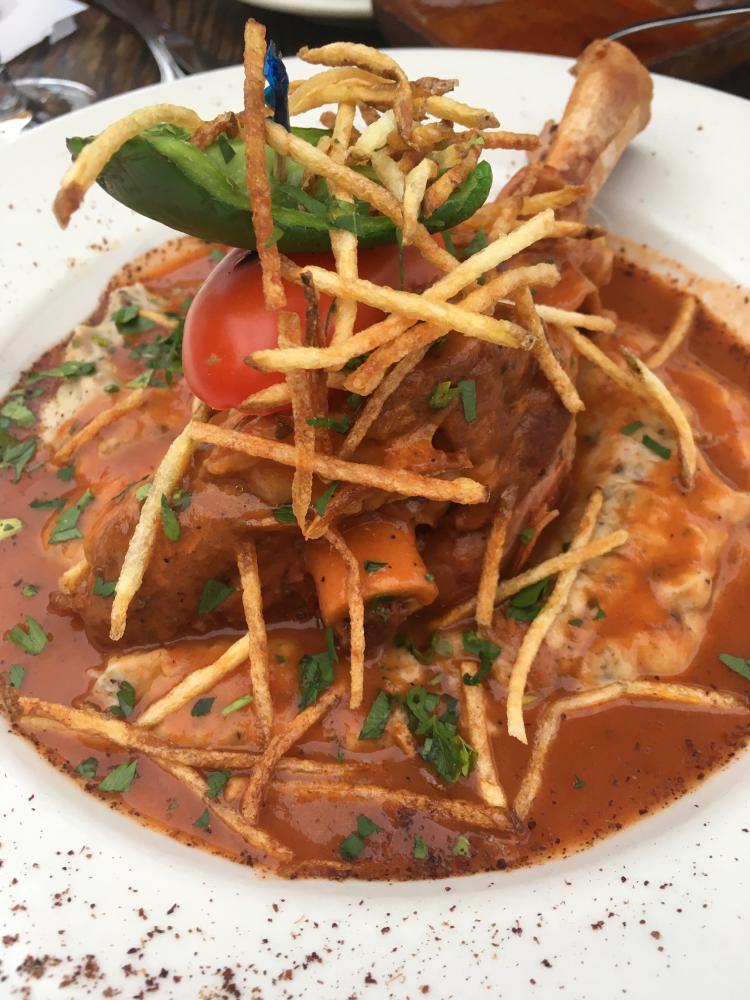 Lamb Shank at Talulla's on Franklin Street
I love the choban salad with its chopped tomatoes, cucumbers, red peppers and onions in spices and oil. I take a fork to the lamb shank and it tastes as good as it looks.
We toast our night out on Franklin Street with cava and Turkish coffee respectively. The night is young and we have places to go and dessert to eat.
The Carolina Inn
At Crossroads Chapel Hill, dessert is mandatory, not optional.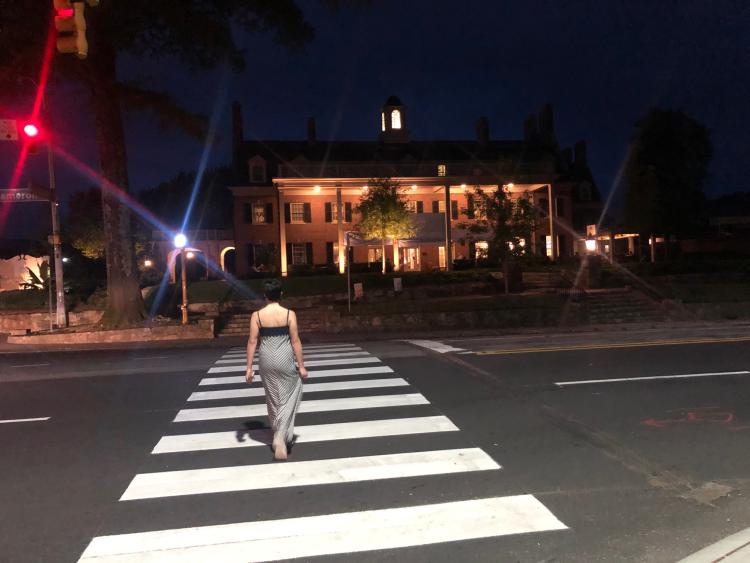 Maylin Heads to The Carolina Inn on UNC-CH Campus
We sweep up the stone steps and down the brick pathway to the Carolina Inn, a university institution where a portion of the profits go to support the UNC library. Sweet.
Underneath the soaring columns of the front porch, we peruse the menu for our options. I normally like sweet things more than Chela—although I sometimes catch her breaking into my watermelon Sour Patch Kids.
The Cola Float is the MVP of the evening, each bite as sweet as watching Carolina beat Duke in the final moments of the game.
How do I love thee? Let me count the ways. Is it the gloriously rich whipped cream, the cola cake or the crunchy candy bits in the ice cream? It's a perfectly layered dessert masquerading as a coke float, topped with a maraschino cherry, cola caviar and a striped paper straw for effect.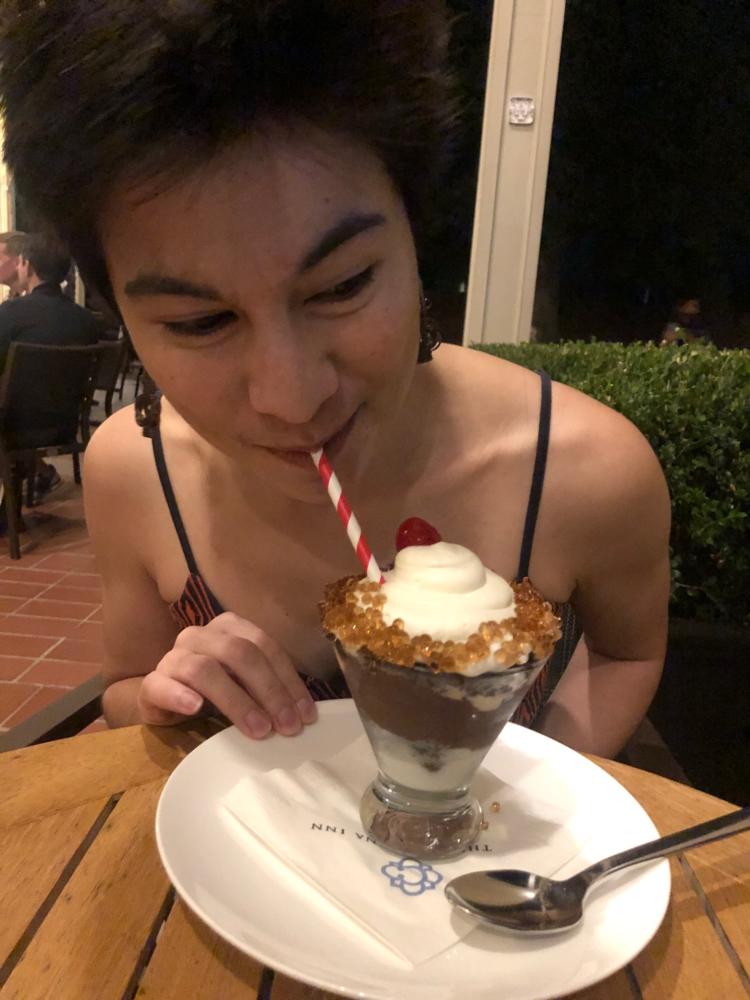 Maylin Enjoying Her Cola Float at Crossroads, The Carolina Inn
Chela sips her port and digs into her Southern pudding. Her roaring waves have subsided into soft, gentle ripples. Day is done. Hair as placid as University Lake on a lazy June afternoon.
Room 23
Back at the Graduate, we pay a visit to room 23, a replica of Michael Jordan's dorm room at UNC. In China, people don't know North Carolina, but they know Michael Jordan.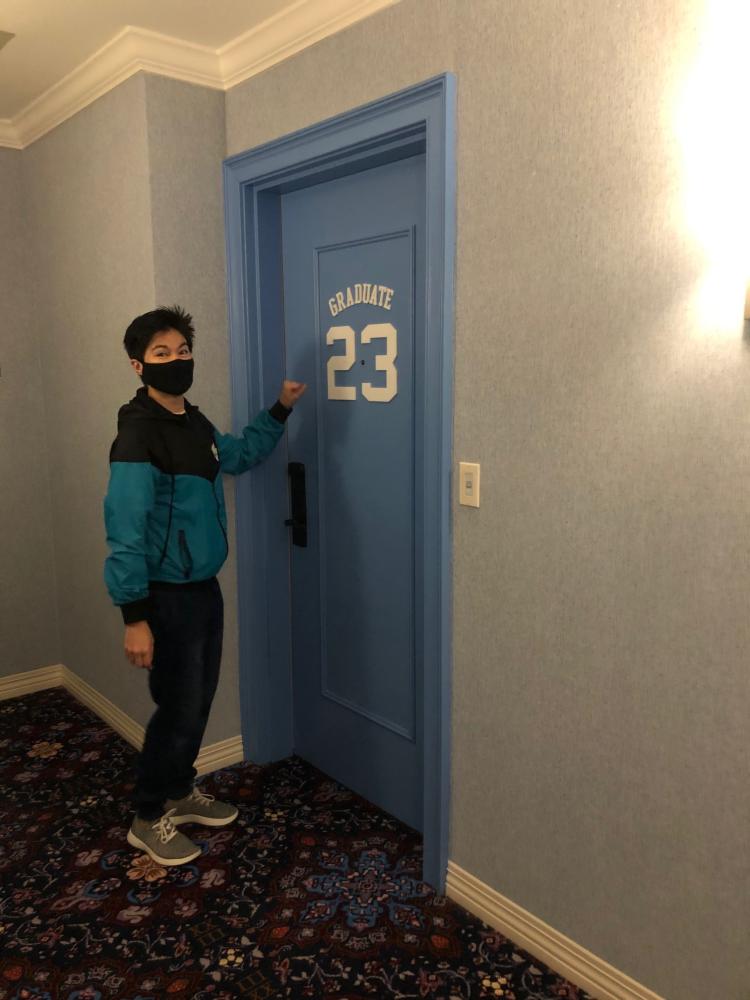 Maylin at Room 23, Replica of Michael Jordan's Dorm
"I'm from Michael Jordan's home state," Chela would say.
I'm struck by MJ's enduring international legacy and the intricacy of this replica. Even famous athletes have humble beginnings and sleep in miniscule twin-sized beds (seriously, how?).
Looking out over the balcony to the hustle and bustle of Franklin Street, it dawns on me that I'm seeing something familiar from a completely new angle. This was the escape from everyday life that I needed, the getaway without the hassle of travelling, a slice of heaven in the southern part of heaven.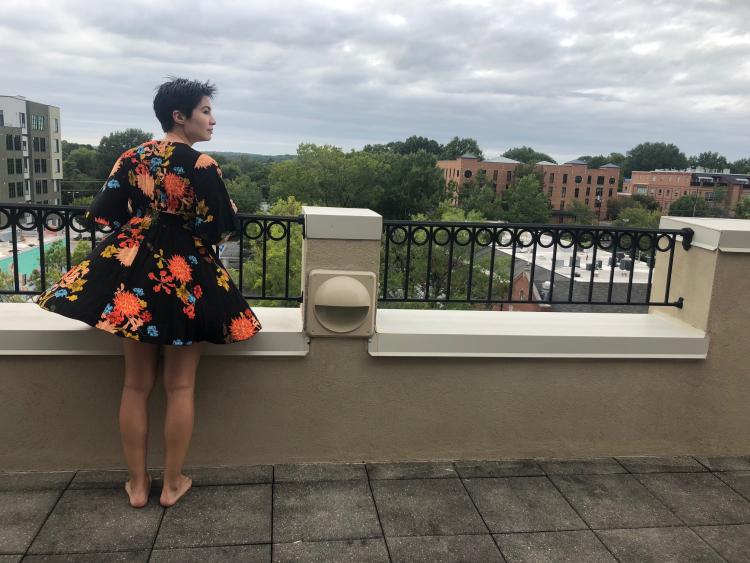 Maylin Checks out View of Franklin Street from Suite Balcony
I fall asleep to reruns of "Murder She Wrote" among the fluffiest pillows imaginable because this is scientifically proven to be the best way to end your day.
Stay tuned for Part II: Getting to know Chela's old haunts and hangs, featuring a walking tour, picnic on the quad and surprise animal appearances, wild and domestic.