We're here to see a man about some dumplings.
We pull up to a spot right on Franklin Street. Parking is free on Sundays. I repeat, it is free on Sundays. I live in Los Angeles, so I know the parking struggle is real.
First stop: Shanghai Dumpling.
Did you know that Chela had her own dumpling truck? She started Chirba Chirba with three UNC friends and a dream: make dumplings you can't resist (don't even try).
I joke that going out with Chela in Chapel Hill or Carrboro is like being the one-person entourage of a local celebrity. Everywhere we go, we run into a friend, fan or former colleague. I have to say, the perks are decent.
Back to the menu.
"Alright, Maylin, what would you like? Mmmm, can we get kou shui ji?"
"That looks good."
"I know. I'm literally salivating."
[Kou shui ji translates to "saliva chicken."]
Chela orders the xiao long bao (soup dumplings) and I pick cha shao bao (a dim sum staple). The wait is 20-25 minutes—just enough time for an apéritif.
We walk down Franklin and it's finally sweater weather (cardigan weather if you're a T Swift fan). Fall is my favorite season and I can't stop gushing about the blue sky and white fluffy clouds.
Second stop: Yogurt Pump (YoPo) We're adults, so dessert first.
"Black raspberry tart—ooooh! I think that's gonna be it for me." We get that and sweet coconut topped with strawberry boba, blueberries and gummy worms.
I gotta be honest, those frozen gummy worms hit hard but the brain freeze never bothered me anyway.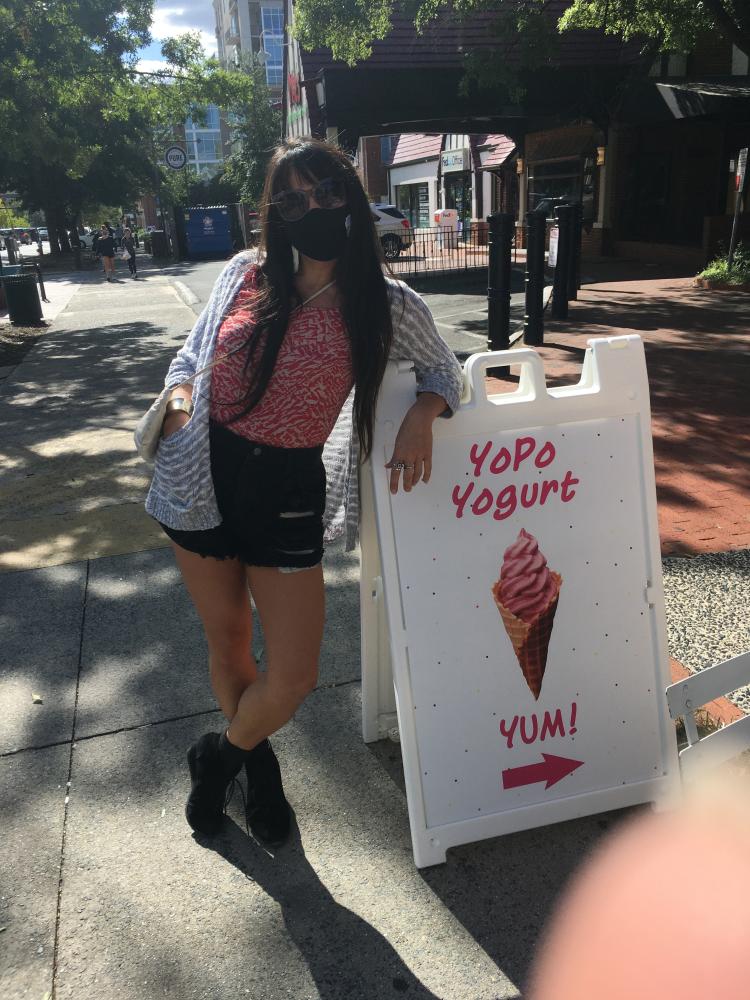 Third stop after delicious froyo: McCorkle Place on the UNC quad.
We spread a picnic blanket on the green grass under wide, spreading oak trees and lay out the spoils: all the bao (buns) are accounted for. Talking bao that revolution. All your bao are belong to us. It's a bao time. Okay, I'll stop now.
How to describe a soup dumpling: it's a ball of meat cooking in its own piping hot soup, all wrapped up in a delicate skin.
Your mission should you choose to accept it: Carefully pick up a soup dumpling with chopsticks and place it into your mouth without A, puncturing its skin or B, burning your mouth on the soup inside.
"Ahhhhh, fail! Cardinal sin!"
Well, one out of two ain't bad.
"Chela's advice for ordering off a Chinese menu: If it says, chive, get it."
Did I mention that we have a lot of buns on the table (blanket)? We have leftovers. Of course. Chela is unperturbed:
"I'm trying to be authentic. It wouldn't be eating out with me if we didn't have too much food."
Fourth stop: Morehead Planetarium for a free walking tour of Chapel Hill. Too late, I realize that we just ate a bunch of carbs before a long walk. Regrets? I have none.
Sally leads socially distanced walking tours every week for visitors and locals alike. Time to learn.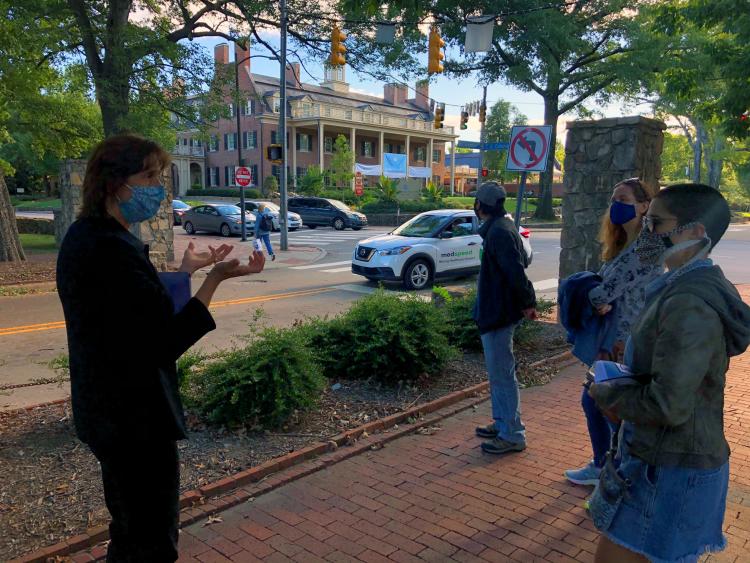 We learn about UNC's origin story, tree clones, Dean Smith and the Civil Rights movement, a wealthy donor entombed in his own museum and why the fire department greases the telephone poles after a big win for Carolina.
Chela not only attended Carolina as a student, she planned multiple events all over town as an event planner for the chamber of commerce. Her service industry chops and local connections led naturally to role in sales at WCHL and now for IWG.
Cannot confirm or deny that Chela once climbed a tree after Carolina beat Duke (#climbeverything).
Fifth stop: The Siena Hotel.
"This kind of turned into a 'Chela' tour."
Starting Chirba was hardly Chela's first foray into the world of food service and hospitality. She worked her way through Carolina as a server and bartender.
"At one point I was doing three: Akai Hana, and The Siena, and Carolina Coffeeshop."
We find our way to the hotel's cozy outdoor seating and order drinks—a glass of wine for Chela, a mezcal for me. Chela orders the burrata (always order the burrata).
The outdoor fire is perfect for this time of year.
My cocktail is sweet and smoky. The burrata is served with honey butter acorn squash, pepperoncini, sage, 12 year aged balsamic, toasted pumpkin seeds and extra virgin olive oil. It's the perfect combination of fall flavors.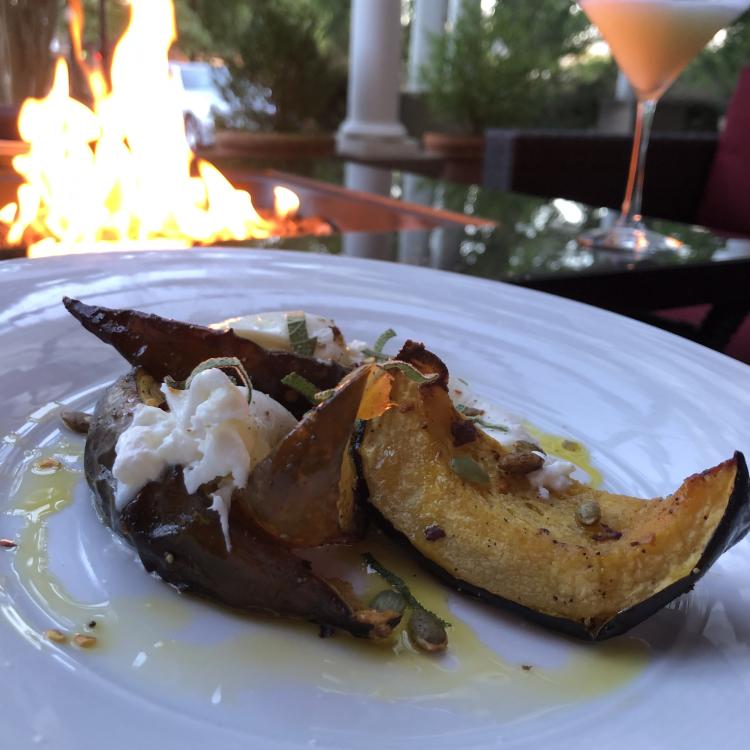 Chela coaxes a new arrival, Bob, to come sit with us.
"Don't leave, Bob! Please stay. We love you."
Bob is an orange tabby with a calm, collected demeanor. He and his owner are regulars here at The Siena and I can see why. The ambiance—not to mention the outdoor seating, firepit, seasonal appetizers and excellent service—is hard to beat.
"This is one of the best spots in town," confirms Bob's owner.
They trade stories about their respective cats. Bob for his part spies a bird in the parking lot and leaves to investigate. This is Chela's MO: Make new friends everywhere she goes.
Just before we leave, we spy a deer in the parking lot with impressive antlers. Despite our audible protestations, he looks right, then left, then gallops across the busy street. I aspire to be like this deer: Trying new things, going new places, getting outside.
I love fall.