Movies with Goats (Spring Haven Farm)
I used to be afraid of goats. Well, to be fair, I used to be afraid of a lot of things: barking dogs, loudly flushing toilets and the deep end of the swimming pool.

I had a few questions going into this: Do goats really love to snuggle like they do on Instagram? Do they eat hair? Can you adopt a baby goat and take it back to Los Angeles with you (asking for a friend)?

Also, what movie would we be watching?

The movie is a surprise. As Spring Haven Farm notes on their website, "the movie is secondary to visiting with the goats and other animals."

I could only hope that they wouldn't be, as a friend joked, showing "Silence of the Lambs." Chela hates scary movies. Hates them. One time, my brother bought us all tickets to see "28 Days Later" and I don't think their relationship has recovered.

Would it rain?

Movies are rain or shine at Spring Haven and there was rain in the forecast. But if there's one thing you can count on with Orange County summer weather, it's that you can't count on it at all.

Who's afraid of a little rain, not us. Undaunted, we forge ahead and pack chairs, a cooler and ourselves into Chela's Honda CRV.

We have some extra time, so we grab dinner-to-go from Nomad, a new fusion restaurant that opened this summer in downtown Hillsborough and head to the farm.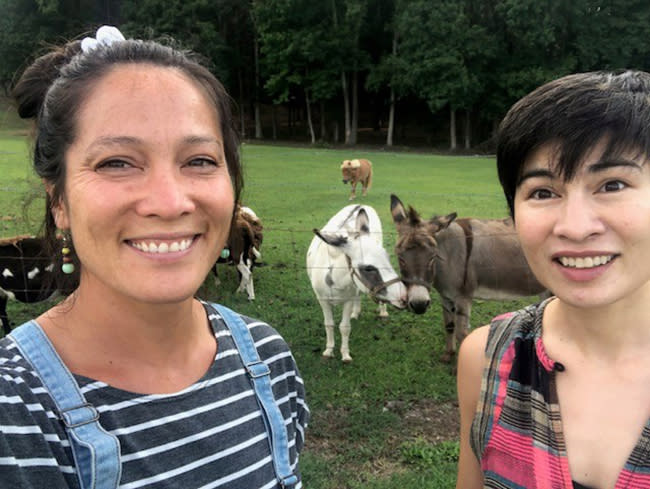 Chela and Maylin say hi to some animals in rural Orange County, NC

The movie screen is set up in a pasture scattered with socially distant groups of moviegoers and lit with tiki torches. The movie starts just as we arrive—"The Princess Bride."

Goats do not believe in social distancing. Goats believe in food. We are barely settled into our chairs when the goat mafia comes to collect.

We had picked up two bags of animal treats at check-in but goats will also eat the following: arm hair,  shirts, scrunchies and plastic utensil wrappers.

My favorite goat is a tiny white one we nickname "Tiny Goat" because we are creative people with a gift for words. Tiny Goat enjoys leaping from lap to lap in search of food and snuggles, climbing Chela's face with its tiny hoofs, and wagging its tail in excitement.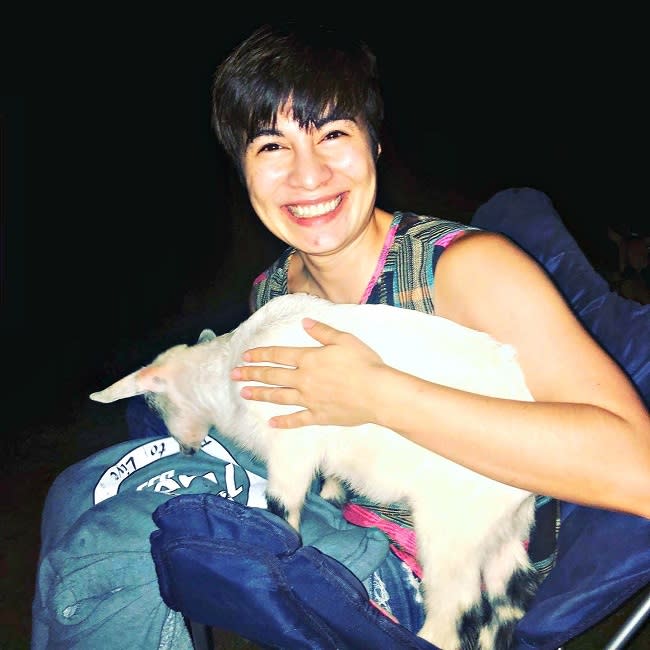 Maylin cuddles Tiny Goat at Spring Haven Farm

Tiny Goat places one hoof on my arm as it eats out of my hand with soft, wet nibbles. I am besotted.

The sky opens up just at the movie's climax (inconceivable!) and people start packing up their gear and heading out. We are partially shielded under a large tree and stay through the credits.

Tip #3: The heart says yes, but the legs say no, no, no—wear pants if you want to hang out with goats. They are lap animals. Surprise!

In the car on the way home, Chela reflects that if she were an animal, she would be a goat because "always be climbing" and "always be eating" are her mottos. Goats are Chela. Chela are goats. I approve this message.

Biking in the Orange County Rural Buffer

I'm struggling up a hill behind Chela, feet pressed to the pedals, trying to take in the scenery around me.

Luckily, I'm too busy trying to take in the landscape to focus on the joy and the pain of biking uphill. I briefly resent Chela for having the better road bike. The twinsentment is real.

Is that a cow or a hay bale? How is the grass so green? What am I doing with my life?

We pass houses both rustic and modern, picturesque and striking.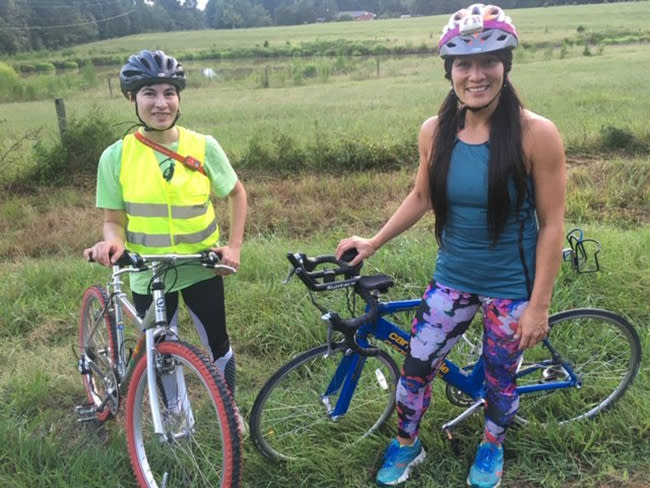 Tour de OCNC with Maylin and Chela

Ah, the great outdoors: it lowers your blood pressure, eases anxiety and it's free! No outdoor adventure would be complete without getting on two wheels. We're biking the back roads near Chela's house—all this scenery within a few miles or ten.

I used to marvel at the cyclists we passed while driving here in North Carolina. At first I thought biking on the back roads would feel intimidating, even for a seasoned Los Angeles bike commuter like myself. But clad in a flattering yellow safety vest for visibility, I feel positively invincible. Rolling down the smoothly paved back roads of the rural buffer, surging downhill and struggling uphill on my mom's old mountain bike, I feel free.

Tip #4: Slow your roll. Whether on four wheels or two, be sure to take in the views and stop at small local eateries and farm stands along the way, like Honeysuckle Tea House or Deli Edison.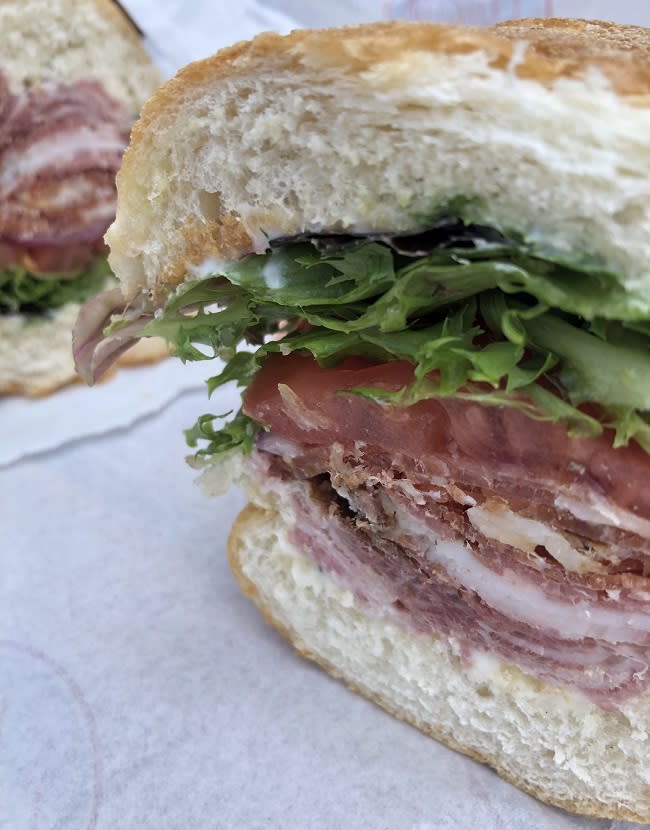 Da Hero with mortadella and porkstrami from Deli Edison

Get outside!

I asked Chela what she learned from our outdoor adventures: "No matter how long you've lived here, there are always new things to discover." It's a cliché because it's true: There's so much to see right in your own backyard. Say "Hi" to Tiny Goat for me.