From firework displays to barbecues, live music and more, there are so many ways to enjoy Independence Day! Because the holiday falls on a Wednesday, we plan on celebrating all week long! Read on for some of the best celebrations Chapel Hill and Orange County have to offer:
July 1:
Picnic in the Park in Downtown Hillsborough: Celebrate the birth of our nation from 11 a.m. to 3 p.m. with a community picnic and live music at this year's annual Picnic in the Park event at the Eno River Farmers' Market Pavilion. The Music Makers Relief Foundation will have a free outdoor concert featuring American Blues and Roots.  Bring your blankets and pack a picnic or dine at one of the participating food trucks. Bring the whole family to enjoy an afternoon of music, games, community and more.
July 4:
Carrboro July 4th Celebration: Kick-off your Fourth of July festivities at Weaver Street Lawn from 9:30 to 11 a.m. for hat making and decorating, patriotic flag coloring, patriotic temporary tattoos, a costume contest and musical entertainment. Stick around for the People's Parade at 10:50 a.m. as The Bull Town Strutters lead parade participants along the route to the main even at Town Hall. The main event will run from 11:00 a.m. to 4:00 p.m. and include music, games, bounce houses, food and more. The 5th annual public reading of Frederick Douglass' Fourth of July address is scheduled for noon at the Carrboro Century Center.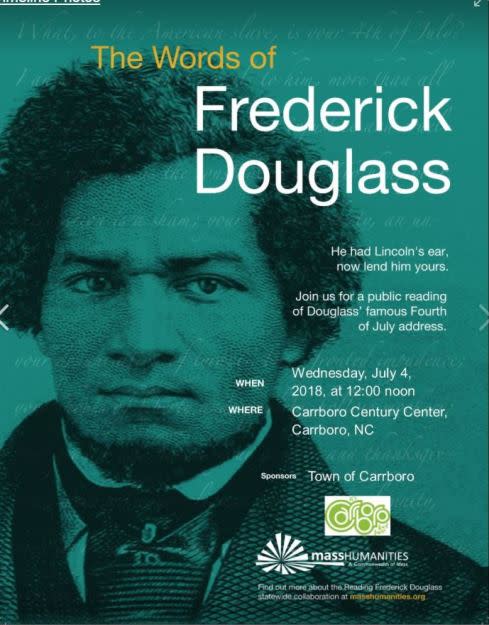 Efland Fourth of July Parade: Come one, come all to Efland's annual Independence Day celebration! With a 9:00 parade lineup and the procession starting at 10:00 a.m., clubs, groups, individuals, cars, bikes, golf carts, tractors, dogs, horses and more are all welcome to participate! The parade begins at Lloyds Carwash and ends at the Ruritan Club, with refreshments at the conclusion. 
July 4th Caldwell Parade: This veteran-led parade originates at the Caldwell Fire House, with veterans meeting other participants at 10 a.m. for a projected start time of 10:50 a.m. After Caldwell Fire House, the group will stop at the NC 57 and Guess Road intersection to wait for the 11 a.m. official start. The procession ends at the Caldwell Community Center where participants and parade-goers are encouraged to enjoy the picnic areas with friends and family.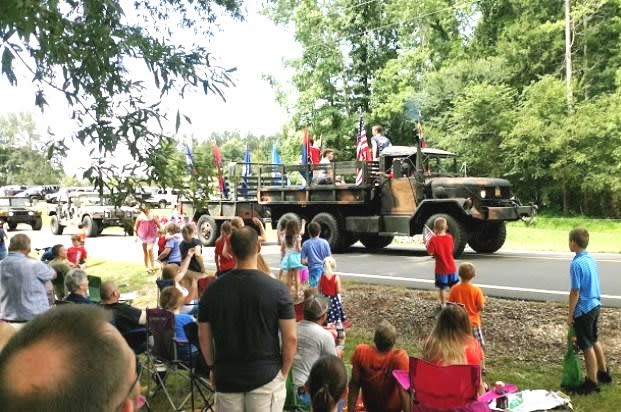 Old Fashioned 4th of July Celebration: Enjoy FREE ice cream, lemonade and flags on the lawn at the Horace Williams House from 1 to 3 p.m. Patriotic music will be performed by the Village Band from 1:30 to 2:15 p.m. Attendees are encouraged to bring lawn chairs or blankets and invite family and friends to the festivities.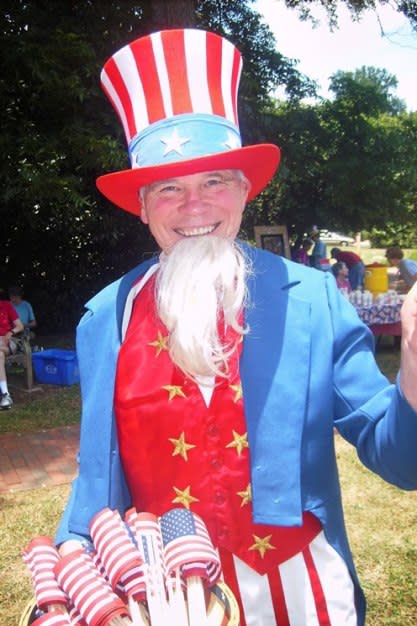 July 4th Fireworks in Chapel Hill:  Enjoy live music, games, face painting and good old-fashioned family fun at Kenan Memorial Stadium from 7 to 9 p.m. The PITT's watermelon eating contest starts at 7 with hilarious PITT Comedy emcee hosts. Fireworks will begin at 9:30 p.m. This event is sponsored by The Town of Chapel Hill's Parks & Recreation Department and there is a suggested contribution $1 per person or $5 per family.
How are you planning to spend the Fourth? Whichever activity you choose, we're glad you're doing it in Chapel Hill and Orange County!
(Photo credits/sources: Header- Fireworks at Kenan Stadium, Chapel Hill/Orange County Visitors Bureau, Carrboro's Frederick Douglass Fourth of July Address (
Source
), Caldwell Parade (
Source
), D.G. Martin as Uncle Sam at Old Fashioned 4th of July Celebration - Chapel Hill/Orange County Visitors Bureau)