Last fall, the Downtown Chapel Hill Partnership collaborated with Kevin 'Kaze' Thomas, co-owner of the popular former music venue, VibeHouse405, to bring live music to downtown. The project was called Save the Music and they are looking to do it again beginning in March. We caught up with Kaze to learn more about the project and what we can expect in 2021.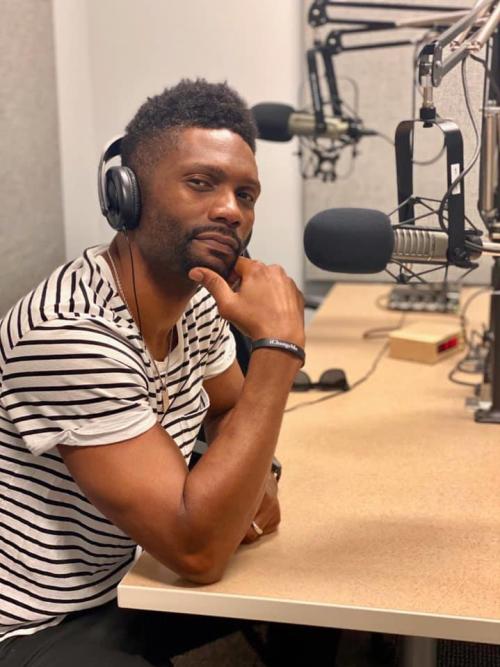 Kaze hosting a show on WCHL Chapelboro
Q. Kaze, Tell us how Save the Music project came about
A. There is a strong music tradition and culture present in Chapel Hill. A year later artists and venues are still facing the reality of COVID. During these times, we wanted to support our artist community with no place to perform, and bring attention to the crowd funding causes of our legendary local music venues and bars. Live music creates an atmosphere and energy that promotes a reason to come out and visit our downtown shops and restaurants. Safe and at social distance.
Q. How would you describe the vibe in downtown last fall, with buskers stationed along Franklin Street, and more outdoor space for dining created by restaurants?
A. Hearing music in the air as you walk Franklin or enjoy outdoor dining at your favorite place on a nice day is just a really good feeling. Seeing people dance on the sidewalk, kids running around at Peace and Justice, and musicians doing what they love. These kinds of feelings in the air make people fall in love with this town. 
Q. What impact do you hope to see for local musicians and local businesses on Franklin Street as Save the Music returns?
A. I hope it brings attention to all the talent that we have here locally, and makes people say "hey let's go downtown and see what's going on." Watching outdoor seating fill up at restaurants nearby when there is music present lets me know we are creating the vibe we are looking for.
Q. What can locals and visitors expect this spring:
A. Every Saturday from 6p - 8p, musicians will set up at various locations along Franklin Street. The best place to get information on each weeks line-up can be found at xdch.org 
Q. Once music venues open up at full capacity, do you foresee buskers along Franklin Street a permanent type of entertainment for downtown Chapel Hill?
A. Yes I do. We look to continue to expand this program in the future even after the music is "saved" and venues reopen. There are lots of new exciting ideas about doing things outdoors in downtown that promote music, arts, and culture.
Q. Lastly, tell us a little about Vibehouse 405 and what you'll be focusing on down the road.
A. Vibehouse405 was a studio and art space dedicated to musicians, artists, and creative community. We provided a place for aspiring artists to perform, create, record, etc. Unfortunately, we decided to close our location during COVID, and pivoted to focus solely on music and media production, and our independent record label VibeHouse Music. We hope to have a new location in downtown soon. In the meantime, I am very excited to continue my role with the town through the next year. I look forward to continuing to find new ways to bring music arts and culture to Downtown Chapel Hill.
There you have it! Plan to visit downtown Chapel Hill this spring for some great dining, shopping AND music. As you enjoy your night on the town, be sure to put a few bucks in those instrument cases, the musicians would surely appreciate it!
(Kevin 'Kaze' Thomas is the Arts & Culture Director for the Chapel Hill Downtown Partnership. For inquiries about Save the Music, contact Kaze at kaze@downtownchapelhill.com)