Events include American Flag placements to mark the graves of veterans and Memorial Day Services

Chapel Hill, NC -(May 15, 2023) -  Memorial Day honors the men and women who lost their lives while serving in the U.S. military. The 2023 Orange County Memorial Day Ceremony will take place Monday, May 29, 10:45 am – 11:30 am at Southern Human Services Campus, 2501 Homestead Drive, Chapel Hill, NC. 

US Marine Corps Retired Sgt. Major Devell "Bo" Durham Jr., a Gulf War Veteran, will be the keynote speaker at the Orange County Veterans' Memorial Day Event. Durham was accepted into the Marine Corps in January 1980, at seventeen years of age.
Bo Durham's personal awards include:
Legion of Merit, Meritorious Service Medal (two gold stars in lieu of third award)
Joint Service Commendation Medal
Navy and Marine Corps Commendation Medal
Navy and Marine Corps Achievement Medal (gold star in lieu of second award)
Military Outstanding Volunteer Service Medal
Humanitarian Service Medal, Good Conduct Medal (10th award) and various Unit and Campaign Awards.
2023 Memorial Day Program 
Call to Order
Hon. Hathaway Pendergrass, District Court Judge, Judicial District 15B
Posting of Colors
Orange County Sheriff's Office Color Guard under the instruction of Major Kevin L. Jones
Invocation
Rev. Dr. Rodney Coleman, First Baptist Church of Chapel Hill
Pledge of Allegiance
Nevaeh' Hodge, Chapel Hill/Carrboro NAACP Youth Council
Welcome
Hon. Barbara M. Foushee, Council Member, Town of Carrboro
Special Recognitions | Gold Star Families, Branches of Military Service
Regina Merritt, District 12 Vice Commander, American Legion
Acknowledgments | Elected Officials, Dignitaries
Hon. Jenn Weaver, Mayor, Town of Hillsborough
Introduction of Guest Speaker
Sgt. Tony Garcia, American Legion Post 6 Commander
Memorial Day Address
Sgt. Maj. Devell "Bo" Durham, Internal Affairs, American Legion
Update on Memorial
Capt. Bruce Runberg, United States Navy (Retired), Vietnam
Dedication of the Wreath
Hon. Renée A. Price, Representative, District 50, NC General Assembly
Laying of the Wreath
Sgt. Maj. Devell "Bo" Durham and James I. Merritt
Taps
Edward H. Gill, American Legion Post 6
Conclusion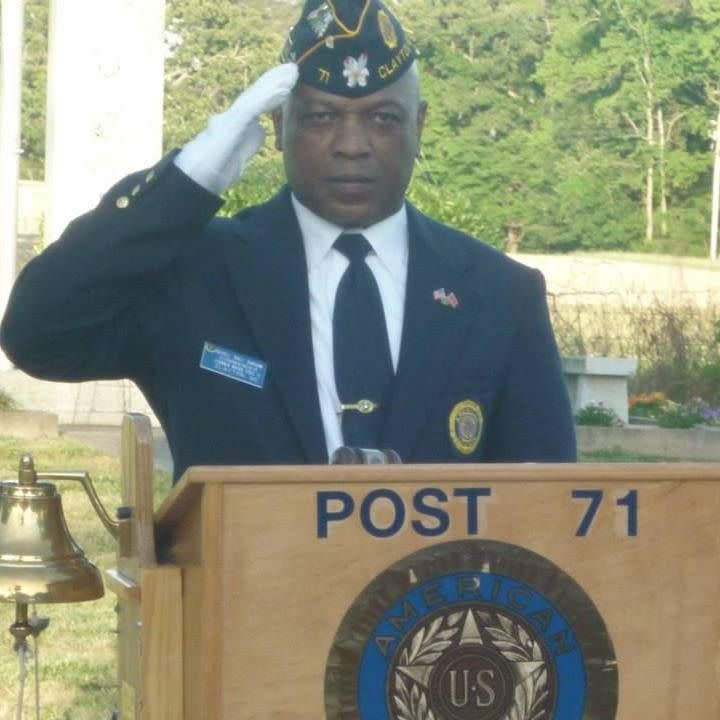 US Marine Corps Retired Sgt. Major Devell "Bo" Durham Jr
About the speaker: Currently, Durham serves as the American Legion (AL) National Security Commission Member, Chairman AL Department of North Carolina Internal Affairs Commission, Chairman AL Department of N.C. War on Terror Committee. Among other accolades, he is the Vice President of the Johnston County Board of Commissioners Veterans Advisory Board, and an Executive Board member of Tuscarora Council Boy Scouts of America. Mr. Bo Durham serves on the board of directors as the secretary for Victory Academy & Victory Church of Raleigh.
Read more: https://ocveteransmemorial.com/events/ .  In case of rain, the ceremony will move indoors at the Seymour Center at 2551 Homestead Road.
Related Events:
Representatives of Chapel Hill  American Legion Post 6 will participate in the Orange County Veterans Memorial Ceremony. Immediately following this ceremony, the American Legion Post 6 Legion Riders motorcycle club will ride in a procession to Post 6. The American Legion at 3700 NC 54 West in Orange County is one of the newest Posts in the country, with a custom designed 14,000+ sf building located on a beautiful bucolic 126 acres with pastureland and pond. https://www.chapelhillpost6.com/ .
At Post 6, doors open at 11:00 am for viewing of the beautiful facility highlighting Post 6's museum of historical artifacts and memorabilia and Post 6 member's personal military memorabilia. A Memorial Day Ceremony is 1:00-2:00pm, Immediately following the ceremony: Hot dogs and Maple View Ice Cream will be available for purchase, and "The Village Band" will entertain with patriotic music.
On Saturday, May 27, at 7:30 am please join Post 6 to decorate with flags the graves of veterans at the Chapel Hill Memorial Cemetery at 1721 Legion Road, Chapel Hill.


####

Header Photo by SP Murray

MEDIA CONTACT 
Lee Heavlin lheavlin@gmail.com