It's late. Maybe you should be calling it a night. Or maybe your night is just beginning. Whatever, the fact is, you're hungry.
In Chapel Hill and Carrboro, it's not a question of if you can get a late-night bite, it's more a question of where — and exactly what kind of bite you're craving. In a community full of night owls — what would you expect from a college town? —you can get pretty much find anything to chow down on even in the wee hours.
Got a post-midnight passion, for instance, for pizza, that classic late-night staple? LOTSA, at the corner of Columbia and East Franklin streets, will bake you a pie in just 150 seconds Thursday through Saturday until 3 a.m. Across the street, Benny Capella's (122 East Franklin) will serve you a slice or more until 2 a.m. Thursday and Friday and until 3 on Saturday.
If you're more in the mood for another traditional American foodstuff, head to Sup Dogs (107 East Franklin) for yes, a hot dog, like the New York Combo (mustard, grilled sauerkraut, fresh-cut jalapenos, dill pickles).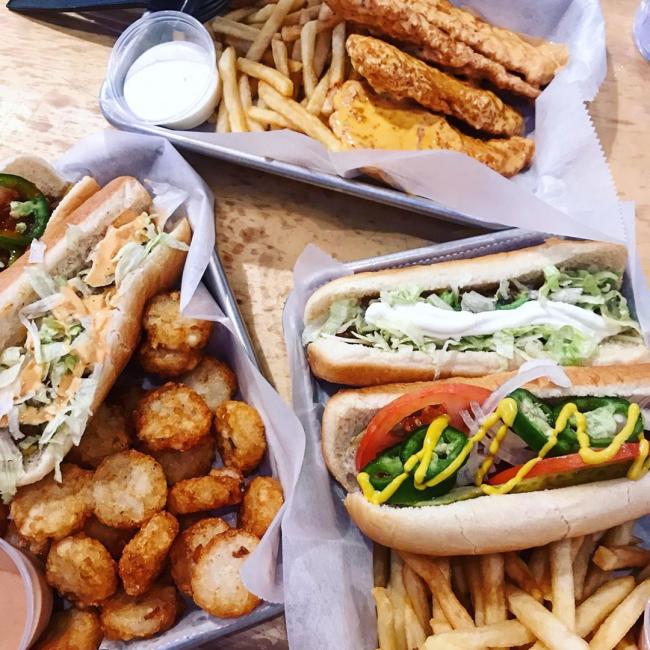 Burgers instead? At Buns (107 N. Columbia) you can create your own — Tar Heel Triple on a brioche? — or get the Carolina Burger, topped with topped with chili, slaw, chopped onion and cheese, until 3 on Friday and Saturday.
What else do folks chew on late? How about wings?
There is the somewhat confusingly named Wings Over Chapel Hill, which is actually in Carrboro (313 East Main), a tiny take-out only place, where you can bring back with you the Puddle Jumper for one or the C-5 Galaxy, for 10, if you have a lot of friends who also are out late. Monday through Wednesday and Sunday, wings available until 1; Thursday, till 1 and Friday and Saturday you have until 3.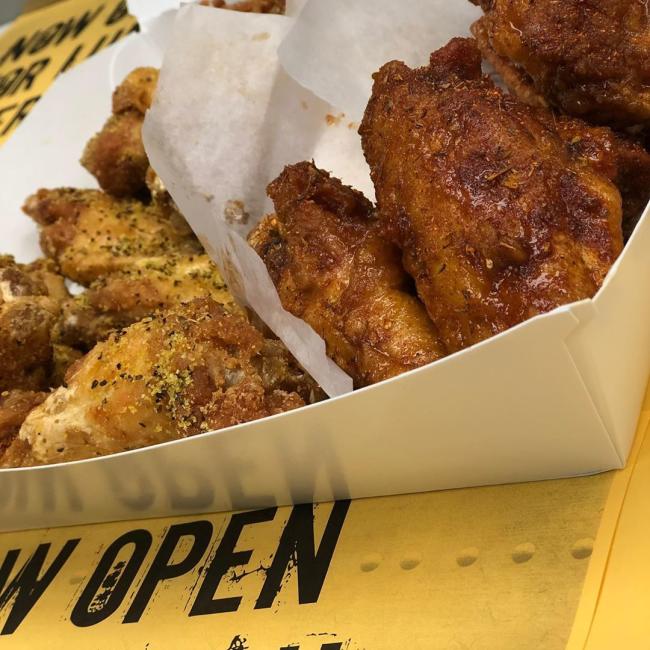 Back in Chapel Hill, if you still have that same craving, you can get bone-in, boneless or even vegan wings (try them with the zesty garlic parmesan sauce) at Heavenly Buffaloes (407 West Franklin) until 3 Friday or Saturday.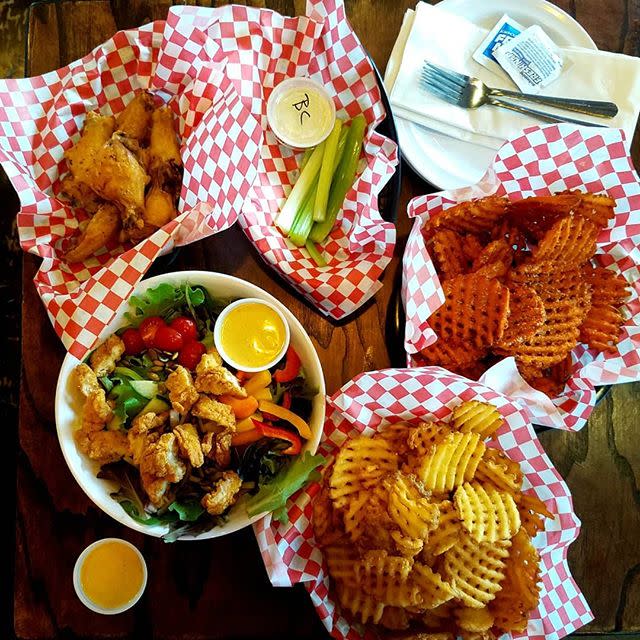 Looking for something a little more ethnic? Try Cosmic Cantina, tucked snugly into the back of the walkway at 128 East Franklin. The deluxe — and pretty enormous — chicken burrito comes with beans, salsa, cheese, rice, sour cream and guacamole and you can get it until 4 a.m. Friday and Saturday and until 3 the rest of the week.
Or if you don't need to sit down, go to City Bus, an exemplary taco truck parked in front of 412 East Main in Carrboro, that also offers gorditas, pupusas and tortas. Tuesday and Sunday until 2:30; the rest of the week until 3.
For more expansive late-night fare, there's Linda's (203 East Franklin), where, in addition to a dozen or so different draft beers, you can feast on barbecue, burgers or even salads like the Pittsburgh (romaine topped with tomato, onion, cucumber, grilled chicken, crinkle cut fries and shredded cheese). It's all available every night until 2.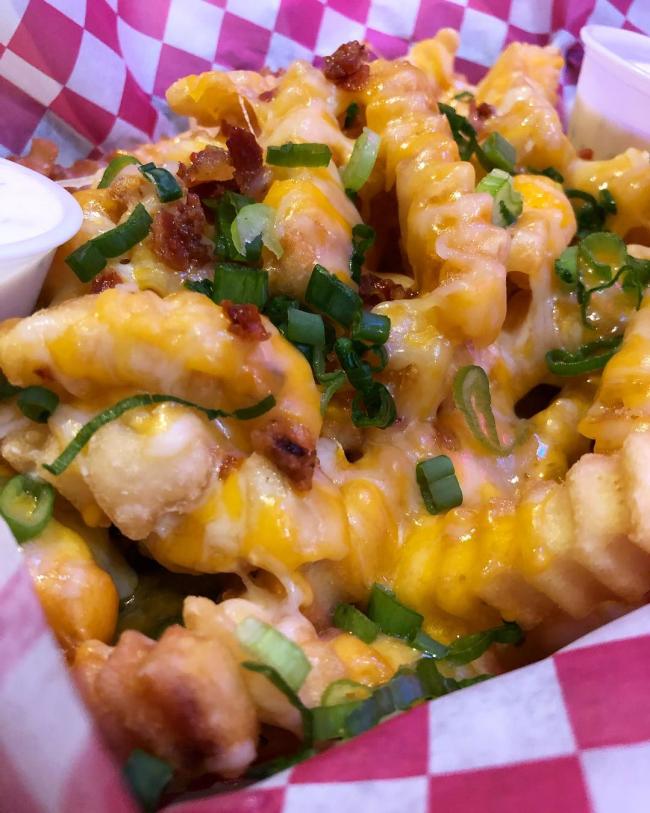 At Might as Well, at 206 West Franklin, in addition to the usual burgers, pizza and wings, you can also get lemon caper salmon or chicken and shrimp penne evenings until 2.
Oh, and for dessert — or just to satisfy your late-night sweet tooth — don't forget Insomnia Cookies, where warm cookies, including chocolate chunk and snickerdoodles, are delivered until 3 a.m. You can also pick them up directly at the store, 145 East Franklin.
But what if you're sort of the night owl's night owl, and you want something to eat even past 3 or 4 in the morning? There are a couple of answers.
Like all the other Waffle Houses across the nation, Chapel Hill's one is open 24 hours a day, but you don't have to go to a highway off-ramp to get to this one at 127 East Franklin. Waffles here, of course, but absolutely don't forget the hash browns — smothered or covered or chunked or topped.
While there may be Waffle Houses aplenty, there's only one Time-Out. Chapel Hill's own 24-hour restaurant, at 201 East Franklin, serves fried chicken whenever you want it and luscious buttermilk biscuits, among many other items. And in case you didn't know you could eat there anytime, the big sign on the exterior wall reminds you: "ALWAYS OPEN."
And if it's really late, that means it's probably also really early — meaning it may be time for breakfast, which you can, of course, get at any hour at Time-Out or Waffle House.
(Photo credits: Header, Famous Chicken Cheddar Biscuit, Time-Out Chapel Hill; Sup Dogs loaded dogs, @orderfortwo Instagram; Lemon Pepper/Cajun Teriyaki Wings, Wings Over Chapel Hill; Wings & Waffle Fries, Heavenly Buffaloes; Linda's Bar & Grill Cheese Fries, @not.gordon.ramsay Instagram)