In my younger days I used to run, but now I'm addicted to walking. What a great area we have to walk in! During lunch I join the folks out-and-about in downtown Chapel Hill. Some are shopping; some are eating, and others simply strolling the downtown streets, just getting their daily exercise, like me. There are so many trails and lovely streets to choose from in Chapel Hill, Carrboro and Hillsborough, all unique with something interesting to view.
UNC campus is a favorite walk. I usually escape into the Coker Arboretum and on warm days often stop at the Old Well for a quick drink of water at the fountain.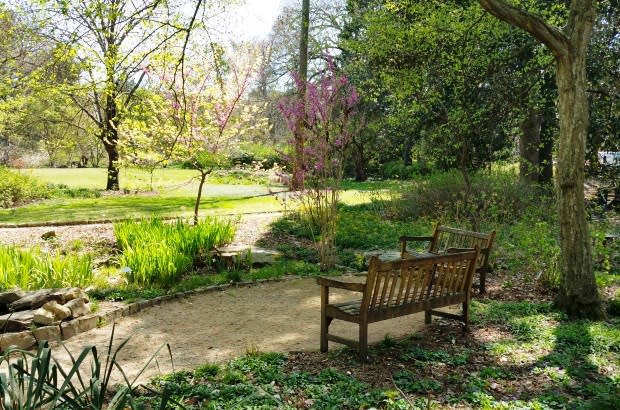 Morgan Creek/Fan Branch is another trail I use on a regular basis because I can access it on my way home from work. It's a longer trail and there are always others out there, walking, running, exercising their dogs, biking. The paved part of the trail, called Fan Branch Trail, has several bridges crossing over Fan Branch Creek. Gentle hills continue into Southern Village and, if you follow along the sidewalk, the path will lead you up to the Southern Community Park and the soccer fields.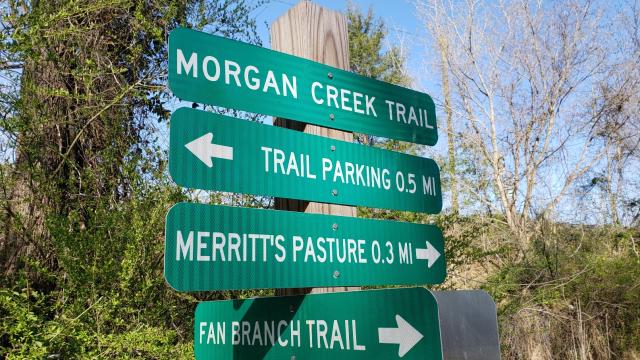 Riverwalk is very popular and a fabulous addition to Hillsborough's outdoor walkability. Riverwalk was designed as a segment of the North Carolina Mountains-to-the-Sea Trail. Access points are at Gold Park or the parking deck behind Weaver Street Market on Churton Street. This is so much more than just a trail, though; you can sit on the benches, enjoy a picnic, learn about the area on the information plaques or visit the Occaneechi Village Replica Site. If it's lunchtime there's easy access to Churton Street restaurants or shops, as well as a few options at the Gold Park end.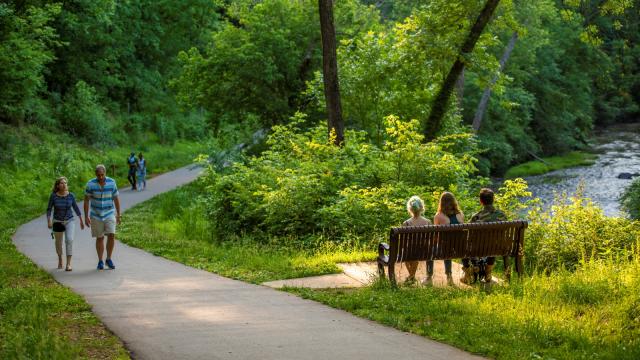 Orange County is fortunate to have its share of temperate, sunny days, even in the dead of winter. Sometimes when I am feeling especially lazy and not inclined to walk, I see all the others out there enjoying the weather, and themselves. They inspire me. I push through the fatigue of a long day and take to the street for a nice long walk. And trails are open during daylight hours, so well-traveled that they feel safe enough even walking alone. So I do it, as often as I can. Its how I see the beautiful world I'm lucky enough to live in.