The Spring Festival, which we call Chinese New Year, is the most celebrated festival in China and is also celebrated widely throughout Asia.  It is the lunar new year and begins on the first day of spring, as indicated by the lunar calendar.  It celebrates the coming of spring as well as the leaving of the old year and the welcoming of a new year with wishes of good luck, fortune, and prosperity.  It typically falls between January 21st and February 20th and begins at a date close to the arrival of a new moon.  In 2023, it begins on January 22nd. 
The festival's roots can be traced back approximately 3,500 years.  According to legend, on the eve of the new year, a mythical beast called Nian wreaked havoc upon villages and ate crops, livestock, and even people.  It is said that a wise old man figured out that Nian was afraid of the color red and loud noises.  To scare Nian away, people would make loud noises by lighting red bamboo firecrackers.  They would wear red clothing, put red scrolls on their window, and hang red lanterns outside.  Perhaps because of this, the color red has come to symbolize good luck.
On the eve of the new year, families get together and enjoy food and celebration.  Traditionally, families in northern China eat dumplings, meant to bring good luck and fortune.  Families in southern China eat fish, representing surplus and abundance. 
Red envelopes with cash inside are given to children and the elderly.  Wrapping the money in red envelopes is expected to bestow happiness and blessings on the recipient.
A Lantern Festival takes place on the 15th day and marks the end of the celebration. Lanterns hang in the streets and in homes.  There is often a lantern parade in which children and adults carry lanterns through the streets.  To celebrate the Lantern Festival, people often eat sweet dumplings.
When May was a child, her parents always began preparations for the festival a week or two ahead of time.  They cleaned the home, placed decorations around the house and did a lot of shopping for food and clothing.  Closer to the Festival, they placed red spring scrolls on the windows and doors, hung red lanterns inside and out, and prepared traditional red clothing to wear for the festival.  Spring Festival was May's favorite day.  They didn't have to go to school, celebrated a lot and ate delicious food.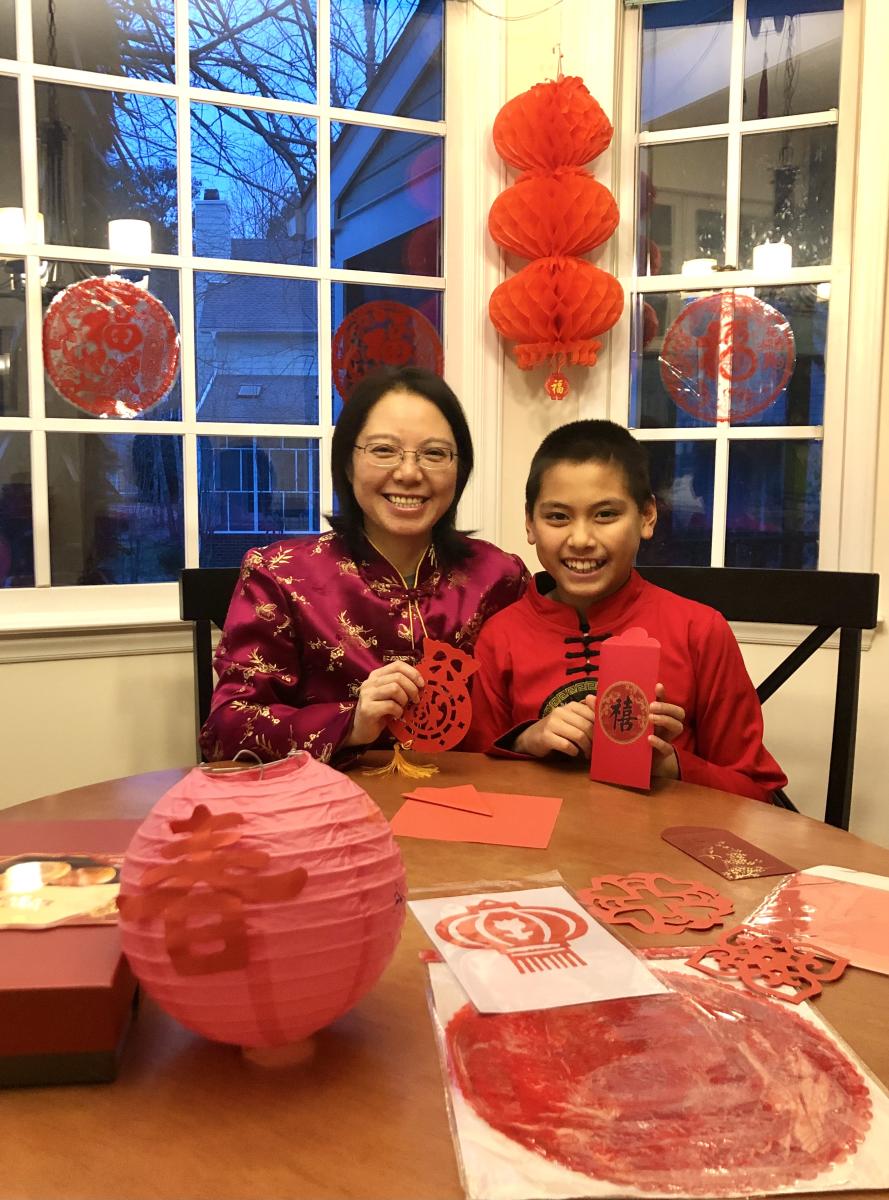 May and her son celebrating the Chinese New Year
Here in Chapel Hill, May and her family celebrate the new year with friends and families.  They cook dumplings and fish, wear traditional dress, hang lanterns, and give red envelopes to children and retired seniors.  We decorate lanterns. Kids love it.
May runs the RedApple Chinese School.  To celebrate the Spring Festival, students make paper cuttings and traditional art.  They decorate lanterns and use calligraphy brushes to write good-fortune words on paper that are then pasted on the door.  They also give red envelopes.
About May:>
May is from Sichuan in southwest China and her husband, Jiangbo, is from Gansu in northwest China.  They met through common friends before coming to the United States where she studied early childhood education at UNCG and her husband earned his PhD in biology at the University of Delaware.
After working in a Chinese preschool in Durham, she took over RedApple School in Chapel Hill.  She started with three students and has grown the program to over 80 students.  The school offers afterschool programs in Chinese language, math, art, and singing. http://www.ralcnc.org/

May with her students at RedApple Chinese School