My sister-in-law and her boyfriend were visiting. They had been here before and we had shown them all the main sites — the historic, beautiful campus of the University of North Carolina, the scene along bustling Franklin Street, Sunday morning music on the Weaver Street Market lawn in Carrboro.  
They wanted, this visit, to see and experience another part of the real Orange County, a place that was equally alive and interesting, but maybe where visitors don't go as much.  We took them to Hillsborough, to some of our favorite places.
Off quiet Elizabeth Brady Road, we went to Vietri. Not the massive warehouse, where the locally based company ships off its handcrafted Italian designs for the table, home and garden to fine stores across the nation. We went past the warehouse, around the massive parking lot, and over to the discreet Outlet door under the green canopy.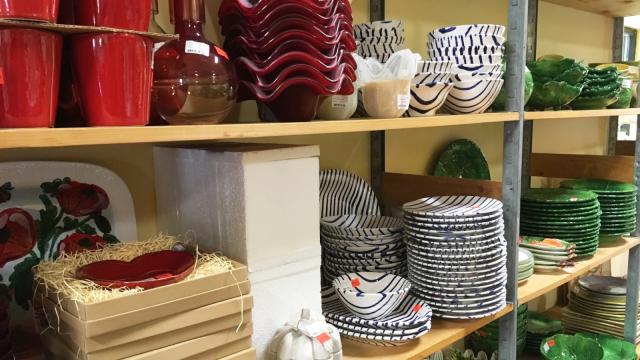 Here's where you'll find lovely, hand-painted bowls (normally $218, now, at the outlet, for $99), an intricate ceramic spoon rest ($23 now, from $45) and pretty much everything else for the kitchen and home from silverware to vases to many wonderful sets of dishes. And it's all at remarkably affordable prices, particularly for the quality and design of what you're getting. Twenty-four dollar champagne glasses, marked down to $9.50? Yes, sir.
This is a great place to wander and window shop, to get ideas for your breakfast nook or dining room, even if you don't buy. My sister-in-law did buy a bowl. My wife and I bought a hand-painted — with drawings of cows! — platter.
Our purchases were wrapped and we headed over to nearby Churton Street, the heart of historic Hillsborough. The town does, in fact, have lots of history — downtown is on the National Register of Historic Places, after all — with historic markers and gracious 18th- and 19th-century homes pretty much everywhere you look.
But this is no sleepy relic of a town that's seen better days, In fact, we found a downtown abuzz, with residents and visitors eating, drinking, browsing, walking, talking.
Parking is easy and abundant here, with lots of lots right off the main drag. It was early, so we meandered first through a number of busy galleries, starting with the artists' cooperative Hillsborough Gallery of Arts, where we checked out paintings, ceramics, sculpture and fiber arts. We also looked at the beautifully wrought hand-made sterling silver jewelry a few doors down at Spiral Studios.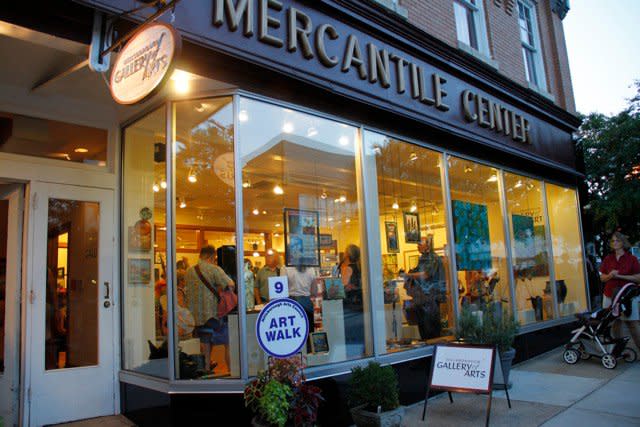 And while Dual Supply, the lively old-fashioned, small town hardware store around the corner on King Street, is not exactly a gallery, the porch rocking chairs there easily could qualify as works of art.
Another block down, we're just across from the Eno River and the delightful Riverwalk path that meanders by it. Parents are at Weaver Street Market's outside tables drinking their coffees and eating their hummus while their kids play tag under the protected arches of the Gateway Center.
The market isn't the only place with outdoor dining. Churton Street is lined with sidewalk tables. At the Wooden Nickel Pub, a few couples are nursing their beers while other customers are sharing some crispy wings. Personally, I would have ordered my usual, the cowboy burger (cheddar, tabasco-fried onions, honey bbq sauce, lettuce, tomato, mayo).
We weren't, however, quite ready for lunch, but I'm always ready for sweets. Drawn by the enticing sidewalk gelato sign, we stopped at Matthew's Chocolates, where we picked up a couple of luscious fruit truffles.
When it did come time to eat, we decided to get off Churton and head to the bottom of Nash Street, past the red brick old mill buildings, for some authentic local food at Hillsborough Barbecue Company. (You can tell from the large, vintage black-and-white photos on the walls depicting bbq history that this is, indeed, a very authentic place.)
My wife and I, naturally, ended up ordering the pleasantly delightfully vinegary pulled pork sandwich, although we disagreed about the slaw. I got red; she got yellow. We both were happy. Our visitors got the big-enough-for-two fried catfish sandwich. We all shared a serving of really crunchy hushpuppies.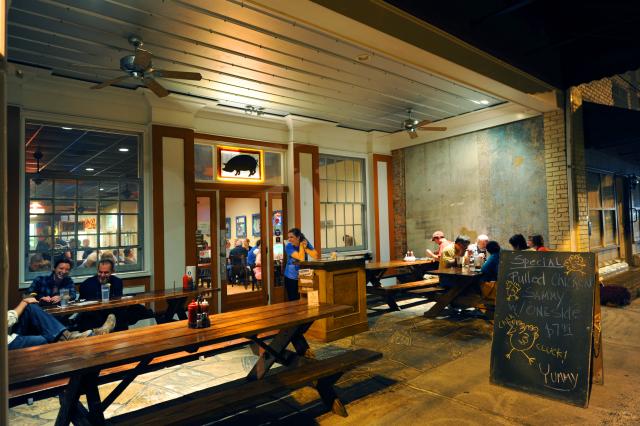 None of us did order the drink special of the day, a smoked jalapeno margarita. We're going to have to go back to Hillsborough for that.     
(photo credits: Header Visit Hillsborough NC, Hillsborough Gallery of Arts)