An emergency physician at UNC details what it's been like to care for Covid-19 patients as the medical community races to learn more about the virus.
 
Dr. Daniel Migliaccio is surprisingly upbeat for an emergency physician caring for patients during a pandemic that is ravaging the globe.
He's now in his sixth year of practicing emergency medicine – and he's entering his third year at UNC. Of course, he's never seen anything like Covid-19. No one has.
"Residents will ask questions on how to manage Covid patients – and it's like, you know just as much as I do! We are all just at square one," Dr. Migliaccio says.
But he credits UNC for its excellent job of making adjustments, communicating rapidly changing protocols, staying ahead of problems, ensuring adequate staffing, and providing plenty of PPE. "This has given light to our specialty and how we mold to the current times and what is happening," he says.
He's also been heartened by the team members surrounding him. Some resident shifts, for example, are being covered by neurosurgery attendings and oncology attendings – they are volunteering as a way to support their fellow doctors.
UNC has divided the emergency department into a Covid area and a non-Covid area. "I volunteer a lot for the Covid area so that the older attendings don't have to," says Dr. Migliaccio.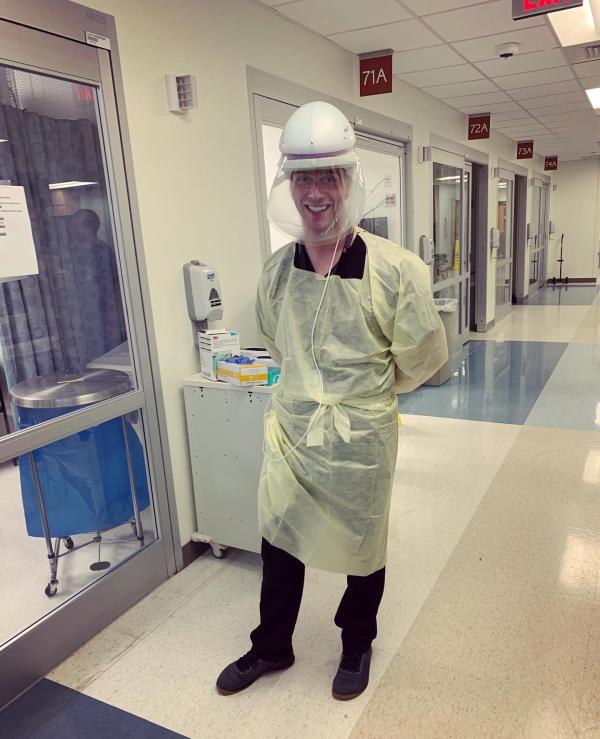 UNC staffers are feeling a bit overwhelmed, but not overworked. "The volumes of patients I'm seeing are less than I'm accustomed to in emergency medicine," he says. "The shifts in and of themselves feel tiring. You're just thinking so much more about other things. 'Can I safely discharge this patient without knowing if they are Covid positive?' Every decision becomes really complicated."
One of the toughest parts, he says, is seeing patients struggle because they can't have family members around them as they seek treatment. "When I see younger people in the bed, alone in this scary time, that hits me hard," he says.
When his shift ends, he changes clothes at the hospital. When he arrives at his home in Briar Chapel, he throws his clothes in the washer and takes a shower before going near his wife and two kids, ages 8 months and 3. "I get home and the kids just want to run to me and hug me," he says. "That's super challenging." His wife, a physician assistant, is staying home with the children right now – two parents in the household potentially exposed to Covid-19 through their work would be too much.
Subconsciously, he processes the stress stemming from this virus and all of its unknowns. A native of Brooklyn, he checks in regularly with a lot of his med school classmates who are seeing Covid-19 patients in the Big Apple. "I've had some nights where I get home at 12, and I can't sleep until 2 a.m. It's not even that you feel panicky or anxious. … You pick emergency medicine. You are pretty cool and collected."
Dr. Migliaccio says he and his fellow health care workers are touched by the community's appreciation – the donated meals and kind words make a difference. One night, he departed at midnight and took a photo of a colorful and compelling message on the sidewalk outside of the hospital. Someone had written: "Thank you. The world needs you."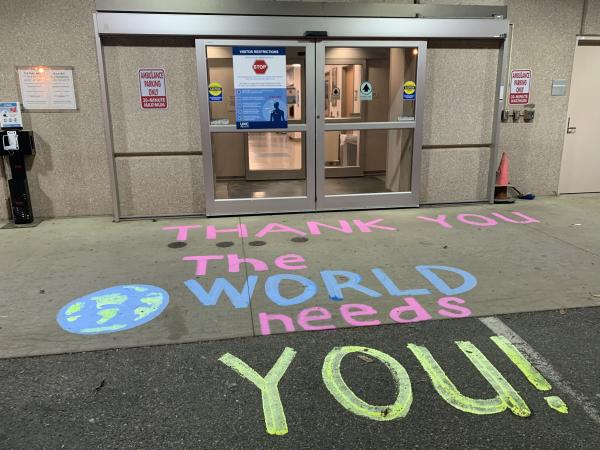 He is also grateful for the public's cooperation when it comes to sheltering at home and wearing masks whenever possible.
"My biggest message would be thank you for paying attention to the stay-at-home orders," he says. "I know it's hard. It's a different way of life. It makes a huge difference. …  Stay vigilant. If you don't want your parents or siblings to have this, then don't go out."