Updated June 24, 2020
Helpful Resources
As the official destination organization for Chapel Hill and Orange County, NC., we have the well-being of all visitors and residents of Orange County as our highest priority. 
History of COVID-19 for North Carolina and Orange County:
On March 10 Gov. Roy Cooper declared a State of Emergency for North Carolina due to COVID-19. He stated that day "the main purpose of declaring a State of Emergency is increased flexibility to respond and prevent as well as to allocate funds where needed." On March 13 Orange County Government declared a state of emergency. Click that link and scroll to News & Events section for information on Orange County's working policy during this time.
Most recent UPDATEs:
On June 10th, Orange County Extends State of Emergency to August 31, 2020 and mandates (with some exceptions) the wearing of facial coverings in public spaces where social distancing is not possible beginning June 12 at 5 pm.  Gov. Roy Cooper issued an Executive Order on Wednesday, June 24, that mandates face coverings for all residents older than 2 years old. This order supplants the previous Orange County declaration regarding face-coverings. The FAQ's below reflects those changes.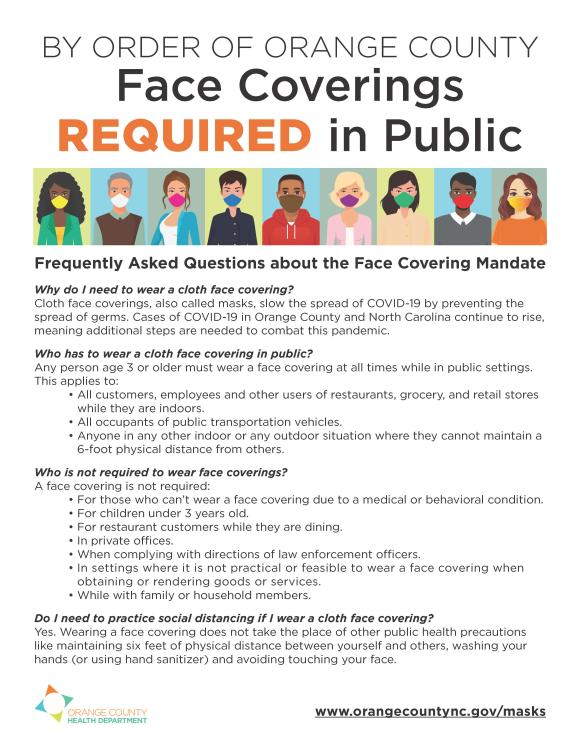 The Orange County Health Department has provided a comprehensive resource page concerning the Coronavirus (COVID-19) which is updated ongoing as needed. This page includes updates from local, state, national and international organizations. Coronarivus (COVID-19) Orange County, NC. Many community organizations are organizing events or fundraisers to benefit the community. Please check this list for opportunities.
Resource information from the Centers for Disease Control.
Click the link for the latest information from the University of North Carolina at Chapel Hill. Coronavirus updates UNC-Chapel Hill.
Please visit The Town of Chapel Hill , the Town of Hillsborough and the Town of Carrboro for the latest from Town officials and staff.
Community Support
A collaboration of economic and community development partners have worked together to create this local Guide for Safely Reopening and Operating Your Business (www.ReopeningHelp.com) 
The AC Hotel Chapel Hill is offering day use rooms to locals for 50% off. Please contact Monnoca Badonnih for more information 919-590-4955 or monnoca.bodannih@marriott.com 
PASS it On ... StimulUS is a grassroots movement to encourage citizens to spend locally in Chapel Hill, Carrboro, Hillsborough, Pittsboro and throughout Orange and Chatham Counties and beyond. Share #LocalStimulUS
Orange County's Emergency Small Business Funding Program - COVID-19
Feeding the Soul is partnering with local restaurants to provide meals to thank and comfort healthcare heroes as is Feed the Fight, a community fundraiser providing fresh meals from local restaurants to UNC healthcare workers fighting COVID-19.
Worlds Biggest Tip Jar, started by The Wooden Nickel and the Hillsborough and Orange County Chamber of Commerce, is helping raise money for service workers who have lost their jobs and income due to the Coronavirus pandemic.
nccovidsupport.org is an easy-to-use map with information on how to access resources during this COVID crisis. The site is designed to help providers easily share - and help neighbors easily find- the latest on food, pharmacies, and other resources. The site is a project of Code for Chapel Hill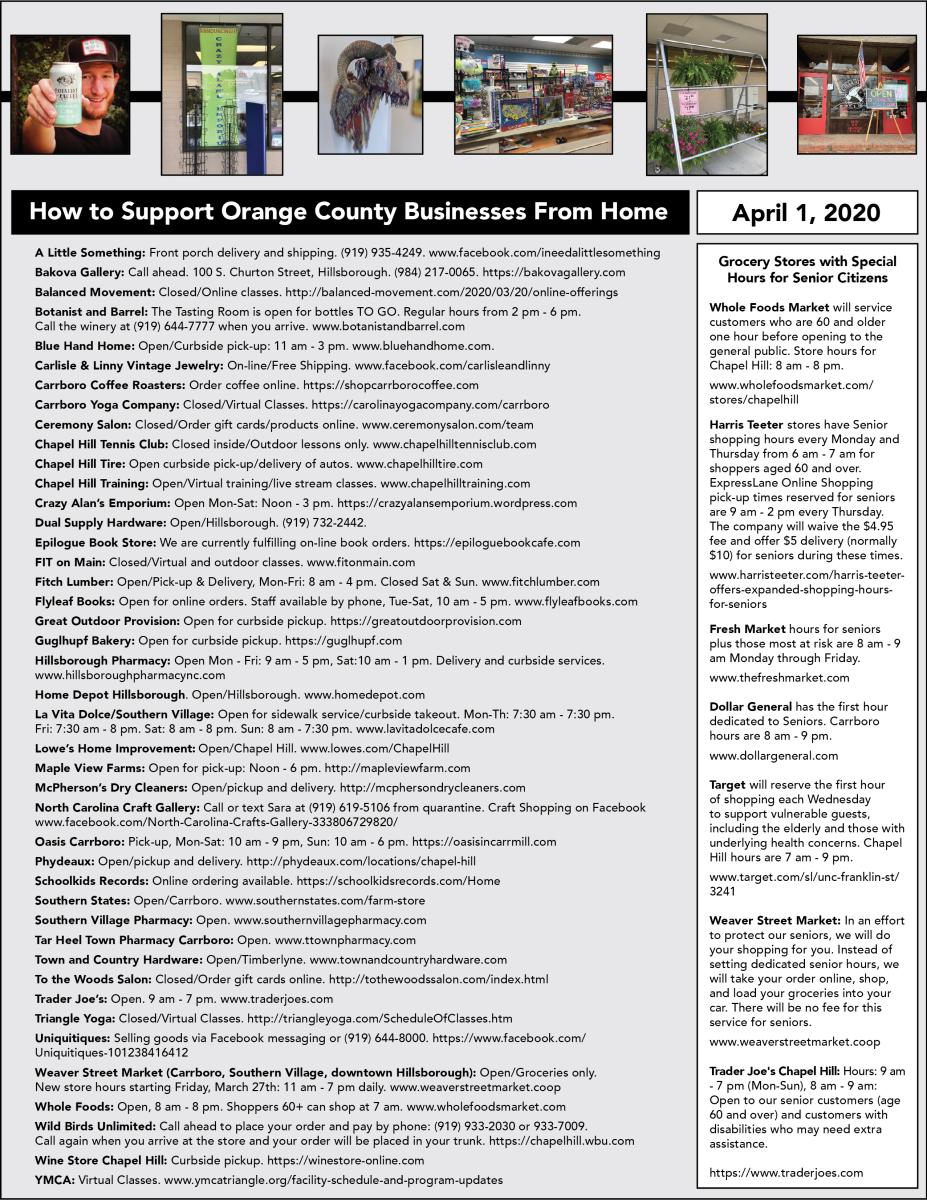 Visitors Information
The Chapel Hill/Orange County Visitors Center is temporarily closed until further notice. Please don't hesitate to email us at info@visitchapelhill.org with any questions. Plans are to re-open July 20th.
As Phase 2 gets underway, many Orange County businesses are doing all they can to keep customers safe by participating in the COUNT ON ME NC program. Find participating businesses here
The Chapel Hill Downtown Partnership has business updates here.
Updates on happenings in Hillsborough can be found here
Updates on happenings in Carrboro can be found here
Chapelboro, Chapel Hill's local community radio station is maintaining a list of cancellations. You may visit our events page as well as we try to update fast changing events here. But since cancellations are constantly changing, we encourage you to call or visit social media sites for the ongoing changes.
Most hotels in Orange County are open. Be assured that the safety and well being of guests is their top priority. You can find a COVID-19 update stating how they are ensuring the safety of guests linked within their respective websites.
Find local restaurants, food hubs and farms that are offering pickup, takeout and delivery here  | Map of farms offering on-farm pickup and more 
Most UNC Campus attractions are temporarily closed and events cancelled - follow updates here. Read up on UNC - Chapel Hill's plan, Carolina Together, for Fall 2020 
Additional links and resources will be added to the page ongoing