Updated April 6, 2020
Helpful Resources
As the official destination organization for Chapel Hill and Orange County, NC., we have the well-being of all visitors and residents of Orange County as our highest priority. 
On March 10 Gov. Roy Cooper declared a State of Emergency for North Carolina due to COVID-19. He stated that day "the main purpose of declaring a State of Emergency is increased flexibility to respond and prevent as well as to allocate funds where needed." On March 13 Orange County Government declared a state of emergency. Click that link and scroll to News & Events section for information on Orange County's working policy during this time.
Orange County Issues a "Stay at Home" Order to Take Effect March 27
The Orange County Health Department has provided a comprehensive resource page concerning the Coronavirus (COVID-19) which is updated ongoing as needed. This page includes updates from local, state, national and international organizations. Coronarivus (COVID-19) Orange County, NC. Many community organizations are organizing events or fundraisers to benefit the community. Please check this list for opportunities.
Resource information from the Centers for Disease Control.
Click the link for the latest information from the University of North Carolina at Chapel Hill. Coronavirus updates UNC-Chapel Hill.
Please visit The Town of Chapel Hill , the Town of Hillsborough and the Town of Carrboro for the latest from Town officials and staff.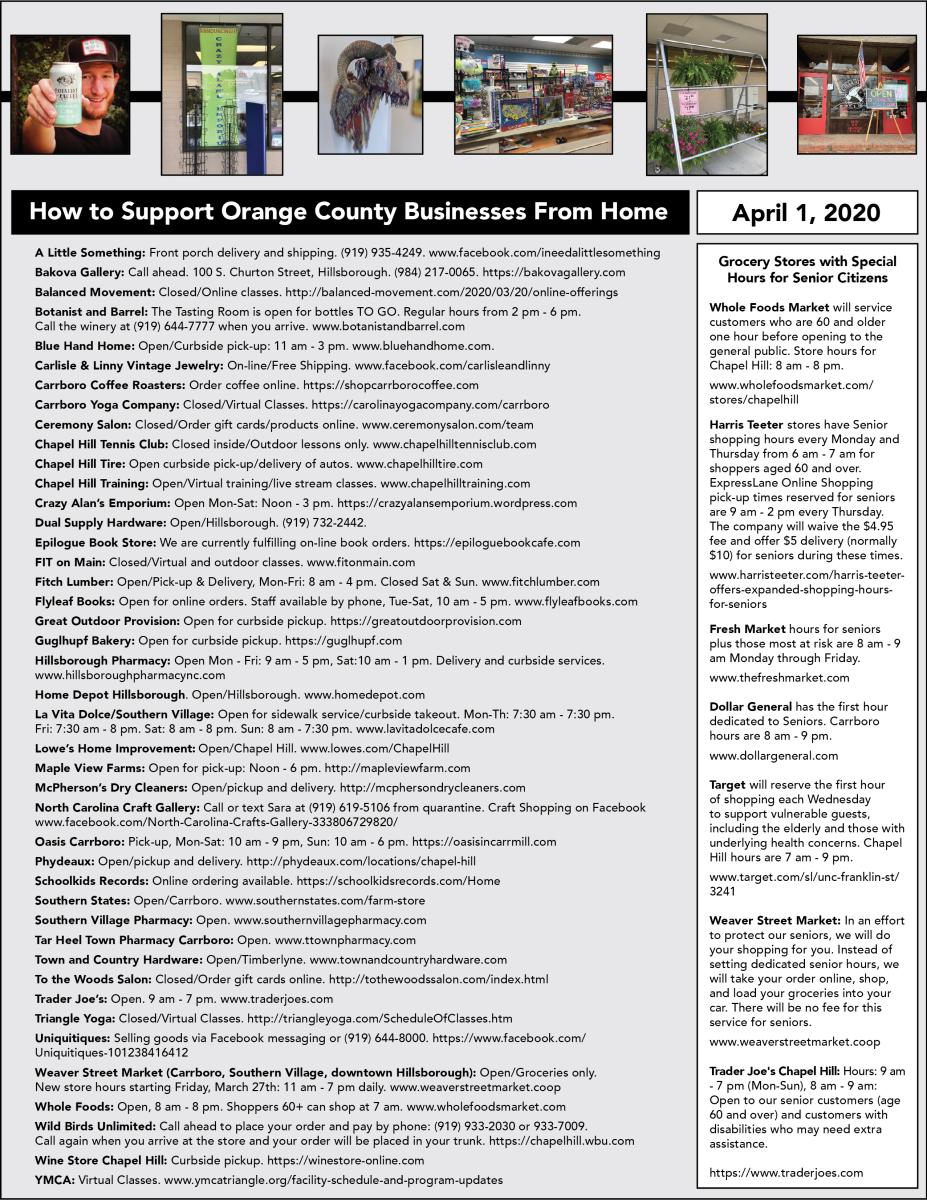 Visitors Information
The Chapel Hill Downtown Partnership has business updates here.
Updates on happenings in Hillsborough can be found here
Updates on happenings in Carrboro can be found here
Chapelboro, Chapel Hill's local community radio station is maintaining a list of cancellations. You may visit our events page as well as we try to update fast changing events here. But since cancellations are constantly changing, we encourage you to call or visit social media sites for the ongoing changes.
Find local restaurants, food hubs and farms that are offering pickup, takeout and delivery here  | Map of farms offering on farm pickup and more 
The Chapel Hill/Orange County Visitors Center is temporarily closed until further notice. Please don't hesitate to email us at info@visitchapelhill.org with any questions.
Most UNC Campus attractions are temporarily closed and events cancelled - follow updates here.
May 2020 Commencement will be postponed.

Chancellor Kevin Guskiewicz sent the following message to the campus community: "Today, in accordance with the latest public health guidelines regarding travel and interpersonal contact, I regret to inform you that we are postponing Commencement events, including the doctoral hooding ceremony on May 9 and the ceremony in Kenan Stadium on May 10. School and unit ceremonies will also be postponed."
Additional links and resources will be added to the page ongoing