CARRBORO FILM FESTIVAL
This year's line-up promises a mixture of 39 independent films in all genres – all independent, edgy, and incredible!
About the Festival
Now celebrating its eleventh year, The Carrboro Film Festival has grown to become the premiere festival in the Piedmont region of North Carolina. Featuring world-class films of every length and genre, CFF is known for packed houses and standing ovations.
This two day celebration of Film ART, NOT Film Business, is recognized by filmmakers the world over as a place to immerse themselves with like-minded Film creators, creators of art in cinema. Audiences respond positively to the short films, the feature films, the narrative's documentaries, the experimental and every film genre in between. The Carrboro Film Festival is eclectic and powerful, humorous and moving.
In addition to two days of wonderful films, parties, workshops, and networking opportunities are offered throughout the fest weekend. Take a peak at the line up!
Although the date for submitting a film has expired, this article in the The Chapel Hill Recorder  has some interesting info from Co-founders, Nic Beery and Jackie Helvey on the festival's history.
Also, check out these video excerpts from the 10th Annual Carrboro Film Festival from Triangle Film Community's Local Film Talk
If you go:
The festival runs for two days, November 19th from 11 am – 6pm and November 20th from 11am – 7pm
Tickets go on sale October 19th at the ArtsCenter's Box Office.  A festival pass is $20 and $15 for single day pass.
In Conversation: Four Filmakers
Saturday Nov 19, 2016 | 7:30 pm
The Station
201 E. Main Street Carrboro  
Film Screening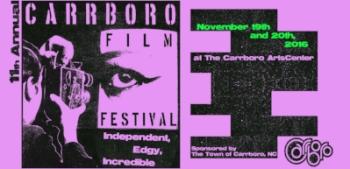 Saturday, Nov 19 & Sunday, Nov 20
ArtsCenter
300-G E. Main Street Carrboro  
Stay the weekend! The Hampton Inn & Suites is with-in steps of the ArtsCenter.