Carrboro Music Festival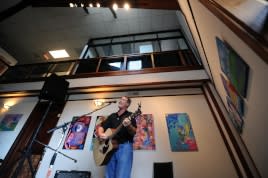 In its 19th year, the annual Carrboro Music Festival highlights Triangle-area performers and the varied musical styles they represent.  All of the performers donate their talents to foster a strong sense of community and to reveal their talents to a wider audience, all free. RAIN OR SHINE!
On Sunday, September 25th over 180 bands on 29 stages will perform throughout the Town of Carrboro. A free shuttle runs from 12:00 noon – 9:00 pm: Carrboro Music Festival Shuttle Map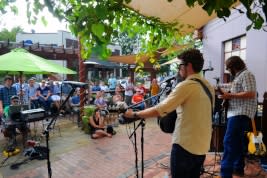 Festival Kick- off event begins Saturday night
Johnny's Gone Fishing presents Andy Ferrell and Alexa Rose
Born in Boone, NC, Andy Ferrell grew up in the heart of the Blue Ridge Mountains, the birthplace of Appalachian traditional music. Sweet pedal steel rings through his sound, mixed in with rich vocal harmonies and songs that look to the hard truths of a workingman's life as much as to the vagaries of love. At 19, Alexa Rose released her debut album, "North," which spoke to her folk influences, featuring simple renditions of handmade songs on piano and guitar. Her new album is due later this fall. Rose's performances range from whiskey heartbreak tunes to upbeat, sunny waltzes.
If you go:
Saturday-
Johnny's Gone Fishing 901 West Main Street Carrboro, NC 27510 919-742-0346 7:00 pm – 9:00 pm
Sunday –
Town of Carrboro Various Locations Most performances begin at 1:00 pm
Download the Festival Guide and Map here