It's been several years since I had to pack up and head back to school for the fall semester at UNC. There was always a little sadness that summer was coming to an end, but I'll admit that the excitement of coming back to Chapel Hill easily outweighed that emotion.  I really felt as if I was coming home. So welcome to the University of North Carolina at Chapel Hill Class of 2022.  Check out our tips below to make sure your year is an awesome one.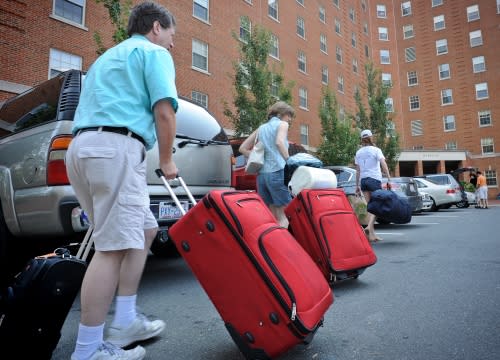 There are plenty of helpful resources around town. During move-in weekend, be on the lookout for the Haulin' Heels, students wearing blue T-shirts that can help first-year students get oriented and settled. you'll find these volunteers on campus August 17-18, coordinated with your move-in date and time.
Take advantage of all the Week of Welcome (WOW) and enjoy activities both on and off campus. Events begin August 17th and continue through the 26th. You can find the full schedule of events here. Off Campus, head to Johnny T-Shirt to grab new gear for your first week of classes or stop by Pantana Bob's before saying sayonara to your parents (you'll be back on their patio for lots of study breaks throughout the fall!).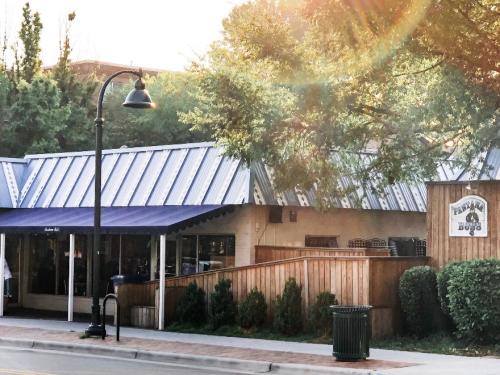 The University of North Carolina at Chapel Hill was named by Travel +Leisure as one of the top 20 most beautiful campuses in America, so you will definitely enjoy your surroundings. Get to know the town you will call home as well.  From shopping and amazing restaurants, to museums, gardens, great parks and walking trails, try to get out an explore every chance you can get. If you're looking for a quick and free way to get around campus, check out the Point-to-Point (P2P) transit system that operates 24/7 Monday through Friday with limited weekend hours, too!  Drop by the Visitors Center at 501 West Franklin Street for more local suggestions, and don't forget to walk around the student union to get a feel for the main campus hub!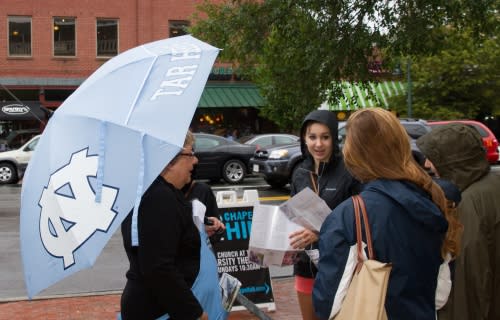 Looking for a great brunch spot to fuel up before taking on the semester? Adventure off campus to Sunrise Biscuit Kitchen to get the best biscuit sandwiches in the area. You can also check out Breadman's with your new campus family or watch your pancakes being flipped from the bar at Ye Olde Waffle Shoppe!
Once you're settled in and have gotten a full night's rest, be sure to stop by the Old Well on your first day of classes! An old campus legend states that students who drink from the well will have success during their academic career. Myth or not, it's worth a shot!
Welcome to Chapel Hill! Whether you are a freshman or a senior, a grad student or a professional, we are glad you are here.  We are glad you're HOME!
Check out more info in the Off-Campus Student Resource Guide and  UNC's Move-In Guide and don't forget to book a hotel for your parents' next visit here!
Photos - Move in Day by Dan Sears, UNC-Chapel Hill, Pantana Bob's, and Hometown Ambassadors by Alicia Stemper