About ten years ago, in a meeting between Top of the Hill Restaurant and Brewery owner, Scott Maitland, and Ernest Winslow of the Jack H. Winslow Farms in Scotland Neck, a partnership was born. Who would have known that partnership would produce the first fully local and USDA certified organic distillery in the Deep South!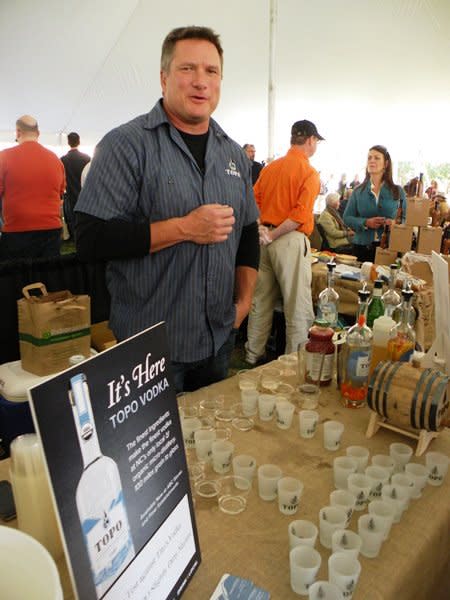 At the time, downtown Chapel Hill's Top of the Hill Restaurant and Brewery was producing award-winning craft beer. Ernest Winslow thought his 100% organic soft red winter wheat would be a perfect addition to TOPO's Old Well White beer; however, that would not be the case. Entrepreneur Scott Maitland instead foresaw using Ernest's grain to produce world–class spirits; Scott did just that. To date, TOPO spirits have won a multitude of  double gold, gold, and silver medals, and many other awards, including being recognized by Southern Living as one of "The South's Best Distilleries." TOPO is also the only North Carolina distillery to win the "Good Food Award."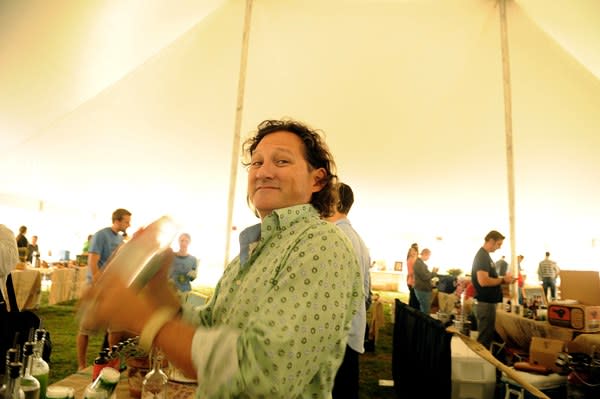 Scott's business partner in this journey is Esteban McMahan, Spirit Guide for TOPO. Esteban can be found giving tours at the distillery, shaking things up at festivals and galas across the state, and passionately telling everyone why TOPO spirits should be a part of their liquor cabinets and store shelves.  As the Visitors Bureau, we were curious about a few things and asked Esteban…
Currently TOPO is the only Green+Certified distillery in the country – tell us what that means:
"Green Plus is a business improvement program that works on the philosophy of triple bottom line sustainability: helping improve the bottom line by focusing on environmental, social and business practices. Our energy and water conservation systems are only one part of the equation, we also do our best to use public transportation and bicycles whenever possible, have bee hives on our rooftop…"
Tours of the distillery are available most Fridays and Saturdays - tell us what a visitor can expect while taking this tour:
"We start you off with a talk about what we're doing and what sets our spirits apart, then walk you through our equipment and our distillation process and our bottling line, then take you through a tasting of all of our award-winning spirits."
TOPO brand has now been in the market for 4 years, anything new on the horizon?
"Yes! We will be releasing our TOPO Organic Straight Wheat Whiskey, our TOPO Organic Spiced Rum, and our TOPO Organic Whiskey-Barrel Aged Rum over the next few months. We will continue to honor tradition and innovate with new practices and spirits."
As mentioned earlier, tours are given most Friday's beginning at 7:00pm as well as Saturdays, which times vary: please check on their website for available tour dates and times. Cost is $20/pp. TOPO Organic Distillery is located at 505 West Franklin Street however; the entrance is off South Graham Street in Chapel Hill.
TOPO Organics taste best… check out more recipes here
SPICY CUCUMBER LEMONADE
2 oz. TOPO Organic vodka 2 oz. Cucumber juice* 2 oz. Lemon Juice 1 oz. Jalapeño Simple Syrup**
Fill a shaker half way with ice and add all ingredients. Shake vigorously until very cold. Pour into a tall glass and add a cucumber slice garnish.
*To make Cucumber Juice, combine one cup of chopped cucumber (large chunks with skin on) with two cups water in a blender. Blend until fully pureed. **To make jalapeño simple syrup, bring 1 cup of water to a boil. Add 1 1/2 cups of sugar, stir until dissolved. Turn down heat and add 3 sliced jalapeño peppers. Simmer for 5 minutes on low heat. The longer the mixer simmers, the hotter the syrup. If the mixture is still not hot enough, add habanero pepper slices. When the desired heat flavor is reached, remove from heat, strain and chill. (Be sure all pepper seeds are removed.)