Each community in Orange County, NC has its own unique charm and personality especially during the holidays. You'll be delighted by musical and imaginative performances by top artists, Children will giggle in delight with Santa as they go about the countryside on a hayride, the twinkling of lighted lanterns along a river walk will inspire you and we all know comedy relief is always welcomed during the holidays.
If you are familiar with the fulldome planetarium shows AND Paperhand Puppet Intervention summer shows than you know that The Longest Night: A Winter's Tale  is a first class production. If not, well you are in for a real treat. This one-of-a-kind fulldome planetarium show captures its audience with a timeless fable of courage, generosity and renewal. It is a story that explores the concept that winter is a time for Earth to rest, waiting for new growth in the spring. The Morehead production team seamlessly wove together live-action video of Paperhand's world-class puppeteers with beautiful and intricate fulldome animation to create this innovative and imaginative show. Its cast and crew comprised dozens of puppeteers and production professionals, and The Paperhand Band created original music for the show. Visit www.moreheadplanetarium.org for show days, times and cost. Shows run from November 11 – December 30 at the Morehead Planetarium & Science Center located at 250 E. Franklin St, Chapel Hill (919) 962-1236.
During the weekends from November 25-December 10, families will enjoy holiday story time, hayrides with Santa, and milk & cookies for the children in a beautiful Hillsborough countryside setting. Maple View Farms will be dressed in holiday lights and create a lasting experience the whole family will cherish and remember. Maple View is located at 3501 Dairyland Road in Hillsborough. Why not pick up some of their famous homemade ice cream while you're there, now in seasonal flavors. Reservations are required so call (919) 942-6122. Check their website for time slots at @ Maple View Agricultural Center.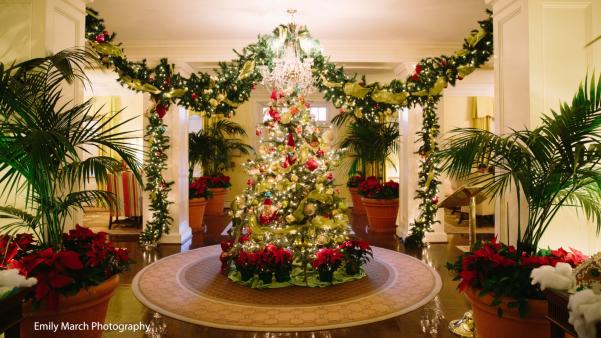 Each year The Carolina Inn puts on a spectacular display of enchanting decorations inspired by the traditional holiday song, The Twelve Days of Christmas. Now in its 20th year, visitors and guests will see a new addition to all the bliss - a new holiday market on Saturdays between Dec 2 -16th. Vendors from all over the state will sell crafted yuletide gifts from chocolates, to jewelry, to garlands and ornaments. AND, the forecast calls for snow each Saturday on market days. As true to tradition, the Inn will offer Holiday afternoon teas, festive dining with Santa, gingerbread house making, and the Holiday Express with Carolina Inn elves from Dec 1 – Jan 2. The historic Carolina Inn is located at 211 Pittsboro St. in Chapel Hill.  Get all the details here… 12 Days of Christmas  or call (919) 918-2777.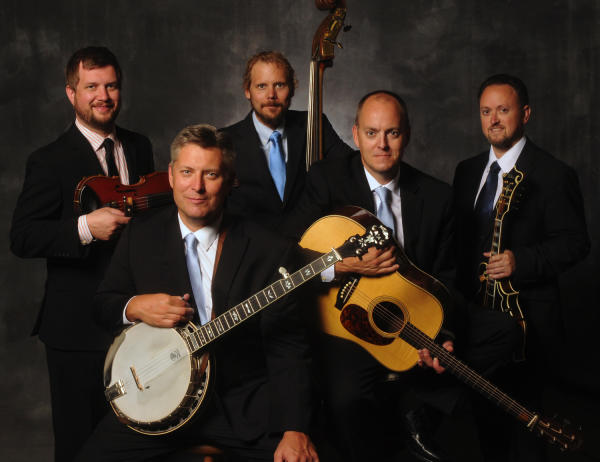 The Gibson Brothers: North Country Christmas w/ Newberry & Verch The Gibson Brothers truly need no introduction in the bluegrass world – the accolades of these "bluegrass superstars" (The New York Times) include the International Bluegrass Music Association's Entertainer of the Year; Song of the Year; Songwriter of the Year and Album of the Year. Born on a northern New York dairy farm, Eric and Leigh Gibson started playing banjo and guitar in middle school. From those beginnings, the brothers have joined forces with a loyal and virtuosic team of musicians to create their own distinctive mix of heritage and soaring harmony. Newberry & Verch open the evening. Tickets for the 8pm, December 1st show are $37. The ArtsCenter located at 300-G East Main St. in Carrboro hosts the performance. For tickets and info call (919) 929-2787 or click http://www.artscenterlive.org/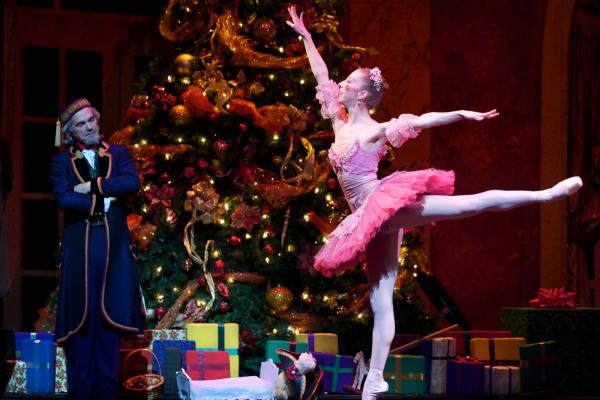 December 2-3. The Nutcracker - Carolina Ballet Returning for the 10th time in as many seasons, Carolina Ballet presents The Nutcracker for a performance that has become a Chapel Hill holiday tradition. Two shows on December 2 at 2 pm and at 8 pm and one show on December 3 at 2 pm at Memorial Hall on the UNC-Chapel Hill campus.  Tickets $25-$79.     www.carolinaperformingarts.org
Have you ever wondered what the inside of some of those beautiful homes in the historic district would look like all decked out in Holiday décor? Well on December 8, beginning at 6pm, guests can take a stroll on a candlelight tour of four distinctive private homes in the Chapel Hill East Franklin-Rosemary Historic District enjoying wine and hors d'oeuvres at each stop. The tour will culminate at the Horace Williams House at 610 E. Rosemary Street for a festive Dessert Party at 9 pm. Check Chapel Hill Holiday House Tour prices here... http://www.preservationchapelhill.org/ or call (919) 942-7818. 
Named "The world's pre-eminent large jazz ensemble" by the Chicago Tribune. In this much-anticipated annual tradition, the Jazz at Lincoln Center Orchestra with Wynton Marsalis spreads holiday cheer with swinging renditions of your favorite music. Joined by special guest vocalists Catherine Russell and Kenny Washington, they perform sacred and secular holiday classics such as Count Basie's "Jingle Bells," Billie Holiday's "I've Got My Love to Keep Me Warm," and "Have Yourself a Merry Little Christmas." Performing at Memorial Hall on the UNC-Chapel Hill Campus, December 9 at 8 pm.  Tickets start at $49, Students $10. Call (919) 843-3333 or click www.carolinaperformingarts.org for details.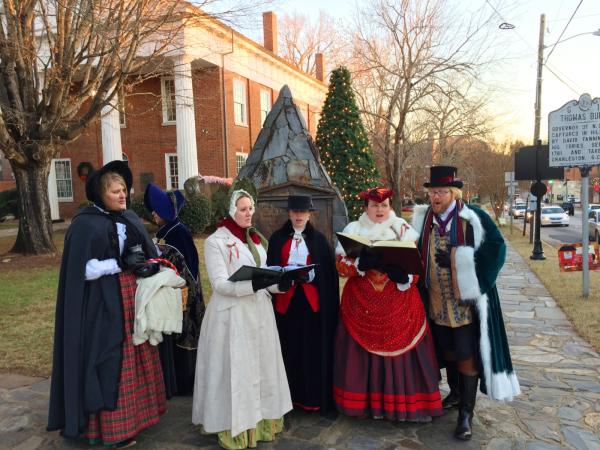 The Hillsborough Candlelight Tour: A Salute to Hillsborough Veterans is a unique opportunity to tour homes with holiday decorations found during the Revolutionary War, Civil War, WWI, WWII, Korean War, & Vietnam War eras. Approximately 10 homes will be period correct, including the Christmas decorations, and in many cases a living history moment will be presented by the Orange Community Players. Classic cars will be on display at various tour stops and participating merchants will theme their shops and restaurants with the varying time-periods. Kids will love the miniature train ride through Historic Hillsborough's neighborhoods with stops along the way and have their pictures with Santa who will be at the Historic Alexander Dickson House. ​Proceeds from the Candlelight Tour ticket sales will go toward the Orange County Veterans Memorial.  The December 10th tour will last from 3pm to 7pm. Tickets are $15 in advanced or $20 day of event. For more info, contact the Hillsborough/Orange County Chamber of Commerce (919) 732-8156.   
We all need a little bit of laughter during the holidays! On December 15, Transactors Improv Holiday Extravaganza bases their performance on audience suggestions and divided into five slice-of- life episodes with live musical accompaniment by pianist Glenn Mehrbach. Entertainment begins at 8 pm at the ArtsCenter, 300-G East Main St Carrboro.  Admission: $15 Public, $12 Senior, $10 Student. For tickets click artscenterlive.org  or call (919) 929-2787.
The winter solstice, the longest night of the year is celebrated in Hillsborough with a Solstice Celebration Lantern Walk. On Dec 21 participants hold up their handmade white lanterns and walk along the Riverwalk to light up the night sky. The event is a celebration of the days slowly getting longer and the recognition of the quiet beauty of the new winter light. Spectators can view the 'trail' of lights and listen for the quiet twinkling of bells to an otherwise silent walk from the Eno Parking Deck where free parking is available (behind Weaver Street Market). The event is also free and open to the public but all participants must register in advance. For complete details, including lantern workshops, starting point and times, contact the Hillsborough Arts Council at www.hillsboroughartscouncil.org 
For a complete printable list of Holiday events click here.
Photo credits: 12 Days of Christmas, Emily March | Gibson Brothers, ArtsCenter | Nutcracker, Carolina Ballet