New businesses, new stores, new restaurants pop up all the time around Chapel Hill, Carrboro and Orange County.
Sometimes, all the newness can make you forget the places that have been here a long time. You shouldn't. Here's why.
The name is still Sutton's Drug Store, although it's not dispensing drugs anymore, since the pharmacy part closed down several years ago. But Sutton's, on East Franklin Street, is still, as its motto says, "Feeding Chapel Hill Since 1923!" And it still feels like an old-fashioned drug store.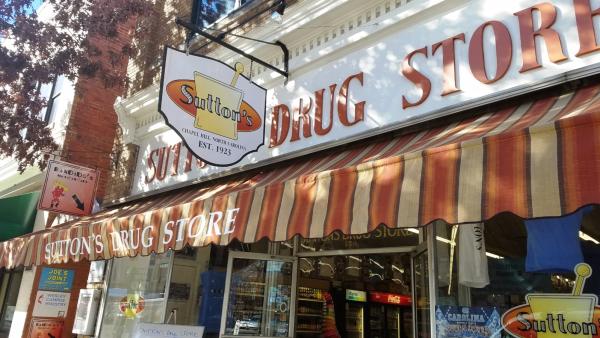 You can sit at the soda counter or at a Formica table, get an Oreo milkshake or a perfect hot dog. Come for the nostalgia, and the Carolina basketball jerseys, stay for the grilled cheese.
At Suttons, the mood is casual. Just down Franklin Street, at Julian's clothing shop, the atmosphere is, well, more dressy. Established in 1942 by Maurice Julian and carried on today by his son, designer Alexander Julian, this clothing shop is where the preppy look began and where it still has pride of place.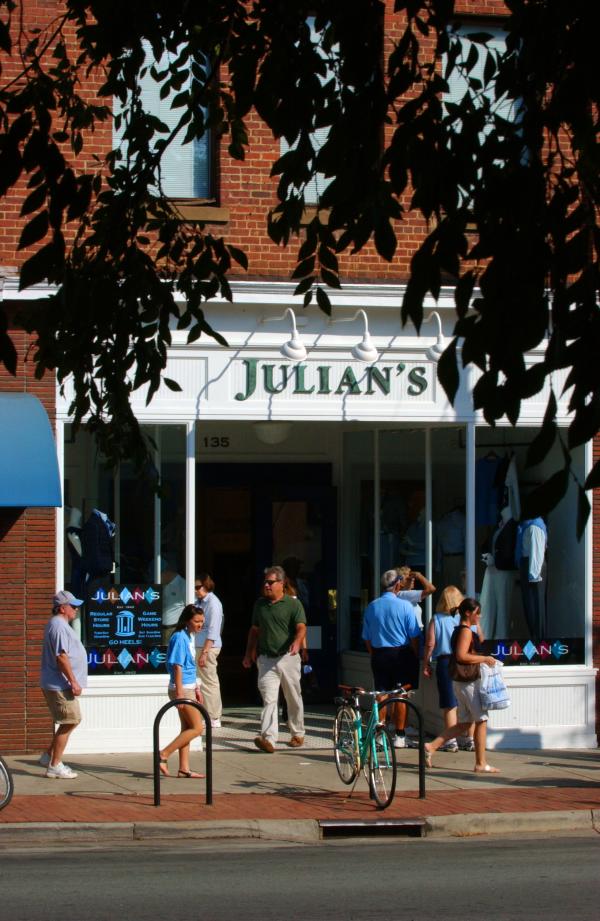 Whether you're buying a Carolina blue-striped tie or a satin cocktail dress, blazer buttons, custom-made suit or ball cap, be assured: it will be stylish. 
According to several studies, 90 percent of independent restaurants close during their first year. Then there's the Carolina Coffee Shop.
Adjacent to the university on Franklin Street, the Carolina Coffee Shop is the oldest continually running restaurant in North Carolina.  It will turn 100 years old in 2022. While waiting for the anniversary celebration, try a little celebrating of your own at lunch with the Italian sub — turkey, prosciutto, mortadella, hot soppressata, provolone, tomato, red onion, arugula salad and peppercorn mayonnaise served on a toasted ciabatta roll. For an afternoon pick-me-up, try one of their lattes.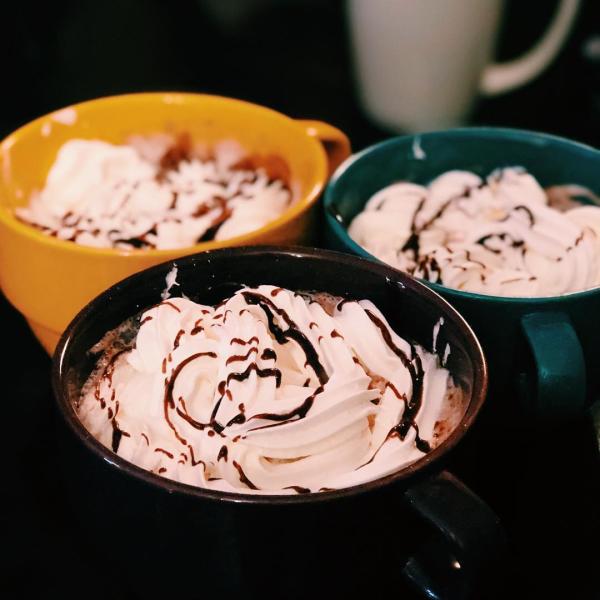 Cat's Cradle may have changed locations a number of times since 1969, but it's still the place to be for live music. This is where you could have seen Nirvana, Public Enemy, Joan Baez and many more. It's also the venue that helped launch the careers of local Indie stars Superchunk and Ben Folds Five.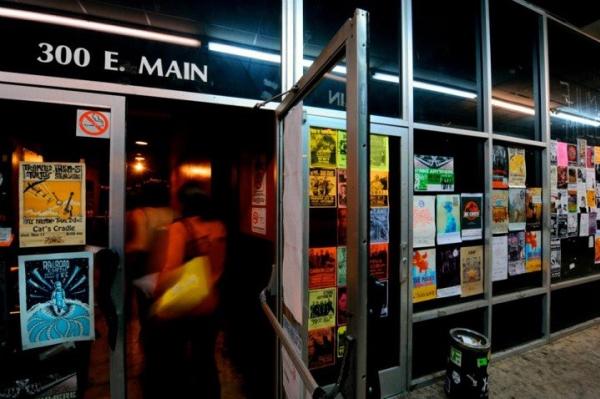 Now on East Main Street in Carrboro, the Cradle allows concert-goers and music lovers a chance to see both established and up-and-coming bands in an intimate setting. Coming up soon: John Howie and the Rosewood Bluff. Maybe you haven't heard of them yet, but …. 
By the way, the entrance is in the back.
If you didn't know it was there, you wouldn't know it was there. But enough customers have gone down a dusty gravel road, past the railroad tracks north of Chapel Hill, to keep the Farm House in business since 1969.
The attraction — in addition to the quiet, rustic, country setting — is the steaks. Cooked on an open charcoal grill and brought to the table still sizzling on hot cast-iron skillets, here's solid, traditional American fare. Yes, there's shrimp and grilled tuna, too, but this is a steakhouse, so please do order the super rib eye.
Mama Dip is gone — she passed away last year, at the age of 89. But Mama Dip's, her restaurant and her legacy, live on.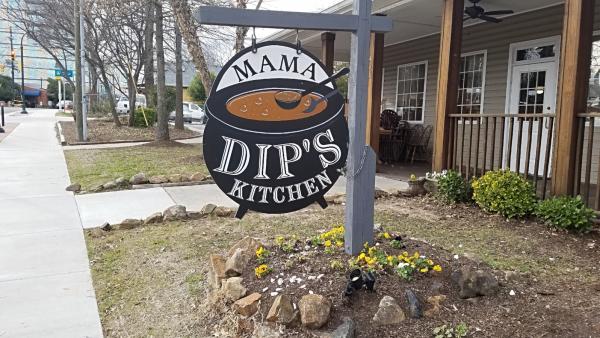 As the story goes, Mildred Council, known to everyone as Mama Dip, opened the Rosemary Street place in 1976 with $64: $40 for food and $24 to make change. The morning's profits were used to fund lunch, and the lunch profits to make dinner. 
The restaurant has remained a pillar of traditional down-home cooking since then. Have the hushpuppies. Try the barbecue. Luxuriate in the sweet corn. And whatever you do, absolutely don't miss the fried green tomatoes. You'll understand why this is a renowned southern icon. 
The Carolina Inn, on Columbia Street, is not just a hotel. It's an integral part of UNC Chapel Hill and an architecturally significant landmark. Built in 1924, the inn was gifted in 1935 to the university, which still owns it, with a stipulation that all profits be used to support the university's library.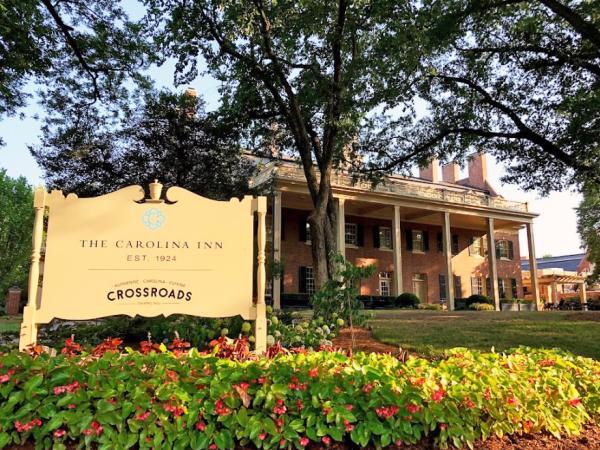 With its blend of antebellum Southern plantation architecture and Georgian and neoclassical features, its elegant public rooms and imposing wall portraits, the Carolina Inn looks like it's from another time. But the 185 well-appointed guestrooms and suites, and all the other amenities of a luxury hotel, remind you that that this is very modern, too.  
What has made Carrboro one of the hippest, most artistic communities around? A good argument could be made that it was The ArtsCenter.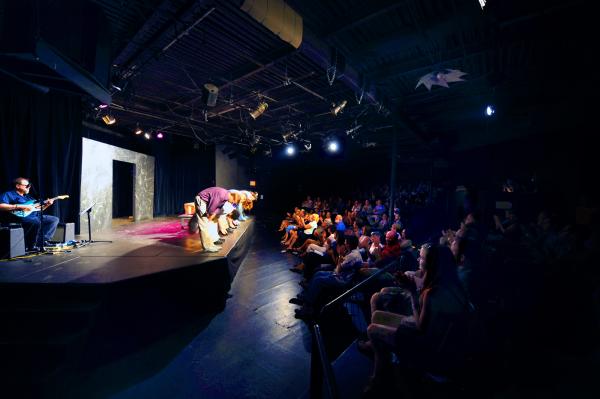 In 1974, when Carrboro was seen as more of an industrial town, artist Jacques Menache rented a space on the second floor of what's now Armadillo Grill on Main Street and offered drawing and painting classes. Today, The ArtsCenter, now a little farther west, offers space for various performances, concerts — Grammy nominee Alice Gerrard is coming up — films, poetry readings and art exhibits all year-round. 
Forty of so years ago, "the idea of a natural foods store was granola in buckets," remembered Ruffin Slater, who helped found Weaver Street Market.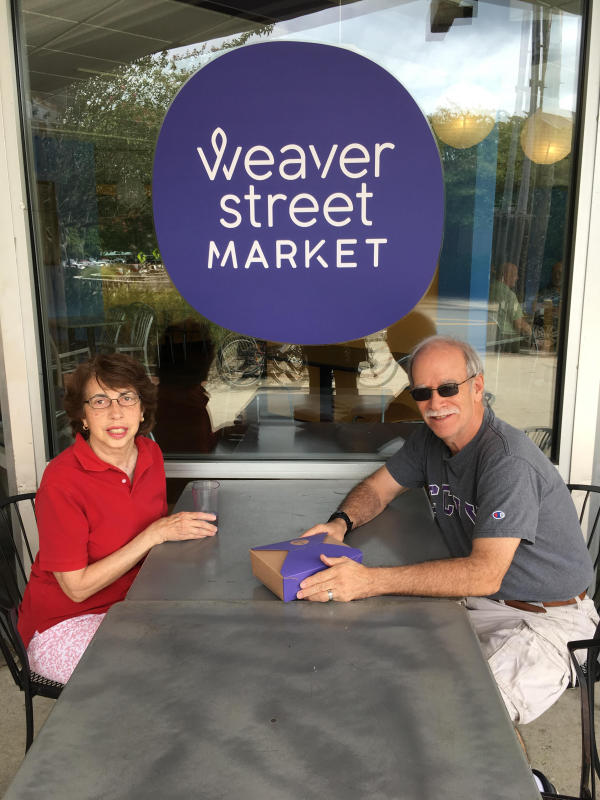 The market opened in 1988 and is today a lot more than granola in buckets. It's a grocery with lots of healthy and organic foods, as well as a community focal point, a small-town success story where everybody gathers for coffee or hula hooping on the lawn. There are jazz combos for Sunday brunch, Halloween "Ghost Stories Under the Stars," and Thursday night music jams on the lawn.
Oh, and the granola is pretty darn good. I prefer the low-fat strawberry-raspberry crunch.
Maple View Ice Cream, off Dairyland Road, opened its doors in 2001, serving 12 flavors. But its history, originally in the state of Maine, goes back to the early 1800s. In 1963, the farm, cows and all, moved 1,000 miles to Orange County; 40 years later, the ice cream store started scooping.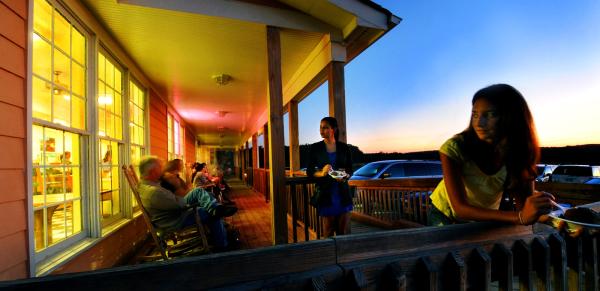 Now you can get homemade milkshakes, malts, floats and banana splits as well as local yogurts, cheeses, eggs, pecans, fudge and old-fashioned candies — and a lot more than 12 flavors. A suggestion: lick your Carolina Crunch in a homemade waffle cone while relaxing on a rocking chair on the front porch and watching the sun set over the Maple View fields. It's sweet.
Some other local businesses that have stood the test of time:
Fitch Lumber, hardware store, open since 1923, Carrboro

Wentworth & Sloan, jewelers, open since 1945, Chapel Hill

Ye Olde Waffle Shop, breakfast restaurant, open since 1972, Chapel Hill

La Residence, AKA La Rez, continental restaurant, open since 1976, Chapel Hill

Time-Out, 24-hour restaurant, open since 1978, Chapel Hill

Italian Pizzeria III, pizza restaurant, open since 1980, Chapel Hill

Jade Palace, Chinese restaurant, open since 1982, Carrboro

Crook's Corner, southern cooking, open since 1982, Chapel Hill

Mariakakis gourmet market, open since 1997, Chapel Hill
(Photo Credits: Carolina Coffee Shop lattes, @FoodyswithBootys on Instagram; Weaver Street Market, Author Neil Offen)