COVID-19 has stormed the stage and cut the mics for now, but our local venues are working hard behind the scenes to prepare for the next act.  
LOCAL 506
Rob Walsh, co-owner of Local 506 on West Franklin Street, describes the Orange County music scene prior to COVID-19 as "banging."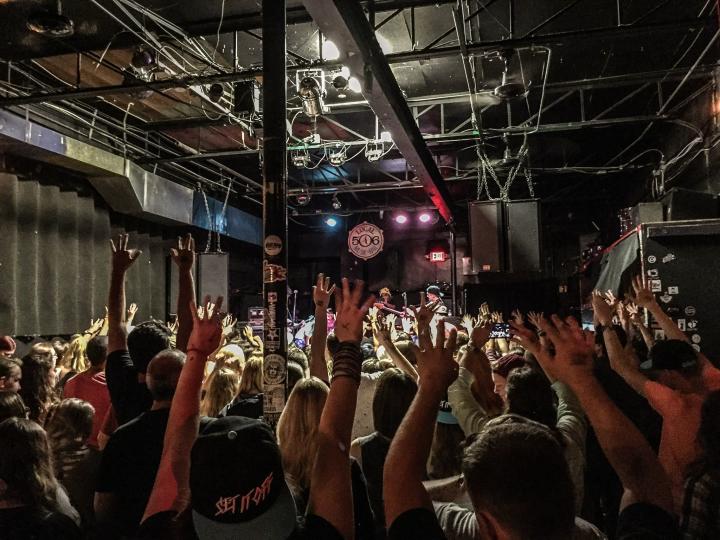 (Packed house at Local 506 pre-COVID19)
Like so many other businesses and organizations, Rob's venue is now in a holding pattern. "We were booked straight through the summer," he says. "Everything has been canceled or postponed."
Rob says that Local 506, which has been in operation since 1992, has purchased a regulation-size pool table and may open as a bar at a limited capacity when bars are permitted to do so. But it will be a far cry from their normal existence as a venue for live acts to perform in front of 250 people. "The business model is to gather as many people as you can really close together – and dance and party," Rob says.
Because Local 506 welcomes bands that tour nationally and internationally, travel restrictions and precautions will make reopening all the more complicated. Luckily, the venue's landlord has made it clear that he will not shut the doors on them.
Rob, who is Local 506's production person and usually starts his day by welcoming bands in the afternoon and checking sound, says his entire life has been turned upside down. "I find myself eating dinner at like 5 pm and in bed by midnight," he says. "It's a whole different thing."
Beginning June 2 and in partnership with Chapel Hill Young Professionals, Local 506 will live stream shows. And a GoFundMe has raised almost $10,000 for the venue – all of the money can be redeemed for concert tickets when the venue reopens. Local 506 has also joined the National Independent Venue Association, a group of more than 1,200 independent music venues and promoters in all 50 states, to collectively urge Congress to help protect the industry by providing the financial support that is necessary to survive the shutdown.
YONDER
On June 11, Eryk Pruitt and Lana Pierce – who have lived in Hillsborough since 2007 – will celebrate the one-year anniversary of their King Street bar and arts space Yonder. The question is: Will the couple be toasting that milestone alone?
Yonder shut down on March 17 at the direction of the governor. Eryk was grateful for the mandate. "Leaving it up to us, we didn't know what to do," he says.
With no food offerings to convert into takeout orders, the bar has been completely shuttered, except for a virtual presence. Musicians like Katherine Whalen, Rainbow Cabbage & the Kings, and Love and Valor have performed online and received some tips. And Eryk and Lana have hosted virtual happy hours on their social media, where they make drinks and chat with community members and Yonder regulars, such as Mayor Jenn Weaver and the owners of Radius Pizzeria and Pub.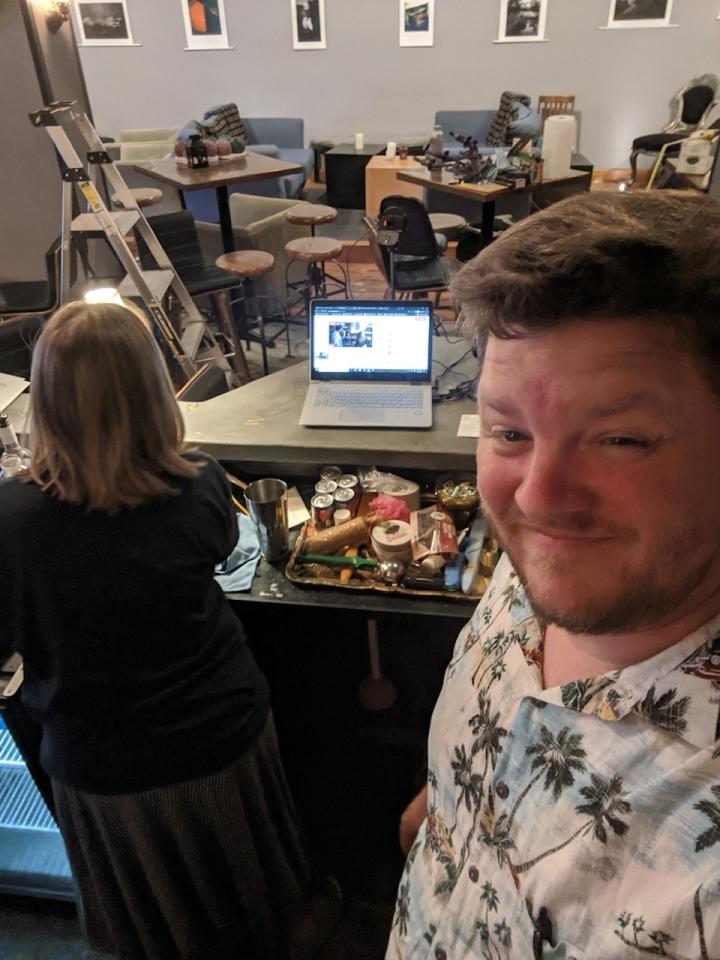 (Lana and Eryk take to Facebook most days at 5:30 for a Virtual Happy Hour)
"It kind of gave us something to do," Eryk says. "Three weeks ago, I hit my mental wall."
Their landlord has deferred rent for three months. "We wouldn't be able to hang if it wasn't for that," Eryk says.
Even if the governor were to green light Yonder's opening tomorrow, Eryk says it's not responsible to try to fill the place to its 100-person capacity. "That's going to be the biggest challenge," he says. "If it's only responsible to get 30 people in here … What does that look like for musicians? Because we paid them flat fee plus a percentage of sales. This will hurt their bottom line, too." Still, Eryk says he would gladly open to only 25 people; he just wants to open the doors, and "we have created a business plan that sustains nights where the place isn't completely full." 
Prior to the pandemic, Eryk compared Hillsborough's night scene to a smaller version of New Orleans, where he once lived. He says that certain musicians would often play multiple venues a night – Hot Tin Roof, Nash Street Tavern, and Yonder. "For such a small town, it was really awesome."
When Yonder shut down, musical acts were booked through July. Eryk says he's in touch with musicians slated for the next few weeks, but everyone understands that odds are, the shows will need to be rescheduled.  
"I miss joking with the people," he says. "I miss folks coming in. We miss people asking us what's on tap when the sign is in really big letters right behind us. We joke about that. 'Hey, man, it's right there!' It would get frustrating, but I'd kill to be a smart aleck to a customer."
CAT'S CRADLE
Among the most famous live music venues in the Southeast, Cat's Cradle has been around for more than 50 years. Frank Heath has been the sole owner since 1987. But experience can only get you so far in the wake of an unprecedented global pandemic.
"The crystal ball is just cloudy really," Frank says. "We are doing the best we can to be patient."
The iconic Cradle, located on Carrboro's Main Street, went dark after its March 11 performance. Since then, touring shows have been moved further and further into the future. "The bands that tour, which is the majority of our shows, they have just put off touring for this year basically," Frank says. "We still have some shows on the schedule in the fall. You just sort of watch the horizon moving further away as you get closer to it."
Unlike restaurants, shops, and movie theaters, it's not as easy for music venues to keep patrons apart. Plus, bands and crews travel constantly, adding to the risks. "We all feel like we don't want to create circumstances that will exacerbate the health problem," Frank says.
Cat's Cradle's GoFundMe has raised more than $16,000. Soon, the venue's website will allow fans to buy merchandise and gift cards. And the staff is going to experiment with streaming concerts, starting with Idlewild South (an Allman Brothers Band tribute group) on June 5 and Mad Crush (Billboard calls them a cross between June Carter and Johnny Cash and The Kinks' Ray Davies) on June 6. "It won't be too much different than what you're seeing on musicians' couches," Frank says. "But with better sound quality and a change of scenery."
In his many years at the Cradle, Frank has witnessed downward turns, but nothing like this. "We've always had shows," he says. "In general, it's been sort of an upward graph since I started. Probably just because the music industry has been on an upward course. There have been some dips when economy was down. But they would last like a season – a fall, a summer."
In December and January, Cat's Cradle commemorated its 50 years with six nights of special shows featuring 50 acts, including Superchunk, Steep Canyon Rangers, and Southern Culture on the Skids. "I was thinking about that the other day. How lucky we were that we got that in," Frank says. "It helps the club, the scene, and everybody that played to have a good taste in their mouth that hopefully will last through this period. And help us move past it. It definitely gave us a lot of energy in terms of creative thought about how to book similar types of events in the future."
Frank says that because our local music scene is so strong, it is poised to make a formidable return. "There are so many great musicians and so many active artists here that I think, assuming the world gets back to being able to go out, it will bounce back."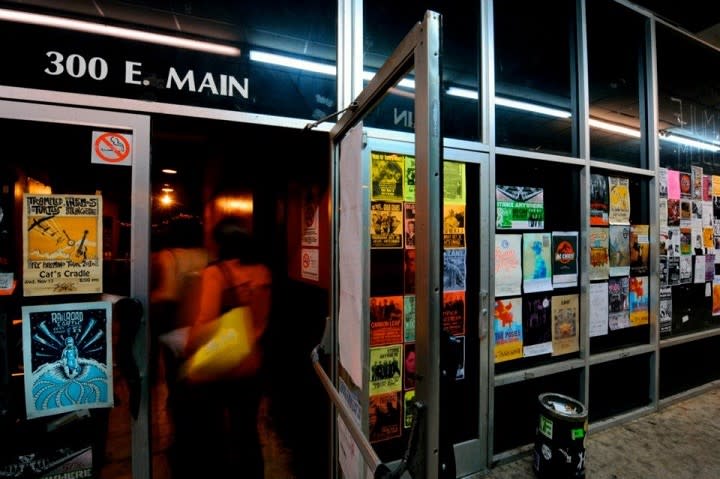 (Top header photo: Katherine Whalen and Certain Seas livestream every Friday night on Yonder's Facebook page, bottom photo: Entrance to Cat's Cradle)