Update: In August 2018, April announced that she will no longer be professionally producing small batch preserves and pickles. This was taken from her website:
THANK YOU FOR 11 WONDERFUL YEARS!

April has decided to hang up her professional jamming pot to pursue other methods of preserving culture and telling the south's best stories. We greatly appreciate all the support of our customers over the years and look forward to many more years of teaching and sharing the joys of preserving the harvest!

 
April McGreger really is a farmer's daughter. She spent time in the kitchen with her mother and grandmother learning the art of preserving in a small Mississippi farming town. Later on, she worked her way into a pastry chef position at the nationally acclaimed Lantern Restaurant in Chapel Hill. While there, she discovered her passion for working with seasonal local fruits and after years of research and experimenting, she founded Farmer's Daughter in 2007.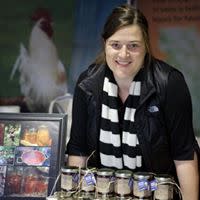 The Farmer's Daughter specializes in small batch pickles and preserves sourced from nearby farms and from April's own backyard. Each batch is made from ingredients in their peak season. The fruit is handpicked, hand cut, hand packed and hand labeled. And, every jar of jam is cooked by April herself.
The Farmers Daughter brand is a recent Good Food Award 2017 finalist and in the past a winner of  the Good Food Award in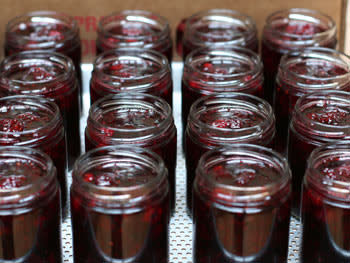 2011, 2012 & 2013, and is a recipient of  Cooking Light's 2012 Taste Test Award. Mentions of April's products can be seen in numerous local and national publications and food blogs.
You can find April at the Durham Farmer's Market year round, at the Carrboro Farmer's Market Winter Market and the Farmers Daughter brand products at these other locations:
Parker & Otis
Durham, NC
Rose's Meat Market & Sweets Shop
Durham, NC
Foster's Market
Durham, NC
Salt & Sundry
Washington, D.C.
Panciuto
Hillsborough, NC
Crook's Corner
Chapel Hill, NC
Saxapahaw General Store
Saxapahaw, NC
Wine Authorities
Raleigh, NC AND Durham, NC
April also offers an online shop and mail order Jam Clubwhich makes for an awesome holiday gift!