The burger is back.
Well, to be honest, it really never left. Perhaps the quintessential American food — contrary to legend, it was invented in the U.S., not in the northern German city that gave it a name — hamburgers have been eaten around the country since the late 1800s.
Last year, Americans ordered more than 9 billion burgers. But most of them were the fast-food variety, tasteless slivers of ground meat stuck between bland buns, without much flavor or creativity.
That's not the case here in Orange County, NC.
The once-humble hamburger now takes pride of place on many high-class local menus. At establishments like Crook's Corner, you can find the hamburger among the green tabasco chicken and the hoppin' john. At Kitchen there's the burger alongside the duck leg confit.
Venable offers a veggie burger made of black beans and quinoa with cilantro and cumin and tofu.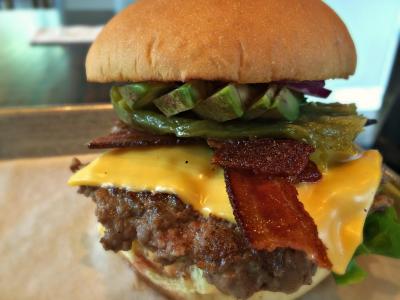 At Town Hall Grill in Southern Village you can try an ahi tuna burger.  All over the community, instead of that re-heated slab of flavorless meat, there are innumerable varieties now — the classic ground beef as well as turkey, black bean and lentil burgers.  
The burger has become the sculptural slab creative local restaurants adapt in myriad ways, adding toppings, sauces and exotic ingredients. And now we have places even specializing in those sculptures.       
On a balmy winter's night, the line outside Al's Burger Shack stretches down West Franklin Street past the indoor and outdoor picnic tables. There's a line because Al's is truly a shack, a tiny space with vintage beverage signs on the walls that's just big enough for ordering, open-kitchen cooking and a tiny counter.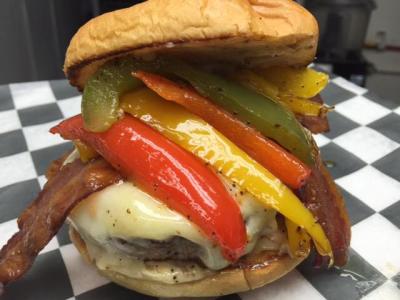 (photo: 'Gemma', Al's Burger Shack)
You can order the Kenny J, with bacon, grilled onions, Cheerwine barbecue sauce and spicy pimento cheese. Or the Mookie, with bacon-onion jam, roasted garlic aioli and blue marble cheese. Or for you vegetarians, there's the Kaarin, made from sweet potatoes, black beans and oats, with guacamole, lettuce and sliced red onion.
But I'm a traditionalist, so I go for the classic — lettuce, tomato, sliced red onion, pickle, American cheese and Al sauce. What's Al sauce? I asked Al, who usually works the counter himself. "Ketchup, mayo, lemon juice and horseradish," he tells me. "I've always liked Russian dressing so I added the horseradish. That's the secret."
A few blocks east, Buns offers a dizzying number of possibilities-on-a-bun, including, even, different kinds of buns. You can get a hot dog, grilled salmon or grilled chicken on wheat, white or brioche. But, let's face it, the burgers are the deal here.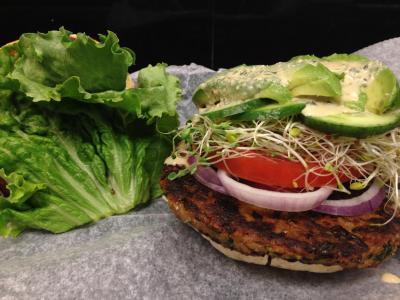 (photo: Veggie Burger, Buns)
The restaurant is like a create-your-own-adventure kid's book, except this time you create your own burger: you select a single, double or triple patty (Angus beef, turkey or veggie), then pick your cheese, then choose your condiments. Ketchup, of course, or, if you want to go more exotic, pesto mayo.  And then choose your toppings — anything from smoked bacon to caramelized onions to jalapenos or a fried egg.
And don't miss the fries here. Crisp and hand-cut, the regular size portion is large enough to feed at least two and probably three.
While Al's is a shack and Bun's is a normal storefront, Village Burger is sort of an enclosed stall. It's a few Formica tables plopped in the middle of the main entrance hallway at University Place. You get to eat your burger watching people go by with their shopping bags from Burlington Shoes or parents and their kids returning from Kidzu, the children's museum.
The work counter leads into next-door City Kitchen, also owned by local restaurant impresario Giorgios Bakatsias, but the burgers are made right there on the open-air grill. You can smell the aroma of frying meat wafting in the air among the shoppers.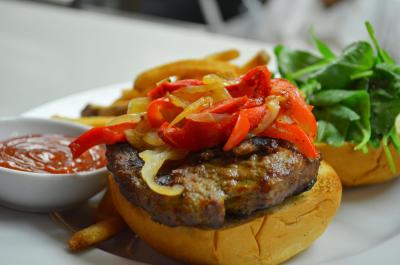 (photo: Lamb Burger, City Kitchen)
The hefty third-of-a-pound Village Burger is a great combo buy along with fries and a drink. But giving up my traditionalism, I opt for the Cali burger — guacamole, Monterey jack cheese, green chilies.
Like the other burgers I've been sampling, it's both simple and fancy, and immensely satisfying.
(top photo: Steak Burger, The Town Hall Grill)