Raise a Glass to NC Beer Month!
Governor Roy Cooper has once again proclaimed April as NC Beer Month, which means it's the perfect time to toast to the variety of quality craft beers (with more on the way!) made right here in Chapel Hill and Orange County.
Here's a roundup: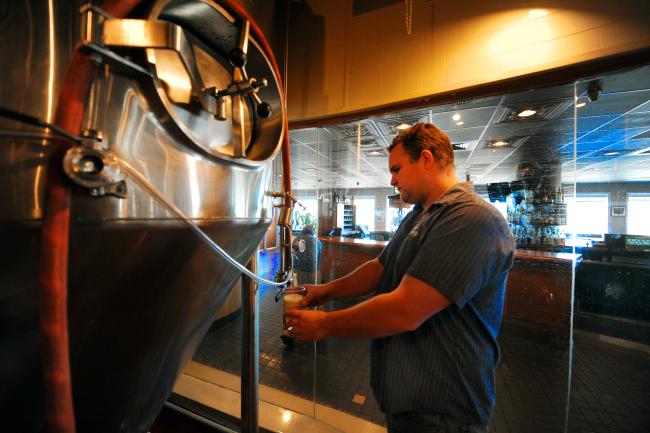 Top of the Hill Restaurant & Brewery
Also known as TOPO, this beer is brewed at the most iconic intersection in Chapel Hill – where Franklin Street meets Martin Luther King Jr. Boulevard in the heart of downtown. This month marks the release of TOPO's famous Blue Ridge Blueberry Wheat, the perfect light beer to sip on the outdoor deck on a sunny spring day while taking in the panoramic view. The Blueberry Wheat is their most popular seasonal release.  There will be themed t-shirts and prizes along with blueberry inspired food. By the way, don't sleep on their food menu as a whole – it's loaded with locally-sourced ingredients!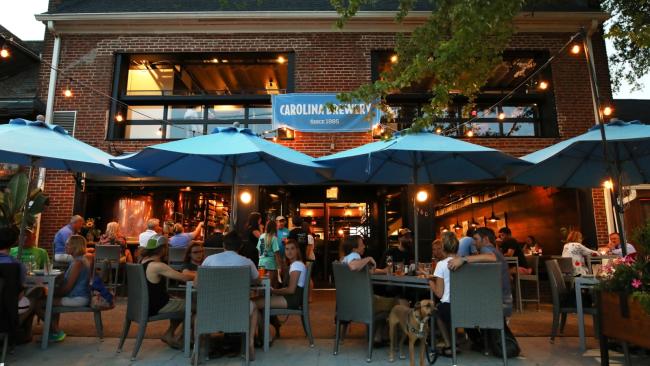 Since 1995, the locally-owned Carolina Brewery – located on West Franklin Street – has provided award-winning and hand-crafted beer and food. Signature sips include Sky Blue Kolsch, Copperline Amber Ale, Carolina Honey Brown (infused with Orange County wildflower honey!), and Oatmeal Porter.
Vecino Brewing Co.
Located in the center of Carrboro next to Cat's Cradle, Vecino has a passion for brewing beer in small batches using quality ingredients, and their 20 taps leave room for a wide selection of rotating guest brews. Through the "Brewing Neighbors" program, Vecino highlights one beer each month, and 10% of sales benefits a local charitable organization. While visiting, try Chef Leah Plumlee's scratch-made food, from a seasonal house pickle jar to the braised beef short rib macaroni and cheese.
A nano brewery operating on PlowGirl Farm just outside of Carrboro, Dingo Dog gives its profits to help no-kill animal rescue organizations in North Carolina. Produce from the farm – including butternut squash and shiitake mushrooms – goes into the beer, and Dingo Dog prides itself on its zero-waste production facility. While Dingo Dog doesn't have a taproom yet, look for its lineup at Orange County gathering spots like Hickory Tavern in Carrboro and Beer Study off Franklin Street.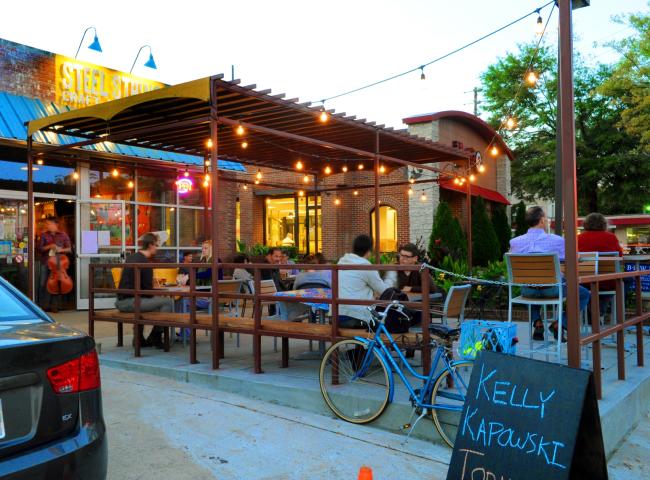 Located in downtown Carrboro, Steel String draws inspiration from the town's free-spirited vibes and the agricultural bounty of the region, creating beers like Big Mon IPA, Rubber Room Rye Pale Ale, and the Dad Fuel Lager. Steel String fans love the patio; the bright, industrial-chic taproom; and the weekly offerings of live music and trivia.
 

Other local breweries – Regulator Brewing Company and Starpoint Brewing

BOTTLE SHOPS

In addition to these breweries, check out these Orange County bottle shops:

The Baxter Bar & Arcade Beer Study Bottle Rev Chapel Hill Carrboro Beverage Volume Hillsborough

EVENTS

NC Beer Month Tap Takeovers at House of Gatewood  300 US-70, Hillsborough April 18, 5:00 pm - 9:00 pm - Lynnwood Brewing Concern (Brewed in Raleigh) April 30, 5:00 pm - 9:00 pm - Preyer Brewing (Brewed in Greensboro)