It's been quite a year for Teddy Diggs and Coronato Pizza. The longtime Il Palio chef opened his Roman-style pizzeria in Carrboro in August 2019 to much acclaim. The restaurant made the News & Observer's list of the year's best new restaurants.
Since COVID-19 has upended the food scene, Teddy has continued to innovate, offering curbside options like family night packages (three pizzas, a chopped salad, six suppli, and six cannoli included) and setting up a delivery service. (Teddy announced on May 22 that he would not be reopening his dining room yet in the interest of keeping his staff and his guests safe.) He's also donated some proceeds to Color of Change and the Chapel Hill Carrboro NAACP to help fight racial injustice.
We asked Teddy for a recipe that's perfect summer, especially during a time when many are tiring of constantly running their ovens, and he delivered with a picnic-perfect pesto recipe.
Some background: Pesto alla Genovese is a sauce originating around the town of Genoa in the Ligurian region of northern Italy. The ancient Romans ate a paste called that they called moretum, which was made by crushing cheese, garlic, and herbs together. The Ligurians around Genoa took the dish and adapted it, traditionally preparing it in a marble mortar with a wooden pestle. First, garlic and pine nuts are placed in the mortar and reduced to a paste, and then the basil leaves are added with coarse salt and ground to a creamy consistency. A mixture of Parmigiano-Reggiano and Pecorino (fiore sardo) is added, and then a stream of extra-virgin olive oil brings the sauce together.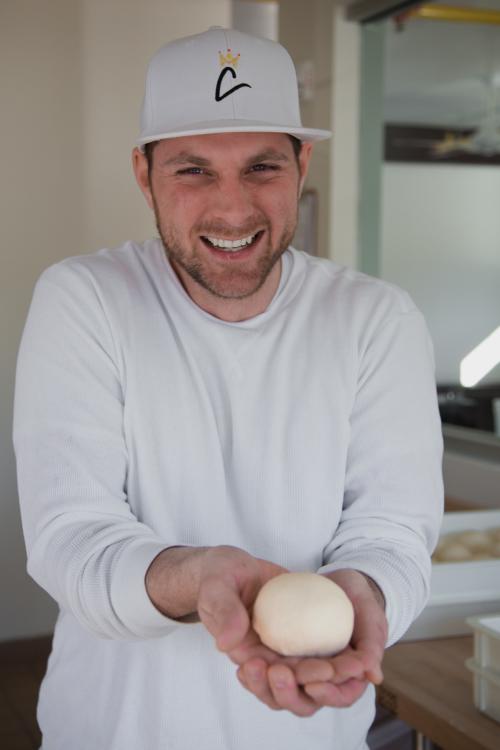 Pesto is used in many different ways in Italian cooking. It can be used as a dip for vegetables and crostini. It is commonly seen as a dressing for salad greens and potatoes. And it is also used as a sauce to dress flatbreads and pastas and is, of course, perfecto with ripe summer tomatoes and fresh mozzarella.
"A traditional pesto is not thin," Teddy says. "Pesto is dense. The word 'pesto' means 'paste,' and it looks like spackle. To keep it bright in flavor and color, do not run the machine very long."
Basil "Pesto al Genovese"
Ingredients
2 cloves garlic, peeled
2 1/2 cups lightly packed fresh basil leaves
1 tsp. fresh lemon juice
2 Tbsp. untoasted pine nuts
1 pinch  sea salt
1/3 cup extra-virgin olive oil
1/4 cup freshly grated Parmigiano-Reggiano
3 Tbsp. freshly grated Pecorino Romano
Directions
Place the garlic in a food processor and pulse to chop it. Add the lemon juice, basil, pine nuts, and salt and pulse until the basil and nuts are coarsely chopped. With the motor running, quickly drizzle in the oil.
Transfer to a small bowl or jar and stir in the Parmigiano and Pecorino Romano. (The pesto can be stored in a tightly sealed jar with a thin layer of extra-virgin olive oil, on top. It will hold in the refrigerator this way for several weeks.) Yields approximately 1 cup.