And COVID-cognizant ways to celebrate Halloween
As with all observances and holidays since mid-March, Halloween or All Hallows Eve will look a lot different this year. One of the biggest differences? No gathering on Franklin Street. Per the Town of Chapel Hill: "Due to public health guidance concerning crowd gatherings, the annual Halloween-related closure of Franklin Street is cancelled." If this means you'll be getting together with friends elsewhere, please check out this advice from the CDC to the County around how to celebrate safely. And review these COVID-cognizant ways you can have fun on October thirty-one:
Find a costume—or just change up your hair—and always wear a mask
Since you were young, dressing up as someone or something different is probably one of the most fun aspects of Halloween. Even if you don't get a costume, you can pick up something fun and unique at Rumors or Surplus Sids in Carrboro. Or just dye your hair a crazy color or get a funky haircut at one of our downtown salons and [barber]shops . All of them are taking the proper precautions. Whatever you decide to wear for Halloween, make sure you have a proper face covering.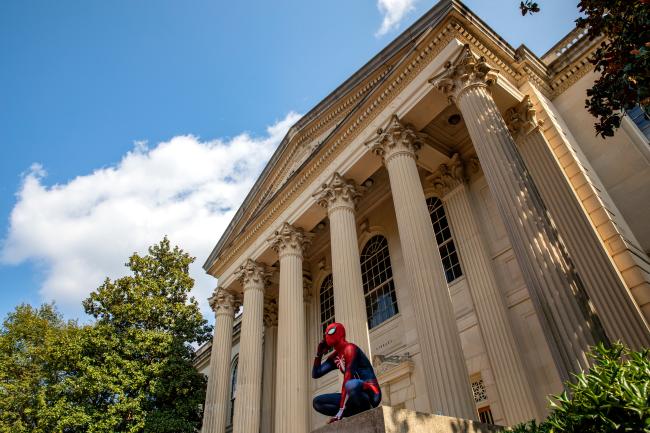 Image courtesy University of North Carolina at Chapel Hill
Make your space spooky or carve a pumpkin
Even if you're not host to trick-or-treaters (NC DHHS is strongly recommending alternative activities), it's still fun to decorate your space. Hit up Target downtown for some themed decorations or order some Halloween balloons from Balloons & Tunes in Carrboro.. Download and print out these fun UNC themed pumpkin stencils . Then pick up a pumpkin to carve. Both Camp Chestnut Ridge and Smith's Family Fun Farm provide the pumpkin patch experience and Spring Haven Farm will let you pick your pumpkin and then carve it with a goat!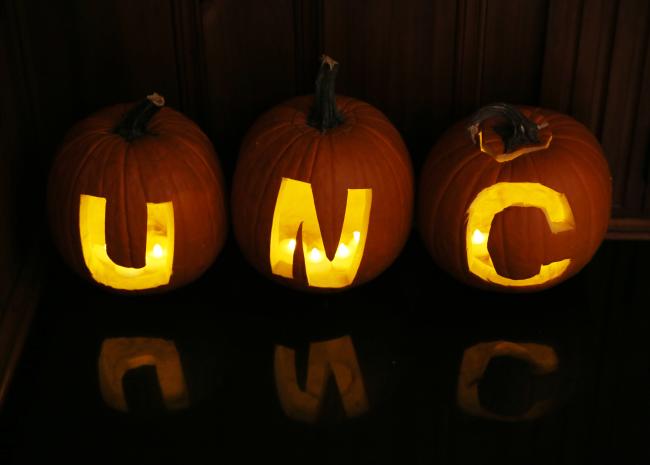 Image courtesy University of North Carolina at Chapel Hill
Learn the local legends
Transforming your space requires too much effort? Transport your mind to a scarier space by reading or listening to Carolina ghost stories. Tune in to WCHL at the end of the week for Friday Night Frights. If you're comfortable walking outside, consider taking a walk by our most famous haunted house, Gimghoul Castle or sign up for a haunted tour in Hillsborough. Living at home and curious about ghosts from other parts of the state? Check out Tar Heel Ghosts and Ghosts from the Coast from UNC Press.
Find some family-friendly fun
Maybe you're looking for something more family-friendly for young ones in tow? Chapel Hill Parks & Recreation is putting on 31 programs to celebrate Halloween, so check out all the options for a range of ages, including adults. Many events geared towards kids are almost sold out, so purchase tickets soon for programs at Firefly Farm, Spence's Farm, and 1870 Farm or the COVID-friendly Halloween Spooktacular hosted by Orange County.
What's going on October thirty-one
Carolina Football takes on the Cavaliers on October 31 (kickoff has yet to be announced.) Whether you choose to watch the game at home or at a restaurant, make sure to cheer on our top-five ranked [!!!] team safely. Downtown has lots of options for takeout and outside dining until by 11 p.m. Or be an early bird stroll through the Botanical Garden on their Fall Garden Walk or spend the afternoon listening to music for the full moon at Honeysuckle Tea House. And while going door-to-door for candy is discouraged this year, if you're craving something sweet go store-to-store, stopping at Cha House, Yogurt Pump, Ben & Jerry's, Epilogue, Cold Stone Creamery, Insomnia Cookies, and Yaya Tea for a progressive dessert downtown.
Stay inside [your home or your car]
No shame in curling up with your favorite horror movie or watch our very own NC Zoo on NatGeo Wild. On Saturday evening, a student gaming group is hosting a board game night and CUAB is hosting a Halloween DJ party. Or stay inside your car at the new drive-in theatre for the 45th anniversary of the Rocky Horror Picture Show. Let's do the time warp again! Here are some more resources for choosing your own adventure:
The Daily Tar Heel: Your guide to celebrating spooky season — but from a distance

Visit Chapel Hill: Safely Visit Chapel Hill/Orange County, North Carolina (Autumn 2020)

Visit NC: 10 Lesser-Known Autumn Adventures
No matter how you celebrate All Hallows Eve, remember to practice the three Ws and make sure you get your flu shot, because the prospect of a "twindemic" of flu and COVID-19 is probably the scariest outcome this season. Please stay safe and healthy this Halloween!
(Credit: Top photo courtesy of University of North Carolina at Chapel Hill)