Autumn in Orange County, NC. Leaves the color of fire fall and tumble in the wind, and finally you get to wear that sweater you've been hoping to for the last long while. It looks good. Take it out to dinner. But where? Why not start here:
Pizza.
Pizzeria Mercato. In a way it's a shame Mercato makes the best pizza in town, because there's so much more to it. The appetizers are so good you run the risk of filling up on them before the delicious pie comes. This is the chance you take if you want to eat there, but worth it. For starters there's marinated and roasted olives, P.E.I. mussels, crostini and fritti. Post-pizza, try the Doible Chocolate Budino.  That's Pizzeria Mercato, Carrboro. (Header photo by Kate Medley)
Musical Chairs.
Antonia's on Tuesdays. Go to Hillsborough and while there visit Antonia's. It's Italian, family-friendly, and full of live music. Tuesday evenings from 6:30 to 8:30pm! Enjoy three unique acts that alternate performances on a weekly basis. They include: The BC Jazz Trio, Sabor and Christopher Adkins.
Brunch.
Acme. Breakfast is easy, wise men say; brunch is hard. There is so much truth to that, and that's why it's best to leave the brunch to the professionals. Acme has been doing it for some time and knows all the best tricks. Here's one: Texas border breakfast grilled Angus butcher's cut steak, two poached eggs, green chile grits with chipotle hollandaise. Please don't try this at home.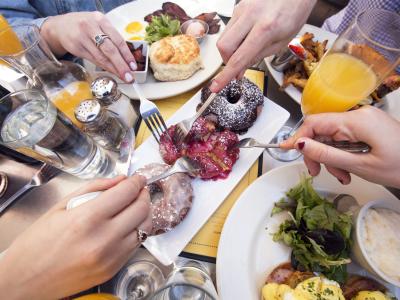 Guacamole.
El Restaurante Ixtapa in Hillsborough is a relative newcomer to the Orange County food scene, but they bring an old-fashioned attitude and perspective to their marvelous concoction: everything is made from scratch, even the tortillas. But they have become famous for their guacamole – or "guac," as the old-timers call it.
Pimento Cheese!
Crossroads Chapel Hill at The Carolina Inn offers breakfast, lunch, dinner and Sunday brunch, and with free parking it all adds up to perfection, plain and simple. It's almost unfair to add pimiento cheese to the mix, because why go anywhere else now, right? But think: Pimiento Cheese with Sea Salt Crackers, Bacon Pepper Jelly followed by a Fried Green Tomato & Millionaire's Bacon on Toasted Wheat with Blue Sky Farms Forberg Lettuce, Heirloom Tomato & Black Pepper Mayonnaise. Open to all.  Park, walk in and head to the new dining room.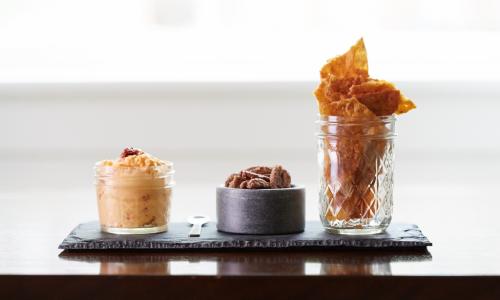 Kipos Grilled Octopus Salad
Let's talk about the octopus salad, at Kipos on Franklin Street, in which the octopus is both char-grilled and marinated in lemon, vinegar, and olive oil. Add a hard boiled egg, french beans, olives, poached potatoes and chickpea salad and you have one of the best preparations of octopus around. Maybe the best.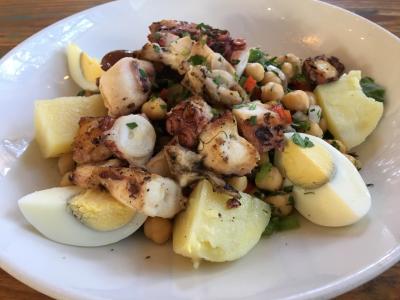 Eat, drink, be merry. Orange County, NC has it all, and more. www.visitchapelhill.org