'Tis the season for dinners out with friends and family, whether you're celebrating the holidays or just seeking refuge from cooler temps. Orange County is known for its stellar farm-to-table restaurants that constantly revise the menu to reflect the season we're in, which means there are plenty of opportunities in the coming weeks to get your fill of fall and winter flavors like apple, butternut squash, ginger and pumpkin. (Note: Because menus are subject to change, we recommend that you call a restaurant in advance if you have your heart set on a certain dish!)
Acme Food & Beverage Company's apple and pear cobbler with vanilla ice cream and apple syrup.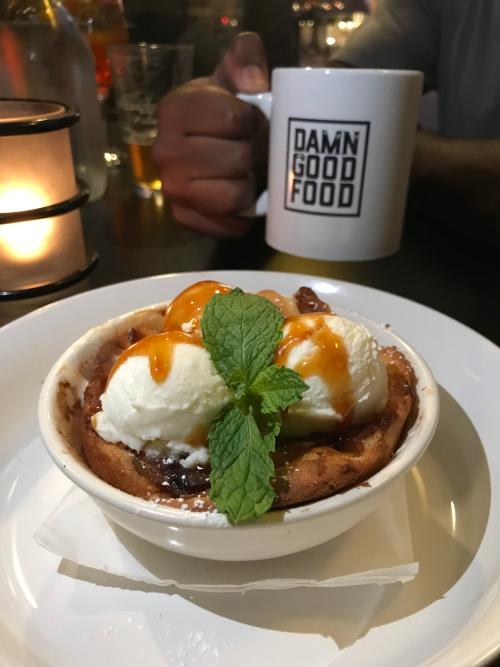 Pizzeria Mercato's sticky toffee pudding with toffee sauce and whipped cream.  
Crossroads Chapel Hill's seasonal Dusk in Durham cocktail with Durham Distillery's Conniption American Dry Gin, lime juice, cranberry-plum syrup, angostura bitters and prosecco.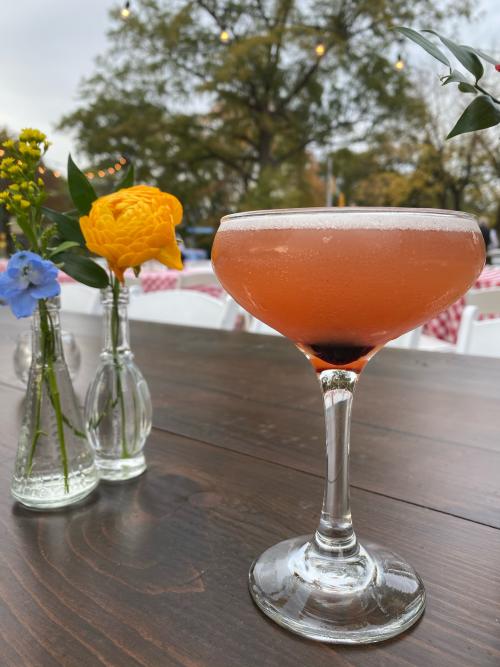 Oakleaf's petite buttermilk biscuits, with prosciutto di parma and black truffle cheese.
Kitchen's duck leg confit with balsamic cherry sauce, sautéed greens and potato latkes.
Panciuto's butternut ravioli with roasted apples, turnips, spiced pepitas, kale and espresso.
James Pharmacy's pear ginger pie with a candied ginger crumb topping.  
Elaine's on Franklin's oysters Rockefeller – Mill Creek North Carolina oysters baked in the shell with spinach, bacon and hollandaise. (Also try their pumpkin cheesecake with toasted pecans and caramel sauce for a sweet finish!)  
Hawthorne & Wood's butternut squash, apple and turnip soup with puffed wild rice, charred poblanos and jicama.
Lantern's hot chocolate cake with Thai coffee ice cream and espresso caramel.
Bin 54's foie gras mousse with truffles, balsamic jam and brioche.
House at Gatewood's salmon with butternut squash risotto, sauteed broccoli rabe and whole grain mustard sauce.
Jujube's tamarind-glazed rack of lamb with wok-seared corn, oyster mushrooms and arugula.
Il Palio's butternut squash ravioli with shiitaki mushrooms, sage and balsamic brown butter vinaigrette.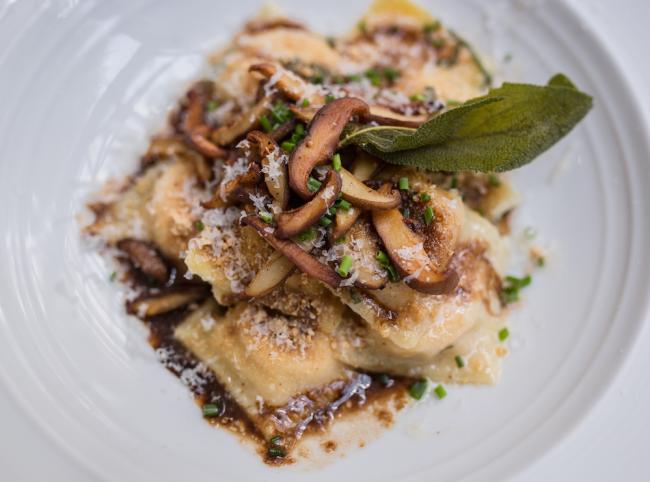 Crook's Corner's cheese pork (think schnitzel but the meat is coated with shredded Swiss cheese instead of bread crumbs) with an orange-Madeira sauce, mashed potatoes and sautéed greens.
Elements' pumpkin bisque with ginger, curry, coconut milk, pepita seeds, crème fraiche and cornbread croutons.
Caffe Driade's pumpkin latte, with house-made syrup using real pumpkin and sweetened with coconut sugar.
Epilogue's sipping chocolate.
Tandem's Peaceful River Farm greens with scarlet queen turnips, beets, honey pickled butternut squash, apples, feta cheese and maple vinaigrette. 
(photos courtesy of Acme Food & Beverage, The Carolina Inn, Il Palio Restaurant)