When I moved to Orange County more than 30 years ago, ethnic food meant … well, pizza. Oh, you might have been able to get a little chow mein here or maybe a limp taco there, but if you wanted exotic, you got western-style barbecue, not eastern.
My, how things have changed. Orange County is now an international foodie's delight, a place where you can roam the culinary globe — without ever having to get on an interminable TSA line. There are restaurants here to satisfy every adventurous palate, cuisines you may be familiar with and those you have never tasted. Here are some of the places that make up my local ethnic food tour.
Talullas, on West Franklin Street, doesn't just offer wonderful Turkish food, it offers a full Turkish experience. If you can, sit in one of the window booths, leaning back on puffy cushions and cossetted by embroidered curtains. With intricate Turkish carpets lining the walls, atmospheric mosaic lights hanging from the ceiling and the sounds of lutes and zithers, you could easily be in Istanbul's Grand Bazaar — without the risk of getting completely lost.
While the sebzeli musakka (eggplant layered with zucchini, carrots, peas, peppers, onions, tomatoes and potatoes and topped with Bechamel sauce, is excellent, I'm admittedly a  kebab guy, and there's nothing like the extraordinarily tender thin-sliced lamb of the doner kebab. The adana kebab, char-grilled spicy ground lamb, is pretty special, too.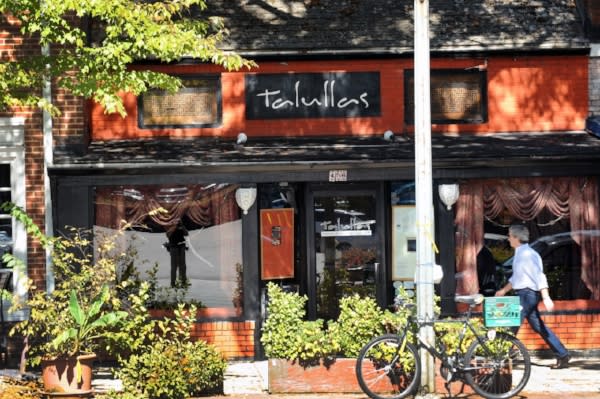 With our friends Rebecca and Ray, we are regulars at Thai Palace, in the Glenwood Shopping Center. Understated and quiet, this is a place to linger and do we ever, usually over a reasonably priced bottle of Washington State riesling.
My wife swears by the pad thai here (to be honest, that's all she ever orders). I'm more eclectic, choosing among the rich massaman curry (love the cashews and potatoes), the spicy pad prik with its tangy onion and garlic and, yes, the pad thai. All four of us swear by the coconut ice cream that's topped by chopped peanuts.
We used to live in Provence in southern France, and Provence, on Weaver Street in Carrboro, brings back pleasant memories. The restaurant isn't surrounded by fields of lavender, cobblestoned streets and perched hillside villages. But in the pretty little garden out front, which surrounds a lovely fountain, or in the elegant, petite dining room with its tasteful art work and warmly colored walls, you might as well be.
The restaurant is known for its traditional onion soup gratinée and its not-so-traditional whole fish baked in rock salt, and they are, indeed, very worth ordering. But we usually opt for the mouth-watering magret de canard, rare, seared duck breast with a potato gratin and grilled asparagus. It reminds us of what used to be our home.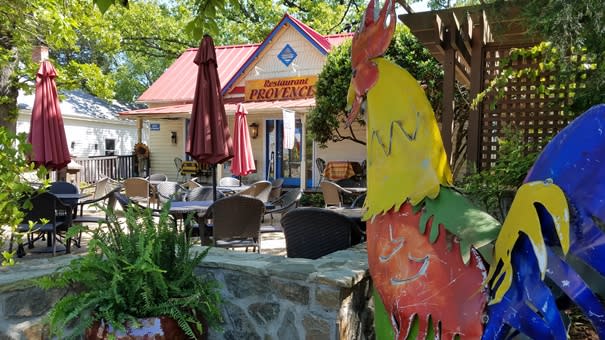 Hidden nearby inside The Courtyard on West Franklin Street, Vimala's Curryblossom Café is where my friend Dick and I go for authentic Indian. To be honest, we also go for the quiet vibe, either inside the brick-walled, high-ceilinged dining room with its black-and-white tiled floor, or outside, in the generally peaceful courtyard that gave the complex its name.
The menu is extensive and the flavors are intense here, from the delectable samosas with their chewy pastry crusts and astringent dipping sauces down to the (free) water, which on this recent day is infused with orange, lemon and fresh mint. For a main course, it's a tough choice between the curries — particularly the eggplant one, with its peanut sauce — and the cholé, a slow-simmered, chickpea stew with tamarind.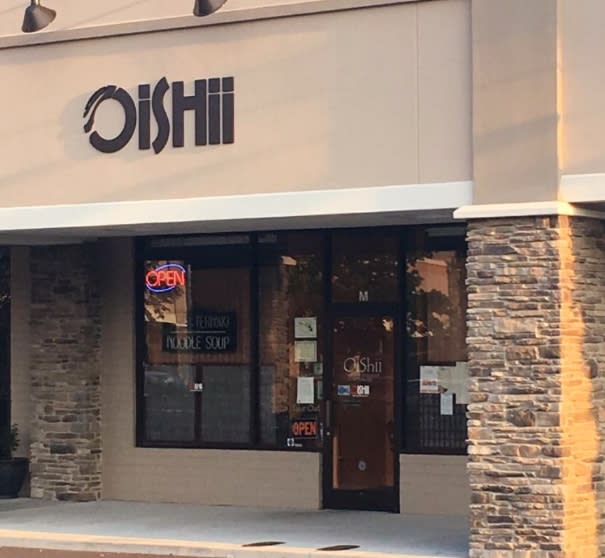 With my friend Clay, we regularly head to Oishii, an intimate Japanese sushi bar tucked into the Timberlyne strip mall. For years, Clay has been ordering — even when it is not on the lunch menu — the lobster ogan yaki, baked lobster tail served with seaweed salad, shrimp and caviar sauce.  Clay usually pairs it with an eel roll.   
I'm not that big on sushi, or eel, but I love a delicate bento box with its tasty chicken teriyaki and lightly battered vegetables. And when I'm not entirely in the mood for traditional Japanese, I choose the Korean bi bim bap on the menu, not just because I like saying it but because when you stir together the rice, vegetables, meat (or tofu) with the sizzling fried egg on top and slather it with a side of Korean chili paste, it's terrific.  
Unlike 30 years ago, there are lots of Mexican places in the county now — and many of them are outstanding. But my favorite is the indelibly authentic Fiesta Grill, a squat little cinderblock building out on NC 54 west of Carrboro.
There are just a few tables here, so you want to arrive early. But if you do, you'll find outstanding chicken mole, which is half a chicken baked with a made-from-scratch home-made mole sauce that is rich with cinnamon and chocolate. Also on the extensive menu is an exceptional torta Mexicana, an incredibly filling meat sandwich with guacamole, tomatoes, lettuce and a (very) hot sauce. Many of those eating around you will be speaking Spanish — a good sign of the place's authenticity.
And how can we talk about ethnic food in Orange County without a mention of Med Deli (officially, Mediterranean Deli Bakery and Catering, but known to everyone as just Med Deli)? Here on West Franklin Street is where the entire community goes for falafel and hummus, baba ghanoug and shawarma. Inside and even out on the sidewalk, it's boisterous and alive, redolent of pungent spices and a warm welcome, with locals and visitors seeing old friends or making business deals over heaping servings of tabbouli or fettush.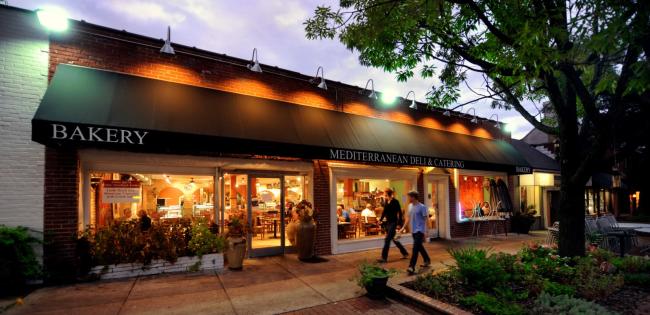 If this isn't enough ethnic food for you, also available within the county borders are Korean, Greek, Malaysian, Persian, Cuban and many more world cuisines. And yes, even pizza, too.